TUESDAY TUSSLE AT LERNERVILLE: THE JJR #41 TEAM WAS BACK IN COMPETITION IN WESTERN PENNSYLVANIA AT THE DON MARTIN MEMORIAL SILVER CUP AND HEAD EAST ON THE PENNSYLVANIA TURNPIKE WITH A 7TH PLACE FINISH
SARVER, PENNSYLVANIA (July 20, 2021) – The World of Outlaws NOS Energy Drink Sprint Car Series season continues full steam ahead as their traveling tour of speed stars stopped in Western Pennsylvania at Lernerville Speedway for the Don Martin Memorial Silver Cup XXX as the next event during the "Month of Money." Every time the tour invades this place it puts on an incredible show and the grandstands are packed with devoted sprint car and race fans. The Jason Johnson Racing (JJR) team has had some past success here in the with David Gravel as he earned two wins (2019 Silver Cup and 2020 Commonwealth Clash), a third place, and a fifth place finish in the last four events throughout 2019 and 2020. They were look to continue their speed and success with Carson Macedo, who has been on a hot streak and a model of consistency behind the wheel of The Boyd Family/Greber Racing Components (GRC)/FK Rod Ends #41 Maxim. There were 34 teams checked in at the pit gate ready to race for the $25,000-to-win Don Martin Memorial Silver Cup XXX.
After hot laps were completed, Philip Dietz and the JJR #41 crew made some final adjustments to prepare for Slick Woody's Qualifying where Carson Macedo would head out fifth in the time trial order. Joey Saldana holds the one lap track record with a lap of 12.344 seconds ran back on May 15, 2002. Carson was buckled into his Crow Enterprizes safety belts as he pulled on his K1 Race Gear gloves. When Clay Riney completed his two laps against the clock, it was the forty-one pilot's turn to display his talents at speed around Lernerville Speedway's unrestrained banked turns. He pushed off and pounded the accelerator when his Kistler Engines power plant came to life. He took the green and was building up speed. With no retaining walls or guiderails around the turns or down the backstretch, the edge becomes razor thin for the drivers at these speeds, which just adds to the excitement as it is a tricky track. Carson's first lap came in at 12.975 seconds. He followed that up the next time around with a faster lap of 12.815 seconds. When the engines silenced following the final qualifier, Carson's quickest lap around Lernerville positioned him 12th quick overall for the night.
With the lineups for each of the four Drydene Heat Races being set off of each driver's position on the speed charts, Carson would get started in the Dissolvalloy Downhole Revolution/Border International/Tiger Towing #41 from the inside of row two in the fourth 10-lap heat race. He would share the row with Jason Sides, with Aaron Reutzel and Jacob Allen on the front row. Wayne Johnson and Michael Bauer paced from row three, with Brandon Spithaler and Jeremy Hill rounding out the starting grid. After the initial start was slowed by a caution for Jeremy Hill, the field hit the chalk stripe in turn four and Reutzel powered his Roth #83 into the lead down the frontstretch with Allen battling for second with Macedo who was in chase mode. When the first lap was finished it was Reutzel and Macedo in the top two positions. They would finish that was to earn spots in the dash with Jacob Allen bringing his #1a home third followed by Michael Bauer and Wayne Johnson to complete the top five.
Making his way into the 8-lap DirtVision Fast Pass Dash where he would start from the sixth spot with Sheldon Haudenschild's the NOS Energy Drink #17 to his inside. Hometown favorite Sye Lynch was on the pole with Brad Sweet to his outside. David Gravel and Aaron Reutzel comprised row two. And, Donny Schatz and Christopher Bell sat in row four. It was Sye Lynch leading lap one showing the way around the 4/10-mile oval to the WoO invaders. David Gravel was running in second in front of Brad Sweet. Carson moved into the fifth running position at the drop of the green. Lynch was cruising and putting some distance between himself and the field. He took the checkers by 2.635 seconds over David Gravel with Brad Sweet coming home third, Aaron Reutzel fourth, Carson Macedo fifth, with Donny Schatz, Christopher Bell, and Sheldon Haudenschild finishing in sixth through eighth.
With weather moving into the area, officials kept the show moving along for the NOS Energy Drink 40-lap Don Martin Memorial Silver Cup XXX feature event. Carson Macedo would get moving from the fifth position aboard the Tarlton and Son Frame-2-Finish/Complete Parts & Equipment Solutions/Schoenfeld Headers #41 Maxim. When the green flag waved, Sye Lynch took ownership of the top spot and was once again showing the invaders the way around Lernerville Speedway. He would hold that spot until surrendering it to Brad Sweet on Lap 12. Carson moved into fourth on the opening lap and then moved back a spot in the early going around the technical and tricky track. He would fall as far back as eighth before picking up a spot just after the halfway point when sixth running Sheldon Haudenschild got over the edge in turn three. Haudenschild headed to the work area where his crew went to work so he could rejoin the field. Sweet was in command and started to dominate. Carson was able to hold his own and protect his position on the track. Sweet went on to win for the 15th time this season followed by Donny Schatz, Aaron Reutzel, David Gravel and James McFadden. Carson Macedo brought home a seventh place finish to cap off the Don Martin Memorial Silver Cup XXX race. Another good run for Macedo and the forty-one!
After the engines came to a stop and the festivities ended following the Don Martin Memorial Silver Cup XXX race, the JJR #41 sprint car team loaded up and trucked east on the Pennsylvania Turnpike, also known as I-76, as their journey through July and the "Month of Money" continued. They were trucking Mesilla Valley Transportation (MVT) style as they headed to their east coast home away from home at the beautiful Jonestown KOA campground located at Exit 90 off Interstate 81 to rest, relax and prepare for the two-day Champion Racing Oil Summer Nationals at Williams Grove Speedway starting Friday night at the historic oval.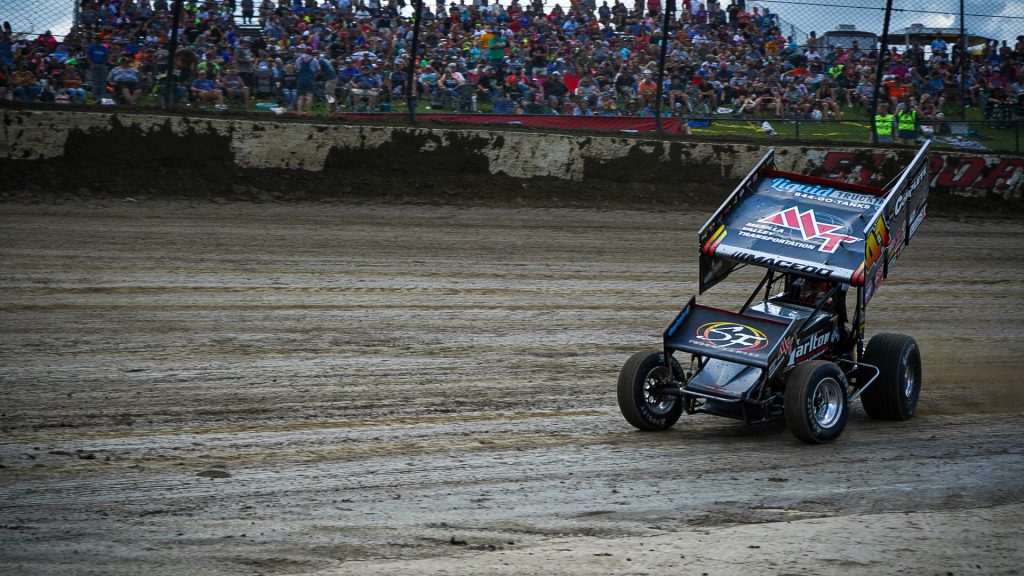 A Seventh Place Finish at the Don Martin Memorial Silver Cup XXX for Carson Macedo and the JJR #41! Photo Credit: Cameron Saich
Mesilla Valley Transportation (MVT); Tarlton and Son Inc.; Complete Parts & Equipment Solutions; Saich Family; Border International; Dissolvalloy Downhole Revolution; Jonestown KOA; Durst Inc.; Maxim Racing; The Boyd Family; Liquid Trucking; Meyers Constructors Inc.; Tiger Towing; Pro Powder Coating (PPC); Waco Metal; High Performance Lubricants, LLC; Kistler Engines; Team Jack Foundation; Mark Burch Motorsports; All Pro Auto Reconditioning; K1 Race Gear; AutoMeter; Bandy & Associates Accountancy Corporation; Bell Racing USA; Blackbeard LTD; BR Motorsports; Brown & Miller Racing Solutions (BMRS); Buckwalter Trucking, LLC; C&R Racing; Chalk Stix Torsion Bars; Crow Enterprizes; Engler Machine & Tool, Inc.; Factory Kahne (FK Shocks); Fibreworks Composites; FK Rod Ends; Fuel Safe Racing Cells; Greber Racing Components; Hoosier Racing Tire; ISC Racers Tape; Jansen Transportation; KSE Racing Products; Larry Davis Farms; Logo Daddy Graphics; Mr. Jim's Racing; MSD Performance; RaceDiecast.com; Sam I Am; Schoenfeld Headers; Smith Titanium; T-FAB Custom Metal Fabrication; Vortex Racing Products; Walker Performance Filtration; Weld Wheels; Wilwood Racing; and Winters Performance Products.
To stay connected with Jason Johnson Racing (JJR), go to www.jasonjohnsonracing.com.
To stay up-to-date with Carson Macedo and his success journey on and off the track, as well as to purchase his gear and merchandise directly, visit www.carsonmacedoracing.com.