THIRSTY THURSDAY: ANOTHER IMPRESSIVE START FOR THE JJR #41 TEAM THAT TAKES A SPIN IN THE FEATURE FOLLOWED BY A DETERMINED DRIVE TO EARN AN 11TH PLACE FINISH ON NIGHT TWO AT HUSET'S SPEEDWAY
BRANDON, SOUTH DAKOTA (June 22, 2023) – When the final checkered flag flew over the feature field on Wednesday night, it was Kyle Larson earning the victory on the opening night at the Huset's High Bank Nationals presented by Menards. Carson Macedo wasn't too far behind in the finishing order as he came home with a fourth place finish driving the Albaugh – Your Alternative #41 Maxim. For his combined efforts on the opening night of action, Carson accumulated a total of 417 points which positioned him 5th overall in the event points order following the conclusion of the Wednesday night portion of the event. While the racing slate was completely cleared on Thursday for the second preliminary night of action, results and performance still mattered. It was the same race format as Wednesday, but a whole new race day at Huset's Speedway at this premier racing facility located in South Dakota. The drivers and teams who had a good first night point wise were looking to have another good night on Thursday to add to their point totals. Those that didn't have good nights definitely wanted an opportunity to recover so they could potentially eliminate night one's poor performance and points with good runs on Thursday and Friday. This is important because after the completion of Friday's show, the drivers and teams get to keep their two best point nights and their worst point night of the three is eliminated. Plus, it is always nice when there is another twenty thousand dollars set aside for the race winner with a good paying purse throughout the finishing order to reward those that make the feature. There were 54 race teams back and thirsty for more as they were ready to make speed and drive outcomes while refining their mathematical skills along the way.
Every driver was looking to get a fast start beginning with Low-E Insulation Qualifying, where they each would race against the ticking stopwatch with their two laps being measured down the thousandths of a second. It was single group qualifying versus split field like the tradition WoO format, so when a driver goes out for their two laps can be important and telling. When all the numbered pills were randomly drawn and ordered from lowest to highest, timing and scoring officials posted the time trial order. Carson Macedo scanned the list and stopped at #20, which is where he would go out for his qualifying laps during the solo performance part of the show. When hot laps concluded, the first set of cars were already in the staging area prepared to start time trials. Carson patiently waited his turn from the infield as he watched DIRTVision on an iPhone from the confines of the cockpit in his Maxim Racing speed machine. The track was evolving and he kept recalibrating his speed strategy. When it was his turn, Carson was ready to rock n' roll. The power started under the hood of the Tarlton and Son/Jansen Transportation/Larry Davis Farms #41 and quickly came up to speed as Carson headed to take the green flag. His Hoosier Racing Tires were gripping the surface and creating the traction necessary to propel him forward. He was boogying and stopped the clock at 10.934 seconds to the completion of his first circuit. He stayed the course and pedaled down as he work his way through the first set of turns for the last time. He powered his way down the backstretch and through turns three and four before crossing the timing stripe on lap two in 10.924 seconds. The faster of Carson's two time trial laps ended the night sixth quick overall. He earned 95 event points for his Thursday night qualifying efforts to start the night strong. Logan Schuchart, who went out second for his two time trial laps, sat in the top position on the speed charts Thursday night with a lap of 10.851 seconds.
With time trials behind them, the heat race lineups were posted for the six 10-lap heat races based on each driver's fastest lap in qualifying. Absolutely nobody was surprised to see every single heat race was loaded with drivers that had proven talent as well as buckets full of wins and racing accomplishments in racing. The challenge was not going to be easy for any of the teams, but the top six fastest drivers in each heat race would have to get on it quickly and race forward on a usually narrower and tacky racing surface as they would be inverted in the starting lineup putting them back in row three on the outside in position six.
Carson Macedo would be slated to start from the sixth spot in the last of six heat races driving the Team Jack Foundation/Xtreme Body & Paint/Factory Kahne (FK) Shocks #41 Maxim. The field was indeed stout with Brooke Tatnell and Sam Hafertepe Jr. on the front row followed by Tim Estenson and Justin Henderson in row two. Carson shared row three with the four-time and defending World of Outlaws champion Brad Sweet. Black Hahn and Kaleb Johnson were in row four with Kevin Ingle joining the field in the ninth starting position. There are no excuses in racing, so when the green flag waved Carson went to work to start his journey forward. But before the field could get a lap scored, the yellow flag flew for Kevin Ingle who spun in turn two. It was a complete restart with Brooke Tatnell driving into the lead at the end of lap one with things getting feisty with Sam Hafertepe Jr. who was running in the runner-up position and tapping Tatnell for the top spot after the two made slight contact after the first yellow flew. Carson had the forty-one moving but was only in control of the sixth position early with exciting things to come on the horizon. On lap 2, the yellow flag came back out again for the #2k of Kevin Ingle who spun off turn four with Macedo sitting in sixth. On the double file restart with 8 laps to go, Hafertepe Jr. had driven by Tatnell momentarily for the lead as Brad Sweet charged to fourth and Carson moved into fifth. Carson continued forward and was soon embroiled in a fantastic duel with Brad Sweet for position on the track. The driver of the forty-one was now running in the fourth position and tracking down third running Tim Estenson. Carson raced by him with 3 laps to go but was not finished. He moved by Sam Hafertepe Jr. to take over the runner-up position and on the last lap drove around the outside of Brooke Tatnell for the lead in turn one. From sixth place, Carson drove the Albaugh – Your Alternative #41 to the heat race win, his 20th of the 2023 season, with Tatnell, Sweet, Hafertepe Jr., and Estenson rounding out the top five.
With his win during the heat race in the Albaugh #41, Carson earned an additional 100 points bringing his Thursday night accumulated total to 195 event points. His efforts thus far in the evening positioned him first overall after the time trials and heat races were completed. There would be no Toyota Dash as the top eight point scorers for the Thursday portion of the show would randomly redraw for their starting positions in the first four rows of the feature. The top eight at this stage of the second preliminary night broke down like this: (1) Carson Macedo – 195 points; (2) Michael "Buddy" Kofoid – 188 points; (3) David Gravel – 187 points; (4) James McFadden – 187 points; (5) Jacob Allen – 185 points; (6) Logan Schuchart – 184 points; (7) Brad Sweet – 183 points; and (8) Spencer Bayston – 181 points.
Another incredible field of speed athletes made the show on Thursday as they raced their way into a starting spot in the lineup for the second preliminary night of racing in the 35-lap Huset's High Bank Nationals show. Once again there was a $20,000 check ready to be inscribed with the winner's name when the checkered flag flew at the end of the race and more points available to be earned commensurate with each driver's finishing position. There was still a whole lot of work ahead of the drivers and they were ready to deliver some high speed entertainment. Many of the best drivers in the sprint car universe were ready to raise the bar again at Huset's Speedway!
The speed chauffeur from Lemoore, California, driving the Mesilla Valley Transportation (MVT)/Smith Titanium/Pro Powder Coating (PPC) #41, climbed into the office of his Maxim Racing chassis to get to back to work. He buckled his Crow Enterprizes safety belts and pulled them tight as he locked his JOES Racing Products 16" Matador steering wheel into position. Carson Macedo was ready to go racing from the outside of the front row beside polesitter Michael "Buddy" Kofoid after he drew the two pill in the redraw. James McFadden and Spencer Bayston occupied row two with Logan Schuchart, Brad Sweet, David Gravel and Jacob Allen filling rows three and four respectively.
Carson was on the outside of the four-wide salute to the fans who packed the stands at Huset's Speedway before he rolled back beside fellow California native Michael "Buddy" Kofoid on the front row in the two-by-two starting formation in preparation for the start of the race. It was time to go racing on night two of the Huset's High Bank Nationals!
It was Kofoid to the lead in the Roth Motorsports #83JR when the green came out with Carson Macedo close behind in the Albaugh – Your Alternative #41. Carson was in the middle of a Roth Motorsports sandwich as James McFadden was right behind him in the primary Roth Motorsports entry. By lap 5, Kofoid was hustling and already caught up to the rear of the field. That gave Carson Macedo an opportunity to close the gap on the leader.
This track is demanding and requires these drivers to not miss a beat. Carson had closed the gap on Kofoid, but when he entered the first set of turns spun in turn two and came down hard across the inside berm to a rest. He was forced to surrender his second running position and head to the back of the field where he would restart from the 24th position.
Frustrated, but not about to give up, he cleared his head and was heady to put on a show Central Valley California style with 29 laps to go! The green came back out with Kofoid leading McFadden and Bayston with Schuchart, Sweet and Gravel digging. Carson was doing his best to stay patient while taking advantage of every opportunity moving forward from the back of the pack.
James McFadden was fast and on a mission as he made his way by Kofoid for the lead. Carson was still working hard at the halfway point of the race, but was only able to gain three spots as he ran in the 21st position. He was relentless though and knew he had a fast racecar. He kept racing hard and moved his way into the top 20 and sooner rather than later into the top 15.
With 5 laps to go, the yellow flag was thrown for Wednesday night's winner, Kyle Larson, who spun on the backstretch and had to retire as the damage to his entry was too much to repair. Carson was now up to the 13th position and determined to do his best over the final laps of the race.
James McFadden would bring them back to the green flag as David Gravel was now running in second as he made his way by Kofoid and was hungry. McFadden got a great start and built a little bit of a cushion between himself and Gravel, but with the Connecticut hard-charger there is never a gap too big. Meanwhile, Carson was able to pick up a few more positions as he was now running in the 11th position with a lap to go.
The leader bobbled on entry in turn one and Gravel was right there to his inside. They raced side-by-side off turn two with McFadden diving ahead on entry to turn three and exited turn four with Gravel right on his rear nerf bar. James McFadden took the win over David Gravel and Michael "Buddy" Kofoid with the Shark Racing teammates of Logan Schuchart and Jacob Allen rounding out the top five.
Carson recovered and brought the Albaugh –Your Alternative/Mesilla Valley Transportation (MVT)/WELD Racing #41 Maxim home with a respectable 11th place finish after the spin. His recovery effort earned him an additional 220 points for his finish bringing his night two point total to 415 event points, which ended up sixth overall for the night. While not the result they were striving to get, it was another good run for the forty-one and they will come back thirsty for better results Friday!
The top five in event points for night two of the Huset's High Bank Nationals were: (1) James McFadden (437 Points); (2) David Gravel (434 Points); (3) Michael "Buddy" Kofoid (432 Points); (4) Logan Schuchart (425 Points); and (5) Jacob Allen (423 Points).
When glancing at the combined event points with both Wednesday's and Thursday's results recorded, the top five in the cumulative point standings shook out like this: (1) David Gravel (855 Points); (2) Logan Schuchart (835 Points); (3) Carson Macedo (832 Points); (4) Michael "Buddy" Kofoid (828 Points); and (5) Rico Abreu (822 Points). The goal is to lock down one of those coveted four lock-in positions to the kill of the hill on Saturday night. But there is one more night of point scoring on Friday for all of the drivers and then each driver can eliminate their worst score and combine their two best scores before they are ranked ordered from highest to lowest. We will see where it all ends up soon enough. Let's enjoy the racing entertainment. Tune into DIRTVision to catch all of the action if you cannot be at the track!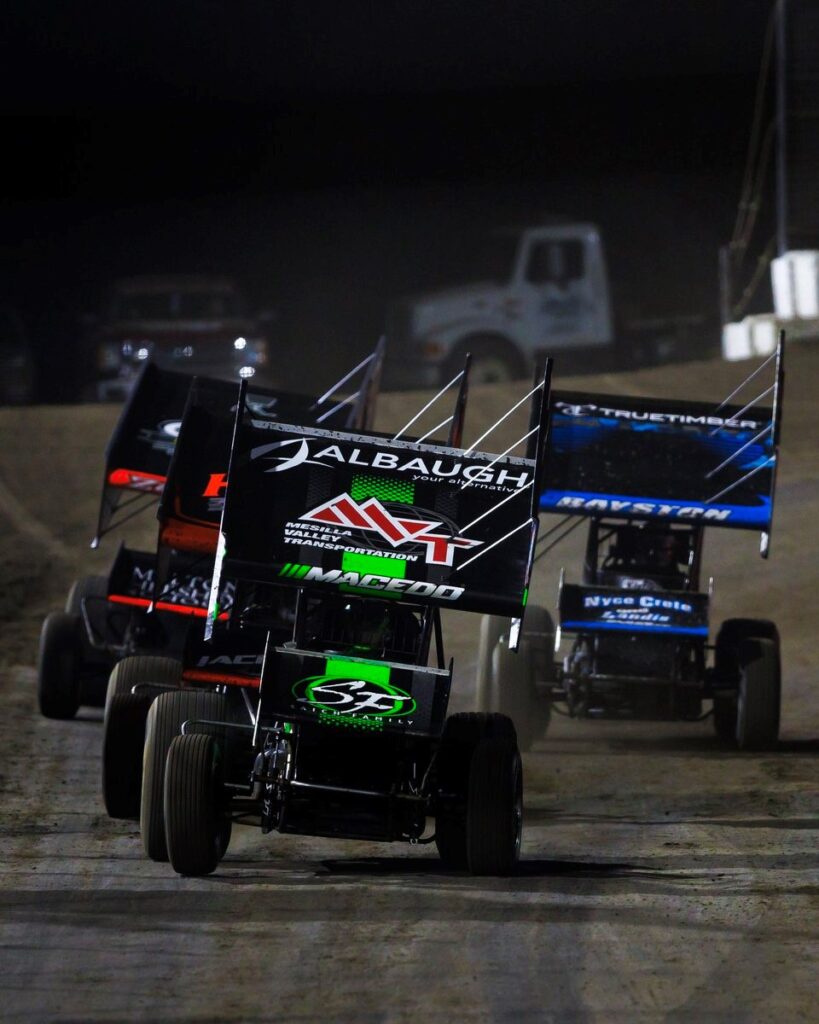 Carson Macedo was on the Move Again on Night Two Ending with an 11th Place Finish! Photo Credit: Trent Gower Photography
Albaugh, LLC; Border International; Mesilla Valley Transportation (MVT); Saich Family; Tarlton and Son Inc.; Boltz Family; Complete Parts & Equipment Solutions; Durst Inc.; Liquid Trucking; Bandy & Associates Accountancy Corporation; Buckwalter Trucking, LLC; Jansen Transportation; Larry Davis Farms; Meyers Constructors Inc.; Mr. Jim's Racing; RaceDiecast.com; Sam I Am; Team Jack Foundation; Mark Burch Motorsports; T-FAB Custom Metal Fabrication; Tiger Towing; All Pro Aluminum Cylinder Heads; AutoMeter; Bell Helmets; BMRS (Brown & Miller Racing Solutions); BR Motorsports; C&R Racing; Crow Enterprizes; Engler Machine & Tool, Inc.; Factory Kahne (FK Shocks); Fibreworks Composites; FK Rod Ends; Greber Racing Components; High Performance Lubricants, LLC; Hoosier Racing Tire; Indy Performance Composites (IPC); ISC Racers Tape; K1 Race Gear; Kistler Racing Engines; KSE Racing Products; Maxim Racing; Motor State Distributing; Premium Coach Group; Pro Powder Coating (PPC); Saldana Racing Products; Schoenfeld Headers; Smith Titanium; Vortex Racing Products; Walker Performance Filtration; Weld Racing; Wilwood Racing; Winters Performance Products; and, Xtreme Body and Paint.
To stay connected with Jason Johnson Racing (JJR), go to www.jasonjohnsonracing.com.
To stay up-to-date with Carson Macedo and his success journey on and off the track, as well as to purchase his gear and merchandise directly, visit www.carsonmacedoracing.com.