THE THRILL OF VICTORY: CARSON MACEDO WAS ON FIRE AND DELIVERED A GREAT RESULT DRIVING THE ALBAUGH – YOUR ALTERNATIVE #41 MAXIM TO AN IMPRESSIVE WIN DURING IOWA LOTTERY QUALIFYING NIGHT
KNOXVILLE, IOWA (August 10, 2023) – It is Knoxville Nationals time! After setting quick time and racing to a runner-up finish behind James McFadden in the 28th Annual Front Row Challenge on Monday night down the road at Oskaloosa, Carson and the team were ready to unveil their new paint scheme and race in their preliminary night at Knoxville Raceway – the Sprint Car Capital of the World. For sprint car fans there is just nothing that compares. From the daily activities in the area and around the track to the actual racing – the great sport of sprint car racing is the focal point in this small town in central Iowa. That's why it is the sports version of heaven and the reason the National Sprint Car Hall of Fame (NSCHoF) sits outside of turn two.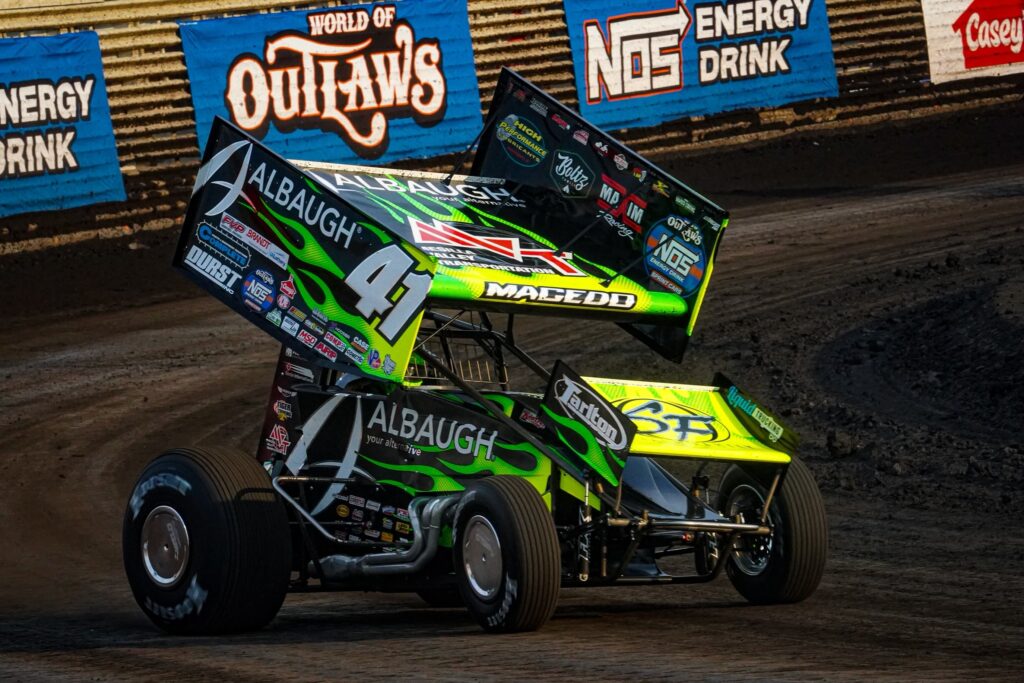 After Donny Schatz drove Ford Performance #15 to victory during Wednesday's BRANDT Professional Agriculture Qualifying Night for the first half of the race entries, it was Carson Macedo's turn. He, along with the other half of the competitors entered, would get to race for points and positioning on Thursday night in Iowa Lottery Qualifying Night at the 62nd Annual NOS Energy Drink Knoxville Nationals. There were 52 cars who participated in Wednesday's racing action with another 54 teams registered to compete on Thursday night. When totaled up that bring the count to 106 race entries for the 62nd Annual 410 Knoxville Nationals. There were points available to score every time a driver hit the race track based on where they ended up overall in time trials, their heat race, and in the feature at the end of the night. The goal for each driver was to perform at the highest level every time they hit the track to score and accumulate as many points possible.
The max points any driver can earn is 500 points: 200 points for the quickest driver in time trials; 100 points for each of the heat races winners; and, 200 points for the victor in the A-Main. It is no easy task to reach that mark, but the goal is to score as many points as possible to lock themselves and their team into Saturday night's prestigious A-Main by being one of the top ten point scorers when both qualifying nights were combined, tabulated and ordered from highest point scorer to lowest.
Where a driver goes out for their two time trial laps in qualifying is determined by random draw when they signed into the pit area before the night gets started. Each team/driver would draw a numbered ball and officials then arrange the numbers from lowest to highest to create the time trial order. Carson would be the 20th car to hit the track in his new yellow and green flame themed designed on the Albaugh – Your Alternative/Liquid Trucking/Durst Inc. #41 Maxim. As you may recall back on June 10th, when the World of Outlaws last visited here, Carson wrecked hard while racing in second place with just 12 laps to go. After experiencing a mechanical issue the car veered right which sent him at high speed into the turn four wall leading to a vicious series of flips that ultimately ended with the car erupting into flames when it came to rest. He was quickly tended to by the track safety personnel and eventually transported to a local hospital where the healthcare professionals took great care of him releasing the driver early the next morning with some burns and relatively minor injuries despite the severity of the accident. The 2023 Knoxville Nationals car design was already in the works when the accident occurred, but following the incident the decision was made to continue as planned with the car design and include a decal of gratitude honoring the Knoxville Raceway Fire & Safety Crew, as well as, the healthcare heroes at the hospital who assisted during a time of need as a way to show Carson's and the JJR team's sincere grace and appreciation.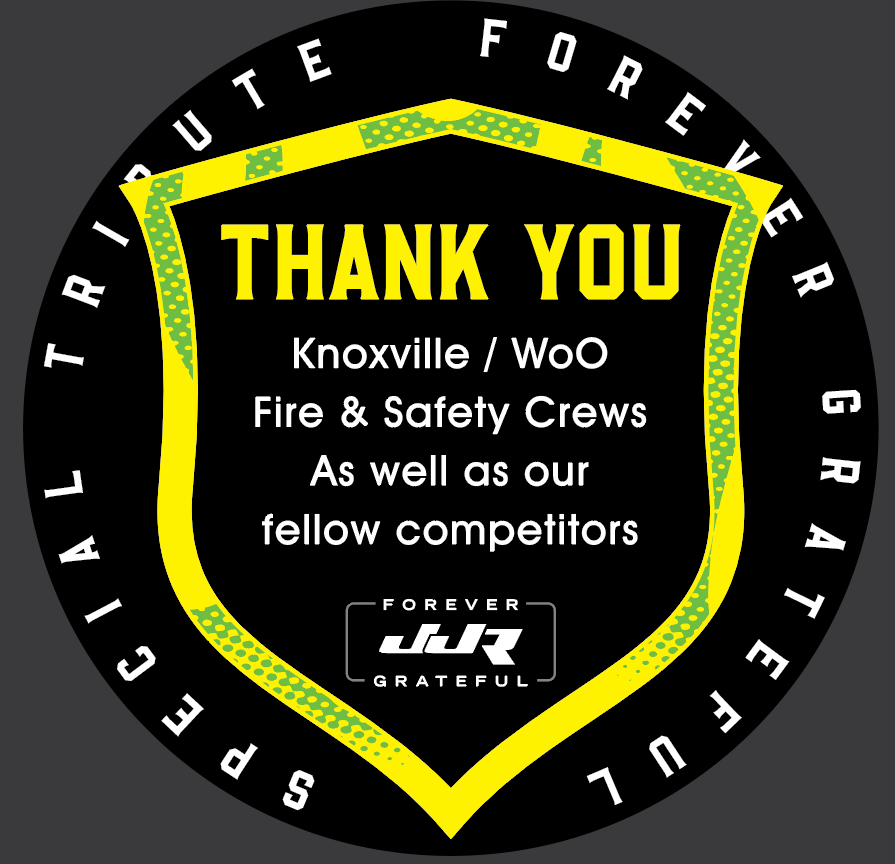 When it was Carson's turn to turn his qualifying laps his Kistler Engines power fired and he went to work. It would be two car qualifying and the Lemoore, California racer would be the on the track with Matt Wasmund from Jackson, Minnesota. Carson was motivated and looking to put the past behind him along with the time ticking away on the clock. Carson exited turn four and saw the green flag waving as he blew by the flagstand as the stopwatch started to move. He raced out of turn two and set his sights on the entry to turn three. He blasted through the final set of turns and completed his first lap in 16.092 seconds. Carson stayed on the loud pedal digging for more the next time around. The smooth California customer was driving with poise and passion. He passed the National Sprint Car Hall of Fame (NSCHoF) in turn two carrying his speed down the backstretch. His elbows were still high and his eyes focused on the checkered flag off turn four. When Carson raced across the finish line to end lap two the time that came up on the scoreboard read 15.993 seconds. The better of his two laps was 11th quick overall earning him 180 points in time trials. Rico Abreu collected the 200 points winning the Simpson Quick Time Award with a fast lap of 15.753 seconds.
The format for this event certainly does not make it easy and forces each driver to race to not only earn a good finish, but also the most points every time they hit the track. A perfect example of meritocracy – you get what you earn and work for – as there is less given for mediocrity with only four cars earning transfer positions out of each heat race. For those heat races there would be an inversion of eight cars, which puts the two fastest drivers in each heat race from time trials back in row four for the five 10 lap races. It is important to highlight that the Dunkin family works extremely hard to give the teams a race track and surface that allows for not only speed, but just as importantly the opportunity for the drivers to pass in multiple lanes around the track.
As the 11th quickest driver in time trials, Carson would get the Mesilla Valley Transportation (MVT)/RaceDiecast.com/Smith Titanium #41 Maxim started from the sixth position in the first of five heat races. He would pull the forty-one into his starting position in row three with Sam Hafertepe, Jr, to his inside. They would follow behind front row starters Zach Hampton and Lachlan McHugh and row two starters Brock Zearfoss and Tom Kaeding. Row four was the fastest two drivers in the heat race Tanner Holmes and Rico Abreu with row five being Ryan Roberts and Joe Simbro.
The lead row of Hampton and McHugh paced slowly toward turn four and pounded the accelerator to start the first heat race. Carson wasted very little time flexing his muscles as he drove the Albaugh #41 into the fourth position early as he dove underneath Hafertepe, Jr. and Kaeding. When the first lap was completed it was Zach Hampton leading Lachlan McHugh, Brock Zearfoss and Carson Macedo with Tim Kaeding and Rico Abreu right behind. Carson was balancing patience with focused persistence as he was standing on the gas making speed.
Brock Zearfoss moved into second place leaving McHugh to deal with the hard-charging Macedo. Philip Dietz, Clyde Knipp and Nathan Repetz had given him a fast Maxim Racing hot rod and he was having a blast driving it. He tried working the cushion in one and two. Then he tried the bottom in three and four to no avail. But on lap 4, Macedo drove the forty-one by McHugh and was now in the show position. At the halfway point of the race it was Hampton way out front ahead of Zearfoss, Macedo and McHugh who were all running in the transfer positions. Kaeding and Rico Abreu were still racing behind them trying to catch McHugh.
The laps were winding down with Carson running in the third position and steadily closing in on the Moose's LZ Bar & Grill #3z. But polesitter Zach Hampton was the first driver to the finish line to secure the victory over Brock Zearfoss with Carson Macedo the JJR #41 home in third place followed by Lachlan McHugh who locked down the fourth and final transfer spot in the first heat race. Carson's efforts in the heat race was rewarded with an addition 94 points bringing his cumulative event total at this point of the evening to 274 points.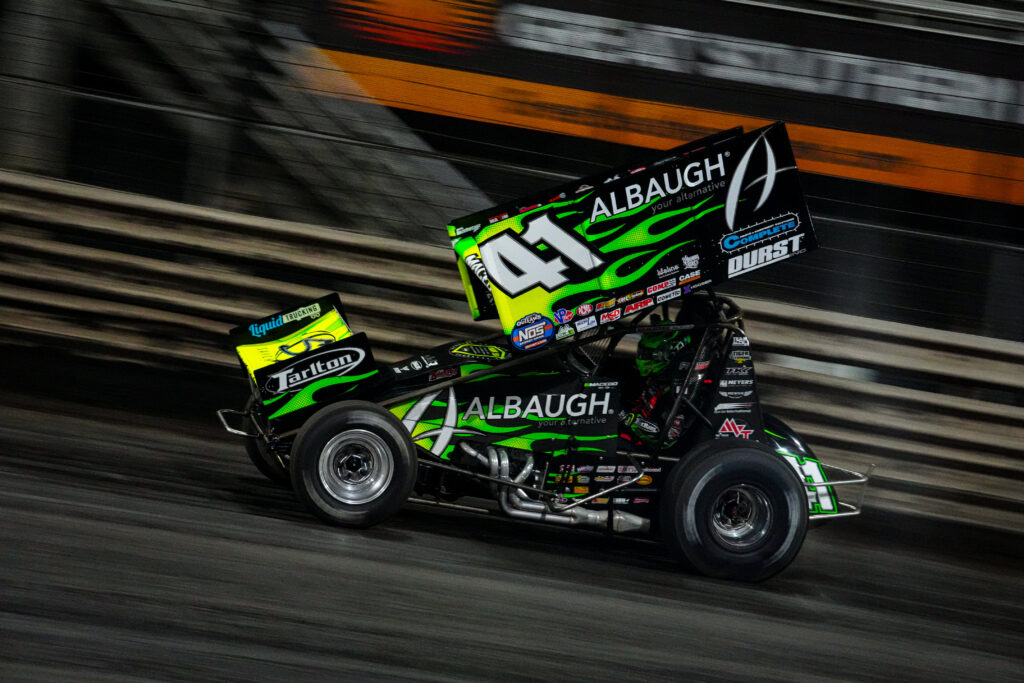 When the starting lineup was posted for Thursday's 25-lap Iowa Lottery Qualifying Night feature the top eight point scorers who earned their way into the A-Main were inverted. That put Anthony Macri and Garet Williamson on the front row with Dusty Zomer and Carson Macedo in the Albaugh – Your Alternative/Border International/Factory Kahne Shocks #41 pacing behind in row two. Kyle Larson and Ian Madsen were perched and ready in row three with Logan Schuchart and Brad Sweet rolling from row four.
When the green flag dropped it was Anthony Macri in the NOS Energy Drink #7BC driving into the lead over Dusty Zomer who sped into the runner-up position ahead of Garet Williamson. Carson was busy wheeling the Tarlton and Son #41 from the fourth spot but had his sights clearly set. He was on a mission to pass cars and move forward in the field. Williamson raced his way back by Zomer for second as Macedo closed in on both. Carson was moving and on lap 4 made his way by Zomer to gain the show position.
Macro was still leading with 10 laps in the books with Williamson running in second and Macedo in third. Carson was closing quickly on Williamson though and on lap 13 found some grip down the frontstretch and used it to race under Williamson entering run one. Macedo slid up across the track to seize the runner-up position with Williamson right behind and Macri the new target.
On lap 15, the first race stoppage of the race happened when 21st running Daryn Pittman flipped in turn three after losing his left rear tire and wheel. The driver was ok, but the car was heavily damaged. This would close the field up with Anthony Macri leading followed by Carson Macedo, Spencer Bayston, Garet Williamson and Kyle Larson who had made his way into the top five.
They would restart with 10 laps to go coming back to the green in single file formation with Carson using the opportunity to drive by Anthony Macri for the lead in turn one. The fast forty-one hotrod was on the loose in Iowa with Macedo behind the wheel. Carson did not waste time putting some distance between himself and the second running Macri with Bayston in third.
But the yellow flag was back out on lap 16 for Ian Madsen who ran over the cone to bring out the caution. It would be Macedo, Macri, and Bayston ahead of Austin McCarl who raced his way up to fourth with Williamson and Larson right behind.
They would go back to green flag racing again with 9 laps remaining with Carson still up front as Spencer Bayston raced into second passing Anthony Macri. They got another lap in the books, but no more as another caution period occurred this time for a wondering cone that found its way out onto the track after being hit.
Carson Macedo would again pace slowly to lead the field back to turn four where he would get on the gas and get a good jump on Bayston to restart the race with 8 laps to go. Carson used his speed to circle around the top of the track aboard the Albaugh – Your Alternative #41 ahead of Bayston and Macri. Carson was fast and put quite a bit of distance between his #41 entry and Bayston's #5 over the next few laps. Kyle Larson and Logan Schuchart were both moving forward when the 5 to go sign was given.
A lap later though a red flag was displayed halting the drivers in place as Brad Sweet flipped hard in turn two after his right rear tire disintegrated at the end of the frontstretch. Brad climbed out, but his NAPA Auto Parts #49 with a special paint scheme did not fare as well.
There were 21 laps in the books with 4 laps remaining when the engines re-fired. It would be Macedo at the front followed by Bayston, Macri, Larson and Schuchart all running in the top five. Carson again slowly made his way to turn four before stomping on the loud pedal to make his Kistler Engines power work. Carson was in control of the top spot, but Kyle Larson hustled past Macri into the third position with 21st starting Rico Abreu now on the move as he made his way into the top five.
Carson raced under Justin Clark's waving white flag followed by Bayston, Larson. Macro and Abreu with one half mile to go. He raced off turn four and could see the checkered flags. But, the race was halted under red flag conditions. They would end the race with a green-white-checkered restart when they got back going with Carson leading the field down the frontstretch. Kyle Larson used this last opportunity to race by Bayston into the runner-up position as Carson legged his way around the last set of turns and this time took the checkers and the win in the Iowa Lottery Qualifying Night. Kyle Larson came home second, Spencer Bayston third with Anthony Macri holding on four fourth as the race's hard-charger Rico Abreu rounded out the top five.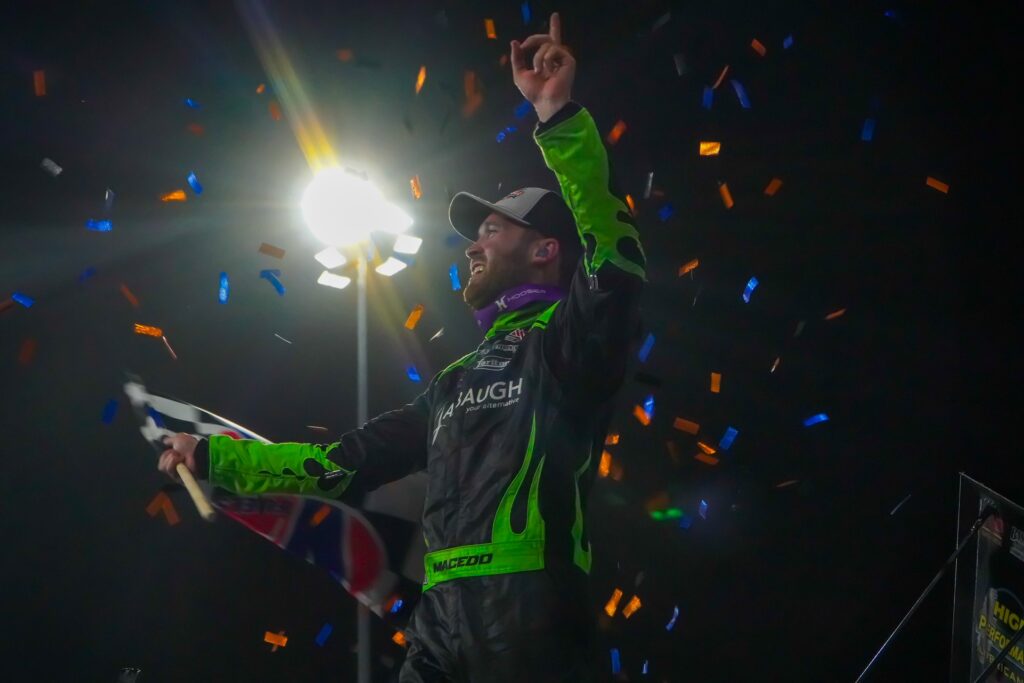 A grateful Macedo explained, "It's amazing! That was incredible." After taking a breath he reflected and shared, "It sucked to have that wreck. Man, it was a tough road back. You take for granted your youth, I think. I hadn't had a wreck that bad before. The recovery process at Beaver Dam that next weekend was hell on earth with my ribs being broke and still trying to race. And to come back here and win is pretty incredible." After pausing he stated, "I'm thankful for my team." He continued, "JJR is amazing. I think Jason was maybe riding with me tonight there after I had my bad one (back in June). He loved Knoxville Raceway, and I love it too!"
With the Schoenfeld Headers still cooling, scoring officials were hard at work tabulating the final points and the combined rank order for both nights. Carson's accumulated event points following the A-Main brought his total to 474 points positioning him fourth highest point driver for his preliminary night and fifth overall for both qualifying nights to lock him into Saturday night's 62nd Annual NOS Energy Drink Knoxville Nationals A-Main presented by Casey's.
The top ten drivers in combined points following the two qualifying nights for the were: (1) Kyle Larson (482 Points); (2) Rico Abreu (480 Points); (3) Donny Schatz (479 Points); (4) Logan Schuchart (479 Points); (5) Carson Macedo (474 Points); (6) Hunter Schuerenberg (462 Points); (7) Kerry Madsen (459 Points); (8) Buddy Kofoid (459 Points); (9) Giovanni Scelzi (458 Points); and, (10) Corey Day (458 Points). Each of these drivers had locked themselves into a starting spot in the first five rows of the 62nd Annual NOS Energy Drink Knoxville Nationals A-Main presented by Casey's on Saturday night.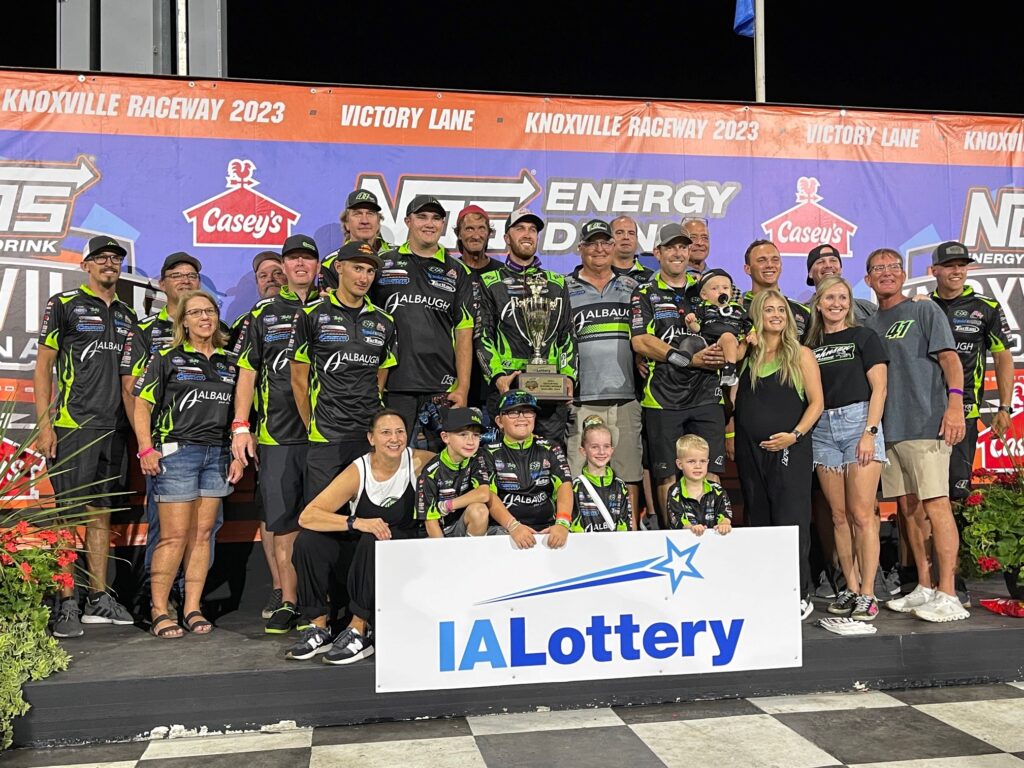 A Terrific Night of Speed and Performance During Iowa Lottery Qualifying Night for Carson Macedo and the Albaugh – Your Alternative #41! Photo Credit: CS Productions – Cameron Saich
Albaugh, LLC; Border International; Mesilla Valley Transportation (MVT); Saich Family; Tarlton and Son Inc.; Boltz Family; Complete Parts & Equipment Solutions; Durst Inc.; Liquid Trucking; Bandy & Associates Accountancy Corporation; Buckwalter Trucking, LLC; Jansen Transportation; Larry Davis Farms; Meyers Constructors Inc.; Mr. Jim's Racing; RaceDiecast.com; Sam I Am; Team Jack Foundation; Mark Burch Motorsports; T-FAB Custom Metal Fabrication; Tiger Towing; All Pro Aluminum Cylinder Heads; AutoMeter; Bell Helmets; BMRS (Brown & Miller Racing Solutions); BR Motorsports; C&R Racing; Crow Enterprizes; Engler Machine & Tool, Inc.; Factory Kahne (FK Shocks); Fibreworks Composites; FK Rod Ends; Greber Racing Components; High Performance Lubricants, LLC; Hoosier Racing Tire; Indy Performance Composites (IPC); ISC Racers Tape; K1 Race Gear; Kistler Racing Engines; KSE Racing Products; Maxim Racing; Motor State Distributing; Premium Coach Group; Pro Powder Coating (PPC); Saldana Racing Products; Schoenfeld Headers; Smith Titanium; Vortex Racing Products; Walker Performance Filtration; Weld Racing; Wilwood Racing; Winters Performance Products; and, Xtreme Body and Paint.
To stay connected with Jason Johnson Racing (JJR), go to www.jasonjohnsonracing.com.
To stay up-to-date with Carson Macedo and his success journey on and off the track, as well as to purchase his gear and merchandise directly, visit www.carsonmacedoracing.com.