THE BOYS ARE BACK IN KANSAS: MACEDO HUSTLES THE JJR #41 BACK THROUGH THE FIELD AT LAKESIDE SPEEDWAY AS HE RACES HIS WAY TO AN EIGHTH PLACE FINISH IN THE FVP PLATINUM BATTERY SHOWDOWN!
KANSAS CITY, KANSAS (October 22, 2021) – In 1822, the Santa Fe Trail brought hundreds and hundreds of covered wagons through Kansas as individuals explored and navigated across the country. Unbeknownst to them, Kansas City became the midway point of their journey as they crossed the Missouri River, which now separates the proud city which now resides in two states – Missouri and Kansas. On Friday night, almost 200 years later, the World of Outlaws NOS Energy Drink Sprint Car Series rolled their haulers into town, on the Kansas side of the city, ready to put on a show just off the banks of that same river at Lakeside Speedway's 4/10-mile, semi-banked dirt oval. After winning this event last year with Shane Stewart driving, Philip Dietz and the JJR #41 team were looking forward to getting back on track after a challenging two days at Port Royal Speedway with their full-time driver Carson Macedo behind the wheel. On a picturesque day, there were a total of 32 sprint car teams sitting in the Lakeside pit area which is located outside of turns 3 and 4 at the beautiful facility. The teams and drivers were ready to deliver some high speed entertainment.
A refreshed and ready Carson Macedo, with his always present smile, climbed into the cockpit of the Liquid Trucking/Durst Inc./Factory Kahne (FK) Shocks #41 Maxim ready to do what he loves at Lakeside. The Lemoore, California native would be the 22nd car out on the track for his two timed laps in Slick Woody's Qualifying. He mashed the accelerator and his Kistler Engines power propelled him forward as he raced under the waving green flag. Tick, tick, tick as the numbers streamed by on the stopwatch. When Carson completed his first go 'round, his effort was measured in 13.427 seconds. He stayed the course and was looking to find any little bit of speed he may have missed the first lap. When Carson motored across the finish line the second time, the clock read 13.365 seconds. The better of his two laps ended up 10th quick overall when the final time trial lap was completed by Samuel Wagner. David Gravel set quick time, and a new track record, for the night with a lap of 13.169 seconds.
When the starting lineups for the four 8-lap Drydene Heat Races were posted, Macedo would get started from the third starting spot in the second heat race. Missouri native Brian Brown was on the pole with Giovanni Scelzi sharing the front row with him. Justin Henderson was Macedo's partner in row two. Kasey Kahne and Jason Sides sat in row three with Dustin Selvage and Jack Wagner in the fourth and final row. Carson waited patiently in the push off lane as he finalized his heat race strategy. The field aligned in their tradition two-by-two formation, bumper-to-bumper and when the green flag waved their Hoosier Racing Tires were all digging into the moist surface which was producing lightning quick speeds. Carson drove the Albaugh – Your Alternative/Border International/Engler Machine & Tool #41 into the show position on the opening lap behind Brown and Scelzi. At these speeds the laps go by quickly. The racing lanes were still slightly narrow as Brown raced to the heat race win over Scelzi and Macedo with Henderson and Kahne securing the final two transfer positions.
The 30-lap World of Outlaws NOS Energy Drink FVP Platinum Battery Showdown feature lineup was set. Giovanni Scelzi and Kerry Madsen were in row, Brad Sweet  and Aaron Reutzel in row two, Donny Schatz and Brian Brown in row three, as Carson Macedo started on the outside of row five in the Tarlton and Son/Pro Powder Coating (PPC)/FK Rod Ends #41 Maxim. The people packed the grandstands and were on their feet to salute these speed stars during their visit to this Kansas speed plant. When the green flag waved it was Kerry Madsen in the TSR #14 to the lead over Scelzi with Macedo driving off the start into the seventh position. The torrid pace that was being set was slowed on lap 5 when Carson spun to s stop in turn two while running in the eighth position. He tagged the rear of the field and was more determined than ever as he grasped the steering wheel with his K1 Race Gear Flex Racing Gloves. When they went back to green flag racing it was Madsen wheeling his mount at the front of the field. Carson wasted no time as he stomped on the accelerator and motored into 18th place. He continued to work and display his talents and when the second yellow of the night flew on lap 10 for James McFadden who was off the pace and headed to the work area. Carson would restart from the 15th starting spot with Madsen still leading the field. The field again got up to speed with Kerry Madsen rocking and rolling at the front of the pack. Carson moved up one position as he continued his march forward. Another caution on lap 14, this time for Brock Zearfoss who rolled to a stop through turns one and two just before the halfway point of the race. When they got back up to speed around Lakeside Macedo starting the next phase of his forward march. He was using his speed and talent and taking advantage of every opportunity picking up a position here and then there lap after lap. With 5 laps to go, the Lemoore native had the JJR #41 just outside the top ten in the eleventh position. The final caution of the night flew with just 4 laps to go as Brian Brown came to a stop on the outside of turn two ending his night. With four laps to go, or 1.6 miles, Carson was determined to gain some more. When they restarted the race it was Giovanni Scelzi wheeling the KCP Racing #18 into the lead over Madsen. Meanwhile, Carson was bullish moving ahead of David Gravel into the eighth position. Scelzi would race to the win over Donny Schatz and Kerry Madsen with Aaron Reutzel and Logan Schuchart completing the top five. Points leader Brad Sweet came home sixth, Kraig Kinser seventh, with Carson Macedo hustling back from his spin to earn an eighth place finish. A show of determination resulted in another good run for the forty-one!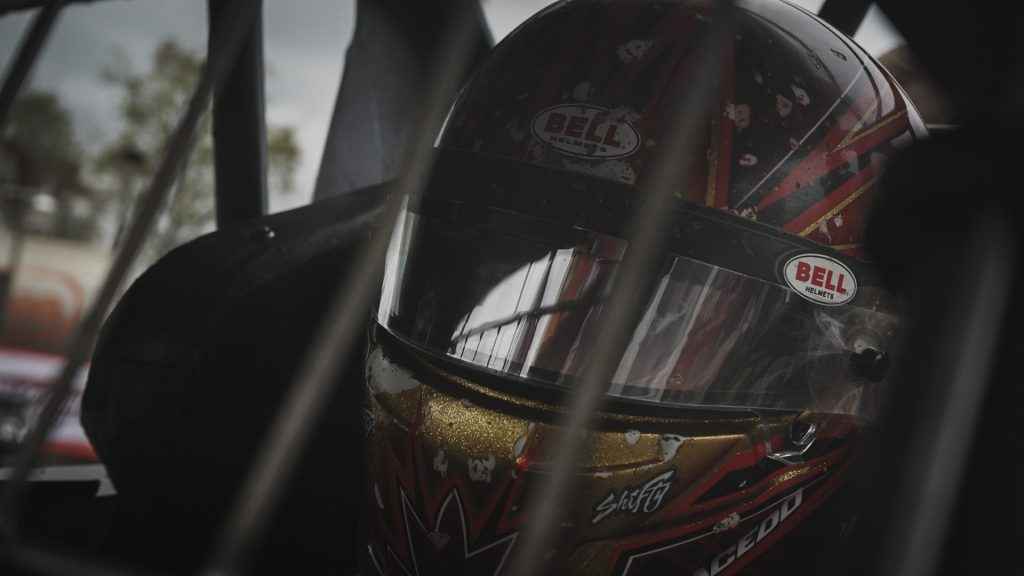 A Determined Effort at Lakeside Speedway Nets and Eighth Place Finish! Photo Credit: Cameron Saich
Mesilla Valley Transportation (MVT); Tarlton and Son Inc.; Complete Parts & Equipment Solutions; Albaugh – Your Alternative, Saich Family; Border International; Dissolvalloy Downhole Revolution; Jonestown KOA; Durst Inc.; Maxim Racing; The Boyd Family; Liquid Trucking; Meyers Constructors Inc.; Tiger Towing; Pro Powder Coating (PPC); Waco Metal; High Performance Lubricants, LLC; Kistler Engines; Team Jack Foundation; Mark Burch Motorsports; All Pro Auto Reconditioning; K1 Race Gear; AutoMeter; Bandy & Associates Accountancy Corporation; Bell Racing USA; Blackbeard LTD; BR Motorsports; Brown & Miller Racing Solutions (BMRS); Buckwalter Trucking, LLC; C&R Racing; Chalk Stix Torsion Bars; Crow Enterprizes; Engler Machine & Tool, Inc.; Factory Kahne (FK Shocks); Fibreworks Composites; FK Rod Ends; Fuel Safe Racing Cells; Greber Racing Components; Hoosier Racing Tire; ISC Racers Tape; Jansen Transportation; KSE Racing Products; Larry Davis Farms; Logo Daddy Graphics; Mr. Jim's Racing; MSD Performance; RaceDiecast.com; Sam I Am; Schoenfeld Headers; Smith Titanium; T-FAB Custom Metal Fabrication; Vortex Racing Products; Walker Performance Filtration; Weld Wheels; Wilwood Racing; and Winters Performance Products.
To stay connected with Jason Johnson Racing (JJR), go to www.jasonjohnsonracing.com.
To stay up-to-date with Carson Macedo and his success journey on and off the track, as well as to purchase his gear and merchandise directly, visit www.carsonmacedoracing.com.