TEAM SHINES IN BUCKEYE STATE: CARSON MACEDO, ALONG WITH CLYDE KNIPP AND NATE REPETZ, PHONE-A-FRIEND (AN IMPORTANT ONE) TO COME TOGETHER TO EARN A RUNNER-UP FINISH AT ATTICA RACEWAY PARK
ATTICA, OHIO (May 20, 2022) – After rain washed out the racing action at Eldora Speedway earlier this month, Carson Macedo and the stars of the World of Outlaws NOS Energy Drink Sprint Car Series were back in Ohio for the first time this season. The schedule took them to the northern part of the state to Attica Raceway Park for the Kistler Engines Classic. This fast and technically demanding 1/3-mile high banked dirt oval is located on the property of Attica Fairgrounds. The racing action is always terrific here and this event draws the best-of-the-best to compete. The grandstands were absolutely packed as there was a strong field of 41 cars entered and lined up throughout the pit area, which is located outside of turns three and four. It was time to go racing Buckeye State style at Attica Raceway Park!
The JJR #41 team was ready to do battle without their leader and crew chief Philip Dietz at the track because he was back home with Brooke welcoming their beautiful new baby boy, Jace Michael Dietz who was born on Thursday, May 19th at 12:40 PM Central Time, into their family. Jace weighed in at 5 lbs. 13 oz. and made an instant impact as he brought joy and warm hearts to his parents, family members, and friends immediately. Unwavering, Carson along with Clyde and Nate were ready to step up and perform at their best JJR style with Philip available by phone to help guide them as he watched DIRTVision.
The man from Lemoore, California, currently sitting third in the season long point standings, would be the fifth driver in Group A out on the track in My Place Hotels Qualifying. He climbed into his office aboard the Albaugh – Your Alternative/Greber Racing Components (GRC)/Kistler Engines #41 Maxim and buckled into his Crow Enterprizes safety belts. He rolled into the staging area as he waited for his turn to race against the clock during his two laps. When he got the signal to fire his engine he rolled onto the track in turn four and blasted down the frontstretch to take the green flag. His goal was to do his job quick and when he crossed the timing stripe after his first lap the clock read 12.858 seconds. Pedal down he kept his momentum moving in the right direction and completed his second lap slightly quicker in 12.852 seconds. The better of his two laps positioned him 3rd quick overall in Group A on the night when time trials came to a close. Spencer Bayston was the quickest driver in Group A. Overall though it was David Gravel who was the fastest driver of the night coming out of Group B turning a lap in 12.742 seconds.
When the four 10-lap heat race starting lineups were posted, the Mesilla Valley Transportation (MVT)/Border International/All Pro Aluminum Cylinder Heads #41 with Carson Macedo behind the wheel would get started in the first heat race from the outside of the front row beside Spencer Bayston. As Carson pushed out onto the track, he flipped down the shield of his Shifty Illusions custom painted Bell Helmet as he prepared to attack the track. Kraig Kinser and Chris Andrews were in row two, Carson's younger brother Cole Macedo was on the inside of Kyle Capodice in row three, Brent Marks and TJ Michael in row four, Kasey Kahne and Robbie Price in row five with Wyatt Zimmerman pacing from the last row. When the green flag waved, Carson drove the Albaugh #41 into the lead over Bayston on lap one with Cole Macedo blasting his way into the show position aboard the Ray Brooks Racing #18. Both of the Macedo boys were up on the wheel and kicking the dirt up as they swept through each set of turns lap after lap displaying their talent. The talented drivers were digging around Attica Raceway Park. Carson never was challenged for the top spot as he led all the laps to take the heat race victory by 1.526 seconds over Spencer Bayston, Cole Macedo who drove a fantastic race came home third, Chris Andrews was fourth and Brent Marks charged forward to lock down the fifth and final transfer position on the last lap of the race.
Carson earned a spot in the DIRTVision Fast Pass Dash but had to pull one of the dreaded pills from the oversized NOS Energy Drink can to see where he would start. He has not had much luck drawing numbers this year. The forty-one driver would be the first driver to test his luck with eight pills in the can numbered from one through eight. The goal is to pick the lowest number possible, but unfortunately as only Lady Luck would have it he again pulled out the highest number. That positioned Carson on the outside of row four in the Tarlton and Son/Meyers Constructors/AutoMeter #41 Maxim beside another driver that seems to have no luck drawing numbers for the dash – David Gravel. Logan Schuchart and Sheldon Haudenschild sat on the front row with Spencer Bayston and Brad Sweet in row two. Kyle Larson and James McFadden were sandwiched in row three amongst the field. When the yellow lights dimmed and the green flag waved it was Schuchart driving into the lead over Kyle Larson who drove into the runner-up position as Carson powered his way into the fifth position on the opening circuit. He had the forty-one moving forward and by lap three moved his way into fourth. Schuchart would not be denied as he beat Larson to the finish line with Sweet coming home third and Carson Macedo fourth. Spencer Bayston, Sheldon Haudenschild, David Gravel and James McFadden rounded out the finishing order.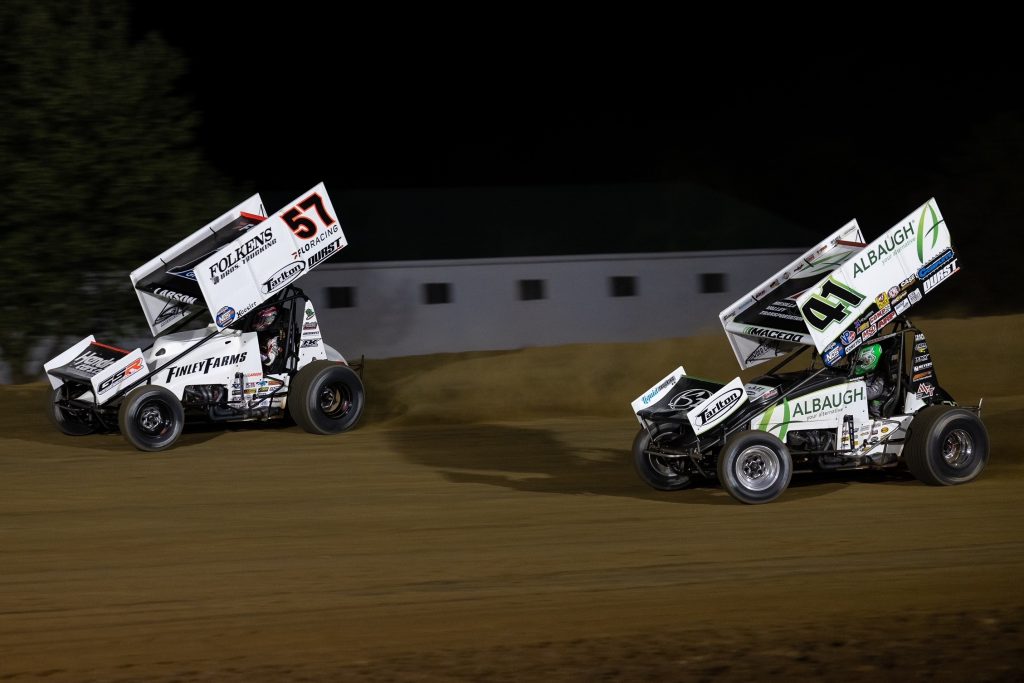 The only thing remaining on the race card was the 40-lap NOS Energy Drink Kistler Engines Classic feature at Attica Raceway Park. Following some phone discussions, Clyde Knipp, Nate Repetz and Carson Macedo worked closely together as a team as they made some final adjustments, along with Paul Kistler who helped tune JJR's Kistler Racing Engines power. The Albaugh #41 team was ready to go racing! The horn sounded and the field rolled onto the racing surface at Attica. The engines fired and it was time to put on a show for these awesome fans. Carson maneuvered onto the outside of row two in the Team Jack Foundation/FK Rod Ends/Schoenfeld Headers #41 and was anxious to get up to speed. When the engines roared to life it was Kyle Larson driving into the top spot on the opening lap over Logan Schuchart and Carson Macedo. Schuchart and Macedo were about to give the promoters a reason to raise the admission prices as over the next 9 laps the two very talented speed chauffeurs put on an incredible show for the fans. They raced each other cleanly and swapped positions multiple times before Carson seized control of the second spot in the running order on the tenth lap. The first caution of the race was displayed on lap 11 for David Gravel who got a hole in his right rear that eventually exploded. He went to the work area and returned to the field. It was Larson, Macedo, Schuchart, Haudenschild and Sweet in the top five when they went back to green as Macedo was giving it his all trying to pass Larson's #57 to no avail. With 20 laps in the books it was still Larson leading over Macedo with Haudenschild now in the show position ahead of Schuchart and Sweet. On lap 21, the second caution of the night flew, this time for Spencer Bayston who slowed in turns three and four with a flat right rear Hoosier Racing Tire. The top five drivers had a clear track in front of them and were ready to get back up to speed. Kyle Larson started on the inside of the two-by-two formation with Carson Macedo's JJR #41 to his outside. The defending NASCAR champion got another good start to protect the first position in the running order over Macedo. Carson was not too far away in the Complete Parts & Equipment Solutions #41 though as he continued to stalk Larson for the lead. The third caution came out on lap 25 with Larson, Macedo, Sweet, Haudenschild and now McFadden making up the top five. When they lowered their right feet on their accelerators it was Larson to the lead as Macedo tried a slider entering turn one but could not gain any traction to drive off turn two. Larson continued in the lead with Macedo diligently chasing. Another caution with 12 laps to go for Ian Madsen who spun in turn four gave Carson another shot when they got restarted, but to no avail. Larson was in command.  The final caution flag flew 3 laps later with nine to go. Carson made one last valiant effort to steal the lead but Larson was on point and not willing to surrender the number one position. He would lead the remaining laps to collect the victory at Attica Raceway Park with Carson Macedo coming home third and James McFadden rounding out the podium. Sheldon Haudenschild and Brad Sweet completed the top five.
During Carson's interview on the frontstretch he shared, "My guys did an incredible job tonight. Clyde and Nate stepped up huge with Phil taking care of Brooke and their little boy, Jace." He continued, "He was watching on DIRTVision and we were talking about things on the phone. It was an interesting dynamic, but it worked tonight. The restarts were tough and Kyle is so good at them. He times each of them differently, so you can never exactly nail down what he's doing. I could stay with him for a lap or two, but then I would just lose momentum and slide back." Thank goodness the crew had a phone-a-friend call in their back pocket with Phil and Clyde and Nate not only stepped up, but also stepped out on this night. Teamwork is what makes dream work! Another great run for the forty-one!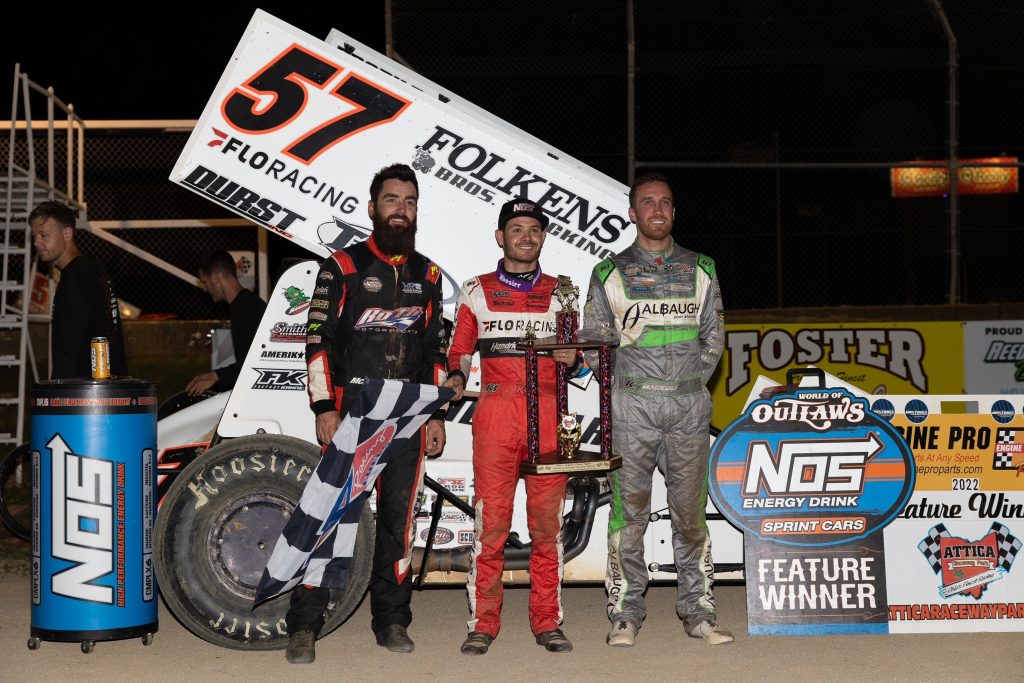 A Runner-Up Finish For the Albaugh #41 Team in the Kistler Engines Classic at Attica! Photo Credit: Trent Gower
Albaugh, LLC; Border International; Mesilla Valley Transportation (MVT); Saich Family; Tarlton and Son Inc.; Boltz Family; Complete Parts & Equipment Solutions; Durst Inc.; Liquid Trucking; Bandy & Associates Accountancy Corporation; Buckwalter Trucking, LLC; Dissolvalloy Downhole Revolution; Jansen Transportation; Larry Davis Farms; Meyers Constructors Inc.; Mr. Jim's Racing; RaceDiecast.com; Sam I Am; Team Jack Foundation; Mark Burch Motorsports; T-FAB Custom Metal Fabrication; Tiger Towing; All Pro Aluminum Cylinder Heads; AutoMeter; Bell Helmets; BMRS (Brown & Miller Racing Solutions); BR Motorsports; C&R Racing; Crow Enterprizes; Engler Machine & Tool, Inc.; Factory Kahne (FK Shocks); Fibreworks Composites; FK Rod Ends; Greber Racing Components; High Performance Lubricants, LLC; Hoosier Racing Tire; Indy Performance Composites (IPC); ISC Racers Tape;K1 Race Gear; Kistler Racing Engines; KSE Racing Products; Maxim Racing; Motor State Distributing; Pro Powder Coating (PPC); Saldana Racing Products; Schoenfeld Headers; Smith Titanium; Vortex Racing Products; Walker Performance Filtration; Weld Racing; Wilwood Racing; Winters Performance Products; and Xtreme Body and Paint.
To stay connected with Jason Johnson Racing (JJR), go to www.jasonjohnsonracing.com.
To stay up-to-date with Carson Macedo and his success journey on and off the track, as well as to purchase his gear and merchandise directly, visit www.carsonmacedoracing.com.