TAKE TWO IN NEW RICHMOND: MACEDO USES HIS KISTLER ENGINES POWER TO WIN THE DIRTVISION FAST PASS DASH AND LEAD MORE LAPS BEFORE FINISHING SECOND (AGAIN) IN THE FINALE OF THE INDEPENDENCE DAY SPECTACULAR
NEW RICHMOND, WISCONSIN (July 3, 2021) – After leading a lot of laps and earning a runner-up finish on Friday night at Cedar Lake Speedway, the JJR #41 team was back in the pit area looking to continue their speed and success in the Dissolvalloy Downhole Revolution #41 Maxim on the second night of the Independence Day Spectacular around the 3/8-mile oval in New Richmond. When you are racing with the best in the business night in and night out, you have to bring your 'A' game every race as the margin for error is razor thin. Everyone is good and everyone is capable of winning each night. This edge is what keeps these athletes sharp and makes them hard to beat when they come to town. Carson certainly was eager and ready to get back on the track at Cedar Lake and give it his best effort again as he navigated through the competition on this beautiful Wisconsin day with temperatures in the mid-80s, crisp blue skies, and not a cloud to be found. There were 28 teams back in the pit area and registered to race on Saturday night.
The Lemoore, California racer would be the eighteenth driver out on the racing surface for his two laps in Slick Woody's Qualifying. After Sheldon Haudenschild finished his time trial laps, Carson rolled onto the track in the Tarlton and Son/Waco Metal/Bandy & Associates #41 Maxim to race against the clock. He lowered his right foot and called for all the ponies to get to work in his Kistler Engines power plant. He took the green and wheeled his way around Cedar Lake. The seconds were ticking by as he stopped them at 11.494 seconds on his first circuit. Bound and determined he kept his elbows up in an effort to better his mark. His second lap came in a little faster at 11.490 seconds. His second lap would stand as the better of the two and when time trial qualifying concluded positioned him 11th quick overall on night two. Brad Sweet was the fastest on the night with a lap of 11.240 seconds.
The starting grids for the three Drydene Heat Races were constructed and posted with Carson Macedo and the Durst Inc./Schoenfeld Headers/C&R Racing #41 Maxim getting started from the outside of row two with Sean Rayhall to his inside and Aaron Reutzel and James McFadden on the front row. Wayne Johnson and Jason Sides sat in row three, Josh Schneiderman and Hunter Custer in row four, as Jack Berger manned row five. There was some early chaos on the initial start when McFadden got started early and Wayne Johnson got up over another competitor and diverted to the infield to bring out the yellow. Officials determined and docked McFadden one row for getting on the accelerator early, which shuffled the starting order putting Rayhall on the outside of the front row and Carson Macedo to the inside of row two in the third position. The next time they got their engines roaring, Aaron Reutzel powered off the pole and into the lead. Carson used the bottom entering turn one to drive into the runner-up position over Rayhall and McFadden. McFadden wasted little time moving into the third position as he and Macedo chased Reutzel the remainder of the race as he had checked out on the field. Reutzel took the heat race win by 1.761 seconds over Macedo, McFadden came home third as Rayhall, Johnson, and Jason Sides locked in the final transfer spots.
With his second place run in the heat race, Carson earned his way into the DirtVision Fast Pass Dash for the 25th time this season in World of Outlaws (WoO) competition. He headed back to the frontstretch to wait for his turn to draw for his starting position. He was the fifth driver to pull with two pills left in the oversized NOS Energy Drink can. There were two odd numbers – a one and a three – left to be drawn. Wearing his silver and black Tarlton and Son K1 Race Gear racing suit he reached in, dropped the first one and picked the next one . . . and, it was the one for the second consecutive night. He would start beside Aaron Reutzel with fellow Mesilla Valley Transportation (MVT) driver Kraig Kinser and Giovanni Scelzi in row two, with Donny Schatz and Brad Sweet in row three. Eight laps with the finish determining the starting order for the first three rows of the feature. When they got to racing it was Carson Macedo using his KSE Racing Products to steer his way off the bottom and up across the track in turn two to take the lead over Reutzel. He was hitting his marks and extending his lead ad he led wire-to-wire to take the win by 0.758 seconds with Scelzi coming home third, Sweet fourth, Kinser fifth, and Schatz in sixth.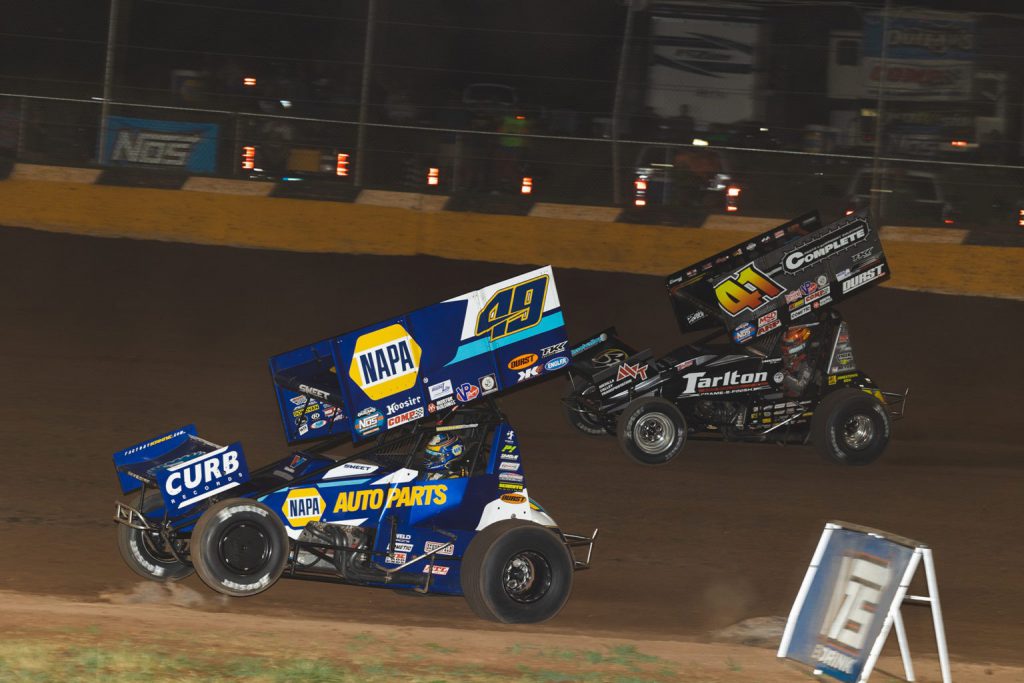 Carson Macedo would again start from the pole position for the 35-lap NOS Energy Drink Independence Day Spectacular feature finale at Cedar Lake Speedway in New Richmond, Wisconsin. Philip Dietz, Clyde Knipp, and Nate Repetz were hard at work making their final adjustments for their driver. With one last twist of the wrench they had the Team Jack Foundation/Pro Powder Coating (PPC)/Brown & Miller Racing Solutions (BMRS) #41 ready for their driver to do his thing around the Wisconsin oval. With fireworks exploding over the four-wide salute to the fans the excitement was brimming in the packed house. The drivers their way back into their two-by-two starting order and when the green flag waved it was Macedo to the lead over Reutzel and Sweet. He had the forty-one hooked up and was fast in clean air. That speed carried him forward and before you knew it he was already dealing with lap traffic. Brad Sweet had worked his way into second on lap 8 and was in hot pursuit of Macedo. He was tracking him down and when Carson got slowed up a bit trying to get by Alan Gilbertson's #97, "The Big Cat" pounced and took the lead on lap 13. A caution flag flew quickly for Parker Price-Miller who spun and was facing traffic in turn four. Macedo would start on the outside of Sweet when the field would go back to green and drove the Mesilla Valley Transportation (MVT) #41 back into the lead again. Sweet was not going anywhere, but Carson was fast again in clean air. He again caught the back of the pack and started to race through the slower cars. Sweet was stalking again and tracking the leader down. With 15 laps to go, Sweet again passed Macedo for the lead as he now put some distance between himself and Macedo. He was now the first driver in the field to attack the back runners as he approached them and Macedo was closing the gap with 5 circuits to go. Carson was right there with 2 laps to go when Sweet was having a challenging time getting by the #3z of Brock Zearfoss. This could get interesting, but Sweet was smooth and took the win over Macedo for the second night in a row. Giovanni Scelzi came home third with Logan Schuchart and David Gravel rounding out the top five. A humble and appreciative Carson Macedo simply stated, "He (Sweet) just beat me." He continued, "I thought I was as good as him, but I just have to step my game up. That's all there is to it. We're not happy with second, you know we want to be winning these races. I'm thankful for all the hard work my guys put in. Hopefully we deliver some big runs in the Month of Money." Another great run for Macedo and the forty-one to kick off the busy month of July! The JJR #41 team's best days truly are still ahead of them and there no better time to celebrate, prepare and focus on the goals ahead.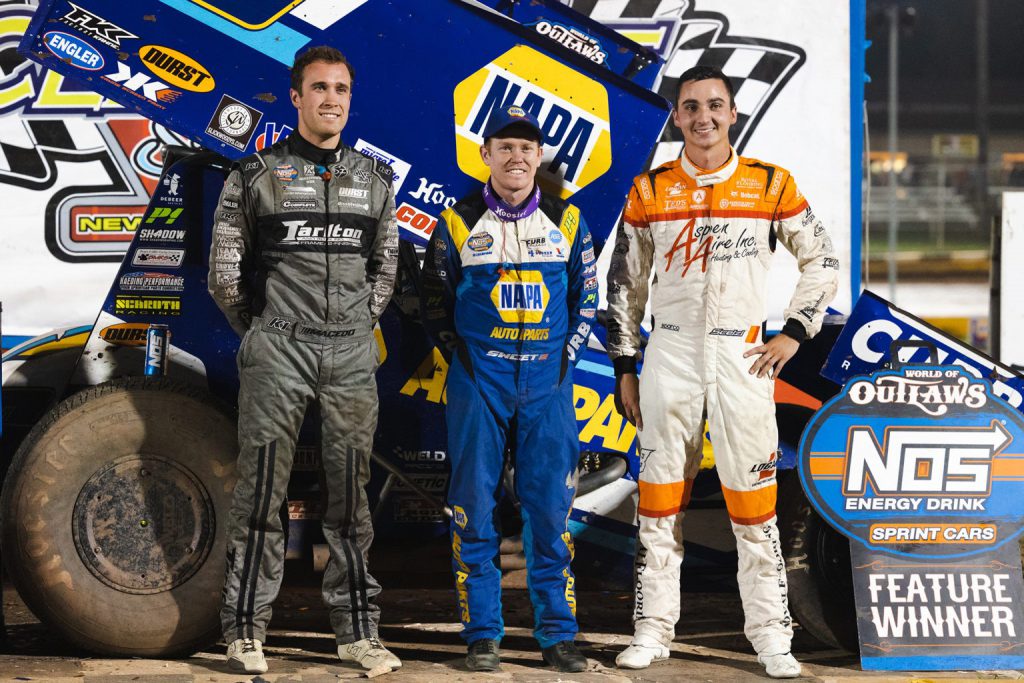 For the Second Night in a Row, Carson Macedo Leads Laps and Finishes as the Runner-Up to Brad Sweet at Cedar Lake Speedway! Photo Credit: Trent Gower Photography
Mesilla Valley Transportation (MVT); Tarlton and Son Inc.; Complete Parts & Equipment Solutions; Saich Family; Border International; Dissolvalloy Downhole Revolution; Jonestown KOA; Durst Inc.; Maxim Racing; The Boyd Family; Liquid Trucking; Meyers Constructors Inc.; Tiger Towing; Pro Powder Coating (PPC); Waco Metal; High Performance Lubricants, LLC; Kistler Engines; Team Jack Foundation; Mark Burch Motorsports; All Pro Auto Reconditioning; K1 Race Gear; AutoMeter; Bandy & Associates Accountancy Corporation; Bell Racing USA; Blackbeard LTD; BR Motorsports; Brown & Miller Racing Solutions (BMRS); Buckwalter Trucking, LLC; C&R Racing; Chalk Stix Torsion Bars; Crow Enterprizes; Engler Machine & Tool, Inc.; Factory Kahne (FK Shocks); Fibreworks Composites; FK Rod Ends; Fuel Safe Racing Cells; Greber Racing Components; Hoosier Racing Tire; ISC Racers Tape; Jansen Transportation; KSE Racing Products; Larry Davis Farms; Logo Daddy Graphics; Mr. Jim's Racing; MSD Performance; RaceDiecast.com; Sam I Am; Schoenfeld Headers; Smith Titanium; T-FAB Custom Metal Fabrication; Vortex Racing Products; Walker Performance Filtration; Weld Wheels; Wilwood Racing; and Winters Performance Products.
To stay connected with Jason Johnson Racing (JJR), go to www.jasonjohnsonracing.com.
To stay up-to-date with Carson Macedo and his success journey on and off the track, as well as to purchase his gear and merchandise directly, visit www.carsonmacedoracing.com.