BURLINGTON, WASHINGTON (September 3, 2022) – With the Labor Day holiday weekend now in full swing, Philip Dietz had the JJR #41 team were back at Skagit Speedway for the finale of the Sage Fruit Skagit Nationals. Through the first two nights of preliminary action, the racing has been challenging for the drivers (at least passing) and entertaining for all the fans in attendance. Logan Schuchart won the opener on Thursday night followed by Sheldon Haudenschild capturing the victory on Friday night. Carson Macedo in the Albaugh #41 raced home with a fourth place finish on Thursday and then finished one position better in third place on Friday. This 3/10-mile dirt oval is a great place to race as it is surrounded by a variety of trees such as Lodgepole Pines, Pacific Silver Firs, Alaska Yellow Cedars, Western Larch, Whitebark Pines, and just so many other magnificent species of trees. This natural backdrop creates a unique canvas for the fans to watch all of the racing action as the best in the business do their thing. There were 32 haulers parked throughout the pit area, as Bill Rose joined the field, ready to compete for the $26,000 winner's share of the purse on Saturday night.
Getting off to a good start each night has proved to be important. In order to do that each team must get started fast in time trials beginning with My Place Hotels Qualifying. Carson climbed aboard the Mesilla Valley Transportation (MVT)/Border International/Team Jack Foundation #41 Maxim as he prepared to take two laps around Skagit Speedway against the ticking stopwatch. He would be the 20th driver out on the track for his two laps at speed as he pulled down one last time on his Crow Enterprizes safety belts to secure himself for the ride. With a tap on his rear nerf bar, the Bell Athlete flipped down the shield on his Shifty Illusions custom painted lid and was ready to get to work. He took the green and was pedal down making tracks and not looking back. Carson was hustling and tripped the clock at 11.374 seconds after lap one. He stayed at it as he maneuvered through the first set of turns and down the backstretch into the final set. When he exited turn four in the Albaugh – Your Alternative #41 he saw the flagman waving the checkered flag. He raced under the black and white waving cloth as his time lit up on Race Monitor. He completed lap two in 11.610 seconds. The quicker of his two laps in time trials was ninth quick overall on the final night of the Skagit Nationals. The fastest sprint car driver on this night ended up being Friday night's winner, Sheldon Haudenschild, with a fast lap of 11.088 seconds.
Using each driver's fastest time trial lap, the four 8-lap heat race lineups were established and posted. After qualifying ninth quick, Carson Macedo would get the Albaugh – Your Alternative/Jansen Transportation/Factory Kahne (FK) Shocks #41 Maxim started from the third starting spot in Heat Race #1. He shared row two with Kerry Madsen driving one of the two Roth Motorsports entries. Sheldon Haudenschild and Robbie Price sat on the front row with Logan Schuchart and Tyler Thompson pacing behind from row three and JJ Hickle and Bill Rose in row four. The NOS Energy Drink #17 slowly brought the field to the chalk stripe laid down in turn four and darted off his inside starting position into the lead. Carson followed Haudenschild on the bottom to move by Robbie Price into the runner-up position. Haudenschild was using the clean air and his horsepower to his advantage as he was building his lead with each completed lap over Macedo. Meanwhile, Carson had his hands fill with Robbie Price as he was trying to fend off the hard charger piloting the Sides Motorsports #7s. He held him off until just after the halfway point of the race when Price got a run on Macedo down the back straightaway and dove underneath him entering turn three to reclaim the second spot. Haudenschild didn't have a care in the world at the front as he led wire-to-wire to take the win by 2.200 seconds over Robbie Price who outpaced Macedo who came home third, Hickle fourth and Madsen fifth. Those drivers all earned transfer spots to the Skagit Nationals feature. Carson missed out by one spot to compete in the DIRTVision Fast Pass Dash, but would watch as the track's surface evolved so he would be prepared for the money paying race at the end of the night.
With $26,000 dollars on the line for the winner, the crews were making sure they did their part to contribute to the success formula to race forward in the 35-lap Skagit Nationals finale presented by Sage Fruit. David Gravel would start in the pole position in row one with Spencer Bayston to his outside. James McFadden and Brad Sweet were partners in row two. Brock Zearfoss and Robbie Price would get rolling from row three with Sheldon Haudenschild and Jacob Allen in row four. Carson would get the Complete Parts & Equipment Solutions/Premier Coach Group/Schoenfeld Headers #41 started from the ninth spot in row five with Tanner Holmes to his outside. When they went racing, David Gravel wasted no time taking control of the top spot over Bayston and Sweet. Carson quickly drove into the eighth position directly behind Sheldon Haudenschild's NOS Energy Drink #17. The track was fast, but passing was challenging. The speed allowed the leaders to catch the back of the pack within 5 laps, but the next time around the yellow flag flew for Ryan Timms who spun right in front of the leaders in turn two after making contact with another car while racing for position. It was Gravel leading over Bayston, Sweet, McFadden and Price with Macedo hunkered down in the eighth position for the restart. When they went back to green there was no change at the front of the pack with the exception of Macedo moving by Haudenschild to take over the seventh position as he got a run off the bottom out of turn two and down the backstretch to make the pass. Gravel was in control and setting a good race pace. On lap 16, Carson had made progress closing the gap between himself and sixth running Brock Zearfoss. Traffic was aiding the driver of the forty-one's effort and he made a pass for position. He now was running one spot out of the top five and looking for more. By this time, the slower traffic was making things interesting as each driver had to be very tactical in their approach and strategy each lap. Carson had some unwanted company with last names of Haudenschild and Schatz who he had to contend with to maintain his position. They wanted to move up the scoreboard and he was in their line of sight. With 8 laps to go, both of them were able to muscle by Carson relegating him back to the eighth spot. Gravel was still leading, but Bayston and Sweet were still knocking on the door for the lead. Sweet would get by Bayston and make the race for the lead interesting the last two laps of the race. Gravel fended off Sweet's attempts to steal the lead to take the win over Sweet with Bayston coming home third, James McFadden locking down fourth, and Robbie Price closing out and impressive night with a fifth place finish. Sheldon Haudenschild raced to a sixth place finish as Carson brought the Albaugh – Your Alternative #41 home seventh after racing by Schatz on the last lap. Donny Schatz finished eighth with Brock Zearfoss and Jacob Allen rounding out the top ten. Another good run for the forty-one!
The racing is not over by any means in Washington though following the checkered flag flying over the Sage Fruit Skagit Nationals championship finale at Skagit Speedway. Carson and the traveling tour of speed stars will head down to Grays Harbor Raceway in Elma, Washington on Monday to entertain on Labor Day. Be sure to tune into DIRTVision to catch all of the action in the WoO only stop at the track in 2022!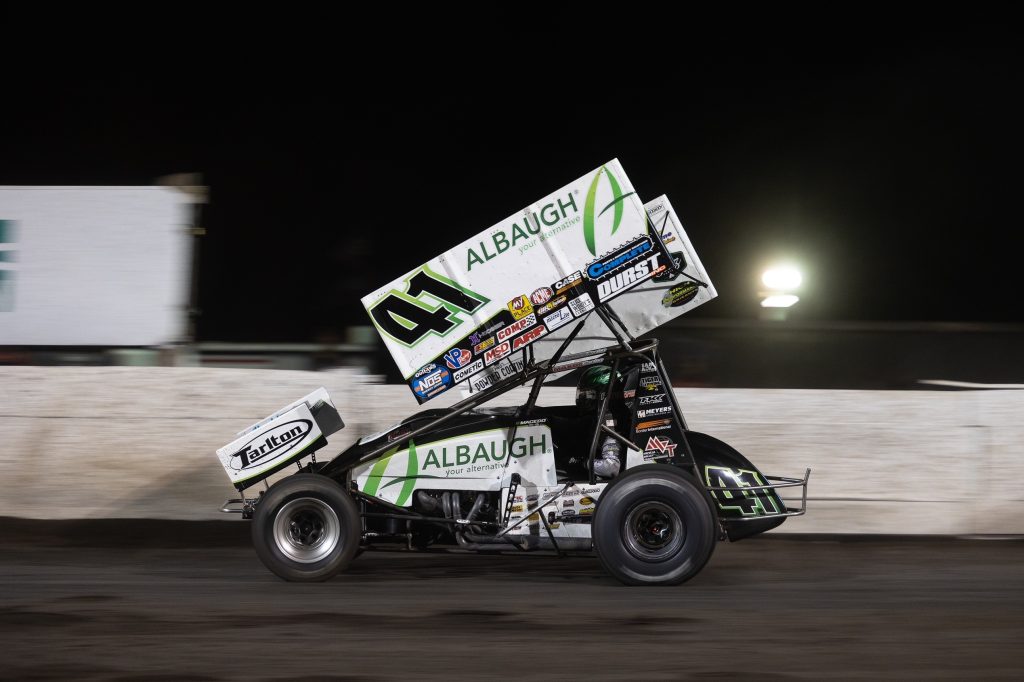 Consistency Continues with Another Top Ten Run for Macedo and the JJR #41 Team! Photo Credit: Trent Gower
Albaugh, LLC; Border International; Mesilla Valley Transportation (MVT); Saich Family; Tarlton and Son Inc.; Boltz Family; Complete Parts & Equipment Solutions; Durst Inc.; Liquid Trucking; Bandy & Associates Accountancy Corporation; Buckwalter Trucking, LLC; Dissolvalloy Downhole Revolution; Jansen Transportation; Larry Davis Farms; Meyers Constructors Inc.; Mr. Jim's Racing; RaceDiecast.com; Sam I Am; Team Jack Foundation; Mark Burch Motorsports; T-FAB Custom Metal Fabrication; Tiger Towing; All Pro Aluminum Cylinder Heads; AutoMeter; Bell Helmets; BMRS (Brown & Miller Racing Solutions); BR Motorsports; C&R Racing; Crow Enterprizes; Engler Machine & Tool, Inc.; Factory Kahne (FK Shocks); Fibreworks Composites; FK Rod Ends; Greber Racing Components; High Performance Lubricants, LLC; Hoosier Racing Tire; Indy Performance Composites (IPC); ISC Racers Tape; K1 Race Gear; Kistler Racing Engines; KSE Racing Products; Maxim Racing; Motor State Distributing; Premium Coach Group; Pro Powder Coating (PPC); Saldana Racing Products; Schoenfeld Headers; Smith Titanium; Vortex Racing Products; Walker Performance Filtration; Weld Racing; Wilwood Racing; Winters Performance Products; and Xtreme Body and Paint.
To stay connected with Jason Johnson Racing (JJR), go to www.jasonjohnsonracing.com.
To stay up-to-date with Carson Macedo and his success journey on and off the track, as well as to purchase his gear and merchandise directly, visit www.carsonmacedoracing.com.