SURVIVAL OF THE FITTEST: AN INCREDIBLE RACE AND SHOW OF TALENT FROM START TO FINISH AT THE IRONMAN 55 POSITIONS CARSON MACEDO WITH A TOP FIVE FINISH AT PEVELY'S FEDERATED AUTO PARTS RACEWAY AT I-55
PEVELY, MISSOURI (August 5, 2023) – On Friday night, Carson proved to be a warrior in the cockpit of the Albaugh – Your Alternative #41 as he preserved his way on a tactical racing surface to finish in 11th place during the Night Before the Ironman to kick off a busy and demanding stretch of racing for the driver and the JJR #41 team. After the preliminary night race was over, the team debriefed and quickly turned their attention to preparing for an even more daunting tasks on Saturday night – the always formidable and demanding Ironman 55 presented by Federated Auto Parts. Lap wise it is the longest race on the World of Outlaws NOS Energy Drink Sprint Car Series schedule and demands a lot of both the teams and the drivers in order to be successful. Everything has to be close to perfect and things have to go your way. But if it doesn't each driver and team has to rapidly adapt and evolve their strategy and performance to make the most of what cards they have be dealt. It is situational warfare and these professional race car drivers and athletes always find a way to up their game to confront the challenge. There were 31 race teams back, including Kyle Larson, and ready to take to the incredible battlefield at Federated Auto Parts Raceway at I-55 in the 15th Annual Ironman 55 presented by Federated Auto Parts.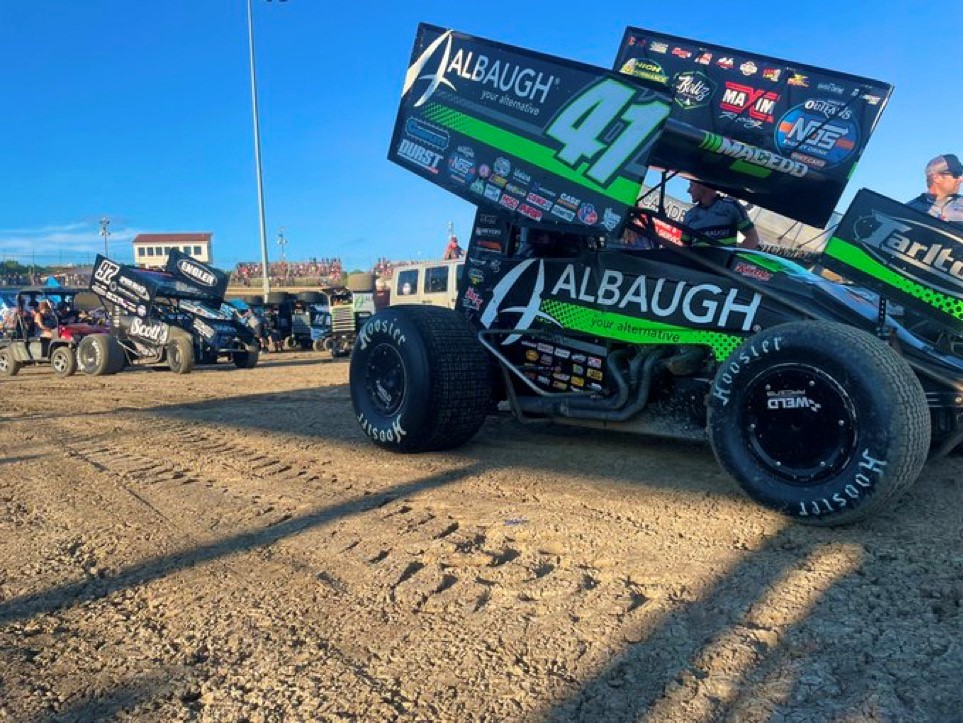 With the car count below 38 entries, the field of competitors would time trial against each other in one group in Low-E Insulation Qualifying. Carson went out first in time trials on Friday night was scheduled to go out second on Saturday for his two laps racing against the clock in the Mesilla Valley Transportation (MVT)/LogoDaddy/Meyers Constructors #41 Maxim. He waited patiently throughout the remainder of hot lap sessions to complete before heading to the staging lane to wait to be pushed off in the infield by a blue Jeep. Carson flipped down the shield of his Shifty Illusions custom painted Bell Racing helmet as his WELD Racing wheels starter to roll. He entered the track in turn one and built up his speed as he headed to the waving green flag on the frontstretch. He was literally rockin' and rollin' when he raced by and swiftly made his way around I-55 trying to break the speed limit. He got up over the cushion in turn two and scrubbed off some speed. He stayed on the loud pedal though and was trying to make the best of it. When he whisked by the flagman holding the white flag, the time of his first lap appeared on the scoreboard and was not so good at 11.756 seconds. He paid no attention to that as he was too busy working to improve and find anything he may have missed on his first attempt. This time he ran a very clean lap and when he exited turn four he saw the black and white checkered cloth flying overhead to end his time trial qualifying session. Carson's second lap was much better at 11.081 which positioned him 8th quick overall when time trial qualifying ended. The Simpson Quick Time Award on this night was earned by the hard-charging Sheldon Haudenschild in the NOS Energy Drink #17 who topped the speed charts with a quick lap of 10.829 seconds.
Based on his best lap in time trials, the Lemoore, California speed chauffeur in the Albaugh – Your Alternative #41 would be in the last of four heat races where he would start in the outside pole position beside Logan Schuchart's Federated Auto Parts/Drydene Shark Racing #1s. Each of the heat races would be 10 laps in distance with only the top five finishers locking in and transferring to the A-Main. Only the winner and the runner-up would get a shot to race for their position in the feature through the dash.
With the sun going down on the western horizon, the packed grandstands were ready to watch the final heat race. With his Kistler Engines power idling and ready to go, Carson rolled up the banking and idled into his starting spot beside Schuchart in row one. The fierce competitor was ready to put on a show for the fans in the stands from the comfort of his Fibreworks Composites seat with a Sharp Advantage custom fitted insert situated in his high speed office located in the cockpit of his s machine. So were the other drivers in the starting field with ten-time WoO champion Donny Schatz alongside Giovanni Scelzi in row two as Jake Blackhurst and Joe. B. Miller were in row three with Zach Daum alone in row four.
The green flag was out and the WELD Racing/High Performance Lubricants/Jansen Transportation #41 Maxim was racing in the runner-up and chase position at the end of lap one behind race leader Logan Schuchart. It does not take long getting around this track, but it is just as technical as it is racy. These processional athletes of speed just make it look easy as they go where most wouldn't as they maxed out their speed potential.
The racing lane had widened out quite a bit throughout the night, but was still top dominant. Schuchart was using that to his advantage and so was Macedo. Logan Schuchart would not be contested and raced to the win by over one second in heat race four ahead of Carson Macedo in the Albaugh #41, Donny Schatz, Giovanni Scelzi and Joe B. Miller.
Carson made his way into the Toyota Dash in World of Outlaws competition for the 33rd time in 2023. He would be the last driver to find out where he would start, so whatever number was left was where he would start. With the three and seven pill remaining, the Macedo brothers were the last two to draw for their starting position. Kruze Dyson was the guest picker for Cole Macedo in the Tarlton and Son #21T and picked the lower of the two remaining choices leaving Carson with the seven pill. The dash lineup was absolutely loaded with James McFadden and Logan Schuchart in row one, Cole Macedo and David Gravel in row two, Robbie Price and Kyle Larson in row three, with Carson Macedo and Brad Sweet in row four. The track crew had the surface race ready and when they went green it was McFadden driving the Roth Motorsports #83 to the lead over Schuchart and Gravel. Carson momentarily slid by both Larson and his brother for track position, but could not hold position as they both turned back under him and raced back by. Meanwhile, Brad Sweet and David Gravel were tussling for third swapping the position back and forth before the Connecticut driver took control of the position. Carson was able to drive the Albaugh – Your Alternative/Xtreme Body and Paint/Vortex Racing Products #41 by Cole Macedo to own the sixth spot. James McFadden raced to the win to earn the pole position for the feature followed across the finish line by Logan Schuchart, David Gravel, Brad Sweet and Kyle Larson. Carson Macedo came home sixth with Cole Macedo and Robbie Price rounding out the finishing order.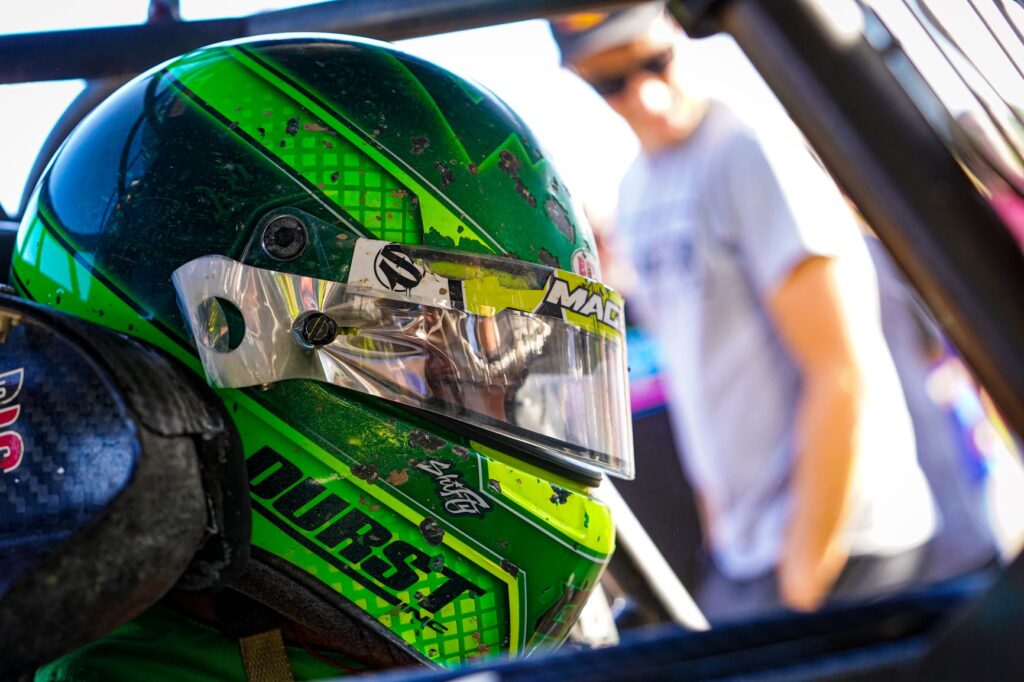 The drivers who had earned their way into the Ironman 55 presented by Federated Auto Parts feature were preparing to climb into the cockpits of their hot rods as the air horn sounded overhead. But before they could get rolling the red flag was thrown that created a lengthy delay as safety personnel took care of a medical emergency in the infield pit area with a fan. When it was resolved, the crews wrapped up any last minute details with their cars that were sitting out on the track to await the start. As the World of Outlaws famous announcer, Johnny Gibson, finished announcing the lineup, the engines started to come alive. They each positioned themselves in their starting positions before going four-wide for the Whiskey Myers salute to the fans before racing back into their side-by-side starting formation.
Twelve rows of two cars. Twenty four eager drivers. All racing for the win. The qualifying was over. It was now time to go racing at Federated Auto Parts Raceway at I-55 in the Ironman 55. Carson Macedo would get the Durst Inc./T-Fab Custom Metal Fabrication/Premium Coach Group #41 Maxim started from the outside of row three beside Kyle Larson.
The front row of James McFadden and Logan Schuchart inched their way towards the chalk stripe laid down across turn four followed by David Gravel and Brad Sweet. When the front row starters arrived to turn four the field got up to speed. It was a wild start with Gravel and Sweet both racing by Schuchart for position, but unfortunately it was negated when the yellow flew for Cody Maroske who slowed after making contact with Noah Gass who got crossed up in turn two.
It was a complete restart and this one was no less exciting than the first one. James McFadden raced into the lead, but fourth starting Brad Sweet hustled into the runner-up position ahead of Schuchart with Carson blasting into fourth ahead of Gravel. But, like the first start, the green lights were quickly replaced by the yellow ones as Brian Bell was stopped in turns three and four.
They would try again and the third time was a charm. This time Logan Schuchart was up on the wheel and drove into the lead over James McFadden with Brad Sweet, David Gravel and Carson Macedo rounding out the top five. It was early but there was high speed and exciting racing action everywhere. The featured show early on though was Sweet and Gravel battling for the third position. The two ultra-talented racers were exchanging the position like cards in a card game.
As you can imagine it did not take too long for the excitement level to raise to the next level as the leaders entered lap traffic by lap three. Now, not only was there the battles of the front runners but also the challenge of racing at speed through and around the slower traffic. This is racing at the always exciting Federated Auto Parts Raceway at I-55! Second place James McFadden used the opportunity and was closing in on Schuchart. He was right there and on lap 5, his front end started to bounce through turn two up high and on exit his right rear tire hit the backstretch wall right before the gate bringing out the caution flag and ending the night for the Australian racer.
The restart order would be Logan Schuchart, Brad Sweet, David Gravel, Carson Macedo, Sheldon Haudenschild and Kyle Larson. When they went back to green flag racing it was Schuchart back to the lead with fourth place Carson Macedo making a big move in the Mesilla Valley Transportation (MVT) #41 driving by both Sweet and Gravel into the runner-up spot – at least temporarily – in turns one and two. Both Sweet and Gravel were unwavering as they turned their speed machines back under the forty-one to regain their spots.
The competitive battles on the track were certainly not over as now Carson and Gravel were the most exciting part of the show as they were busy exchanging clean slide jobs for the show position. But Carson would soon have his hands full trying to hang onto the fourth position because both Sheldon Haudenschild and Kyle Larson were coming fast. Larson made the pass on Macedo first and Haudenschild was right behind and did the same. Carson went from fourth to sixth quickly and would lose another spot when Buddy Kofoid in the #83jr rolled by too. Carson was now running in the seventh position aboard the Albaugh – Your Alternative #41, but he knew he had a fast racecar and a lot of laps left to move forward.
On lap 18, the high speed action was slowed when the yellow flag came back out for Cole Macedo as his Tarlton and Son #21T slowed with a broken steering box. It was Schuchart leading Sweet, Larson, Gravel and Haudenschild with Carson getting ready to restart from the seventh position. When the green flag came back out with 37 laps to go, Schuchart maintained the lead with Larson moving into the runner-up position ahead of Gravel, Sweet and Corey Day who had a great restart and charged up to fifth.
Carson was still running seventh in the running order on lap 27, when the spotlight turned to the front of the pack as Gravel and Larson were battling for the runner-up spot behind Schuchart. Larson would eventually get by Gravel and was poised to move close and challenge Schuchart for the lead. He got there and made the pass for the lead stick on lap 34. It is hard to be a fan here – in an extraordinary way – because you just don't know where to watch as there is incredible racing everywhere. And I do mean everywhere.
On lap 44, the final yellow flag was displayed for Brian Bell who stopped at the turn four pit entrance as he tried to get back to the infield pit area. Kyle Larson was your leader followed by Schuchart, Sweet, Day and Gravel with Carson Macedo running in the sixth spot and Sheldon Haudenschild in the seventh position. David Gravel had nose wing issues as it was lying flat on his hood.
When the green flag came out Larson was in the lead ahead of Schuchart and Sweet. Carson got slowed up a bit behind Corey Day on the start allowing Haudenschild to race by and relegating the Lemoore, California driver back to seventh. Day worked by Gravel for the fourth position with Haudenschild coming fast. Carson was determined and positioned himself quickly back in the mix to make some noise. He was relentless and soon there was an incredibly entertaining show for position between David Gravel, Carson Macedo, and Sheldon Haudenschild. It was a slide job festival of fun! They raced each other cleanly, but aggressively. That's good stuff that only these professional racecar drivers could do.
Carson would move by Haudenschild into the sixth position before disposing of Gravel with a slide job in turn one. Gravel was doing a tremendous job driving his car with the front wing damage. Carson had the Albaugh #41 in the top five now behind Larson, Schuchart, Sweet, and Day.
With two laps to go it was about to get even more exciting as Schuchart was close enough to slide by Larson to regain the lead. Larson returned the favor as the race for the lead was simply awesome. Kyle Larson would race underneath the Federated Auto Parts #1s entering turn three on the final lap and drift up in front of Schuchart off turn four to take the win. It would be his second Ironman 55 title. Logan Schuchart came home second with Brad Sweet rounding out the podium. Corey Day had an impressive showing in the Meyers Constructors #41 with Carson Macedo securing a top five finish in the Ironman 55. It was his 34th top 5 finish in 51 races, a 66.67% top 5 success rate, as the team did their best at I-55. A good, and highly entertaining, run for Macedo and the forty-one!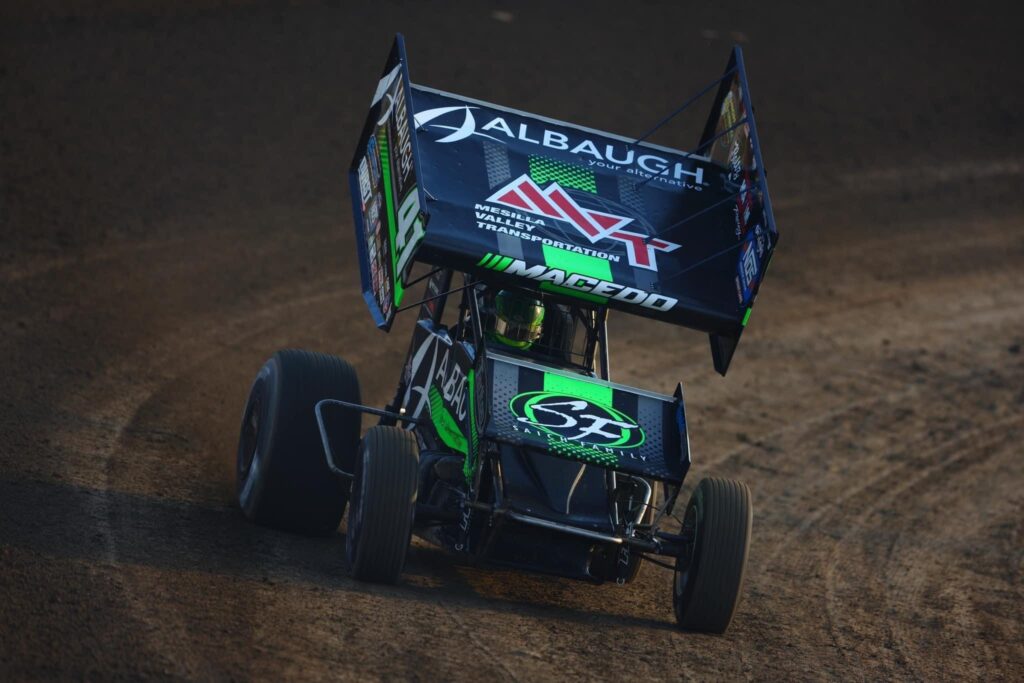 Carson Macedo Entertains and Displays the Strength of the Albaugh – Your Alternative #41 Racing to a Top 5 Finish in the Ironman 55! Photo Credit: Trent Gower Photography
Albaugh, LLC; Border International; Mesilla Valley Transportation (MVT); Saich Family; Tarlton and Son Inc.; Boltz Family; Complete Parts & Equipment Solutions; Durst Inc.; Liquid Trucking; Bandy & Associates Accountancy Corporation; Buckwalter Trucking, LLC; Jansen Transportation; Larry Davis Farms; Meyers Constructors Inc.; Mr. Jim's Racing; RaceDiecast.com; Sam I Am; Team Jack Foundation; Mark Burch Motorsports; T-FAB Custom Metal Fabrication; Tiger Towing; All Pro Aluminum Cylinder Heads; AutoMeter; Bell Helmets; BMRS (Brown & Miller Racing Solutions); BR Motorsports; C&R Racing; Crow Enterprizes; Engler Machine & Tool, Inc.; Factory Kahne (FK Shocks); Fibreworks Composites; FK Rod Ends; Greber Racing Components; High Performance Lubricants, LLC; Hoosier Racing Tire; Indy Performance Composites (IPC); ISC Racers Tape; K1 Race Gear; Kistler Racing Engines; KSE Racing Products; Maxim Racing; Motor State Distributing; Premium Coach Group; Pro Powder Coating (PPC); Saldana Racing Products; Schoenfeld Headers; Smith Titanium; Vortex Racing Products; Walker Performance Filtration; Weld Racing; Wilwood Racing; Winters Performance Products; and, Xtreme Body and Paint.
To stay connected with Jason Johnson Racing (JJR), go to www.jasonjohnsonracing.com.
To stay up-to-date with Carson Macedo and his success journey on and off the track, as well as to purchase his gear and merchandise directly, visit www.carsonmacedoracing.com.