SUCCESS CONTINUES FOR JJR AT KNOXVILLE: ON QUALIFYING NIGHT AT THE KNOXVILLE NATIONALS, GRAVEL DRIVES THE AXALTA #41 MAXIM TO THE WIN TO EARN A FRONT ROW STARTING POSITION IN SATURDAY'S FINALE
KNOXVILLE, IOWA (August 8, 2019) – Coming off their victory on Sunday night in the Capitani Classic, David Gravel and the JJR #41 welcomed event sponsor Axalta, as well as their representatives and customers, to the Sprint Car Capital of the World on Thursday evening for their qualifying night. The excitement was in the air along with the beautifully Shell Shock hand painted Axalta car for the 59th Annual NOS Energy Drink Knoxville Nationals. There were 55 drivers signed into the pit area on a moderately hot and humid day in Iowa.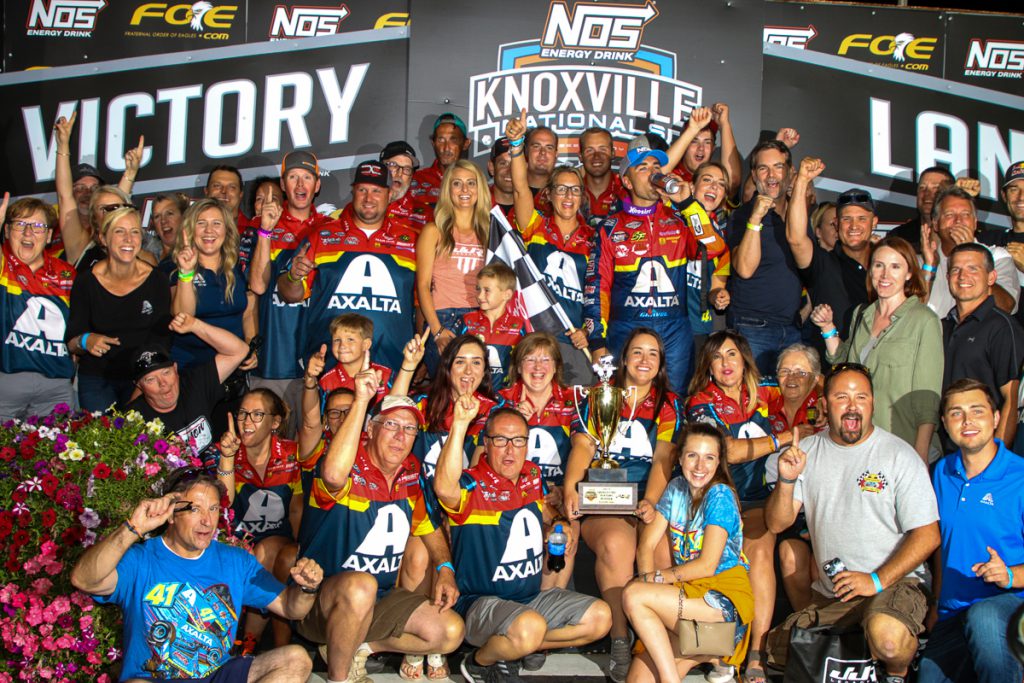 Earlier in the afternoon, the Watertown, Connecticut driver made his way back to the camping area to pick up Jaxx Johnson to pull the pill for their spot in the time trial order. After mixing them up, Jaxx pulled the #71 pill (out of 75), which meant David would go out late for his two laps aboard the Axalta/Mesilla Valley Transportation (MVT) #41 Maxim. Six year old Jaxx, with the maturity of a wise adult, assured everyone when he said, "It will be alright. Everything is gonna be good." As the racing start time got closer, David and the JJR #41 team welcomed Axalta representatives down in their pit area along with Jeff Gordon and Ray Evernham and spent some time discussing the format, the race car and the excitement of sprint car racing. After hot laps it was time to focus on the goals and when David rolled out onto the track he summoned everything his Kistler Engines power could provide as he built up speed and tool the green flag. The track had appeared to slow down, but Gravel charged up the speed charts the first time around with a lap of 15.872 seconds. His second lap was slightly slower, but his first one was ninth quick overall on the night.
With an inversion of the fastest eight in each of the five heat races, David would start on the inside of row four from the seventh starting spot in his blue Axalta/Durst, Inc. #41 Maxim in the fourth heat race. Daryn Pittman was to his outside as Mason Daniel and Andrew Scheuerle paced the field from the front row. When the green flag dropped, Gravel made a daring, high speed move and quickly picked off two cars as he motored down the frontstretch and continued to drive forward through the first set of turns and over the course of the first half mile to move into the third position by the end of lap one. He then peered through his Shell Shock Axalta custom painted Simpson Race Products Helmet and got Mason Daniel in his sights. On lap three he made the pass into the runner-up position and was stalking race leader Sye Lynch. He would momentarily get by Lynch to lead lap four, but Lynch carried his speed into turn one on the outside and wrestled the top spot back. Lynch would go on to collect the 10-lap heat race win over Gravel who came home second with Mason Daniel and Clint Garner securing the final two transfer positions into the A-Main.
With points accumulating each time you hit the track, David had the third highest point total in the Axalta/Weikert's Livestock #41 Maxim when the heat races concluded. That would position him in the sixth starting spot for the 25-lap qualifying night feature event. There was still work to do and the hard working driver and crew were up for the challenge. David climbed into the ButlerBuilt seat and buckled his belts. Phil, Tyler, Patrick, Travis and Chris executed on their part. Now it was David's turn to execute his part on the sheet hanging in the mule – simply put, drive the shit out of it and get the win. After the four wide salute to the crowd, it was time to do some high speed racing at Knoxville Raceway. Polesitter Brock Zearfoss jumped into the early lead as the talented 27-year old driver of the Axalta forty-one picked up three positions and was running in the show position. Zearfoss led with the defending Knoxville Nationals champion, Brad Sweet, running second. But it was Gravel who was up on the wheel and he chased down Sweet and took over the runner up position on lap 7. Gravel was closing on Zearfoss and momentarily passed him at the line to lead lap eight before Zearfoss earned it back on lap nine. When a caution waved. The early action was interrupted with a number of cautions, one of which was after the completion of lap nine with Zearfoss leading Gravel and Sweet. On the restart, Zearfoss experienced ignition issues and rolled to a stop. Gravel inherited the lead, but he had a hungry Sweet right behind him so there was nothing easy about the balance of the race. On the restart, Gravel drove away and was building a big lead as Sweet was battling with Cory Eliason for the second spot. Another caution regrouped the field and Gravel again got a good start to take the lead. As the Watertown, Connecticut driver approached the back of the field the preferred bottom lane was packed with traffic. Sweet was closing, but David maneuvered through and bought some space as he took the win by 1.733 seconds over Sweet with Carson Macedo rounding out the podium of the Thursday's Fraternal Order of Eagles Night qualifying feature finishing order.
After celebrating in victory lane with team owner Bobbi Johnson along Jaxx Johnson, the JJR crew, sponsors, Axalta and Jeff Gordon and Mark Webber, Gravel lamented on his success this night by stating, "This is the car we ran in the Capitani, and it ran just as good." He continued in Victory Lane, "I feel really good about where we are at. I was nervous drawing a 71 out of 75 (for qualifying), but we've been able to qualify well all year, and were able to capitalize on that. It's an awesome night. It can't get any better than this. I felt like my last five laps were terrible. I don't know where Brad got close to me or what. I could hit three and four like I wanted to, but struggled at the end. We're happy to win and happy to have a good points night." David earned 481 points out of a maximum of 500, which puts him on the outside of the front row for Saturday's nights 59th Annual NOS Energy Drink Knoxville Nationals. A great run for the forty-one!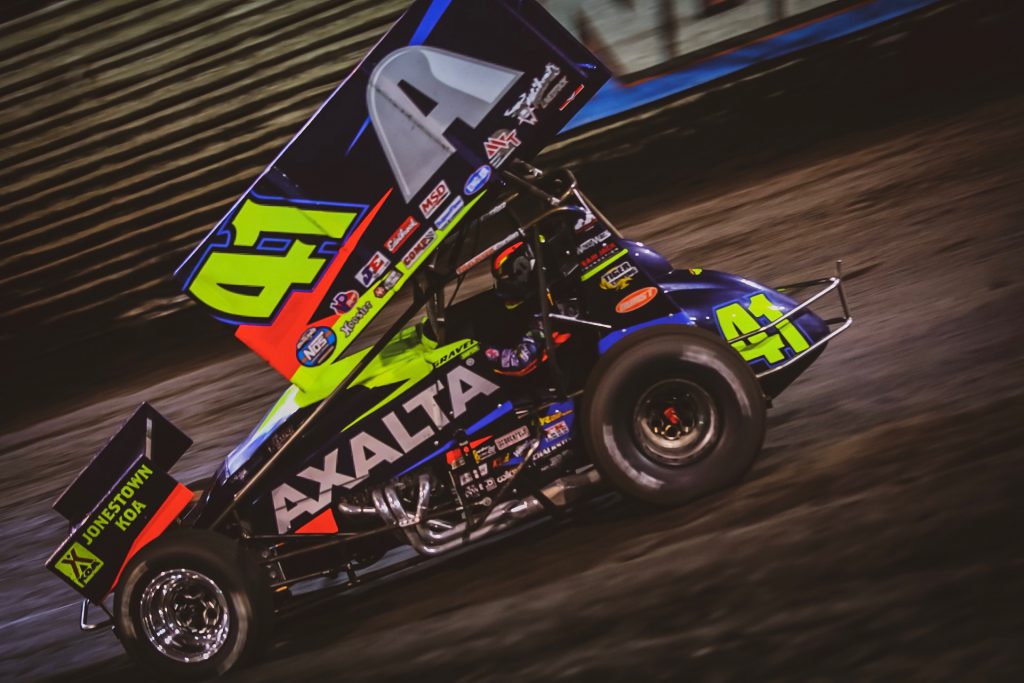 Be sure to follow Axalta on:
Twitter: @AxaltaRacing and include #WePaintWinners on all your tweets!
Website: www.axaltaracing.com
We are proud to represent all of our dedicated and loyal supporters:
Mesilla Valley Transportation (MVT); Saich Family; Jonestown KOA; Dissolvalloy Downhole Revolution; Weikert's Livestock; J.R.C. Transportation, Inc.; Durst Inc.; Maxim Racing; The Boyd Family; Pro Powder Coating (PPC); Waco Metal; High Performance Lubricants, LLC; Team Jack Foundation; Mark Burch Motorsports; Tiger Towing; All Pro Aluminum Cylinder Heads, Inc.; All Pro Auto Reconditioning; AutoMeter; Bell Racing USA; Blackbeard; Brown & Miller Racing Solutions (BMRS); Buckwalter Trucking, LLC; C&R Racing; Chalk Stix Torsion Bars; Cody Monoco Racing; Crow Enterprizes, Engler Machine & Tool, Inc.; Factory Kahne FK Shocks; Fibreworks Composites; FK Rod Ends; Fuel Safe Racing Cells; Greber Racing Components; Hoosier Racing Tire; ISC Racers Tape; Jansen Transportation; K&N Filters; Kaiden Kares; Kistler Racing Engines; KSE Racing Products; LogoDaddy Graphics; Max Papis Innovations (MPI); MSD Performance; RaceDiecast.com; Schoenfeld Headers; Shell Shock Paint; Simpson Race Products; T-FAB Custom Metal Fabrication; Vortex Racing Products; Weld Wheels; Wilwood Racing; and Winters Performance Products.
To stay connected with Jason Johnson Racing (JJR), go to www.jasonjohnsonracing.com.
To stay up-to-date with David Gravel and his success and journey on and off the track, as well as to purchase his gear and merchandise, go to www.DavidGravel89.com.