SPEEDING NEAR THE MISSISSIPPI RIVER: GRAVEL KICKING THE DUST UP AT 34 RACEWAY NAVIGATES THE FIELD TO EARN A 9TH PLACE FINISH TO START A THREE RACE WEEKEND IN THREE DIFFERENT STATES
WEST BURLINGTON, IOWA (July 10, 2020) – Coming off a strong weekend and performance last week at Cedar Lake, this week's journey took David Gravel and the JJR #41 sprint car team to 34 Raceway where the 3/8-mile high banked speed plant is located adjacent to the mighty Mississippi River in West Burlington, Iowa. Friday night marked the World of Outlaws NOS Energy Drink Sprint Car Series first return trip to the track since 2014. There were 27 drivers entered and ready to roll in the pit area to get the weekend of high speed action started.
The talented chauffeur of the forty-one climbed into his Sharp Advantage custom fitted seat and readied himself for his individual showcase of speed against the clock in time trials. David would be the 21st car to hit the track and when he gassed it up and took the green flag his Kistler Engines power had him kicking the dust up in the Tiger Towing/Chalk Stix Torsion Bars #41 Maxim. He turned his first lap in 13.694 seconds and followed that up with a lap of 13.525 seconds the next time around. His determined effort on the second lap netted him 12th quick overall at the end of time trials to start the night.
When the lineups for the Drydene Heat Races were assembled, Gravel would start on the outside of row two from the fourth starting position for the 10-lap heat race. Kraig Kinser shared the row with him as they both followed front row starters Lynton Jeffrey and Parker Price-Miller as they paced the field. Gravel rolled into position aboard the Mesilla Valley Transportation (MVT)/RaceDiecast.com entry and was prepared to get his elbows up when his right foot dropped. The green lights came on and Lynton Jeffrey drove into the lead with Price-Miller, Kinser and Gravel following. There was very little if any passing for position between the green and the waving checkers as Jeffrey took the win followed by Parker Price-Miller, Kinser and Gravel with Kasey Kahne and Josh Schneiderman locking down the final two transfer positions.
Missing out on an opportunity to run in the DIRTVision Fast Pass Dash, the forty-one team went to work on the Jansen Transportation/Fuel Safe Racing Cells #41 looking for more speed. The 8-minute horn sounded and it was time to go racing at 34 Raceway. Gravel pulled into his twelfth starting spot as he had some work to do. Donny Schatz and Parker Price-Miller sat on the front row and when the green flag waved it was Parker Price Miller to the front. David was back working in the dirty air and moved into the top ten on the second circuit He was battling inside the cockpit as the race for positions was fierce. The talented Connecticut driver got shuffled back a few positions and was running two spots out of the top ten when the red flag was displayed mid-race. When racing resumed passing was at a premium as Parker Price-Miller still led. Gravel was giving it everything he had each lap, but still was outside the top ten. With a few laps to go, Donny Schatz caught the cushion in turns one and two and when he corrected he made contact with third running Kerry Madsen who rolled over softly bring out a late race red flag. David was still running in the twelfth spot, but when racing resumed he drove hard and gained three spots before the checkered flag flew to earn a 9th place finish. Parker Price-Miller took the victory over Schatz and Brad Sweet as Carson Macedo and Jacob Allen rounded out the top five at 34 Raceway. David and the JJR #41 team will head to Wilmot Raceway for racing action on Saturday. If you cannot be at the track, be sure to tune into DIRTVision to catch all of the action!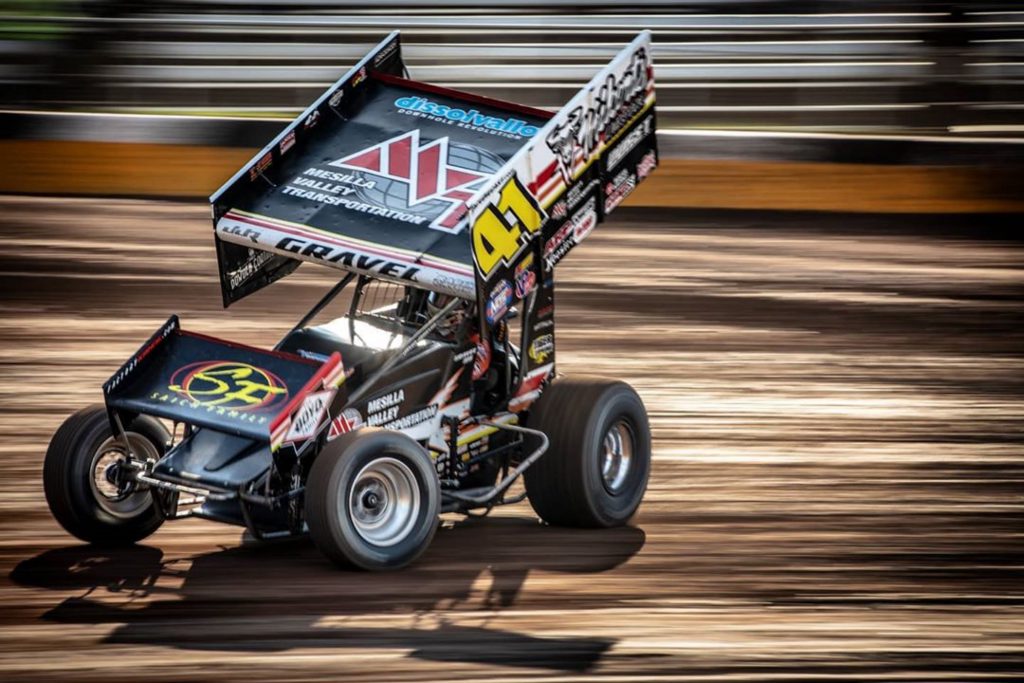 Mesilla Valley Transportation (MVT); Saich Family; Dissolvalloy Downhole Revolution; Weikert's Livestock; J.R.C. Transportation, Inc.; Durst Inc.; Maxim Racing; The Boyd Family; Pro Powder Coating (PPC); Waco Metal; High Performance Lubricants, LLC; Team Jack Foundation; Mark Burch Motorsports; Tiger Towing; All Pro Auto Reconditioning; AutoMeter; Bell Racing USA; Brown & Miller Racing Solutions (BMRS); Buckwalter Trucking, LLC; C&R Racing; Chalk Stix Torsion Bars; Crow Enterprizes, Engler Machine & Tool, Inc.; Factory Kahne FK Shocks; Fibreworks Composites; FK Rod Ends; Fuel Safe Racing Cells; Greber Racing Components; Hoosier Racing Tire; ISC Racers Tape; Jansen Transportation; Kistler Racing Engines; KSE Racing Products; LogoDaddy Graphics; Max Papis Innovations (MPI); MSD Performance; RaceDiecast.com; Schoenfeld Headers; Shell Shock Paint; Simpson Race Products; T-FAB Custom Metal Fabrication; Vortex Racing Products; Walker Performance Filtration; Weld Wheels; Wilwood Racing; and Winters Performance Products.
To stay connected with Jason Johnson Racing (JJR), go to www.jasonjohnsonracing.com.
To stay up-to-date with David Gravel and his success and journey on and off the track, as well as to purchase his gear and merchandise, go to www.DavidGravel89.com.