SHOWING THE WAY: MISSION ACCOMPLISHED AS CARSON MACEDO AND THE JJR TEAM COMBINE THEIR SPEED AND COURAGE WITH SOME LUCK TO PARK THE ALBAUGH #41 MAXIM IN VICTORY LANE AT I-55 RACEWAY
PEVELY, MISSOURI (April 16, 2022) – The tour schedule kept the World of Outlaws NOS Energy Drink Series competitors in the Show-Me State of Missouri for a second straight weekend with two nights of racing originally on tap at the always exciting Federated Auto Parts Raceway at I-55. After spending another week in the shop preparing at their Rocky Mount headquarters, the team made the short 3 hour eastward journey across I-70 on Friday to the fast and racy 1/3-mile clay bullring with 19 degrees on banking in the corners before rain washed out the race night. They were back on Saturday with the sun shining ready to do battle. This track always seems to produce great racing action. Located just south of St. Louis, just off I-55, the teams and haulers lined up at the pit gate. There were 37 teams registered to race on Friday night at Ken Schrader's I-55 Raceway!
As the numbered balls rolled out of the bingo style roller cage for each driver the order was being set for Slick Woody's Qualifying. Arranging the numbers from lowest to highest to establish the order in which they would go out for time trials, found the Tarlton and Son/WELD Racing/T-FAB Custom Metal Fabrication #41 Maxim of Carson Macedo in the second to last, or 36th, position. Philip Dietz, Clyde Knipp, and Nate Repetz were hard at work in the infield making their final adjustments for their driver following hot laps. When his Kistler Racing Engines/All Pro Aluminum Heads power came to life, the Lemoore, California speedster dropped his right foot and raced under the green flag. These smaller ovals are demanding and tend to highlight any mistake made as hundredths of a second are magnified. Kyle Larson holds the track record with a sub-10 second lap of 9.995 seconds set back on May 22, 2020. Carson hit his marks and his first lap was recorded at 10.567 seconds. Never lifting he carried his momentum forward and powered through the first set of turns before quickly encountering and conquering the last set. He motored out of turn four and under the waving checkered flags with a slightly slower lap of 10.706 seconds. Carson's first lap was the 7th quickest overall with Rico Abreu recording the fastest lap of the night at 10.372 seconds.
The result of his time trial effort put the Albaugh – Your Alternative/Pro Powder Coating (PPC)/Tiger Towing #41 entry in the fourth of four 10-lap heat races where he would start on the outside of the front row beside Spencer Bayston. Brian Bell and Ayrton Gennetten made up row two with Derek Hagar, Joe B. Miller, Garet Williamson, Jason Sides, and Chris Martin making up the remainder of the starting grid. With six different home states represented in the starting lineup and three from the home state of Missouri, fans had some options who to cheer for in the race. The track had some character so the drivers would have to put on their high speed show on a rough surface through turns one and two. They were not deterred and when the green flag waved Macedo charged into the front position over Bayston. Carson was setting a good pace in the Albaugh #41 when the yellow was displayed on lap four for Joe B. Miller who rolled to a stop on the track. When they restarted, Macedo maintained the top spot for one more lap before all action was abruptly halted when Brian Bell flipped hard battling for the final transfer spots in turn two. He was ok. When they restarted it was Macedo, Bayston, Gennetten, Hagar and Sides in the five transfer positions. Carson would never waver and led the remaining half of the race to take the heat race victory over Bayston by 1.623 seconds with Derek Hagar coming home third, Jason Sides fourth, and Ayrton Gennetten securing the fifth and final transfer position.
Earning his way into the 8-lap DIRTVision Fast Pass Dash fourth the seventh time this season, Carson headed over to the front stretch to try his luck at picking a number for his starting spot. He would be the fourth driver to pick and as only luck would have it when his hand emerged from the oversized NOS Energy Drink can he held the '1' pill, which gave him the pole position. He would start alongside Logan Schuchart with Sheldon Haudenschild, Brad Sweet, Spencer Bayston, Donny Schatz, Jacob Allen, and Rico Abreu pacing behind. When the action went green it was all out chaos as Schuchart and Haudenschild raced by Macedo's Complete Parts & Equipment Solutions/LogoDaddy Graphics/Team Jack Foundation #41 putting him back in the show position. He was racing with Brad Sweet who is always up on the wheel in his Napa Auto Parts #49. Schuchart would race to the checkers first to secure the win over Haudenschild with Macedo coming home third. Brad Sweet finished fourth ahead of Bayston, Schatz, Abreu and Allen to set the first four rows of the feature.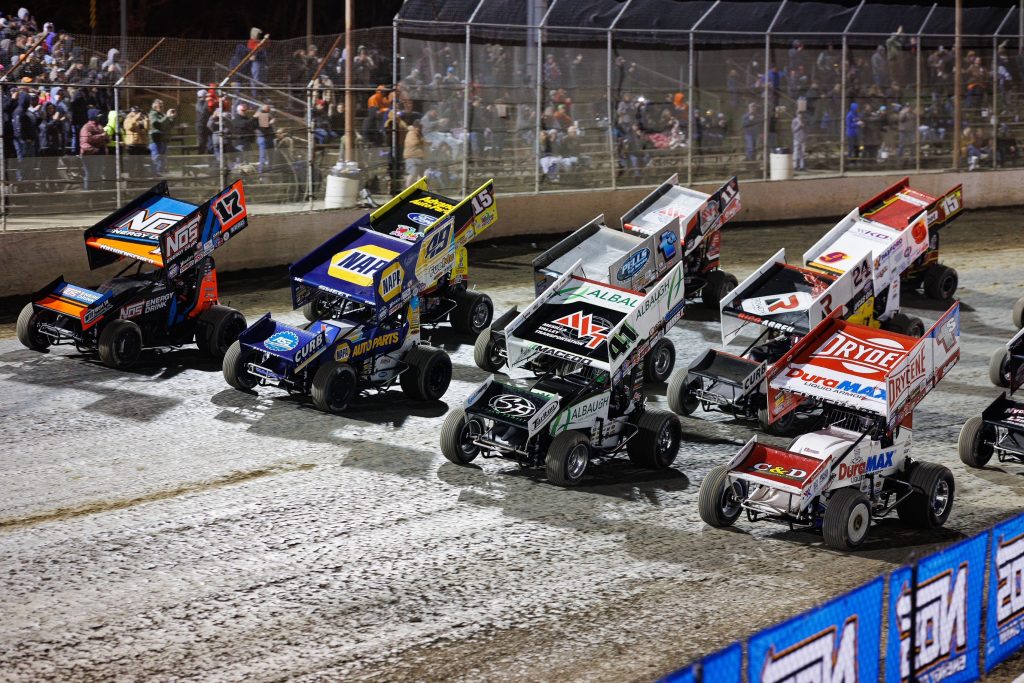 With all of the qualifying in the books it was now time for the 35-lap NOS Energy Drink feature event at Federated Auto Parts Raceway at I-55. There were only 24 drivers who earned their way into the show to get a chance to race for the winner's share of the purse. The fans were ready. The drivers and teams were ready. It was 'go' time in Pevely, Missouri with The Greatest Show on Dirt! Carson would get the Durst Inc./Liquid Trucking/Dissolvalloy Downhole Revolution #41 Maxim started from the third starting spot in the field. His partner in row two of the grid was Brad Sweet as both paced behind Logan Schuchart and Sheldon Haudenschild. The track was tricky but the same for all the drivers. In order to be successful each would need a lot of courage and maybe a little bit of luck. As the field exited turn four the sweet sound of 410 engines filled the air. Carson maneuvered the Albaugh #41 low into turn one and came off turn two passing both Schuchart and Haudenschild for the lead. Schuchart was right there as they exited turn four and crossed the start/finish line it was Macedo by a nose. Schuchart along with Sweet were right there racing three wide for the lead. Schuchart would wrestle the lead away, but Macedo was right there and was lucky again as the pass was negated when the yellow flag came out for Giovanni Scelzi who broke a right front shock. It was Macedo, Schuchart, Sweet, Haudenschild, and Schatz when they came back to the green flag. Macedo controlled the top spot and led the next few laps before the second yellow of the night came out as multiple cars got together in turn two leaving Kerry Madsen's #83JR sitting sideways in the turn. When they went back to racing they got one more lap in before another yellow was displayed, this time for Joe B. Miller who rolled to a stop on the frontstretch. The Lemoore, California driver still had an uninhibited view at the front when they went back to green flag racing but before they could get going fourth running Sheldon Haudenschild got up over the rear tire of Brad Sweet and rolled on his side with a broken front axle to bring out the red flag. The crew made the changes and he tagged the rear of the field and would put on a show coming back forward. Carson was happy to see the green flag again and raced in clean air for a bit before masterfully starting to navigate lap traffic. Another green four-leafed clover must have been in Carson's pocket because with 18 laps to go Kerry Madsen spun in turn one right in front of the leader who made slight contact. Macedo masterfully avoided disaster as the contact only pierced his Weld Racing wheel cover on the right rear. He would get his elbows back up when the green flag came out and led the next six laps before another yellow, this time for Joe B. Miller who lost his left rear tire. The top five was now Carson Macedo, Logan Schuchart, James McFadden, Brad Sweet and Rico Abreu. Carson again brought the field back up to speed but there were two more yellow flags, one with 10 laps to go for Kerry Madsen and one with 9 laps to go for Brock Zearfoss that slowed the action. When the flagman unfurled the green flag again Carson continued to drive hard leading Schuchart who was not about to give up. The leaders chased down lapped traffic again and on the last lap Schuchart was right there as they top two headed down the backstretch. Macedo would not be denied and picked up his series leading third win by 0.523 seconds over Shark Racing's Logan Schuchart with Brad Sweet coming home third to complete the podium.
After clearing the scales he headed to victory lane with a grin from ear-to-ear. After celebrating with his Albaugh #41 crew and hugging team owners Brooke and Philip Dietz he headed up to the wing to celebrate as the confetti rained down. Chase Raudman was waiting to interview the winner. Macedo began, "I feel like there was definitely some luck involved tonight. Guys were just bouncing all over the place and you didn't know which direction they would go." He continued, "I kept trying to enter as high as I could to turn across the ruts instead of trying to run against them. This is a track that has always had my number. I honestly thought I would be better here, but I've struggled quite a bit so this one feels good." Good indeed. He concluded sharing his gratitude, "I can't say enough how thankful I am to be with this Jason Johnson Racing group!" The feeling is mutual. A great night and run for the forty-one!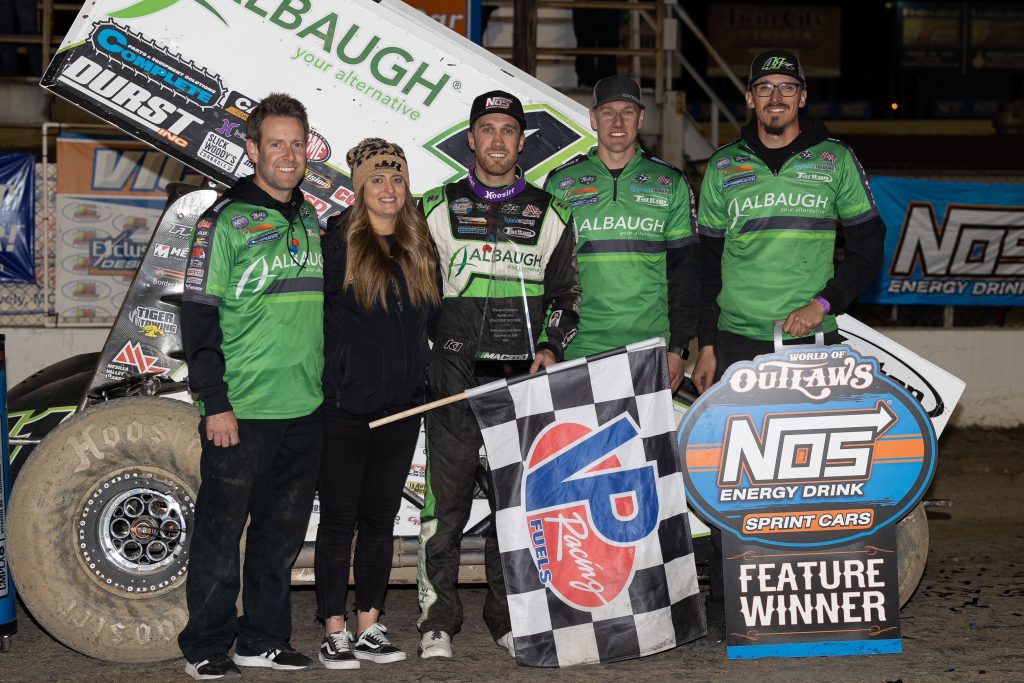 A Little Luck Combined with a lot of Courage Results in a Win at Federated Auto Parts Raceway at I-55 for Carson Macedo and the Albaugh – Your Alternative #41! Photo Credit: Trent Gower
Albaugh, LLC; Border International; Mesilla Valley Transportation (MVT); Saich Family; Tarlton and Son Inc.; Boltz Family; Complete Parts & Equipment Solutions; Durst Inc.; Liquid Trucking; Bandy & Associates Accountancy Corporation; Buckwalter Trucking, LLC; Dissolvalloy Downhole Revolution; Jansen Transportation; Larry Davis Farms; Meyers Constructors Inc.; Mr. Jim's Racing; RaceDiecast.com; Sam I Am; Team Jack Foundation; Mark Burch Motorsports; T-FAB Custom Metal Fabrication; Tiger Towing; All Pro Aluminum Cylinder Heads; AutoMeter; Bell Helmets; BMRS (Brown & Miller Racing Solutions); BR Motorsports; C&R Racing; Crow Enterprizes; Engler Machine & Tool, Inc.; Factory Kahne (FK Shocks); Fibreworks Composites; FK Rod Ends; Greber Racing Components; High Performance Lubricants, LLC; Hoosier Racing Tire; Indy Performance Composites (IPC); ISC Racers Tape;K1 Race Gear; Kistler Racing Engines; KSE Racing Products; Maxim Racing; Motor State Distributing; Pro Powder Coating (PPC); Saldana Racing Products; Schoenfeld Headers; Smith Titanium; Vortex Racing Products; Walker Performance Filtration; Weld Racing; Wilwood Racing; Winters Performance Products; and Xtreme Body and Paint.
To stay connected with Jason Johnson Racing (JJR), go to www.jasonjohnsonracing.com.
To stay up-to-date with Carson Macedo and his success journey on and off the track, as well as to purchase his gear and merchandise directly, visit www.carsonmacedoracing.com.