SHOOTING FOR THE STARS IN IOWA: FOR THE SECOND NIGHT IN A ROW, CARSON MACEDO PUTS ON A SHOW WITH KERRY MADSEN AT KNOXVILLE WITH A LAST LAP PASS TO SECURE A SWEEP OF THE BROWNELLS BIG GUN BASH
KNOXVILLE, IOWA (June 12, 2021) – Winning at this level of sprint car racing is certainly not easy. It also is never taken for granted as every win is earned and cherished. That is magnified when you race against the best in the business night-in and night-out, because everything and everyone involved with your team has to be 100% clear and aligned with the goals in order to produce the desired outcomes. After taking advantage of a fortuitous late race caution on Friday night with 5 laps to go to make the winning pass on the leader Kerry Madsen to collect his first 410 victory at Knoxville Raceway, Carson Macedo and the entire JJR #41 team subdued their celebration as they quickly turned their attention to focus on their goals and began preparing and making the car better for the finale of the Brownells Big Gun Bash on Saturday night. There were again 39 drivers signed into the pit area for night two of competition at Knoxville Raceway.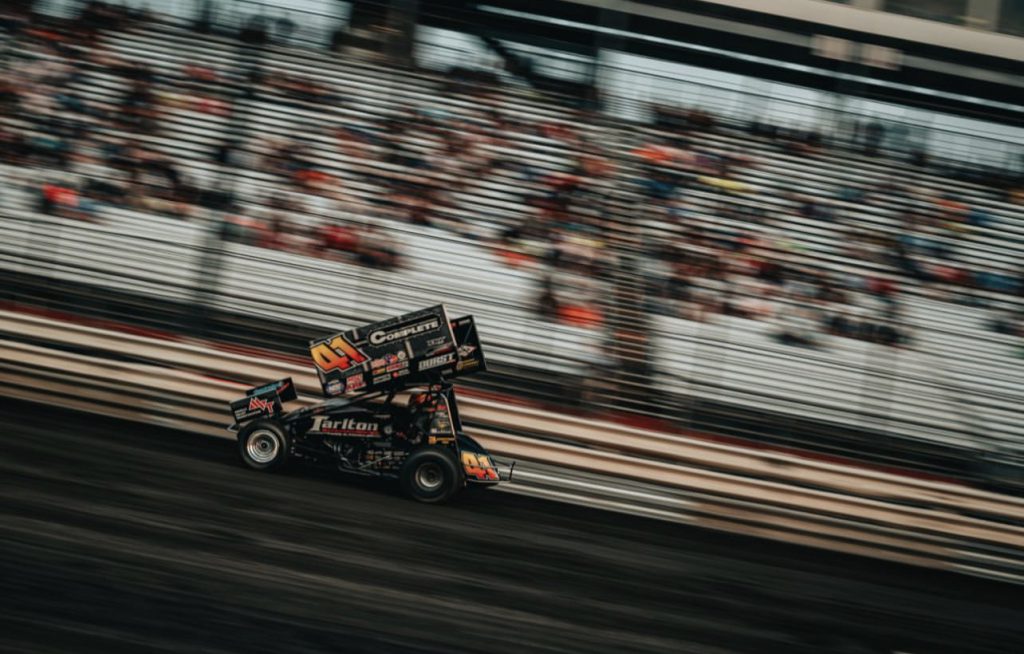 The field was split into two equal groups, Flight A and B, for Slick Woody's Qualifying with Carson Macedo aboard the Dissolvalloy Downhole Revolution/C&R Racing/Smith Titanium #41 Maxim heading out seventeenth in Flight A for his two laps of speed in time trials. They would again do two-cars at a time on the track for time trials, which they announced would also be the format used for this year's 60th Annual Knoxville Nationals. The track was changing rapidly after a gorgeous and cloud-free day with the sun shining bright and winds blowing across the surface impacting the moisture retention and track prep. These environmental conditions contributed to slightly slower speeds for all of the competitors. With one last pull to tighten his Crow Enterprizes safety belts, the Lemoore, California born native was ready to get the JJR #41 Maxim Racing machine rolling. With a tap on his rear nerf bar from the push truck, the Kistler Engines/Engler Machine & Tool power fired and Carson lowered his right foot to activate the horsepower. He took the green and raced into turn one and before you knew it he was coming out of turn four. His first lap clocked in at 16.139 seconds, which pushed him up to fourth on the speed charts. He stayed on the accelerator and ran another consistent lap at 16.331 seconds, but his first lap would stand. He ended up fourth quick overall in Flight A. Giovanni Scelzi in the KCP #18, who was the first car out in Flight A, set the overall quick time with a lap of 15.809 seconds.
World of Outlaws timing and scoring officials built out the lineups for each of the four 8-lap Drydene Heat Race events. They are based on each driver's quickest time in time trials with those competitors in Flight A being positioned into the first two heat race, while the drivers in Flight B compete in the last two heat races. Carson would again share the front row with Kerry Madsen in the second heat race. This heat race lineup was absolutely loaded. When you looked through the lineup you saw the last three Knoxville Nationals champions (David Gravel – 2019, Brad Sweet – 2018, Donny Schatz – 2017) were in the lineup, the multi-time Knoxville Raceway track champions (Brian Brown and Terry McCarl), and 7 of the 8 drivers who made Friday night's DirtVision Fast Pass Dash were in this heat race. David Gravel and Donny Schatz sat in row two, Brian Brown and Brad Sweet were in row three, Terry McCarl and Ayrton Gennetten staged in row four, with Joe Simbro tagging the rear of the field. When they came to the green flag, Carson used the outside line to carry his speed through the first set of turns in the Liquid Trucking/Meyers Constructors/Bandy & Associates Accountancy Corporation #41 Maxim. He exited turn two with the lead over Madsen and was digging at speed entering turn three. Madsen had a fast race car too. He was staying close to Macedo as they completed the first few laps. One of these talented drivers in this heat race were not going to qualify. The math just didn't work out, so the race was to finish in the top five was one to watch. At the front of the pack, Carson stayed hammer down and started to put some distance between himself and Madsen. Carson would lead wire-to-wire to take the heat race win by 1.268 seconds over Madsen with Brian Brown coming home third ahead of David Gravel and Donny Schatz, as current point leader Brad Sweet was the one left out looking in from the sixth position.
Earning a coveted spot in the 6-lap DirtVision Fast Pass Dash it was time for Carson to randomly draw his starting position out of the oversized NOS Energy Drink can in victory lane. He would be the third driver to stick his arm in the can and when he pulled it out there was a '2' pill in his hand. That put him on the outside of the first row with Kerry Madsen again sharing the top two spots with him at the start. They were followed by Aaron Reutzel, Giovanni Scelzi, Matt Juhl, Sheldon Haudenschild, Logan Schuchart, and Parker Price-Miller in the starting lineup. Carson climbed into the cockpit of the Mesilla Valley Transportation (MVT)/Factory Kahne (FK) Shocks/AutoMeter #41 as he prepared for the dash action. Rolling around the top he used that line again to drive around the building cushion through the first two turns and exited with the lead. Madsen was again right there on his rear nerf bar and pressing him for the top spot. Macedo was not deterred and kept hustling inside his race car and built a pretty nice lead over Madsen as the laps clicked by. He would eventually cross under the checkers 2.389 seconds ahead of Madsen who came home ahead of Reutzel, Scelzi, Haudenschild, Price-Miller, and Juhl with Schuchart coming home in the eighth and final spot.
Following the Last Chance Showdown (LCS), the field for the 25-lap Brownells Bug Gun Bash NOS Energy Drink feature finale at Knoxville Raceway was set. Jacob Allen used a provisional to tag the rear of the field to inflate it to 25 drivers competing for the win. After the 360 feature was won by Dylan Westbrook, the track and series officials determined and agreed they need to do some extensive track preparation in order to give the drivers the best and safe track to put on a great show for the fans. The sun and wind took its toll on the surface making it the right decision. The drivers waited patiently and watched as the track crew at Knoxville worked their magic like they always do. The crew members kept working on their cars to give their drivers the best chance to win. After a long delay, the 8-minute horns sounded and the buzz throughout the pit are picked up.
It was now time to go racing at Knoxville Raceway in the finale of the Brownells Big Gun Bash. Carson Macedo was looking for another strong run in his Tarlton and Son/Border International/Pro Powder Coating #41 Maxim. For the sixth time in two nights (heat, dash, and feature both nights), his front row starting partner was none other than Kerry Madsen in the Tony Stewart/Curb-Agajanian Racing #14. These two talented speed chauffeurs had given the fans their money's worth in each of the previous races they competed against each other. So, why should this race be any different? Macedo zipped up his black and orange Durst themed K1 Race Gear racing suit and was ready to continue his strong performance this weekend at Knoxville against his fellow World of Outlaws competitors and the local talent. He was starting from the pole, so if he didn't defend his starting position it was only downhill from there finishing position wise. When Justin Clark unfurled the green flag it was Macedo to the lead with Madsen again not giving him much space running in the second position. Both drivers had fast race cars and were showing it early as they drove away from the field. The red was displayed on lap 2 for Brock Zearfoss who got up over the cushion entering turn three and took a series of tumbles ending his night. He was ok. When racing resumed, Macedo continued at the front. He led the first 5 laps, but as the front two drivers started to track down the back of the field it was important to keep hitting their marks. In turn four, Macedo got up over the inside berm of the raceway scrubbing off some speed and allowing Madsen to dart by to take the lead to complete lap 6. Now the chase was on for the Lemoore, California driver in the JJR #41. Kerry Madsen was doing a tremendous job under green flag conditions to navigate through lap traffic, while Carson was getting caught behind them and slowing his progress. Madsen had built over a two second lead as there was less than 10 laps to go after Macedo got slowed up behind Ayrton Gennetten who drifted up off the exit of turn four. Macedo now had the talented and hard-charging Sheldon Haudenschild to contend with for the second spot. The two drivers were side-by-side with Haudenschild being scored in second on lap 17. Macedo would stay relaxed and take a patient approach entering turn three where he stuck it through the entire set of turns and slipped back by Haudenschild for second. They both had closed in on the leader as Madsen was navigating through slower cars on the track. With less than five laps to go, Carson Macedo had the Complete Parts & Equipment Solutions/Jonestown KOA/Waco Metal #41 Maxim close enough that things were going to be interesting at the finish. Macedo was right there, but being 'right there' and making 'the pass' for the lead are two very different things. As they both raced under the waving white flag, Macedo stuck his nose underneath Madsen entering turn one and drove off turn two and down the back straightaway with the lead. He crossed under the black and white cloth 1.120 seconds ahead of the TSR #14 to secure the weekend sweep of the Brownells Big Gin Bash over Madsen and Haudenschild with Giovanni Scelzi and Logan Schuchart completing the top five.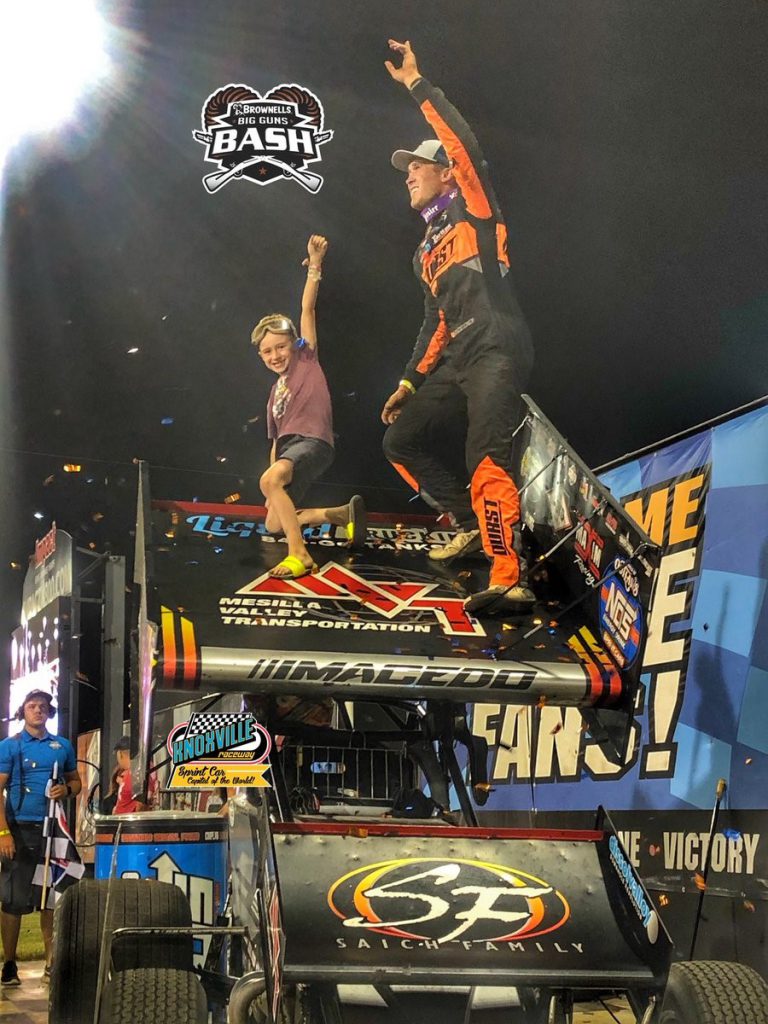 A sweep of the weekend are what dreams are made of when you come to Knoxville Raceway. Mission was accomplished on both Friday and Saturday night and after giving Philip Dietz a big hug and celebrating on the wing with Jaxx Johnson, the late Jason Johnson's son, he crawled down and wiped his face that revealed a huge smile. He calmly exclaimed, "Two in a row is pretty cool man." He continued, "You are seeing the fruit from everything Jason Johnson built here. I'm looking forward to the future with Philip Dietz. It's no secret Knoxville is a chess game and I'm feeling better about this place every time." Confidence that both he and the team are hoping to carry forward throughout the remainder of the World of Outlaws schedule and certainly when they return to the historic Marion County Fairgrounds in August for the 60th Annual Knoxville Nationals. Another great run for the forty-one!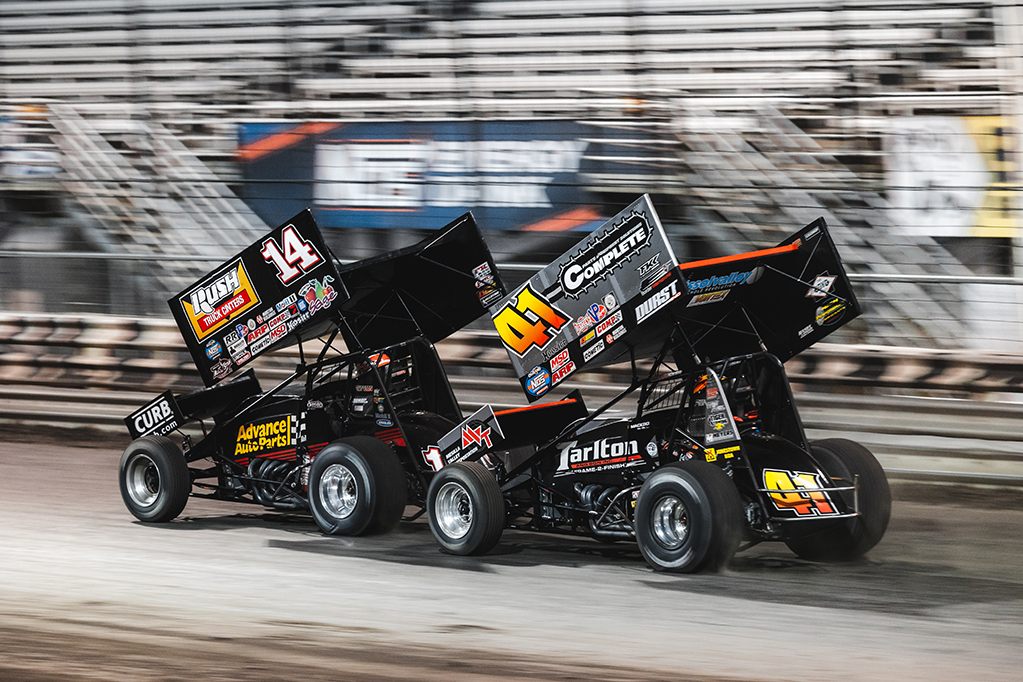 Carson Macedo Duels with Kerry Madsen with a Last Lap Pass to Sweep Both Nights at the Brownells Big Gun Bash! Photo Credit: Trent Gower
Mesilla Valley Transportation (MVT); Tarlton and Son Inc.; Complete Parts & Equipment Solutions; Saich Family; Border International; Dissolvalloy Downhole Revolution; Jonestown KOA; Durst Inc.; Maxim Racing; The Boyd Family; Liquid Trucking; Meyers Constructors Inc.; Tiger Towing; Pro Powder Coating (PPC); Waco Metal; High Performance Lubricants, LLC; Kistler Engines; Team Jack Foundation; Mark Burch Motorsports; All Pro Auto Reconditioning; K1 Race Gear; AutoMeter; Bandy & Associates Accountancy Corporation; Bell Racing USA; Blackbeard LTD; Brown & Miller Racing Solutions (BMRS); Buckwalter Trucking, LLC; C&R Racing; Chalk Stix Torsion Bars; Crow Enterprizes; Engler Machine & Tool, Inc.; Factory Kahne (FK Shocks); Fibreworks Composites; FK Rod Ends; Fuel Safe Racing Cells; Greber Racing Components; Hoosier Racing Tire; ISC Racers Tape; Jansen Transportation; KSE Racing Products; Larry Davis Farms; Logo Daddy Graphics; Mr. Jim's Racing; MSD Performance; RaceDiecast.com; Sam I Am; Schoenfeld Headers; T-FAB Custom Metal Fabrication; Vortex Racing Products; Walker Performance Filtration; Weld Wheels; Wilwood Racing; and Winters Performance Products.
To stay connected with Jason Johnson Racing (JJR), go to www.jasonjohnsonracing.com.
To stay up-to-date with Carson Macedo and his success journey on and off the track, as well as to purchase his gear and merchandise directly, visit www.carsonmacedoracing.com.