SATURDAY SWIRL IN THE RED DIRT: THE JJR TEAM CAPS OFF THE 2023 WORLD OF OUTLAWS SEASON WITH A TOP TEN RUN AT THE DIRT TRACK AT CHARLOTTE IN THE WORLD FINALS ABOARD THE ALBAUGH – YOUR ALTERNATIVE #41
CONCORD, NORTH CAROLINA (November 4, 2023) – Another World of Outlaws NOS Energy Sprint Car Series season was coming to an end at the NOS Energy Drink World Finals. A season of hope that began way back in February at Volusia Speedway Park and took the drivers and teams on an adventure that made its way around the United States of America through 19 different states finally was coming to a close with reality in front of them at the NOS Energy Drink World Finals at The Dirt Track in Charlotte. The journey for all has been filled with highs and lows for each of the teams and drivers alike, but they persevered with courage and strength through each trough and celebrated at the high points along the way. For Carson Macedo and the JJR #41 team they had a tremendous season that resulted in some wins and a lot of solid performances to go along with some scary points that impacted their progress towards their goals , but fully displayed their strength and character.
After finishing in third place on Thursday night to earn 144 points and following that up with an eleventh place finish on Friday night to add an additional 128 points, Carson and the JJR #41 team had a cumulative two night point total of 272 points, which position them seventh overall heading into Saturday night. That point total would lock them into a front row starting spot in the third of four 8-lap heat races on Saturday night. The team was looking to end the racing season on a high note as they say farewell to the competitive season as well as two important members of the team. Clyde Knipp is going to get off the road next year as he is starting his own business, Prime Composite Innovations, so he can be closer to home with his daughter Briella Jo and girlfriend Taylor. Nate Repetz meanwhile is going to take advantage of an opportunity to move back home to Pennsylvania while continuing to work in the sport with a locally-based sprint car team – Macri Motorsports. Saturday night was their last ride together as there were 53 teams registered and most back and ready to race for the money.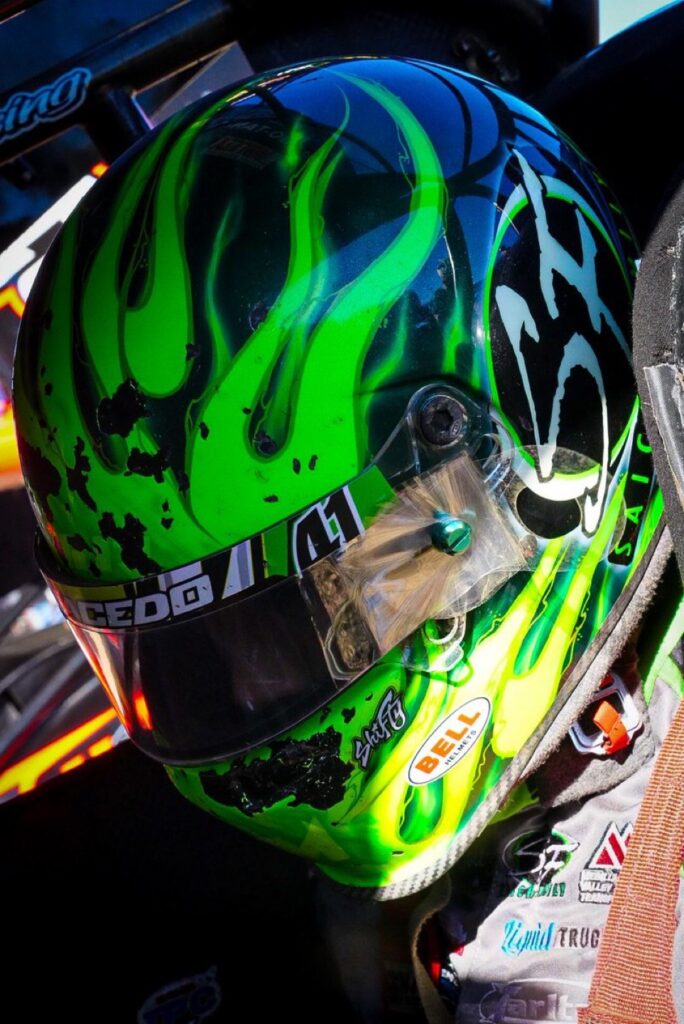 There were 12 cars lined up in the staging lane for the third of four 8-lap heat races. The Albaugh – Your Alternative #41 with Carson Macedo behind the wheel would get started from the second starting position on the outside of the front row beside Tyler Courtney in the Clausen Marshall Racing (CMR) #7BC. The heat race lineup was stacked with talent as they each rolled out onto the track with their engines fired. Cole Macedo, driving the Dietz Motorsports #14, would start third with Anthony Macri to his outside in row two. Jacob Allen and Sam Hafertepe Jr. lined up in row three with Noah Gass and Skylar Gee in row four. Greg Wilson and Danny Sams III were in row five with Conner Morrell and Tim Estenson in the last row. These talented athletes were ready to compete and when they exited turn four they were off.
When the green flag waved, Tyler Courtney drove off turn two with the lead ahead of Carson Macedo and Cole Macedo. Cole made contact with the outside retaining wall at the turn four exit, which would bring out the caution flag before another lap could be completed as he broke the Jacobs ladder.
Tyler Courtney would lead Carson Macedo, and Anthony Macri back up to speed. Third starting Macri made speed and a bold move to drive into the lead in the first set of turns before Courtney raced back by him to retake the lead entering turn three. Anthony Macri aggressively slid up the track and got sideways over the cushion in turn four turning himself right in front of Carson who made slight contact, but narrowly avoided the spinning Macri as the yellow flag was back out as the #39M had a flat left rear tire.
Tyler Courtney jumped on the accelerator again with Carson right behind him in the Albaugh – Your Alternative #41 Maxim. The fast line was up around the top and everyone was running through the dust around the wall. Courtney would drive the #7BC to the win ahead of Carson Macedo as those two would advance into the Toyota Dash. Sam Hafertepe Jr. came home in the show position with Jacob Allen locking down fourth and Skylar Gee rounding out the top five.
Carson earned his series leading 47th trip of the season to the 6-lap Toyota Dash where he would pull the highest numbered pill and start eighth alongside Brent Marks. Brad Sweet and Brian Brown would lead the field in row one followed by Rico Abreu and Justin Peck in row two with Logan Schuchart and Tyler Courtney in row three. Starting at the back of the pack aboard the Tarlton and Son/Liquid Trucking/Durst Inc. #41 Maxim, Carson was ready to go all out when the green flag waved. He did just that as he went wide off turn four and dove through the middle of Schuchart and Courtney as he slid up the track in the first set of turn to take the sixth position. Brent Marks raced through too as he was running fourth at the end of the first circuit. Brian Brown was out in front of Brad Sweet as Carson got up over the cushion in turn two cleanly dicing for position with Tyler Courtney and relinquished the spot he gained back to both Courtney and Schuchart. Brian Brown took the dash victory ahead of Brad Sweet, Brent Marks and Rico Abreu with Logan Schuchart coming home fifth ahead of Justin Peck, Tyler Courtney, and Carson Macedo.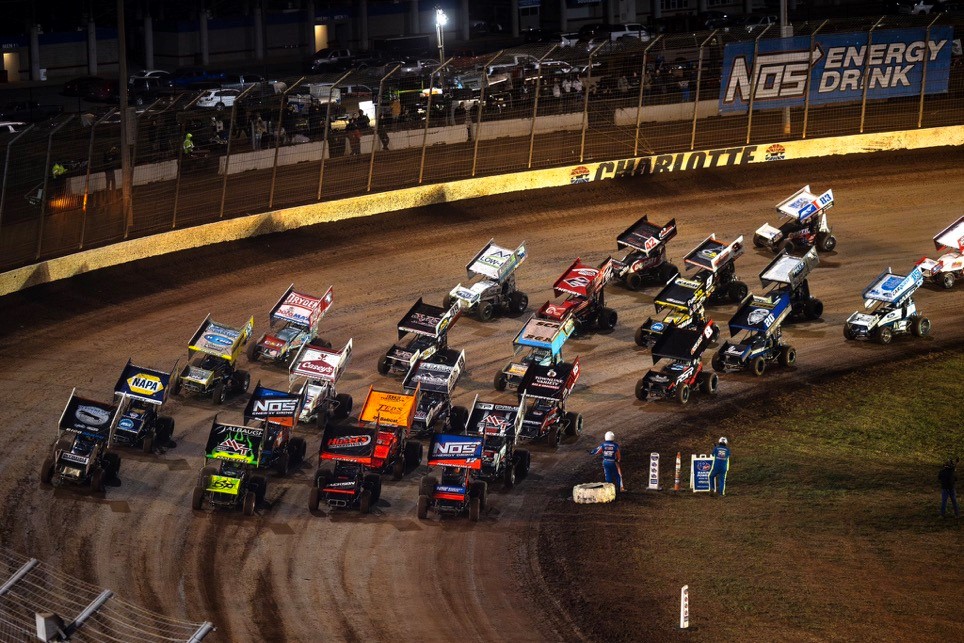 The field was locked and loaded for the 25-lap NOS Energy Drink World Finals finale. Carson would get started aboard the Albaugh – Your Alternative/Tiger Towing/Durst Inc. #41 Maxim from the outside of row four with Tyler Courtney to his inside. The front row was made up of Brian Brown in the Casey's General Stores #21 and Brad Sweet in the NAPA Auto Parts #49 they paced the field slowly to the green flag.
They were off with Brian Brown leading Brad Sweet and Brent Marks off turn two. Carson was engaged and working the Albaugh #41 from the sixth spot in the running order looking for opportunities to advance at speed. He was racing hard with Justin Peck as the two had some nail biting moments as they dueled for position. Carson had early speed in the forty-one and on lap three he moved into the top five.
With 5 laps in the books it was Brian Brown out front followed by Rico Abreu, Brad Sweet, Brent Marks and Carson Macedo. Three laps later though red hot Rico Abreu raced by Brown into the lead. Brent Marks and Brad Sweet would also move by Brian Brown the next time around as Carson was being pressured from behind.
Rico Abreu was seemingly in control as he was carrying his speed around the top of the track. But Brad Sweet was crawling closer each lap as he worked the bottom and eventually would pass Abreu for the lead late in the non-stop race. Brad Sweet would go on to win the World Finals finale and secure his fifth consecutive World of Outlaws NOS Energy Drink Sprint Car Championship. Rico Abreu came home second with Logan Schuchart rounding out the podium.
Carson faded a bit late but came home with an eighth place finish to end the season. As the curtain closes on the 2023 season the team will now head back to Rocky Mount and during the off-season work hard to make more improvements to take on the best in the business in 2024!
Carson Macedo Closes Out the 2023 World of Outlaws Season with a Solid 8th Place Run in the World Finals Finale at The Dirt Track at Charlotte! Photo Credit: CS Productions – Cameron Saich
Albaugh, LLC; Border International; Mesilla Valley Transportation (MVT); Saich Family; Tarlton and Son Inc.; Boltz Family; Complete Parts & Equipment Solutions; Durst Inc.; Liquid Trucking; Bandy & Associates Accountancy Corporation; Buckwalter Trucking, LLC; Jansen Transportation; Larry Davis Farms; Meyers Constructors Inc.; Mr. Jim's Racing; RaceDiecast.com; Sam I Am; Team Jack Foundation; Mark Burch Motorsports; T-FAB Custom Metal Fabrication; Tiger Towing; All Pro Aluminum Cylinder Heads; AutoMeter; Bell Helmets; BMRS (Brown & Miller Racing Solutions); BR Motorsports; C&R Racing; Crow Enterprizes; Engler Machine & Tool, Inc.; Factory Kahne (FK Shocks); Fibreworks Composites; FK Rod Ends; Greber Racing Components; High Performance Lubricants, LLC; Hoosier Racing Tire; Indy Performance Composites (IPC); ISC Racers Tape; K1 Race Gear; Kistler Racing Engines; KSE Racing Products; Maxim Racing; Motor State Distributing; Premium Coach Group; Pro Powder Coating (PPC); Saldana Racing Products; Schoenfeld Headers; Smith Titanium; Vortex Racing Products; Walker Performance Filtration; Weld Racing; Wilwood Racing; Winters Performance Products; and, Xtreme Body and Paint.
To stay connected with Jason Johnson Racing (JJR), go to www.jasonjohnsonracing.com.
To stay up-to-date with Carson Macedo and his success journey on and off the track, as well as to purchase his gear and merchandise directly, visit www.carsonmacedoracing.com.