ROLLING IN BAKERSFIELD: AS THE FINAL WEEKEND OF THE CALIFORNIA SWING STARTS, MACEDO DRIVES THE MEYERS CONSTRUCTORS #41 MAXIM TO A TOP FIVE FINISH IN THE GOLDEN STATE ON FRIDAY NIGHT
BAKERSFIELD, CALIFORNIA (March 25, 2022) – For the third consecutive weekend "The Greatest Show on Dirt" was in California to treat the fans to some high speed entertainment at Bakersfield Speedway, which is dubbed "The West's Fastest 1/3-mile High Banked Clay Oval" for good reason. The last time the Outlaws invaded Bakersfield in 2018 it was Sheldon Haudenschild securing the victory. Coming off their win at Merced Speedway last Friday night, Carson and the JJR #41 team were eager to get rolling again to see if they could continue to add to their success. There were 27 race teams registered to race at Bakersfield Speedway on Friday night.
After hot laps were completed, the competitors and teams prepared their racecars for their two time trial laps in Slick Woody's Qualifying. Back on March 18, 2006, Jason Sides set the track record here with a lap of 10.342 seconds. That is the mark everyone would be shooting for when they hit the track. The driver of the Meyers Constructors, Inc./Liquid Trucking/Team Jack Foundation #41 Maxim would be the fourth driver to take on Bakersfield Speedway's high banks. When his Kistler Racing Engines power fired, he throttled down and got all the horses running as he swept underneath the waving green flag. He was movin' and groovin' as the second hand was ticking on the stop watch measuring his performance. When he crossed under the white flag, his first lap was recorded at 11.179 seconds. He kept his elbows up the next time around and this time the stopwatch read 11.082 seconds. The better of his two circuits was 12th quick overall when time trials concluded. David Gravel set quick time with a lap of 10.754 seconds after going out late in the order.
The heat race lineups were posted which found the Albaugh – Your Alternative/Tarlton and Son/Walker Performance Filtration #41 Maxim starting from the outside of row three two in the third heat race with Donny Schatz to Carson's inside. Spencer Bayston and Rico Abreu were rolling in row one with Austin McCarl, Shane Golobic, D.J. Netto, Brody Roa and Noah Gass filling row three and beyond. When they got the green light to go racing it was Rico Abreu blasting into the lead in the Rowdy Energy Drink #24 over Bayston and Macedo who settled into their spots. Carson was battling with the 10 time World of Outlaw champion, Donny Schatz, early in the race but never surrendered the show position. Abreu would not be denied over the 10 laps and took the heat race victory over Bayston and Macedo with Schatz, McCarl and Golobic securing the remaining three transfer positions to the feature event.
Missing out by one finishing position to compete in the DIRTVision Fast Pass Dash, Carson, Philip, Clyde and Nate diligently worked on their entry to prepare the Mesilla Valley Transportation (MVT)/Durst Inc./Sam I Am #41 for the 35-lap NOS Energy Drink feature. When the feature lineup was posted, the Lemoore, California born racer would get rolling from the ninth starting spot beside Logan Schuchart. Spencer Bayston sat on the pole with David Gravel to his outside. Giovanni Scelzi and Rico Abreu made up row two with Jacob Allen and Corey Day in row three. Pacing from row four would be Kraig Kinser and Brad Sweet. When they came around for the four-wide salute, the fans in the stands had the lights on their cellphones on to acknowledge some of the best in the business. Bayston brought the field to the green flag and led early over Gravel and Abreu. Carson lost a few positions in the early laps but was quickly wheeling the forty-one forward as he made his way back up to 11th place on lap seven when the red flag came out. Sheldon Haudenschild caught the wall and collected the top three – Bayston, Gravel, and Abreu – who all headed to the work area for repairs. Carson would restart from the eighth position with Giovanni Scelzi inheriting the lead. Brad Sweet would restart second when they got back rolling, but it was Scelzi holding onto the top spot when racing resumed. Macedo was working his way forward and with 10 laps to go was running in the sixth position. On lap 27 he improved one more position as he moved into the top five. Then on lap 31 he gained another position moving into the fourth spot. Scelzi was leading Corey Day and Brad Sweet, but Macedo was right there pressuring Sweet for the last podium position. Scelzi collected the win over Day with Sweet securing third. Carson Macedo brought the Albaugh #41 home fourth, with James McFadden making an impressive run forward from his 22nd starting spot to round out the top five. Another good run for the forty-one! Carson and the JJR #41 team will be back at it on Saturday night at Perris Auto Speedway.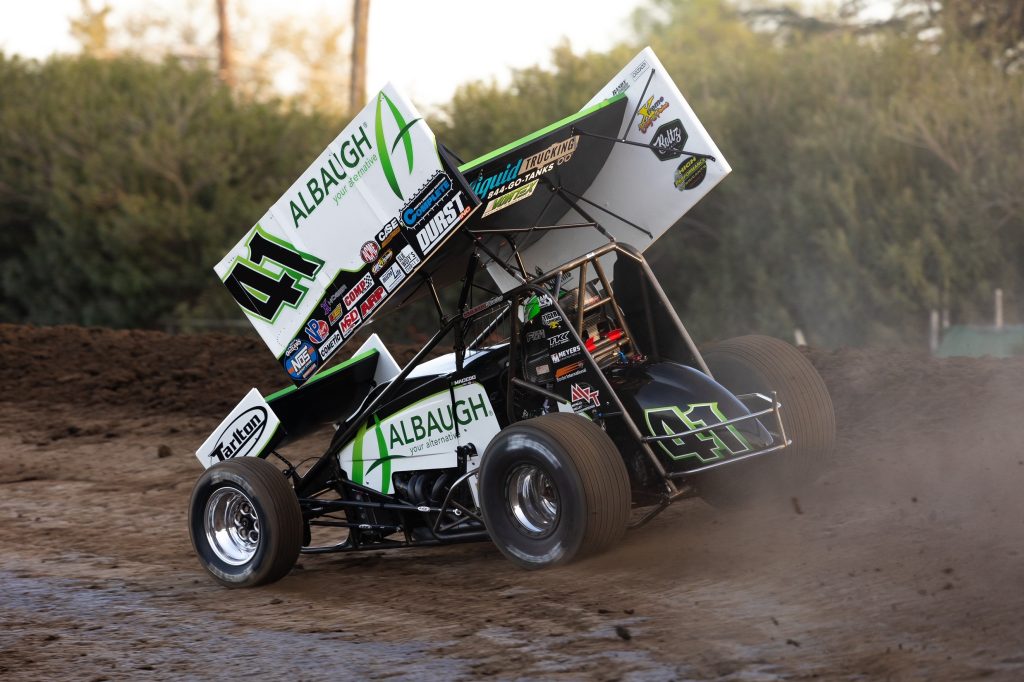 A Solid Top Five Run for the Forty-One at Bakersfield Speedway! Photo Credit: Trent Gower
Albaugh, LLC; Border International; Mesilla Valley Transportation (MVT); Saich Family; Tarlton and Son Inc.; Boltz Family; Complete Parts & Equipment Solutions; Durst Inc.; Liquid Trucking; Bandy & Associates Accountancy Corporation; Buckwalter Trucking, LLC; Dissolvalloy Downhole Revolution; Jansen Transportation; Larry Davis Farms; Meyers Constructors Inc.; Mr. Jim's Racing; RaceDiecast.com; Sam I Am; Team Jack Foundation; Mark Burch Motorsports; T-FAB Custom Metal Fabrication; Tiger Towing; All Pro Aluminum Cylinder Heads; AutoMeter; Bell Helmets; BMRS (Brown & Miller Racing Solutions); BR Motorsports; C&R Racing; Crow Enterprizes; Engler Machine & Tool, Inc.; Factory Kahne (FK Shocks); Fibreworks Composites; FK Rod Ends; Greber Racing Components; High Performance Lubricants, LLC; Hoosier Racing Tire; Indy Performance Composites (IPC); ISC Racers Tape; K1 Race Gear; Kistler Racing Engines; KSE Racing Products; Maxim Racing; Motor State Distributing; Pro Powder Coating (PPC); Saldana Racing Products; Schoenfeld Headers; Smith Titanium; Vortex Racing Products; Walker Performance Filtration; Weld Racing; Wilwood Racing; Winters Performance Products; and Xtreme Body and Paint.
To stay connected with Jason Johnson Racing (JJR), go to www.jasonjohnsonracing.com.
To stay up-to-date with Carson Macedo and his success journey on and off the track, as well as to purchase his gear and merchandise directly, visit www.carsonmacedoracing.com.