RELENTLESS AT RED RIVER VALLEY: THIRD QUICK, WINS HEAT AND DASH, AND PASSES BRAD SWEET LATE TO TAKE THE DUEL IN DAKOTAS WIN AT RED RIVER VALLEY SPEEDWAY – DOUBLE DIGIT WoO WINS (10) FOR THE JJR #41 TEAM
WEST FARGO, NORTH DAKOTA (August 27, 2022) – After grabbing a third place finish on Friday night up at River Cities Speedway to start the Second Leg of the Gerdau Northern Tour, the JJR #41 team loaded up and made the short one and a half hour drive southbound to Red River Valley Speedway for the Duel in the Dakotas on Saturday night. Looking to keep their speed and positive momentum going in the right direction at the 3/8-mile semi-banked oval, team owner and crew chief Philip Dietz guided the JJR crew with regards to the race night setup specifications and any necessary changes needed in order to best position their driver for success at this racy venue. The skies were brilliant blue overhead and the cars were streaming into the parking lot to see the stars of the World of Outlaws NOS Energy Drink Sprint Car Series entertain at speed. The JJR team was hard at work on the Albaugh – Your Alternative #41 preparing for action as there was a total of 29 teams parked throughout the pit area awaiting competition at Red River Valley Speedway.
Following hot laps, it was time to race against the clock and the competitors in My Place Hotels Qualifying to see how fast they could go around Red River Valley Speedway measured in thousandths of a second. Last year in August, Kasey Kahne set the New Track Record (NTR) with an impressive lap of 11.460 seconds. These professionals certainly make this high speed feat look easy, but a small mistake can shave crucial time off your lap, so each of them have to be on their game. Carson climbed aboard the Tarlton and Son/Tiger Towing/High Performance Lubricants #41 Maxim and into his Fibreworks Composites with a custom fitted Sharp Advantage seat insert as he strapped into his Crow Enterprizes safety belts. He was nestled into his office as he rolled towards the staging area to await his turn on the track. Carson would be the eighth driver out on the track for his solo performance in time trials. He dropped his K1 Race Gear racing boot on his right foot and set sail as he hustled to the waving green flag. He was on the clock and working hard throughout his first lap on the fast racing surface. When he crossed the timing stripe to complete lap one, he triggered the clock that was measuring his performance at 12.001 seconds. That pushed him to the top of the speed charts early. Relentlessly, the speedster kept moving in fast forward around Red River Valley Speedway. The next time around was slower time wise at 12.213 seconds. When time trials concluded, Carson's fastest lap positioned him third quick overall. Jacob Allen went out late and set quick time to earn the Slick Woody's Quick Time Award on Saturday night with a quick lap of 11.635 seconds with David Gravel right behind in second with a lap of 11.802 seconds.
When the four 8-lap heat race lineups were posted, Carson Macedo would line the Albaugh – Your Alternative/Walker Performance Filtration/BR Motorsports #41 up on the pole with Brad Sweet to his outside in the third heat race. Hometown hero Donny Schatz shared row two with Kraig Kinser with Mark Dobmeier, Bill Rose, Zach Omdahl, Todd Mickelson and Andy Pake rolling into their starting positions. When the green flag was waving in the wind it was Macedo and Sweet side-by-side down the frontstretch. The two talented drivers stayed that way the entire first lap with Sweet leading by a nose when they crossed the finish line on lap one. But Carson roared back and muscled his way back into the top spot on lap two. He kept his right foot planted to make his Kistler Engines/Engler Machine & Tool/All Pro Aluminum Cylinder Heads power sing as he began to extend his lead with each completed lap. Macedo was a missile in the Albaugh #41 entry and with one lap to go was gone. The talent from Lemoore, California took the win over Brad Sweet by 3.070 seconds with Donny Schatz coming home third, Kraig Kinser fourth, Mark Dobmeier fifth, and Bill Rose securing the sixth and final transfer position.
Earning a spot for the 29th time this season in the 6-lap DIRTVision Fast Pass Dash, luck was on Carson's side as he pulled the lowest number – a number one – out of the oversized NOS Energy Drink can in the dash draw to put him in the pole position to start the dash. He would share the front row again with Brad Sweet as David Gravel and 16 year old and one day Ryan Timms, racing in only his second WoO race, paced behind in row two. Robbie Price and Jacob Allen would get rolling from row three. With a beautiful sunset in the background to remind everyone how blessed we are at the end of each day, the field rolled out onto the track for six laps around Red River Valley Speedway with the finishing order setting the starting lineup for the first three rows of the feature. The driver of the forty-one flipped down the shield of his Shifty Illusions custom painted Bell Helmet and focused on delivering a quality speed performance. When the yellow lights dimmed being replaced by the green ones, Macedo stomped on the loud pedal and drove into the lead over Sweet and Gravel. Timms settled in right behind Gravel in the fourth spot. Carson was on the hammer and pounding the nails as he was checked out on the lightning fast surface. He would lead from start-to-finish and take the win by 2.801 seconds over Sweet with Gravel coming home third, Timms fourth as Price and Allen rounded out the finishing order.
After the late models finished their main event, the 8-minute horns sounded to summon the cars to the speedway for the 30-lap Gerdau Duel in the Dakotas feature event at Red River Valley Speedway. Philip, Clyde and Nate finished up their last minute items as the forty-one rolled up over the banking in turn three and into position to await a push truck. With a tap on the rear nerf bar, his Kistler Engines power came to life as Carson gripped the steering wheel with his K1 Race Gear gloves. He maneuvered his way into his pole position starting spot with Brad Sweet's blue NAPA Auto Parts #49 to his outside. David Gravel and Ryan Timms were perched in row two and joined the front row for the traditional four-wide salute to the fans. They re-ordered into their two-by-two starting formation and came roaring towards the flagstand with the green flag waving. It was Brad Sweet catapulting into the lead ripping the top of the racetrack with Carson Macedo right behind. The forty-one was keeping pace with the leader as he approached the rear of the field. The top two were battling for the lead as they weaved in and around the slower cars on the track. The first yellow flag of the night came out on lap 8 when Tim Estenson made heavy contact with the outside retaining wall on the frontstretch at the exit of turn four right in front of the leaders. While the wreckage was being cleared, the remaining field would prepare for the double file restart with leader Brad Sweet electing to restart from the inside with Carson Macedo's Durst Inc./Boltz Family/Winters Performance Products #41 Maxim to his outside. When they got back up to speed it was again Sweet to the lead over Macedo as the Californians were entertaining the fans at high speed. They again were approaching lap traffic with Macedo glued to the bumper of the NAPA Auto Parts #49. With 12 laps to go the two talented racers were side-by-side again dueling for the top spot in the running order. They almost made contact in turn two, both narrowing avoiding disaster. The next time around though Carson powered underneath Sweet in turns one and two and moved up in front of Sweet at the apex of turns one and two. Once again it was really tight as you could not squeeze a piece of paper between Macedo's rear nerf bar and Sweet's front push bar. Macedo then powered down and started to pull away building an over 2.6 second lead when the final caution of the night flew with 3 laps to go for a slowing Kraig Kinser in turn two. The gap Macedo had built was now gone, but he was focused on the big prize at the end of the rainbow – the win! When they went back to green he motored into the lead as Ryan Timms powered by Sweet into the runner-up position. Carson would lead the remaining laps to collect his tenth WoO win of the 2022 season, 11 wins overall including his win at Knoxville in early May, as he raced across the finish line by 1.096 seconds ahead of Timms and Sweet with David Gravel securing fourth and Robbie Price collecting his first to five finish ever in World of Outlaws competition.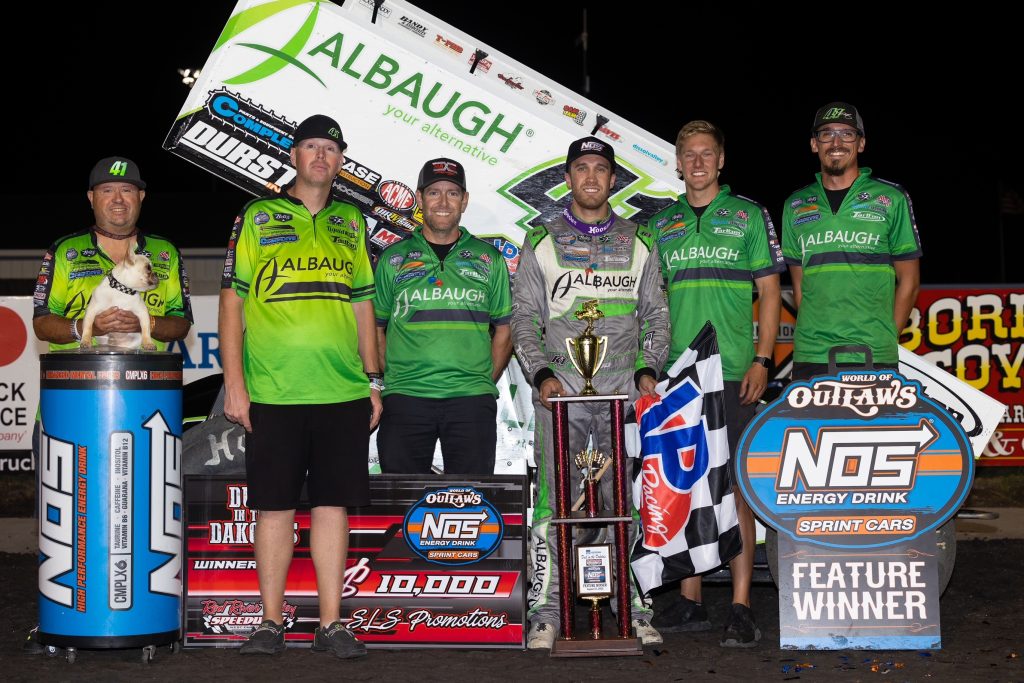 After a quick FaceTime with Brooke Dietz who was celebrating her birthday with a win at Red River Valley Speedway, Carson climbed atop his Vortex Racing Products wing to celebrate amongst the falling confetti as he waved the VP Racing Fuel checkered flag. With his effervescent smile, Carson met with Hannah Rickards in victory lane and reflected, "Ten wins – that's crazy." He continued, "Winning double digits in a single World of Outlaws season is really tough to do. Without JJR and this team – Philip Dietz, Clyde Knipp, and Nate Repetz – doing such a good job, I don't think I could do it." It takes a team for sure and that's what JJR is all about dating back to when Jason Johnson founded the team back in 2010 as part of his dream. Another great run, and win, for the forty-one team!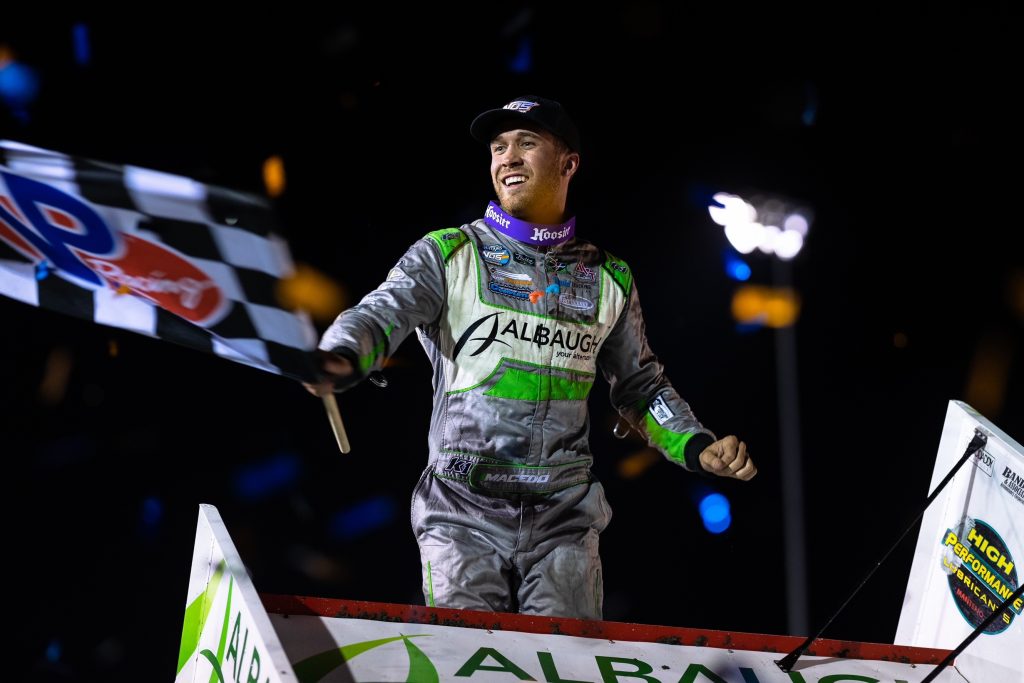 Carson Macedo Races to his 10th WoO Win of the Season at Red River Valley Speedway! Photo Credit: Trent Gower
Albaugh, LLC; Border International; Mesilla Valley Transportation (MVT); Saich Family; Tarlton and Son Inc.; Boltz Family; Complete Parts & Equipment Solutions; Durst Inc.; Liquid Trucking; Bandy & Associates Accountancy Corporation; Buckwalter Trucking, LLC; Dissolvalloy Downhole Revolution; Jansen Transportation; Larry Davis Farms; Meyers Constructors Inc.; Mr. Jim's Racing; RaceDiecast.com; Sam I Am; Team Jack Foundation; Mark Burch Motorsports; T-FAB Custom Metal Fabrication; Tiger Towing; All Pro Aluminum Cylinder Heads; AutoMeter; Bell Helmets; BMRS (Brown & Miller Racing Solutions); BR Motorsports; C&R Racing; Crow Enterprizes; Engler Machine & Tool, Inc.; Factory Kahne (FK Shocks); Fibreworks Composites; FK Rod Ends; Greber Racing Components; High Performance Lubricants, LLC; Hoosier Racing Tire; Indy Performance Composites (IPC); ISC Racers Tape; K1 Race Gear; Kistler Racing Engines; KSE Racing Products; Maxim Racing; Motor State Distributing; Premium Coach Group; Pro Powder Coating (PPC); Saldana Racing Products; Schoenfeld Headers; Smith Titanium; Vortex Racing Products; Walker Performance Filtration; Weld Racing; Wilwood Racing; Winters Performance Products; and Xtreme Body and Paint.
To stay connected with Jason Johnson Racing (JJR), go to www.jasonjohnsonracing.com.
To stay up-to-date with Carson Macedo and his success journey on and off the track, as well as to purchase his gear and merchandise directly, visit www.carsonmacedoracing.com.