RACING THROUGH THE BUMPS AT STOCKTON: GRAVEL PICKS UP FIVE SPOTS AS HE DRIVES FORWARD ON THE ROUGH SURFACE AT STOCKTON DIRT TRACK TO GARNER A TOP FIFTEEN FINISH TO WRAP UP WEEKEND
STOCKTON, CALIFORNIA (March 16, 2019) – Life on the road with the World of Outlaws NOS Energy Drink Series is busy. After completing action at Silver Dollar Speedway, the JJR #41 team loaded up and traveled south for 2 hours on Interstate 5 to the Stockton Dirt Track. They rolled out the Mesilla Valley Transportation (MVT)/Factory Kahne Shocks #41 Maxim out of the hauler as they were one of thirty five teams registered to race at the semi-banked, 3/8th mile oval.
After hot laps were completed, David rolled into the staging area aboard his Maxim Racing #41 as he would push off eighth for his two consecutive time trial laps. The Watertown, Connecticut speed chauffeur dropped his right foot and his Kistler Racing Engines/Engler Machine & Tools, Inc. engine delivered the horsepower needed to get rolling. When he crossed the start/finish line the first time the clock read 13.071 seconds. He stayed on the loud pedal and squeezed a little more speed out of the second lap which came in at 13.064 seconds. His time was 12th quick overall on the night.
When the heat race lineups were posted he would start third in the fourth and final 8-lap heat race. When you race against the best night-in and night-out there is no "easy" event. You work for everything you get as nothing and no one gives you anything. Californians Willie Croft and Dominic Scelzi were starting on the front row as David shared row two with talented Aaron Reutzel with current WoO point leader Daryn Pittman and Tim Shaffer in row three. Croft took command of the top spot when the green flag waved and checked out as Scelzi was giving chase. Gravel was battling for position aboard the Weikert's Livestock/Tiger Towing #41 Maxim with Reutzel, Pittman and Shaffer. Croft would lead all 8 laps as Scelzi came home in the runner-up position followed by Reutzel and Pittman with Gravel securing the fifth and final transfer position in the JJR #41.
With the show moving along, it was soon time for the Greatest Show on Dirt to take to the Stockton Dirt Track for the 30-lap feature event. With lots of rain recently, the track crew did their best to give the racers the best surface possible to race on. The surface was rough which made for a bumpy ride for all the drivers, but these professionals are not deterred by much. David would start deep in the field aboard the Team Jack Foundation/Mark Burch Motorsports #41 from the 20th position. Polesitter Logan Schuchart took the early lead as Gravel's Hoosier Racing Tires dug in to propel him forward as he picked up five positions by lap three. Schuchart surrendered the lead to hard-charging Shane Stewart on Lap 12 as Gravel continue to battle for position in a tight pack I the fourth group of five. The talented and determined driver was doing his best to hold his position while fighting forward. Schuchart would inherit the lead back when Stewart lost the lead as his right rear tire was losing pressure and eventually expired with five laps to go. After heading to the work area and bolting on a new right rear he rejoined the field. When racing resumed, Schuchart stayed in the front of the pack and took the victory over Brad Sweet, Tim Kaeding and Aaron Reutzel with DJ Netto completing the top five. Gravel picked up five position over the race distance and brought the Mesilla Valley Transportation (MVT)/J.R.C. Transportation #41 Maxim home with a 15th place finish.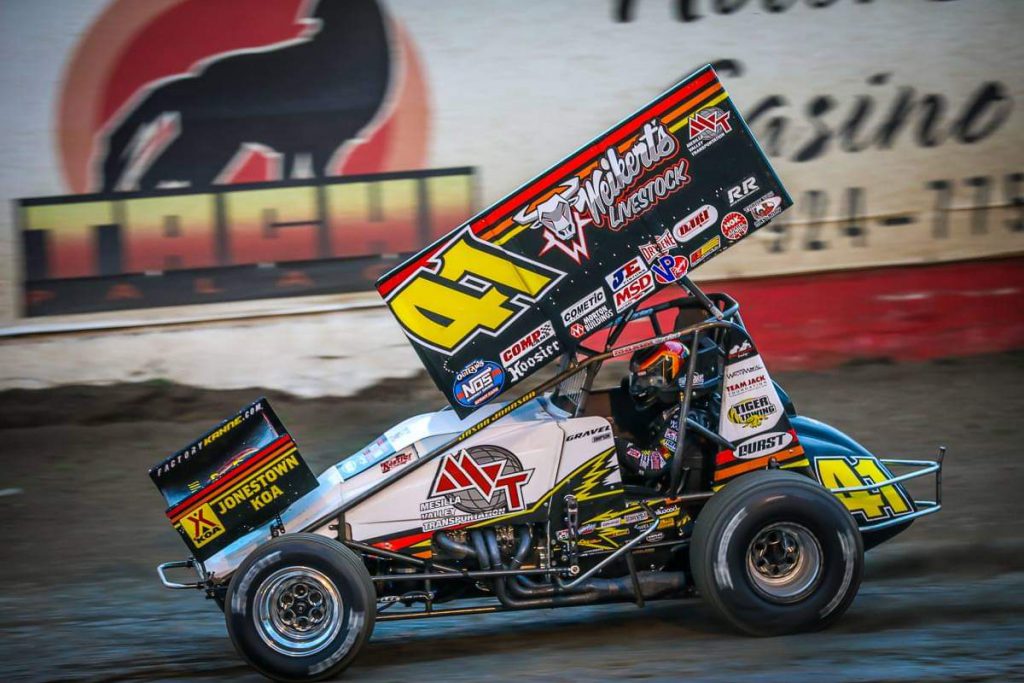 We are proud to represent all of our dedicated and loyal supporters:
Mesilla Valley Transportation (MVT); Saich Family; Jonestown KOA; Dissolvalloy Downhole Revolution; Weikert's Livestock; J.R.C. Transportation, Inc.; Durst Inc.; Maxim Racing; The Boyd Family; Pro Powder Coating (PPC); Waco Metal; High Performance Lubricants, LLC; Team Jack Foundation; Mark Burch Motorsports; Tiger Towing; All Pro Aluminum Cylinder Heads, Inc.; All Pro Auto Reconditioning; AutoMeter; Bell Racing USA; Blackbeard; Brown & Miller Racing Solutions (BMRS); Buckwalter Trucking, LLC; C&R Racing; Chalk Stix Torsion Bars; Cody Monoco Racing; Crow Enterprizes, Engler Machine & Tool, Inc.; Factory Kahne FK Shocks; Fibreworks Composites; FK Rod Ends; Fuel Safe Racing Cells; Greber Racing Components; Hoosier Racing Tire; ISC Racers Tape; Jansen Transportation; K&N Filters; Kaiden Kares; Kistler Racing Engines; KSE Racing Products; LogoDaddy Graphics; Max Papis Innovations (MPI); MSD Performance; Schoenfeld Headers; Shell Shock Paint; Simpson Race Products; T-FAB Custom Metal Fabrication; Vortex Racing Products; Weld Wheels; Wilwood Racing; Winters Performance Products; and, www.racediecast.com.
To stay connected with Jason Johnson Racing (JJR), go to www.jasonjohnsonracing.com
To learn more about David Gravel, and stay up to date with his success and journey, go to www.DavidGravel89.com