RACING AGAINST THE WIND AT DODGE CITY: AFTER COLLECTING HIS 17TH QUICK TIME OF THE SEASON, GRAVEL AND THE JJR #41 SECURE A FOURTH PLACE FINISH IN THE OUTLAW BOOT HILL SHOWDOWN FINALE!
DODGE CITY, KANSAS (September 21, 2019) – The winds were blowing hard across the western plains of Kansas yesterday as they blew over top of Dodge City Raceway Park as the drivers and teams awaited night two of the Outlaw Boot Hill Showdown. Dodge City started as a pavement oval back in 2000 and was converted over to dirt in 2008. Since that time the facility has done a tremendous job giving the racers and fans a track that has produced some exciting racing action around the beautiful facility. There were 25 cars rolling through the pit area as they headed to the track for hot laps around the 3/8-mile semi-banked, dirt oval three hours west of Wichita.
After setting quick time for the 16th time this season, David Gravel would be the second car out for his two laps around Dodge City aboard the Dissolvalloy Downhole Revolution/Pro Powder Coating (PPC) #41 Maxim. He got his Weld Racing wheels rolling as his Kistler Engines power came to life. He stomped on the loud pedal and had the wind blowing across his Vortex Racing Products front and top wings. He was hammer down as he took the green and turned an impressive lap on his first circuit around Dodge City with a time of 12.706 seconds. His second lap was a consistent one at 12.769 seconds, but the first of his two laps had him perched atop the scoring pylon in the early going. He patiently waited for the remaining competitors to dethrone him, but that did not happen as he added his 17th quick time in the records books for the 2019 season.
He would start from the pole position in the first of three Drydene 8-lap heat races with Sheldon Haudenschild's Stenhouse Jr./Marshall Racing NOS #17 to his outside. The talented front row was followed by a host of talent with Logan Schuchart, Carson Macedo Steve Richardson, Jason Sides, Don Droud, Ray Seemann and Tyler Knight rounding out the starting grid. The Watertown, Connecticut native hustled into the lead from his inside starting position with Haudenschild ripping the cushion. Gravel was trucking in the Mesilla Valley Transportation (MVT)/High Performance Lubricants #41 as Macedo and Schuchart tussled for the show position. The winds were making it tricky as it affected the car differently at each end of the track. These professionals adapted and showed off their talent and speed in Kansas. David had a clear view out of his custom painted Simpson Race Products helmet emblazoned with the Team Jack Foundation logo and took the win over Haudenschild by 1.451 seconds with Macedo coming home in the third position followed by Schuchart, Sides and Richardson.
Making his way in the DIRTVision Fast Pass Dash it was time to head to the front straightway to put his hand in the oversized NOS Energy Drink can to pull one of the six pills numbered between 1 and 6. Wearing his Durst Inc. orange Simpson Race Products driver's suit, after speaking with Johnny Gibson on the mic, he pulled a five pill to start the dash. Brad Sweet would start from the pole with Ian Madsen, who was fast all weekend, on the outside front row. Row two was comprised of Sheldon Haudenschild and Shane Stewart with Gravel and Donny Schatz in row three. Sweet jumped into the lead early and was like a rabbit leading the field. Schatz drove from sixth to third with Gravel following close behind. Gravel got by Haudenschild for fourth with one lap to go, but Haudenschild was riding the top side and pulled even with Gravel exiting turn four on the last lap and beat the MVT #41 to the line by a nose. Sweet took the win over Madsen, Schatz and Haudenschild as Gravel and Stewart completed the finishing order.
With 30 laps ahead of them and a $12,000 winner's check awaiting the first driver to the finish line, it was time to head into the wind and set sail. Gravel rolled the Weikert's Livestock/Tiger Towing #41 Maxim into his fifth starting position beside Shane Stewart and when the green flag was waving in the moving air he drove off the bottom and into the fifth running position. Sweet was leading Ian Madsen as everyone else was simply giving chase. The high line was the fast and preferred line, so almost everyone was trying to keep their speed up around the top making passing a premium. Schatz was in the show position with Haudenschild battling from the fourth spot and Gravel running fifth. The running order stayed that way until the latter stages of the race when Haudenschild got out of shape running at speed through turns one and two which opened up an opportunity for Gravel and Logan Schuchart to get by for positions. Gravel was now running in the fourth position when a late caution flag flew for a slowing car on the backstretch. Sweet was still leading with Madsen, Schatz, Gravel and Schuchart in tow. On the single file restart, Sweet drove forward with a clean track in front of him and led the remaining laps under green-white-checkered conditions to take the win over Madsen and Schatz with Gravel finishing fourth and Haudenschild fighting back to complete the to five. Another great run for Gravel and the forty-one! It was the team's 41 top five finish of the 2019 season – a 63.08% top five success rate!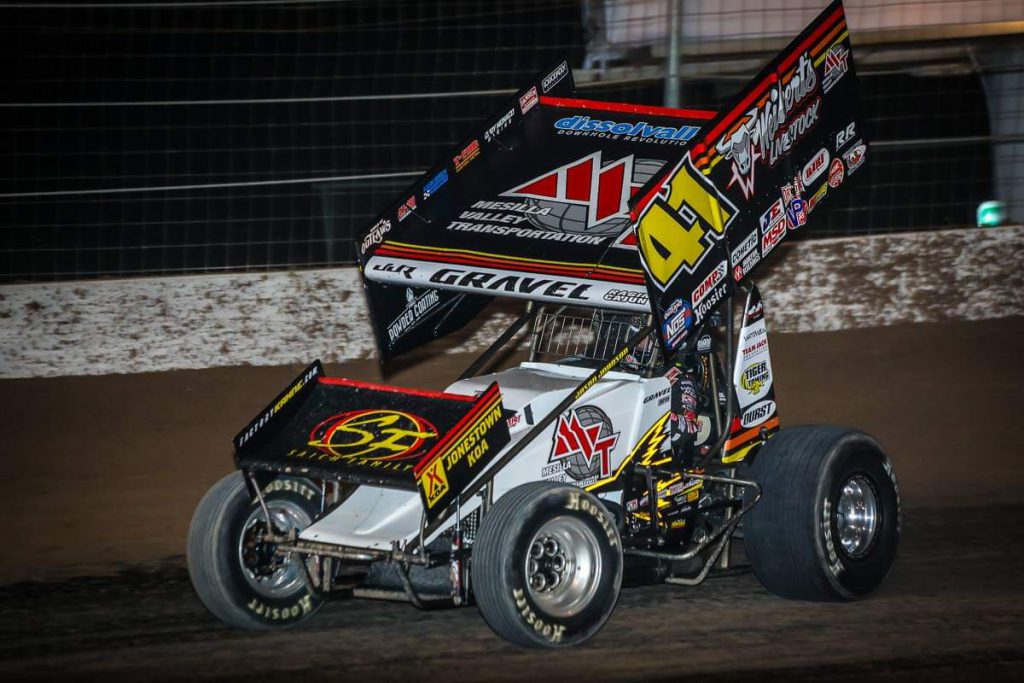 Mesilla Valley Transportation (MVT); Saich Family; Jonestown KOA; Dissolvalloy Downhole Revolution; Weikert's Livestock; J.R.C. Transportation, Inc.; Durst Inc.; Maxim Racing; The Boyd Family; Pro Powder Coating (PPC); Waco Metal; High Performance Lubricants, LLC; Team Jack Foundation; Mark Burch Motorsports; Tiger Towing; All Pro Aluminum Cylinder Heads, Inc.; All Pro Auto Reconditioning; AutoMeter; Bell Racing USA; Blackbeard; Brown & Miller Racing Solutions (BMRS); Buckwalter Trucking, LLC; C&R Racing; Chalk Stix Torsion Bars; Cody Monoco Racing; Crow Enterprizes, Engler Machine & Tool, Inc.; Factory Kahne FK Shocks; Fibreworks Composites; FK Rod Ends; Fuel Safe Racing Cells; Greber Racing Components; Hoosier Racing Tire; ISC Racers Tape; Jansen Transportation; K&N Filters; Kaiden Kares; Kistler Racing Engines; KSE Racing Products; LogoDaddy Graphics; Max Papis Innovations (MPI); MSD Performance; RaceDiecast.com; Schoenfeld Headers; Shell Shock Paint; Simpson Race Products; T-FAB Custom Metal Fabrication; Vortex Racing Products; Weld Wheels; Wilwood Racing; and Winters Performance Products.
To stay connected with Jason Johnson Racing (JJR), go to www.jasonjohnsonracing.com.
To stay up-to-date with David Gravel and his success and journey on and off the track, as well as to purchase his gear and merchandise, go to www.DavidGravel89.com.