PLAYING HIS HAND AT THE JOKERS WILD: CARSON MACEDO DRIVES TO A DOMINANT WIN IN THE TEAM JACK FOUNDATION #41 MAXIM AS HE LEADS FROM WIRE-TO-WIRE AND GETS COVERED IN CONFETTI IN VICTORY LANE
ROSSBURG, OHIO (July 14, 2021) – When the dust settled following the 33rd Annual Brad Doty Classic on Tuesday night, Carson Macedo and the JJR #41 team stayed within the borders of the Buckeye State as they headed two hours slightly to the southwest and entered the hallowed grounds of Eldora Speedway, also known as 'The Big E', to kick off the prestigious Kings Royal four-race stretch starting with the 5th Annual Jokers Wild. This place is revered for both the speed at which the drivers compete on the high banks, as well as the exciting racing it consistently has produced since being built in 1954. Under Tony Stewart's ownership, he and his management team at Eldora Speedway have done a great job maintaining and raising the already high standards that were established under the former owner and legendary promoter, the late Earl Baltes. There were 57 teams situated in the infield pit area ready to put on a show in the 2021 edition of Jokers Wild.
With another fantastic entry list that netted greater than 38 entries, the field was again separated into two separate groups called flights for Slick Woody's Qualifying. The one-lap track record at 'The Big E' was set by none other than David Gravel last year on September 23, 2020, when he was driving the JJR #41 entry, with a scorching lap of 12.599 seconds. When all of the pills were drawn and ordered lowest to highest, the driver out of Lemoore, California would go out second to last in Flight B for his two laps against the ticking stopwatch. Carson always has enjoyed racing at Eldora and was excited to get his night started out on the right foot. When it was his turn, the push truck used the rear nerf bar on the forty-one to push Macedo off as he climbed the banking in turn one aboard the Complete Parts & Equipment Solutions/WELD Wheels/Jonestown KOA #41. He hustled down the backstretch and had his Kistler Engines horsepower at full stride when he took the green flag for his first lap around the famous half-mile oval. Even though this place is big and fast, the drivers just cannot even make the slightest bobble or mistake as it will certainly reveal itself in their final lap times as it scrubs off a thousandth of a second or more so quickly. Carson did a really good job wheeling the forty-one the first time around being scored with a lap of 13.057 seconds. The next time around he ran another determined lap which was recorded in 12.899 seconds. The second of his two laps was the quicker of the two, which positioned him second overall on the speed charts in Flight B. Kerry Madsen, who went out in Flight A was the fastest driver of the night with a lap 12.757 seconds.
The starting lineups for the four Drydene Heat Races were posted by World of Outlaws (WoO) timing and scoring officials based off each driver's best time trial lap time in their respective flights. Only the top five finishers in each heat race would lock into the feature event from each of the four 8-lap heat races. Carson would start from the pole position in a loaded fourth heat race aboard the Mesilla Valley Transportation/Border International/Factory Kahne Shocks #41 Maxim. He sat on the front row with David Gravel in the Big Game Motorsports #2 with Kyle Larson and James McFadden in row two. Dave Blaney and Zeb Wise were lined up in row three, Lachlan McHugh and Anthony Macri in row four, with Justin Peck and Kraig Kinser in row six. When the pace truck pulled off Carson hit the chalk stripe and darted into the lead over Gravel. The top two drivers were fast, but Macedo was in clean air and starting to put a little space between himself and second running David Gravel when the caution came out for Kyle Larson who came to a stop in turn four with mechanical issues. They restarted in single file formation with five laps remaining. Macedo led Gravel and McFadden back to the green flag. He continued to build his speed and momentum as he extended his lead over Gravel. Carson took the heat race win by 2.045 seconds with David Gravel coming home second, Zeb Wise third, and James McFadden fourth as Dave Blaney rounded out the top five.
Carson drew the '3' pill for the DirtVision Fast Pass Dash which featured Paul McMahan and Brock Zearfoss in row one. Carson Macedo and Brian Brown were in row two. Aaron Reutzel and Kerry Madsen in row three. And, Ian Madsen and David Gravel in row four. When the initial green flag waved, Carson lost two spots in the early running to Brian Brown and Kerry Madsen. Macedo was now running in the fifth position with David Gravel all over him for the spot. The two tremendous racers were dueling for the position as they executed clean slide jobs when the opportunity presented itself. The laps clicked down quickly at this fast facility and when the checkered flag waved it was Brian Brown taking the win over Paul McMahan, Brock Zearfoss, Kerry Madsen and David Gravel with Carson Macedo coming home sixth as Aaron Reutzel and Ian Madsen completed the finishing order.
When the Last Chance Showdown concluded, it was show time for the 5thAnnual Jokers Wild 25-lap feature event. Carson climbed into the cockpit of the Team Jack Foundation/Dissolvalloy Downhole Revolution/MSD Performance #41 as he prepared to play his hand. He rolled onto the outside of row three and was deep in thought inside his Shifty Illusions custom painted orange Bell Helmet featuring Durst Inc. With the pyrotechnics booming in the sky above, it was now time to go racing at Eldora Speedway! Brian Brown dropped his right foot to start the race and Carson Macedo identified a hole and opportunity. He drove the MVT #41 through that hole between Brock Zearfoss and Kerry Madsen and was now racing with Brian Brown for the lead down the backstretch. Carson Macedo dove low entering turn three and exit on the high side as he led lap one from his sixth starting position. Brown would drive under him, but Carson powered around the outside in turn two to maintain the lead. He was now cruising at the front of the field until a yellow for Cory Eliason on lap two regrouped the field. When they got back up to speed, Brian Brown was in hot pursuit of the forty-one. He could not get to him and Carson Macedo was now piloting a rocket ship at the front of the pack. Each lap he would increase his lead over Brian Brown and before too long he was now navigating through lapped traffic. His lead ballooned to over 3 seconds, but that was all erased with eight laps to go when James McFadden had an issue with his wing panel and damage to his nose wing. The field reset in single file formation since there were less than 10 laps to go, with Macedo leading Brown, Madsen, Gravel, and Reutzel back to the green. Brown made a valiant effort to try to reclaim the top spot but to no avail. Carson Macedo was in a zone and digging each lap around Eldora. Another yellow flag with 3 laps to go, this time for Logan Schuchart who also slowed with sideboard issues, tightened the field up again. Brown had one last chance to try to take the lead, but Macedo would have none of it. Carson used his Kistler Engines power to drive to his first career victory at Eldora Speedway as the winner of the Jokers Wild! Brian Brown drove a terrific race to come home second, as David Gravel made a last lap pass on Kerry Madsen stick to earn a podium finish. The jubilant winner climbed atop the wing joined by Jaxx Johnson to celebrate his win with confetti still falling. He smiled and simply stated, "It's a really good time to be quick right now. This crew is firing on all cylinders. Philip Dietz is one of the best in the business, and we've got Clyde Knipp and Nate Repetz both doing a killer job as well." He paused and continued, "I told Phil at the beginning of the year that I really wanted a win at Eldora. This is one of my favorite tracks, but I've never been able to get it done here until now." Mission accomplished. A great run for the forty-one!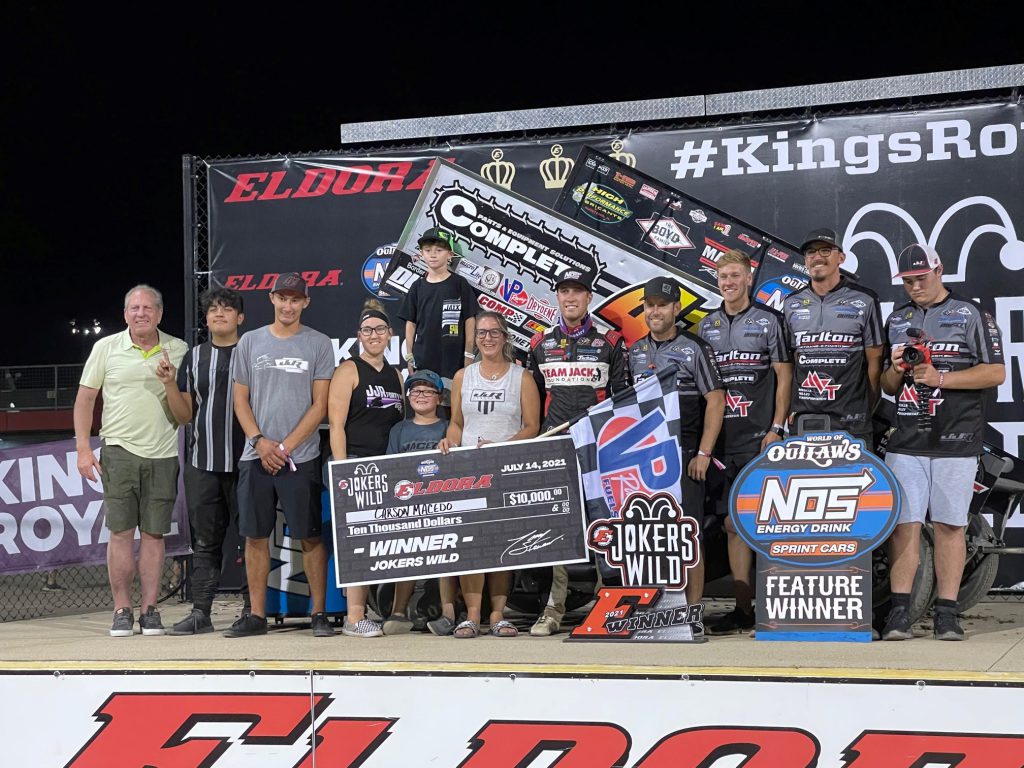 Carson Macedo Driving the JJR #41 to the Win at Eldora Speedway on Wednesday Night to Claim the 5th Annual Jokers Wild!
Mesilla Valley Transportation (MVT); Tarlton and Son Inc.; Complete Parts & Equipment Solutions; Saich Family; Border International; Dissolvalloy Downhole Revolution; Jonestown KOA; Durst Inc.; Maxim Racing; The Boyd Family; Liquid Trucking; Meyers Constructors Inc.; Tiger Towing; Pro Powder Coating (PPC); Waco Metal; High Performance Lubricants, LLC; Kistler Engines; Team Jack Foundation; Mark Burch Motorsports; All Pro Auto Reconditioning; K1 Race Gear; AutoMeter; Bandy & Associates Accountancy Corporation; Bell Racing USA; Blackbeard LTD; BR Motorsports; Brown & Miller Racing Solutions (BMRS); Buckwalter Trucking, LLC; C&R Racing; Chalk Stix Torsion Bars; Crow Enterprizes; Engler Machine & Tool, Inc.; Factory Kahne (FK Shocks); Fibreworks Composites; FK Rod Ends; Fuel Safe Racing Cells; Greber Racing Components; Hoosier Racing Tire; ISC Racers Tape; Jansen Transportation; KSE Racing Products; Larry Davis Farms; Logo Daddy Graphics; Mr. Jim's Racing; MSD Performance; RaceDiecast.com; Sam I Am; Schoenfeld Headers; Smith Titanium; T-FAB Custom Metal Fabrication; Vortex Racing Products; Walker Performance Filtration; Weld Wheels; Wilwood Racing; and Winters Performance Products.
To stay connected with Jason Johnson Racing (JJR), go to www.jasonjohnsonracing.com.
To stay up-to-date with Carson Macedo and his success journey on and off the track, as well as to purchase his gear and merchandise directly, visit www.carsonmacedoracing.com.