PERSEVERING WHILE EXHIBITING OUR STRENGTH: TALENTED CHAUFFUER JOEY SALDANA TO SHARE THE WHEEL WITH MACEDO IN THE JASON JOHNSON RACING (JJR) #41 IN SELECT EVENTS TO END THE 2018 RACING SEASON
ROCKY MOUNT, MISSOURI (October 8, 2018) – As the racing season winds down for the 2018 season, the fire still burns deeply in Bobbi Johnson and Philip Dietz to end the season on a high note for the late Jason Johnson and each of their dedicated sponsorship partners.
CARSON MACEDO CONTINUES . . .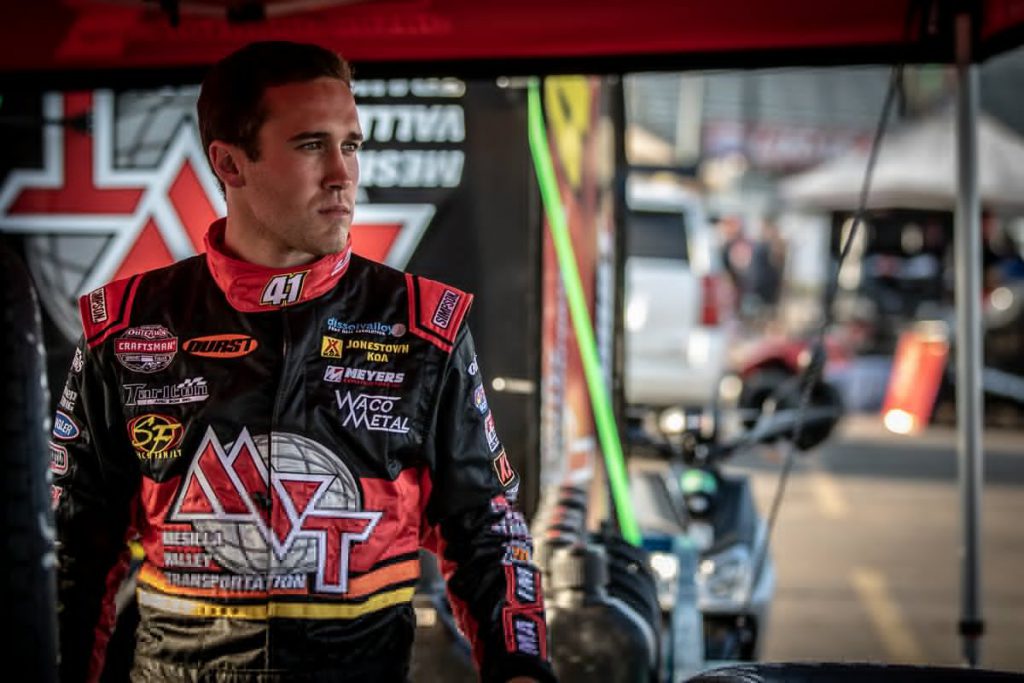 We have been so grateful to have Carson Macedo sit in the seat of the Jason Johnson Racing (JJR) #41 Mesilla Valley Transportation (MVT) Maxim for some races since starting at Knoxville Raceway in August and most recently at Williams Grove Speedway. He has been the consummate professional, always drives hard and smart, and most definitely fits right in around here at JJR while producing results. Due to some previous professional commitments, he will be unable to run all of the races to round out the 2018 season with JJR. The talented and personable driver from Lemoore, California will be in the Fibreworks Composites seat of the JJR #41 for the following races:
Friday, October 12th – Jacksonville Speedway – Jacksonville, Illinois
Saturday, October 13th – Wabash Clash @ Terre Haute Action Track – Terre Haute, Indiana
Sunday, October 14th – #LastCallForThemAll @ Eldora Speedway – Rossburg, Ohio
Friday, October 26th – Nittany Showdown @ Port Royal Speedway – Port Royal, Pennsylvania
Saturday, October 27th – Tuscarora 50 @ Port Royal Speedway – Port Royal, Pennsylvania
. . . WHILE WE WELCOME JOEY SALDANA FOR SELECT EVENTS!
For the remaining races left on the Craftsman Sprint Car Series World of Outlaws schedule this season, we are proud and excited to announce that we have partnered with Joey Saldana, affectionately known as the Brownsburg Bullet throughout the racing community, to chauffeur the JJR #41 in these select events to end this racing season:
Friday, October 19th – FVP Platinum Battery Shootout @ Lakeside Speedway – Lakeside, Kansas
Saturday, October 20th – Outlaw Boot Hill Showdown @ Dodge City Raceway Park – Dodge City, Kansas
Thursday, November 1st – World Finals @ The Dirt Track at Charlotte – Concord, North Carolina
Friday, November 2nd – World Finals @ The Dirt Track at Charlotte – Concord, North Carolina
Saturday, November 3rd – World Finals @ The Dirt Track at Charlotte – Concord, North Carolina
Joey Saldana, the second generation racer from Indiana, is a proven talent, an exceptional sprint car racer, and a fan favorite. With 105 World of Outlaw (WoO) victories and 74 All Star Circuit of Champions (ASCoC) wins to his credit, he certainly knows how to run in clean air at the front of the pack, as well as, through traffic to get to the front as he has proven throughout his accomplished career. We are honored to welcome Joey, Shannon, Reece and Ragan to our team and racing family as we look forward to celebrating success with him aboard the forty-one at these select events to end the 2018 racing season!
We are still working on finalizing all of our 2019 plans. We will only release the details after every detail is finalized. If you are interested in being part of our team as a sponsorship partner at Jason Johnson Racing (JJR) please touch base with us through the contact page on the website or contact Bobbi Johnson or Philip Dietz directly.
Jason Johnson Racing (JJR) Staying On Track for the Balance of the 2018 Racing Season with a Split Schedule with Macedo and Saldana!
We are proud to represent all of our dedicated and loyal supporters:
Mesilla Valley Transportation (MVT); Saich Family; Jonestown KOA; Dissolvalloy Downhole Revolution; Durst Inc.; Waco Metal; Maxim Racing; Pro Powder Coating (PPC); Valvoline; P1 Performance Racewear; All Pro Aluminum Cylinder Heads, Inc.; AutoMeter; Bell Racing USA; Blackbeard; Bledsoe Motorsports; Brown & Miller Racing Solutions (BMRS); Caldwell Racing; Chalk Stix Torsion Bars; Crow Enterprizes, Engler Machine & Tool, Inc.; Fibreworks Composites; FK Rod Ends; Factory Kahne Shocks; Fuel Safe Systems; Greber Racing Components; Hoosier Racing Tire; ISC Racers Tape; K&N Filters; Kistler Racing Engines; KSE Racing Products; Lincoln Auto Auction; LogoDaddy Graphics; Max Papis Innovations (MPI); Meyers Constructors Inc.; Million Heir Cosmetics; MSD Performance; Peggy and Marvin Pearson; Ray Evernham Enterprises LLC; Schoenfeld Headers; Shell Shock Paint; Smiley's Racing Products; T-FAB; Tarlton and Son Inc.; Vortex Racing Products; Weld Racing; Wilwood Engineering; Winters Performance Products; and, www.racediecast.com.
To stay connected with Jason Johnson Racing (JJR), go to www.jasonjohnsonracing.com
To learn more about Carson Macedo, and stay up to date with his success, go to www.carsonmacedoracing.com
To learn more about Joey Saldana, purchase merchandise and stay up to date, go to www.joeysaldanaracing.com