PERFORMING IN THE LAST GREAT COLOSSEUM: THE FORTY-ONE TEAM DRIVES FORWARD ON THE OPENING NIGHT OF THE BRISTOL THROWDOWN AS MACEDO CROSSES UNDER THE CHECKERED FLAG WITH A PODIUM FINISH
BRISTOL, TENNESSEE (April 23, 2021) – Dirt once again covering Bristol Motor Speedway's cement racing surface. As the race teams and eager fans entered the largest arena for sprint car racing on Friday afternoon, the unbridled excitement was palpable as the anticipation has been building in the sprint car community since the Bristol Throwdown was formally announced and added to the schedule a few months ago. The World of Outlaws (WoO) sprint cars were back to the famed oval for the first time in 20 years . . . and all was right with the world again, at least the sprint car world. This invitation only event brought a talented field to The Last Great Colosseum of racing located in Bristol, Tennessee. One of those teams was the Jason Johnson Racing (JJR) #41 team along with their talented speed chauffeur from Lemoore, California – Carson Macedo. There were 28 teams lining the infield pit area ready to compete at speed in Thunder Valley!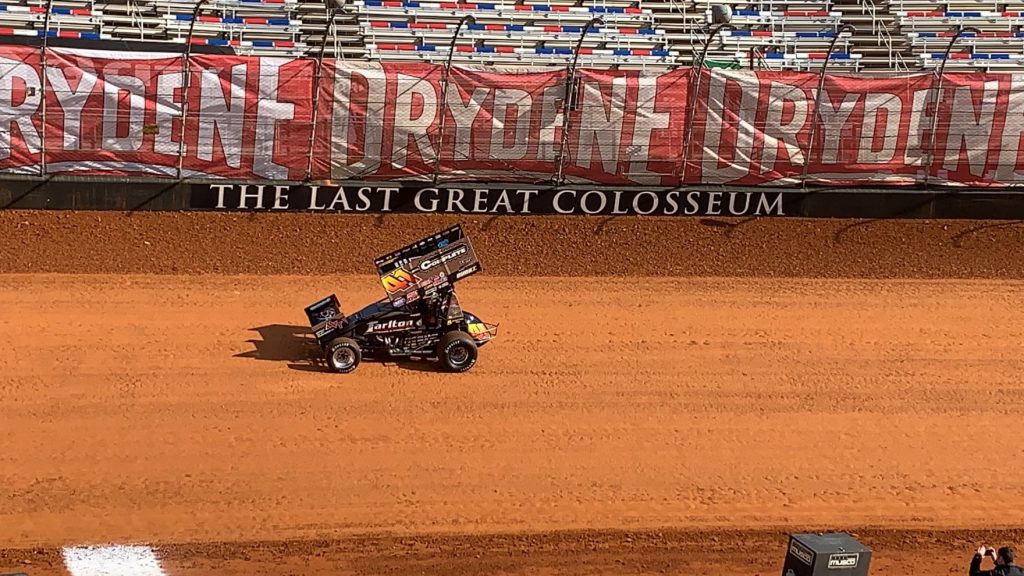 There was one only group of time trials scheduled for Slick Woody's Qualifying with the Mesilla Valley Transportation (MVT)/Tarlton and Son Frame-2-Finish/Complete Parts & Equipment Solutions #41 slated to go out eighth. The track certainly produces high speeds for these professional athletes to showcase their talent, skills, and unwavering courage in less than fifteen seconds each lap. The Kistler Engines/Engler Machine & Tool power came to life under the IPC (Indy Performance Composites) carbon fiber hood as Carson brought the forty-one up to speed to take the green flag. He was digging and his first lap came in under fourteen seconds at 13.831 seconds. He stayed on the hammer and carried his speed around Bristol completing his second lap in 13.867 seconds. The faster of his two attempts was third quick overall to start the night as David Gravel set a New Track Record (NTR) with a lap of 13.672 seconds followed by Giovanni Scelzi with a lap of 13.752 seconds.
The 8-lap Drydene Heat Race lineups were tabulated by the WoO timing and scoring officials based on the final qualifying order from time trials. The fastest drivers were up front with everyone else falling in line based on the quicker of their two lap times in time trials. That positioned the Durst Inc./Tiger Towing/Dissolvalloy Downhole Revolution #41 Maxim on the pole in the third heat race with 10-time WoO champion Donny Schatz to his outside. The talented front row was followed by Logan Schuchart and Aaron Reutzel with Kyle Larson, Derek Hagar, Kraig Kinser, Mason Daniel, and Dustin Daggett completing the starting grid. Carson climbed into his Fibreworks Composites/Sharp Advantage Safety Products seat where he buckled his Crow Enterprizes safety belts and pulled them snug for action. It was time to go racing at Bristol Motor Speedway in the final heat race! The nine drivers paced two-by-two and came to the starting line with the green flag waving overhead. Macedo and Schatz were battling side-by-side as they came down the frontstretch. Macedo took the lead through the first set of turns, but Schatz was right on his rear nerf bar as they completed lap one. The Lemoore, California driver stayed focused and started to build his lead with each passing lap over the Tony Stewart Racing (TSR) #15. When the checkered flag waved over the heat race it was Carson taking the win by 1.528 seconds over Schatz who was followed by Aaron Reutzel, Kyle Larson, and Logan Schuchart with fellow Mesilla Valley Transportation (MVT) driver Kraig Kinser locking down the final transfer position.
The 6-lap DirtVision Fast Pass Dash qualifiers were set based on the top two finishing positions in the heat races. Now the starting order would be set by the draw as each driver put their hand in the oversized NOS Energy Drink can to pull a pill with numbers ranging from one through six on them. David Gravel drew the one to earn the pole position with Sam Hafertepe Jr. to his outside. Donny Schatz and Carson Macedo would pair up in row two with Paul McMahan and Giovanni Scelzi manning row three. The drivers were ready to take on the fast half-mile oval to see where they would start in the feature event. They were buckled in and ready to go with Gravel taking the early lead over Hafertepe. Donny Schatz wheeled his way in front of Macedo who was running in the fourth spot. Carson was searching for speed on the top side, but when he ventured up a groove Paul McMahan snuck by and the door was open for Scelzi to race side-by-side. Gravel went on to take the win over Hafertepe, Schatz, McMahan, and Scelzi with Macedo coming home sixth in the Jonestown KOA/Liquid Trucking #41 Maxim.
The teams were feverishly working to make their final adjustments before rolling their driver out for the 25-lap World of Outlaws NOS Energy Drink feature. The fans in the stands were here to see The Greatest Show on Dirt take on the high banks of Bristol Motor Speedway's half-mile oval. Carson Macedo was poised for a strong run in The Boyd Family/C&R Racing/Jansen Transportation #41 from the outside of row three. He climbed aboard his speed chariot like a gladiator in his custom Tarlton and Son K1 Race Gear suit. He was ready to get rolling at speed. After the four-wide salute to the fans, it was time to go racing in Thunder Valley . . . World of Outlaws sprint car style! Outside front row starter Sam Hafertepe jumped into the early lead over polesitter David Gravel when they went green flag racing. Carson took advantage of early opportunities and was running fourth after the first lap. Gravel was not letting Hafertepe get away and made the pass on the outside exiting turn four to lead lap 3. Donny Schatz was racing forward and competing with Macedo for position. He made the pass on the forty-one for fourth on lap 8 using the outside lane too, just like Gravel did to take the lead. Schatz then passed Paul McMahan for the show position. Gravel was setting a torrid pace from the lead, but it was ninth place starting Aaron Reutzel who was on the move. Macedo made the pass on McMahan for fourth on lap 12, but Reutzel used his forward momentum on the high side to pass both McMahan and Macedo on the next circuit. Macedo was relegated to fifth and was running in that position with 5 laps to go when the caution flag waved for a slowing Logan Schuchart on the backstretch as his side wing panel collapsed. Clean air was king, but there were definitely two lanes for racing as the top had come in and allowed the drivers who found it to rip around it. When they went back to green, Macedo drove the Mesilla Valley Transportation (MVT) #41 Maxim around Sam Hafertepe as well as Donny Schatz to take over the show position. Gravel completed his night with the win over a fast Aaron Reutzel with Carson Macedo bringing the JJR #41 home in the final podium position. The humble and thoughtful driver lamented, "I was searching around the whole race." He continued, "I thought the bottom would be dominant, but Aaron found the top and I realized where I needed to be. I think it got a lot more racey there at the end. I can't say enough about how cool this event is. A dream come true to be on the podium at Bristol." Another great run for the forty-one!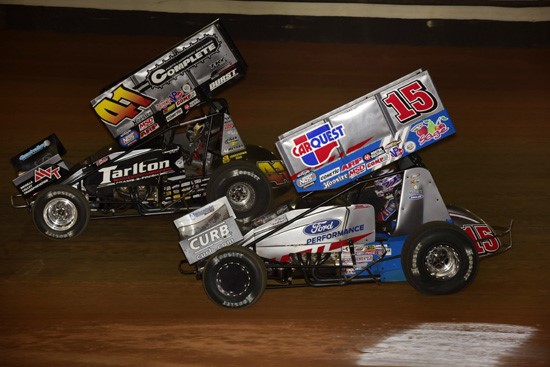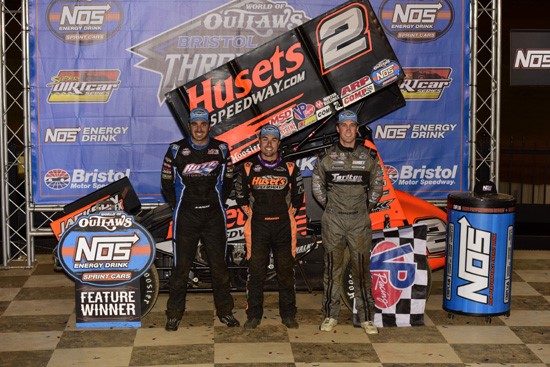 A Podium Finish at the Bristol Throwdown in a Lightning Fast Race in Thunder Valley!
Mesilla Valley Transportation (MVT); Tarlton and Son Inc.; Complete Parts & Equipment Solutions; Saich Family; Border International; Dissolvalloy Downhole Revolution; Jonestown KOA; Durst Inc.; Maxim Racing; The Boyd Family; Liquid Trucking; Meyers Constructors Inc.; Tiger Towing; Pro Powder Coating (PPC); Waco Metal; High Performance Lubricants, LLC; Kistler Engines; Team Jack Foundation; Mark Burch Motorsports; All Pro Auto Reconditioning; K1 Race Gear; AutoMeter; Bandy & Associates Accountancy Corporation; Bell Racing USA; Blackbeard LTD; Brown & Miller Racing Solutions (BMRS); Buckwalter Trucking, LLC; C&R Racing; Chalk Stix Torsion Bars; Crow Enterprizes; Engler Machine & Tool, Inc.; Factory Kahne (FK Shocks); Fibreworks Composites; FK Rod Ends; Fuel Safe Racing Cells; Greber Racing Components; Hoosier Racing Tire; ISC Racers Tape; Jansen Transportation; KSE Racing Products; Larry Davis Farms; Logo Daddy Graphics; Mr. Jim's Racing; MSD Performance; RaceDiecast.com; Sam I Am; Schoenfeld Headers; T-FAB Custom Metal Fabrication; Vortex Racing Products; Walker Performance Filtration; Weld Wheels; Wilwood Racing; and Winters Performance Products.
To stay connected with Jason Johnson Racing (JJR), go to www.jasonjohnsonracing.com.
To stay up-to-date with Carson Macedo and his success journey on and off the track, as well as to purchase his gear and merchandise directly, visit www.carsonmacedoracing.com.