MEMORIAL DAY MOMENTUM: CARSON REGISTERS ANOTHER QUICK TIME AWARD AND THEN USES HIS SPEED AND TALENT TO DRIVE THE ALBAUGH #41 TO A RESPECTABLE RUNNER-UP FINISH AT LAWRENCEBURG SPEEDWAY
LAWRENCEBURG, INDIANA (May 29, 2023) – With most individuals around the United States honoring and remembering the men and women who have fought and died in service to our country on Memorial Day, originally called Decoration Day from the early tradition of decorating graves with flowers, wreaths and flags, the World of Outlaws NOS Energy Drink Sprint Car Series was at Lawrenceburg Speedway to race their traditional Federated Auto Parts Memorial Day Spectacular. Following the waving of the checkered flag over at Atomic Speedway on Saturday night, where Carson completed a perfect night – quick time, heat race win, dash win, and feature victory, Nathan Repetz and the JJR #41 team trucked the two plus hours, Mesilla Valley Transportation (MVT) style, across the southern part of the state of Ohio into the Southeast corner of Indiana for Monday's racing action. There were 26 powerful sprint car teams lining the pit area that sits outside the track beyond turns three and four at the high-banked and fast, 3/8-mile racing facility.
The night of high speed competition at Lawrenceburg Speedway would get started with each driver getting a shot at the clock in Low-E Insulation Qualifying. When each driver would go out for their two laps was determined earlier in the night when they randomly drew a pill for their place in the time trial order. The lower number the better as that meant the driver would go out early for their timed laps around the track. For Carson Macedo and the JJR team the draw would position them to be the very first daredevil to hit the track with their Albaugh – Your Alternative/Complete Parts & Equipment Solutions/Larry Davis Farms #41 Maxim Racing entry. Carson was ready to get some heat in his Schoenfeld Headers as he made some quick laps in qualifying. When his number was called the Kistler Engines power fired and he followed the arrow pointing him to the battleground as he stomped and steered his way onto the track in turn four. He was hammer down immediately as he built up his speed as he headed to the green flag was waving overhead. Like a DoorDash delivery driver trying to get the food delivered to the customer while it is still piping hot, Carson wheeled the forty-one around Lawrenceburg Speedway with a sense of purpose. Taking advantage of his good fortune of going out early, he did a great job on his first attempt coming in at 12.140 seconds. Looking to go just a little bit faster during his second lap Carson stayed up on the cushion the next time around and improved his time to 12.097 seconds to set the mark. That effort was good enough to earn him his seventh Simpson Quick Time Award of the season so far and got the night started off on the right foot for the team.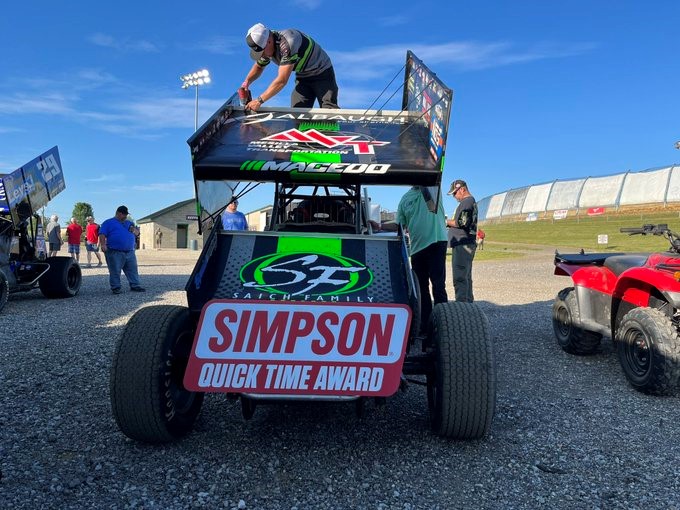 There would be three 8-lap heat races on the docket next to entertain the fans in attendance and for those tuning in on DIRTVision. After some track prep was completed and opening ceremonies concluded with Casey Chapman singing the National Anthem, it was time to go racing at The 'Burg! Carson's best time trial lap in the Albaugh #41 positioned him on the inside of the front row alongside Donny Schatz in the first heat race. Being this was the first and fastest heat race it was loaded with strong competitors with Parker Price-Miller and Cole Macedo in row two, Spencer Bayston and Noah Gass in row three, with Kraig Kinser, Mitchell Moles and Bradley Ashford completing the starting grid. The field of cars was rolling and getting positioned in their starting spots for the start of the heat race. From the comfort of their offices each driver finalized their strategy to start the race. That strategy quickly converted to action when they came off turn four to the green flag. Carson aggressively powered the Meyers Constructors/RaceDiecast.com/ BMRS (Brown & Miller Racing Solutions) #41 Maxim up to speed heading towards turn one, but Donny Schatz turned under him and cleanly slid up across the track to seize the lead. Carson was running second with his younger brother Cole Macedo hustling from the show position. In what may have seemed like all-out, high speed chaos to the fans is just another day at work for these talented athletes. Donny Schatz was in control at the front with Carson running comfortably in the runner-up spot as they passed the halfway point of the qualifying race. The 10-time WoO Champion would not be denied as he took the heat race victory with Carson Macedo crossing the finish line second, Cole Macedo third, with Parker Price-Miller, Spencer Bayston and Mitchell Moles securing the final three transfer positions from heat one.
Earning his way for the 19th time into the 6-lap Toyota Dash in World of Outlaws competition, Carson headed to the frontstretch to pull the pill for his starting spot in front of the sold out front grandstands. The draw for starting position would be crucial as there were only 6 pills and you wanted a low one to start as far front as possible. When it was his turn he drew the '2' pill which put him on the outside of the front row beside James McFadden. Row two was made up of Giovanni Scelzi and Buddy Kofoid as Donny Schatz and Rico Abreu followed in row three. All six cars were rolling on the surface and pulled into their starting positions for the start of the race. When the green flag came out it was McFadden to the lead over Carson Macedo's Durst Inc./Liquid Trucking/KSE Racing Products #41 Maxim. Buddy Kofoid threw a slider going into turn three to race ahead of Macedo too, but the Lemoore, California racer returned the favor in turn one with a clean slider to retake the runner-up spot coming out of turn two. James McFadden had the Roth Motorsports #83 rockin' and rollin' with Carson securely running in second in the Albaugh #41. The talented racer from Australia would lead from green-to-checkers to earn the pole position for the feature with Carson coming home second, Kofoid third as Giovanni Scelzi, Rico Abreu and Donny Schatz rounded out the finishing order in the dash.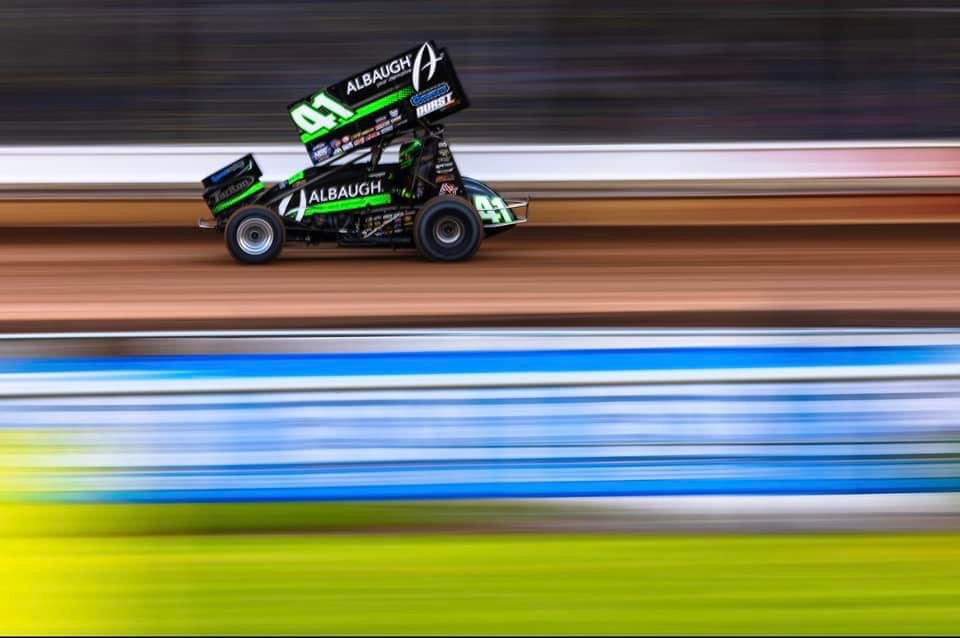 After a busy Memorial Day of work for all of the teams, 24 of them had earned the right to race in the 30-lap NOS Energy Drink Memorial Day Spectacular feature at Lawrenceburg Speedway. The track surface was dry and tricky, but after a little track work the officials and teams were hoping it would not take too much rubber so they could put on a great show for the fans.
James McFadden and Carson Macedo aboard the Tarlton and Son/ WELD Racing/ Xtreme Body and Paint #41 would be perched on the front row and lead the field to the green flag after the Whiskey Myers four-wide salute to the fans. The leaders were followed by Buddy Kofoid and Giovanni Scelzi with Rico Abreu and Donny Schatz pacing from row three. When the green flag came out, it was 'go-time' at Lawrenceburg Speedway! James McFadden did not hesitate and picked up where he left off taking the lead.
Carson Macedo was quickly embroiled in a three car battle for the second spot on the opening lap with Kofoid and Scelzi. Macedo came out in front to take control of the runner-up spot, but not too far behind was another good battle for the fifth spot between Schatz and Abreu. By lap 6, the race leader had caught up with the back of the field as he approached lap traffic to begin the high speed maze race.
The action came to an abrupt halt on lap 9, when Bill Rose and top ten running Cole Macedo and Logan Schuchart were caught up in a melee at the end of the backstretch sending Rose and Cole Macedo upside down to end their nights. All drivers were ok, but their cars had some extensive damage.
The running order when the engines re-fired and they went back to green flag racing was McFadden, Carson Macedo, Kofoid, Scelzi and Schatz with the driver of the Roth Motorsports #83 maintaining the lead over Macedo with 21 laps to go. Macedo was under attack as Kofoid was on a mission and wanted the second position. He was not able to wrestle it away as Carson kept his momentum up and positioned himself comfortably in the runner-up position.
James McFadden was back into lap traffic by lap 14 with Carson closing the gap slightly in the Albaugh #41 with each completed lap. Rico Abreu slipped by Kofoid and was now running in the third spot and chasing down Macedo for second. With 10 laps to go, Carson was now closing the gap even more on McFadden hoping to get close enough to make a position pass, but on lap 21 the red flag re-appeared for tenth place Spencer Bayston whose CJB/TrueTimber #5 sprint car sat still in turn four after he made heavy contact with the outside retaining wall following a failed slider for position on Brad Sweet.
There were only 9 laps to go and when the green flag came back out it was McFadden once again off into the clean air with Macedo and Abreu trying to keep pace with the fast Australian driver. The laps were dwindling and with 5 laps to go McFadden was still leading as Carson was keeping him close enough where he could see his tail tank, but far enough away there was no way he could make it a race for the win.
The Alice Springs, NT Australia native James McFadden collected his third World of Outlaws win of the season followed across the finish line by four California drivers starting with Carson Macedo in the Albaugh – Your Alternative #41 and Rico Abreu, who finished second and third respectively to round out the podium. Giovanni Scelzi won the slide job extravaganza over Buddy Kofoid to complete the top five as these two talented racers made the price of admission seem cheap as they put on a show of their own.
A pleased Carson Macedo spoke to Chase Raudman on the frontstretch and commended James McFadden for his great run and the win. Carson explained, "He just did a really good job. We got to him in traffic there and I was pacing him. And, I thought if he were to make a mistake I would have a really good shot at throwing something at him, and he just didn't really make one. He did a really good job. Hats off to him and the Roth team for getting the win." He continued, "My guys did an incredible job all night too! I felt like my car was solid."
Solid indeed. A second place run with a salute and shout out to our brave troops who fight for our freedom every day! Thank you! Another great run for Macedo and the forty-one!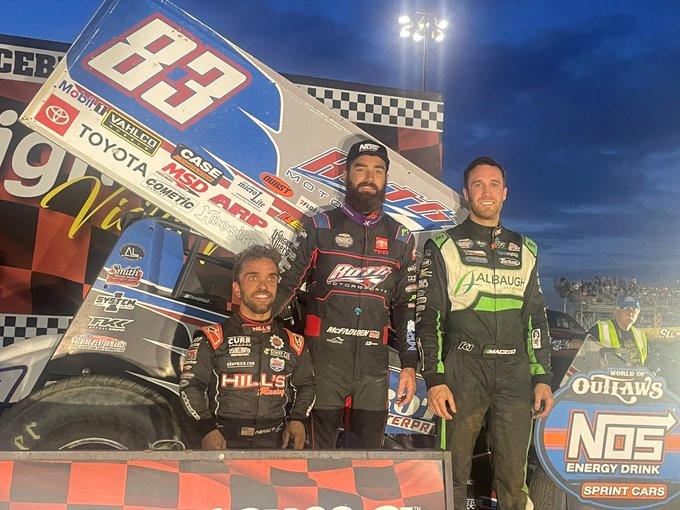 Another Podium Run Secured with a Runner-Up Finish in the Memorial Day Spectacular! Photo Credit: World of Outlaws
Albaugh, LLC; Border International; Mesilla Valley Transportation (MVT); Saich Family; Tarlton and Son Inc.; Boltz Family; Complete Parts & Equipment Solutions; Durst Inc.; Liquid Trucking; Bandy & Associates Accountancy Corporation; Buckwalter Trucking, LLC; Jansen Transportation; Larry Davis Farms; Meyers Constructors Inc.; Mr. Jim's Racing; RaceDiecast.com; Sam I Am; Team Jack Foundation; Mark Burch Motorsports; T-FAB Custom Metal Fabrication; Tiger Towing; All Pro Aluminum Cylinder Heads; AutoMeter; Bell Helmets; BMRS (Brown & Miller Racing Solutions); BR Motorsports; C&R Racing; Crow Enterprizes; Engler Machine & Tool, Inc.; Factory Kahne (FK Shocks); Fibreworks Composites; FK Rod Ends; Greber Racing Components; High Performance Lubricants, LLC; Hoosier Racing Tire; Indy Performance Composites (IPC); ISC Racers Tape; K1 Race Gear; Kistler Racing Engines; KSE Racing Products; Maxim Racing; Motor State Distributing; Premium Coach Group; Pro Powder Coating (PPC); Saldana Racing Products; Schoenfeld Headers; Smith Titanium; Vortex Racing Products; Walker Performance Filtration; Weld Racing; Wilwood Racing; Winters Performance Products; and, Xtreme Body and Paint.
To stay connected with Jason Johnson Racing (JJR), go to www.jasonjohnsonracing.com.
To stay up-to-date with Carson Macedo and his success journey on and off the track, as well as to purchase his gear and merchandise directly, visit www.carsonmacedoracing.com.