LOSING AIR PRESSURE IN HIS 200TH WoO RACE: HONORING OUR FALLEN VETERANS IN THE MEMORIAL DAY SPECTACULAR AT LAWRENCEBURG SPEEDWAY RESULTS IN A 9TH PLACE FINISH FOR MACEDO WITH A LATE RACE CUT TIRE
LAWRENCEBURG, INDIANA (May 31, 2021) – As the United States of America honored, remembered and celebrated the military personnel who have died in the scope of their military duties, both past and present, Carson Macedo and the traveling tour of sprint car stars with the World of Outlaws NOS Energy Drink Sprint Car Series arrived at Lawrenceburg Speedway for the annual Memorial Day Spectacular. The 3/8-mile, high-banked clay oval that sits on the back portion of the Dearborn County Fairgrounds, just west of the Ohio River, has entertained racing enthusiasts since 1950. This day would not be any different as the parking lot was filling with fans excited to watch these high speed sprint car stars as the pit area was occupied by 25 of the best race teams the country has to offer. One of those teams was the Jason Johnson Racing (JJR) #41 entry with their driver Carson Macedo. The race at Lawrenceburg Speedway marked Carson's 200th career World of Outlaws feature start.
Following hot laps it was time for the Slick Woody's Qualifying session, where each driver makes every attempt to do their best to lay down their quickest lap against the clock. Carson, aboard the Tarlton and Son/Complete Parts & Equipment Solutions/Jonestown KOA #41 Maxim, would be the sixth driver to follow the arrow painted on the wall pointing the drivers to the "BATTLEGROUND" to display their talents in front of the huge covered grandstands that is a hallmark of Lawrenceburg Speedway. He pounded the loud pedal and took the green flag on his set of laps. He really likes these smaller tracks and powered his way around the high banks of Lawrenceburg with that smile on his face doing what he loves to do. He was moving and grooving and when he exited turn four he saw the white flag waving. He raced under the waving flag as his first lap clocked in at 12.043 seconds. The California driver never wavered the next time around as his Kistler Engines/Engler Machine & Tool power propelled him forward with a consistently timed lap of 12.047 seconds. The better of his two circuits landed him fourth quick overall, as Logan Schuchart set quick time with a fast lap of 11.911 seconds.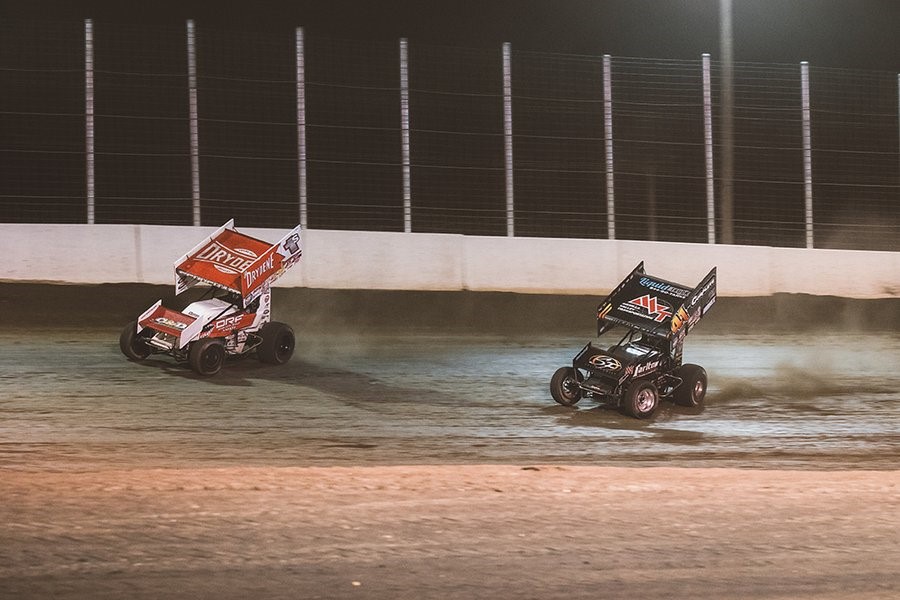 With an ultra-talented field of competitors, none of the three 10-lap Drydene Heat Races would be easy by any means. But the first and fastest one based on time trial times certainly had an argument for toughest lineup with Logan Schuchart and Carson Macedo in row one followed by Brad Sweet, Buddy Kofoid, Sheldon Haudenschild, James McFadden, Cole Macedo, Shawn Dancer, and Bradley Ashford. As the nine drivers waited in the staging area for opening ceremonies to come to a close their competitive juices were flowing. They rolled onto the track and aligned in their two-by-two formation for the start of the heat race. When the green flag waved, Carson drove the Tarlton and Son/Complete Parts & Equipment Solutions/Meyers Constructors #41 Maxim off the high side to take a slight lead on Schuchart as they raced under the waving green flag. But chaos was happening behind the front two drivers as Brad Sweet and Buddy Kofoid made contact sending Sweet's #49 front end into the frontstretch wall and into a series of flips. Sweet collected his KKR teammate, James McFadden, and ended up on Cole Macedo's NAPA Fremont Auto Parts/Ray Brooks Motorsports #18 as a total of six drivers were involved – Sweet, Kofoid, Haudenschild, Cole Macedo, McFadden, and Bradley Ashford who also flipped. The red flag was out as track crews attended to the accident scene where no drivers were hurt. Only Brad Sweet and Bradley Ashford could not rejoin the field. When the track was cleared, the remaining competitors got back at it with Schuchart driving into the lead as he powered through the middle with Sheldon Haudenschild blasting around the bottom and underneath Carson for the coveted second position. The top three were making tracks fast as they circled Lawrenceburg Speedway. Schuchart would take the win by 2.803 seconds over Haudenschild, with Carson Macedo coming home third, followed by Kofoid, McFadden, and Shawn Dancer who battled with Cole Macedo for the final transfer spot until the very end.
Missing out on the DirtVision Fast Pass Dash, Carson Macedo would have to patiently wait and watch until the horns summoned the field to the track for the 35-lap NOS Energy Drink Memorial Day Spectacular feature event where he would get started from the inside of row four. He shared the row with 10-time WoO champion Donny Schatz. Aaron Reutzel would start on the pole with Kyle Larson who won NASCAR's Coca-Cola 600 at Charlotte less than 24 hours prior flanking his side in row one with Sheldon Haudenschild, Logan Schuchart, David Gravel, and Kraig Kinser in the next two rows. There were two preferred racing lanes that surfaced throughout the night, one on the top and one on the bottom, with a lane in the middle that had moisture but was a bit rough for those that chose to venture there. On the initial start of the race, Carson fell back to the ninth position in the Dissolvalloy Downhole Revolution/Team Jack Foundation/RaceDiecast.com #41. Reutzel was leading during the early stages of the race with Larson close behind. Carson found his groove and started to make speed. On lap six he passed David Gravel for the eighth position. He then quickly set his sights on seventh running Donny Schatz. Three laps later he caught and passed Schatz for the seventh position. Reutzel surrendered the lead to Larson on lap 11. For Macedo, fellow Californian Buddy Kofoid was the next car in his sights as he owned the sixth spot in the running order. As the racers made their way through lap traffic, Carson was able to close the gap on Kofoid a bit, but never got close enough to attempt a clean pass. With 7 laps to go, the red flag was displayed for second place running Aaron Reutzel whose right rear tire caught the building cushion entering turn three and flipped. He was ok. When the field went back to green it was short lived as Paige Polyak flipped bringing out another red flag before a lap could be scored. She was ok too. Under this race stoppage a few drivers were struggling with tire pressure. When the yellow lights came on, David Gravel took his Big Game Motorsports #2 to the work area with a flat right rear. His crew replaced it and he rejoined the field. Running in the sixth position, Carson was losing air pressure too. When they went back to green he lost three spots in the running order and was just hoping to hold on until the end of the race. He thankfully made it and ended up with a ninth place finish. When he got back to the pit area his right rear Hoosier Racing Tire was cut and only had a few pounds of air left. A solid run despite the challenges for Carson and the forty-one team! Kyle Larson took the victory over Schuchart, Haudenschild, Kofoid and Kerry Madsen.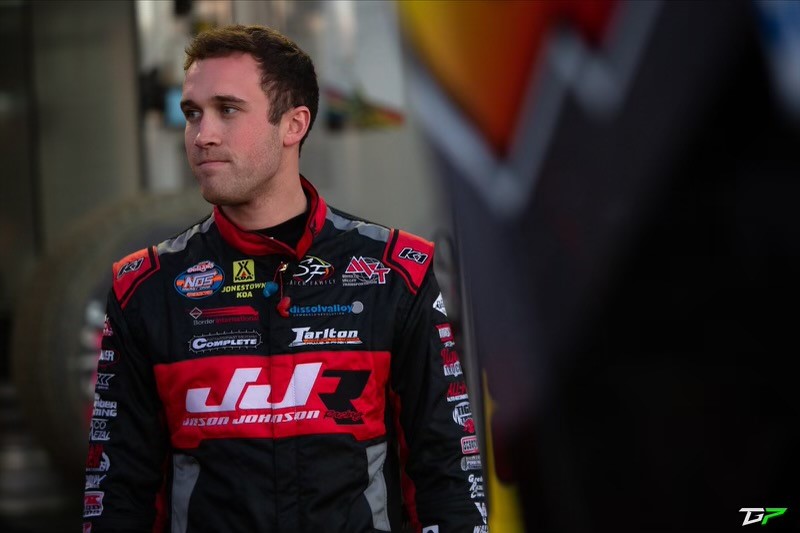 A Top Ten Finish for Carson Macedo at Lawrenceburg Speedway in his 200th World of Outlaws Feature Start!
Mesilla Valley Transportation (MVT); Tarlton and Son Inc.; Complete Parts & Equipment Solutions; Saich Family; Border International; Dissolvalloy Downhole Revolution; Jonestown KOA; Durst Inc.; Maxim Racing; The Boyd Family; Liquid Trucking; Meyers Constructors Inc.; Tiger Towing; Pro Powder Coating (PPC); Waco Metal; High Performance Lubricants, LLC; Kistler Engines; Team Jack Foundation; Mark Burch Motorsports; All Pro Auto Reconditioning; K1 Race Gear; AutoMeter; Bandy & Associates Accountancy Corporation; Bell Racing USA; Blackbeard LTD; Brown & Miller Racing Solutions (BMRS); Buckwalter Trucking, LLC; C&R Racing; Chalk Stix Torsion Bars; Crow Enterprizes; Engler Machine & Tool, Inc.; Factory Kahne (FK Shocks); Fibreworks Composites; FK Rod Ends; Fuel Safe Racing Cells; Greber Racing Components; Hoosier Racing Tire; ISC Racers Tape; Jansen Transportation; KSE Racing Products; Larry Davis Farms; Logo Daddy Graphics; Mr. Jim's Racing; MSD Performance; RaceDiecast.com; Sam I Am; Schoenfeld Headers; T-FAB Custom Metal Fabrication; Vortex Racing Products; Walker Performance Filtration; Weld Wheels; Wilwood Racing; and Winters Performance Products.
To stay connected with Jason Johnson Racing (JJR), go to www.jasonjohnsonracing.com.
To stay up-to-date with Carson Macedo and his success journey on and off the track, as well as to purchase his gear and merchandise directly, visit www.carsonmacedoracing.com.