JASON'S DREAM CONTINUES ON THE ROAD TO KNOXVILLE: KICKING THE DUST UP WITH CARSON MACEDO BEHIND THE WHEEL STARTING AT KNOXVILLE RACEWAY WITH THE 360 NATIONALS THROUGH THE 410 NATIONALS
ROCKY MOUNT, MISSOURI (July 18, 2018) – As the dust settles over this trying time filled with emotion, one thing that has remained crystal clear is the importance of keeping Jason's dream alive that he dedicated his life to and worked so hard to build since forming Jason Johnson Racing (JJR) in 2010. Part of that dream was to one day separate from his role as driver/owner as he transitioned into the full-time role as the car owner where he could give young, emerging talent an opportunity to succeed and develop in top equipment as part of their racing career.
Bobbi Johnson, along with Philip Dietz and the entire JJR team are proud to announce that we have collaborated with Carson Macedo to pilot the JJR #41 for the 360 Nationals through the 410 Nationals. As part of that 10-day stretch of racing, our team, which we are billing as the "Dream Team" as we keep Jason's dream alive, plans to race in the following events:
28th Annual 360 Knoxville Nationals (August 2 – 4)
7th Annual Weld Racing Capitani Classic at Knoxville Raceway (August 5)
58th Annual 5-hour Energy 410 Knoxville Nationals (August 8 – 11)

Including the SPEED SPORT Challenge (August 10)
While our plans for the balance of the 2018 season are still not clear-cut, our goal is to run a few select World of Outlaws Craftsman Sprint Car Series shows with Carson behind the wheel as his race schedule and obligations allow. Bobbi explains, "Being able to give a talented driver an opportunity was the next part of Jason's dream and vision for our race team." She continued, "It was so important to Jason that we build a solid race team and operation so we could be car owners and give young drivers the same opportunity afforded to him throughout his career. Jason was impressed with Carson, not only as a racecar driver, but also as a person. We are so honored to have him drive for our JJR #41 team."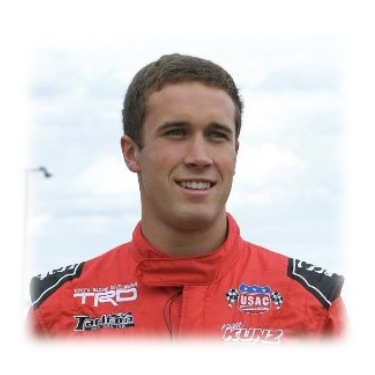 Carson Macedo is a fourth generation driver from Lemoore, California that has experience driving both wing and non-wing sprint cars and midgets. He moved to Central Indiana to further refine and develop his career as a professional sprint car driver. The 22-year-old driver is currently leading the All Star Circuit of Champions (ASCoC) point standings piloting the famed Joe Gaerte Racing #3G. He also owns a World of Outlaws win when he crossed the finish line first on the opening night of the Gold Cup Race of Champions in 2014, on September 5, at Silver Dollar Speedway. His passion for racing started when he was five years old and he continues to fuel his desire and dedication by matching his talents inside the car with his strong work ethic, integrity, enthusiasm for the sport and life, as well as his commitment to success on and off the track. Carson shares, "I am so thankful to be chosen for this opportunity. Jason Johnson was a hero in our sport. I always really looked up to what he was able to accomplish as an independent owner/driver, which not many have the determination to balance all of that responsibly and Jason did it flawlessly. I am thrilled to be able to be part of this dream with Bobbi, Jaxx, Philip and all the JJR guys." He continued, "I really have to thank Jason Meyers and Tommy Tarlton as they have helped make this 'teaming up' connection. I cannot express how much I appreciate them making this connection. Jason Johnson worked hard to put a lot of good people together to achieve a goal. Between the JJR team and all of these partners on board that are helping to make this happen, I hope he is looking down smiling."
In addition to our excitement of having Carson Macedo piloting our racecar, we are so grateful for the support from Tarlton and Son Inc., Meyers Constructors Inc., Durst, Smiley's Racing Products, Caldwell Racing, Bledsoe Motorsports, MPI and Max Papis, Ray Evernham, Peggy and Marvin Pearson, Blackbeard and LogoDaddy Graphics who all stepped in and up to assist in us to be able to continue the dream on the #RoadToKnoxville with our #Dream41Team. We appreciate and thank them for coming on board to help fulfill and keep the dream alive!
The Road to Knoxville Continues with Carson Macedo Behind the Wheel of the #41!
We are very proud to represent all of our dedicated and loyal sponsorship partners and supporters:
Mesilla Valley Transportation (MVT); Saich Family; Jonestown KOA; Dissolvalloy Downhole Revolution; Durst Inc; Waco Metal; Maxim Racing; Pro Powder Coating (PPC); Valvoline; P1 Performance Racewear; All Pro Aluminum Cylinder Heads, Inc.; AutoMeter; Bell Racing USA; Blackbeard; Bledsoe Motorsports; Brown & Miller Racing Solutions (BMRS); Caldwell Racing; Chalk Stix Torsion Bars; Crow Enterprizes, Engler Machine & Tool, Inc.; Fibreworks Composites; FK Rod Ends; Factory Kahne Shocks; Fuel Safe Systems; Greber Racing Components; Hoosier Racing Tire; ISC Racers Tape; K&N Filters; Kistler Racing Engines; KSE Racing Products; Lincoln Auto Auction; LogoDaddy Graphics; Max Papis Innovations (MPI); Meyers Constructors Inc.; MSD Performance; Peggy and Marvin Pearson; Ray Evernham Enterprises LLC; Schoenfeld Headers; Shell Shock Paint; Smiley's Racing Products; Tarlton and Son Inc.; T-FAB; Vortex Racing Products; Weld Racing; Wilwood Engineering; Winters Performance Products; and, www.racediecast.com.
OFFICIAL MERCHANDISE AVAILABLE AT KNOXVILLE DURING 360 AND 410 NATIONALS!
Official Jason Johnson and Carson Macedo merchandise will be available for purchase on the grandstand side of the track during the entire 10-day stretch starting with the 360 Knoxville Nationals through the 410 Knoxville Nationals. Please feel free to stop by to say just hello and to purchase your merchandise. Thank you for your support!
To stay connected with Jason Johnson Racing (JJR), go to www.jasonjohnsonracing.com
To learn more about Carson Macedo, and stay up to date with his success, go to www.carsonmacedoracing.com