HUSTLING FOR A TRUE HERO: CARSON MACEDO PERFORMS WELL IN FRONT OF A CAPACITY HOMETOWN CROWD AT KINGS SPEEDWAY AND RACES FORWARD TO A TOP FIVE FINISH IN THE 4TH ANNUAL TOM TARLTON CLASSIC
HANFORD, CALIFORNIA (September 15, 2023) – After a very busy stretch during the only West Coast visit for the Outlaws in the 2023 season, there were a few days of rest for Carson Macedo and his Jason Johnson Racing (JJR) team. What better place to do that throughout the week than at home in the Central Valley as they prepared for the 4th Annual Tom Tarlton Classic at Kings Speedway powered by Keller Motors in Hanford, California that pays the winner $21,000. This 3/8-mile speed facility is located on the Kings County Fairgrounds and is where Carson Macedo took some of his first laps in a sprint car courtesy of the gracious and kind Tom Tarlton. The entire Tarlton family is simply amazing and have been so influential and impactful in Carson's life, both personally and professionally. Tommy, a former winning racecar driver himself, is a great friend and works extremely hard every day building and running Tarlton and Son, a company founded by his father who this race honors. Carson won the first two editions of this event and came close last year too, so he and the team were excited to be back at his hometown track to race in front of family and friends. This race always draws a capacity crowd to honor a local hero to many with the World of Outlaws Sprint Car Series race as a backdrop. On Friday night the pit area was loaded with 36 teams ready to do battle at Kings Speedway!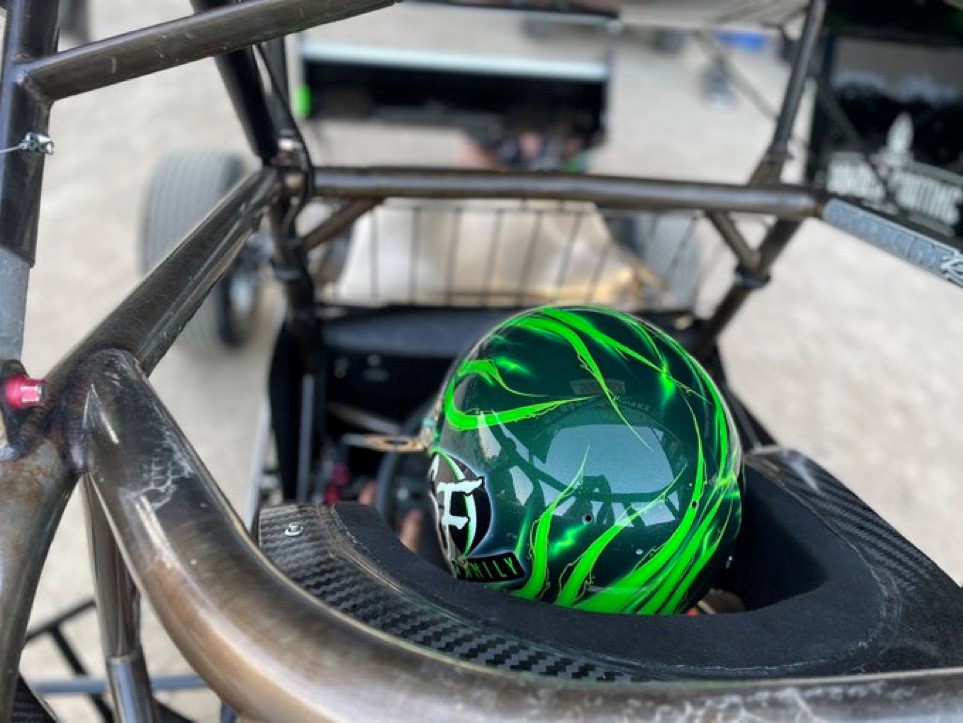 Carson Macedo climbed into the cockpit of his Maxim Racing speed machine as he would be the 6th driver to hit the track for his two timed laps in Low-E Insulation Qualifying. It would be two car qualifying, so he would be out on the track with Donny Schatz. Buckled securing into his Fibreworks Composites seat he was prepared to give it his best shot around the challenging, but fun and racy 3/8-mile high banked dirt surface. With a tap on his rear nerf bar his Kistler Engines power fired in the staging lane off turn four as Carson signaled with his right foot to unleash the horsepower propelling the Albaugh – Your Alternative/Bandy and Associates/Walker Performance Filtration #41. He was humming along as he exited turn four to see the green flag waving. He courageously raced into run one full song and exited turn two with a load of speed. He made his way through the last set of turns as he chased down the waving white flag hoping he laid down a good first lap. The clock was his measure as it read 13.850 seconds. He stayed on the hammer as he looked for some time here and there throughout his second lap. When he raced under the black and white checkered cloth to complete lap two his time was recorded in 13.848 seconds, which put him at the top of the speed charts early. The better of his two laps was the second one, which was when time trials were completed positioned him 6th quick overall when compared to the other competitors from top to bottom. Sitting atop the speed charts following time trials was Michael "Buddy" Kofoid who earned the Simpson Quick Time Award to open the racing action with a lap of 13.564 seconds.
With the individual portion of the show recorded in the books, next up would be the four 8-lap heat races around Kings Speedway powered by Keller Motors. These small bullrings of speed provide an environment for these stars to display their talents up close and personal on the track. Those type of conditions allow for some exciting and nail biting action for both the fans and the teams. Carson would line the Complete Parts & Equipment Solutions/AutoMeter/Brown & Miller Racing Solutions (BMRS) #41 Maxim on the outside of the front row alongside fellow Californian Rico Abreu. The second heat race would be well represented with California bred racers as Corey Day and Shane Golobic in row two. Canadian Robbie Price would start fifth beside another Cali hotshoe Colby Copeland. D.J. Netto and Chase Johnson would make up row four with Oklahoman Noah Gass starting ninth.
Aligned nose-to-tail the front row starters brought the field up to speed out of turn four as they took the green flag. The raced towards the banking in the first set of turns all together. When they exited turn two Carson was leading as Abreu bobbled on the cushion allowing Day and Golobic to race by into the top three. Carson was hustling in the Albaugh – Your Alternative #41 as he was focused his speed and efforts to run clean laps. But the talented Corey Day was close behind in the Four CCCC's #14 and coming after him with tenacity. At the halfway point of the race it was Macedo, Day, Abreu, Golobic and Price in the top five with 4 laps to go. Carson continued to work the cushion to keep his momentum up as Day stayed close leaning his right rear tire on the berm to keep his horsepower churning. Carson would race across the finish line first ahead of Day with Abreu, Golobic and Price locking down the final three transfer positions with Macedo and Day moving onto the dash.
The eight drivers that finished first and second in their heat races headed to the stage to select their starting spots for the 6-lap Toyota Dash. Carson would be the second driver to choose for his position as the hometown crowd cheered the local star on the tour. Luck wasn't so kind though as he pulled the highest pill available, the '8' pill, which put him on the outside of row four with James McFadden to his inside in the seventh starting spot. Point leader Brad Sweet did have luck on his side as he would be on the pole beside Cole Macedo in the Tarlton and Son #21T. Row two would be Dominic Scelzi and David Gravel with Michael "Buddy" Kofoid and Corey Day in row three. Six of the eight dash participants honed their skills in California. When the green flag waved, Carson quickly moved on the outside into the sixth position in the Mesilla Valley Transportation (MVT) #41. Up front, Carson's brother Cole dove underneath Brad Sweet entering turn three to take the lead coming off turn four with a clean slide job. Carson was racing just behind Corey Day trying to find a way around. The laps clicked by quickly with Cole Macedo taking the win ahead of Sweet and Gravel with Dominic Scelzi and Corey Day rounding out the top five. Carson came home sixth with the Roth Motorsports teammates, Kofoid and McFadden, coming home seventh and eighth respectively.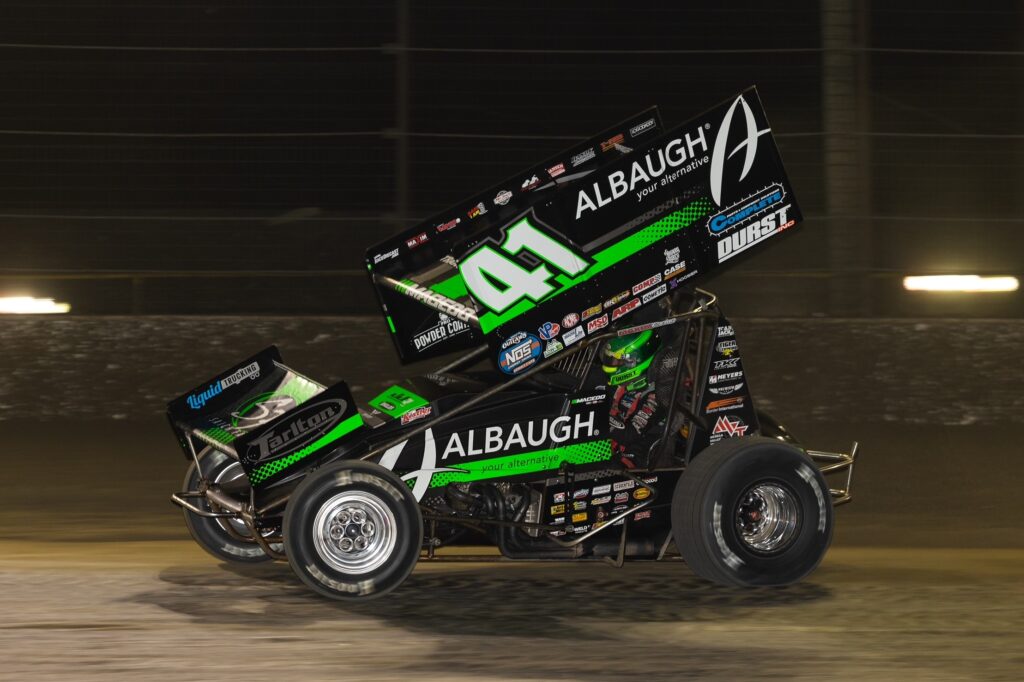 Carson had advanced into the 35-lap $21,000-to-win 4th Annual Tom Tarlton Classic feature at Kings Speedway powered by Keller Motors where he would start the race from the sixth starting position in the Mesilla Valley Transportation (MVT)/Border International/Mr. Jim's Racing #41. The warrior from Lemoore, California was ready to put on a Friday night show worth the price of admission or more along with his fellow competitors with the World of Outlaws NOS Energy Drink Sprint Car Series as well as the ultra-competitive and talented racers from his home state of California. He buckled into his Crow Enterprizes safety belts and pulled on his Shifty Illusions custom painted Bell Racing helmet. It was 'go time' in Hanford, California.
After a fist bump with his teammate and car chief Clyde Knipp, the push truck assisted him to get his engine fired in the Albaugh – Your Alternative #41 as he paced around in his starting position awaiting the green flag to drop. He finalized his early race strategy and was locked and loaded focus wise. Cole Macedo and Brad Sweet would lead the field in front of the capacity crowd during the four wide salute to the fans. Sprint car fans are incredible no matter what state you visit.
The yellow lights around Kings Speedway dimmed and when they exited turn four the flagman was displaying the green flag. Brad Sweet led the first lap ahead of Cole Macedo. Carson raced by the start/finish line and carried his speed into turn one running in the ninth position as he got shuffled back early. With one lap in the books it was Sweet and Macedo leading Scelzi, Gravel and Day with Carson Macedo sitting begrudgingly in ninth when the yellow flag was thrown for debris – a setup block – found in turn two.
When they went back to green it was Sweet in his NAPA Auto Parts #49 hotrod leading a hungry Cole Macedo in the Tarlton and Son #21T. Carson was battling for position with Rico Abreu who stole the ninth spot putting Carson back to tenth. Carson would pass him back to reclaim the higher position, but the two talented racers still had some moves in their arsenal for each other. On lap 4, Carson drove the Albaugh – Your Alternative #41 by McFadden into the eighth position. With that lap recorded the yellow flag was back out, this time for Spencer Bayston who was sideways in turn two in the TrueTimber #5.
The restart order would be Brad Sweet, Cole Macedo, Dominic Scelzi, Corey Day and David Gravel. Carson would get rolling from the outside of row four with 31 laps to go. When the green flag came out he would gain a position and the next time around he passed another car and was running sixth. Meanwhile Cole Macedo was showing his speed and pressuring Sweet for the lead. On lap 6 he took the top spot in front of this crowd who roared. Cole would lead the 11 laps before Sweet wrestled the lead back away from him after he got crossed up on the cushion.
The yellow flag was back out on lap 21 for Tim Kaeding in the Bill Rose #6 as he was stopped in turn four just as Corey Day raced by Sweet for the lead. The pass was negated by the yellow with Sweet in the lead followed by Day, Cole Macedo, Scelzi and Gravel with Carson Macedo still in command of the sixth position. They went back to green flag racing with 14 laps to go with Sweet showing the way. Carson was again battling with Rico for a spot in the top five. That war would continue to rage on over the next 10 laps.
On lap 31, the caution flag was back out slowing the field. The cause for the slowdown in action was second running Corey Day and race leader Brad Sweet made contact entering turn one as Day tried to race under and Sweet closed the door. Day spun to a stop in turn one. Sweet did not sustained any damage and would lead Dominic Scelzi, David Gravel, Rico Abreu and Carson Macedo back to the waving green flag with 4 laps to go.
When they went back to racing Cole Macedo raced by Carson Macedo into fifth as Brad Sweet raced out front with Dominic Scelzi trying to get by. Scelzi had his hands full with David Gravel who was able to make speed on the bottom to work by into the runner-up position. Brad Sweet would race to the win with Gravel coming home second as Dominic Scelzi rounded out the podium. It was a three car race for fourth coming off turn for between Abreu and the Macedo brothers. Rico would beat Carson to the finish line by 0.099 seconds to claim fourth with Carson coming home fifth and Cole securing a sixth place finish.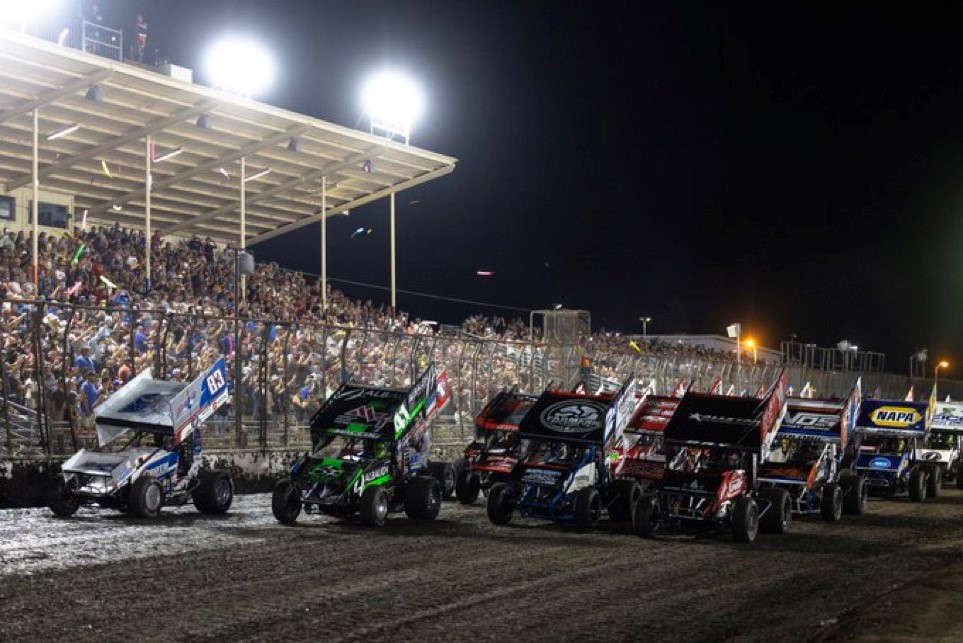 Carson Macedo Wheels the Tarlton and Son #41 Maxim to a 5th Place Finish at Kings Speedway powered by Keller Motors in a Competitive Race at the Tom Tarlton Classic! Photo Credit: Trent Gower Photography
Albaugh, LLC; Border International; Mesilla Valley Transportation (MVT); Saich Family; Tarlton and Son Inc.; Boltz Family; Complete Parts & Equipment Solutions; Durst Inc.; Liquid Trucking; Bandy & Associates Accountancy Corporation; Buckwalter Trucking, LLC; Jansen Transportation; Larry Davis Farms; Meyers Constructors Inc.; Mr. Jim's Racing; RaceDiecast.com; Sam I Am; Team Jack Foundation; Mark Burch Motorsports; T-FAB Custom Metal Fabrication; Tiger Towing; All Pro Aluminum Cylinder Heads; AutoMeter; Bell Helmets; BMRS (Brown & Miller Racing Solutions); BR Motorsports; C&R Racing; Crow Enterprizes; Engler Machine & Tool, Inc.; Factory Kahne (FK Shocks); Fibreworks Composites; FK Rod Ends; Greber Racing Components; High Performance Lubricants, LLC; Hoosier Racing Tire; Indy Performance Composites (IPC); ISC Racers Tape; K1 Race Gear; Kistler Racing Engines; KSE Racing Products; Maxim Racing; Motor State Distributing; Premium Coach Group; Pro Powder Coating (PPC); Saldana Racing Products; Schoenfeld Headers; Smith Titanium; Vortex Racing Products; Walker Performance Filtration; Weld Racing; Wilwood Racing; Winters Performance Products; and, Xtreme Body and Paint.
To stay connected with Jason Johnson Racing (JJR), go to www.jasonjohnsonracing.com.
To stay up-to-date with Carson Macedo and his success journey on and off the track, as well as to purchase his gear and merchandise directly, visit www.carsonmacedoracing.com.