HUSTLING AGAIN AT HAUBSTADT: THE CALIFORNIA STAR SHINES AND COLLECTS HIS THIRD WIN AT TRI-STATE SPEEDWAY AFTER NAVIGATING TRAFFIC AT SPEED IN THE ALBAUGH – YOUR ALTERNATIVE #41
HAUBSTADT, INDIANA (April 23, 2022) – After rain forced the postponement of the show at Tri-City Speedway in Illinois on Friday night, the trek eastward continued on Saturday night. This time the team stopped at Tri-State Speedway, which is a quarter mile high banked bullring located in Southern Indiana just North of Evansville off Highway 41. Last year when the World of Outlaws visited Haubstadt, James McFadden and Carson Macedo put on a show worth the price of admission with Macedo coming out on top for the right to hold the checkered flag. In 2020, Carson also ended the night holding the checkered flag when he was piloting the Kyle Larson Racing (KLR) #2. The Lemoore, California native was looking to make it three-in-a-row at the track that Tom and Loris Helfrich, who promote the track, take great care of to make it a favorite on the schedule each year. There were 27 teams parked in the pits ready to roll at Tri-State Speedway.
Carson would be the ninth competitor out on the track for his two laps against the clock in My Place Hotels Qualifying aboard the Tarlton and Son/Indy Performance Composites (IPC)/Schoenfeld Headers #41 Maxim. Sammy Swindell set the track record here back on October 8, 2004, with a lap of 11.110 seconds. Carson was focused on doing his best while he pulled his K1 Racing Gear gloves on and grasped the steering wheel as he rolled out onto the track's surface. He dropped his right foot and quickly moved forward to start his first lap. It does not take long to get around these bullrings, but it sure is fun to watch. He was certainly hustling inside his office as his first lap in the Albaugh #41 came in at 12.487 second with his last lap coming in slightly slower at 12.701 seconds. His best lap was 6th quick overall. Spencer Bayston in the CJB #5 set quick time at 12.222 seconds.
There were three 10-lap heat races on tap with Carson Macedo sitting on the front row on the third and final heat race pacing beside polesitter David Gravel. Current WoO points leaders Brad Sweet was rolling from third with Carson Short to his outside as Brock Zearfoss, Kyle Cummins, Noah Gass, Kendall Ruble, and Brad Greer comprising the remainder of the starting field. With the top three in points all in this heat it was go time. When the green flag dropped, Carson Macedo drove off the top side and down low into turn one as he took the lead over Gravel with Sweet right behind. Sweet used the low line to slide into second before the caution flag flew for Brock Zearfoss who spun. They would restart two-by-two and when the green flag flew it was Sweet rolling the NAPA Auto Parts #49 into the top spot over Macedo to lead lap two. Sweet put some distance between himself and Macedo's Complete Parts & Equipment Solutions/Mr. Jim's Racing/AutoMeter #41 Maxim as the two Californians led the way. Sweet would collect the win over Macedo and Gravel with Carson Short coming home fourth, Kyle Cummins fifth, and Noah Gass locking down the sixth and final transfer spot.
The track was coming around as the crew prepped it for the six drivers that earned their way into the 8-lap DIRTVision Fast Pass Dash. It was time to go racing in front of the packed grandstands. Carson was the last driver to pull his pill and it was the three, which put him on the inside of row two aboard the Durst Inc./Team Jack Foundation/Dissolvalloy Downhole Revolution #41 Maxim with Jacob Allen to his outside. Brad Sweet and James McFadden were rolling in row one with Logan Schuchart and Spencer Bayston looking forward from row three. When the green flag waved it was McFadden leading Sweet and Allen as Macedo was working on Allen for position. It take long and that battle turned into a three car affair with Spencer Bayston joining the mix. Macedo would come out on top as he moved into third behind race leader McFadden who was being chased by Sweet. When the checkered flag flew it was McFadden taking the win over Sweet and Macedo with Allen, Bayston, and Schuchart being the next drivers to cross the finish line. The finishing order set the starting grid for the first three rows of the feature.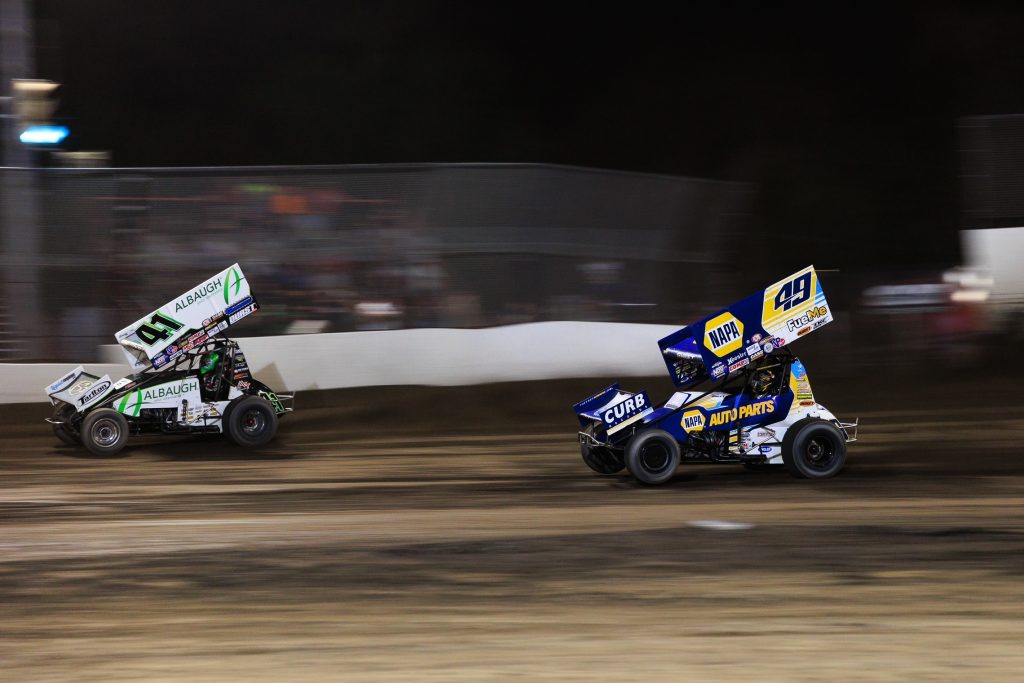 The horns sounded as the cars rolled out onto the track for the 40-lap NOS Energy Drink feature event at Tri-State Speedway! On the four-wide salute to the fans lap, the fans illuminated their flashlights on their phones to return the respect and thank the drivers for coming to Haubstadt. With the money on the line it was time to go racing World of Outlaws style! Carson was sitting in his third starting spot rolling in the Liquid Trucking/Meyers Constructors/Factory Kahne (FK) Shocks #41. He was ready to go. The yellow lights were turned off and the green flag was waving. It was Sweet to the top spot over James McFadden and Carson Macedo. Sweet was in control as Carson was chasing McFadden during the opening laps. Spencer Bayston was right there too throughout the first 10 laps. The leaders were navigating traffic and as the race approached the halfway point it was becoming a three car battle for the lead between Sweet, McFadden, and Macedo. The lap traffic was now heavy and McFadden was giving Sweet all he could handle racing for the lead. Macedo was right behind and using a lap car as a pick drove off the top side of turn four to move into the second spot. He had his elbows up and the next time around it was an all-out three car brawl for the lead between Sweet, Macedo and McFadden. Macedo sped into turn one on the high side and turned the car down and drove right between Sweet and McFadden into the lead exiting turn two. He led lap 24, but the heat was on behind him as Sweet, McFadden, and Bayston now had the forty-one in the center of their targets. A four car melee in turn two, right in front of the leaders, brought out the yellow with 13 laps to go as second running James McFadden was collected as he had absolutely nowhere to go. Carson made slight contact with Brock Zearfoss who spun as part of the caution resulting in damage to the front wing on the Albaugh #41, but he kept rolling with his eyes focused on the checkered flag prize. Jason McDougal and Kyle Cummins were also involved. Carson Macedo chose the outside lane to restart as Brad Sweet moved to his inside. When they went back to green flag racing it was Macedo to the lead over the NAPA Auto Parts #49. While it would get close in the waning laps, the Lemoore, California driver raced under the waving checkered flag for the third straight time here at Haubstadt (2020, 2021, and now tonight). It was also his second consecutive win as he took the honors last week at Federated Auto Parts Raceway at I-55 on Saturday night.
He climbed out of the cockpit of his Maxim Racing machine and was greeted by his jubilant crew – Philip Dietz, Clyde Knipp, and Nate Repetz – as they celebrated the win! After finishing his victory wing dance he grinned as he spoke to Chase Raudman stating, "It's extremely tough to win these World of Outlaws races, so going back-to-back is always big. It is so competitive right now that you can't slip an inch, I mean you make a mistake on this tour and you can feel guys breathing down your neck. I was running it as hard as I possibly could there at the end to make sure Brad and Sheldon couldn't get a run on me." Another great run for the forty-one!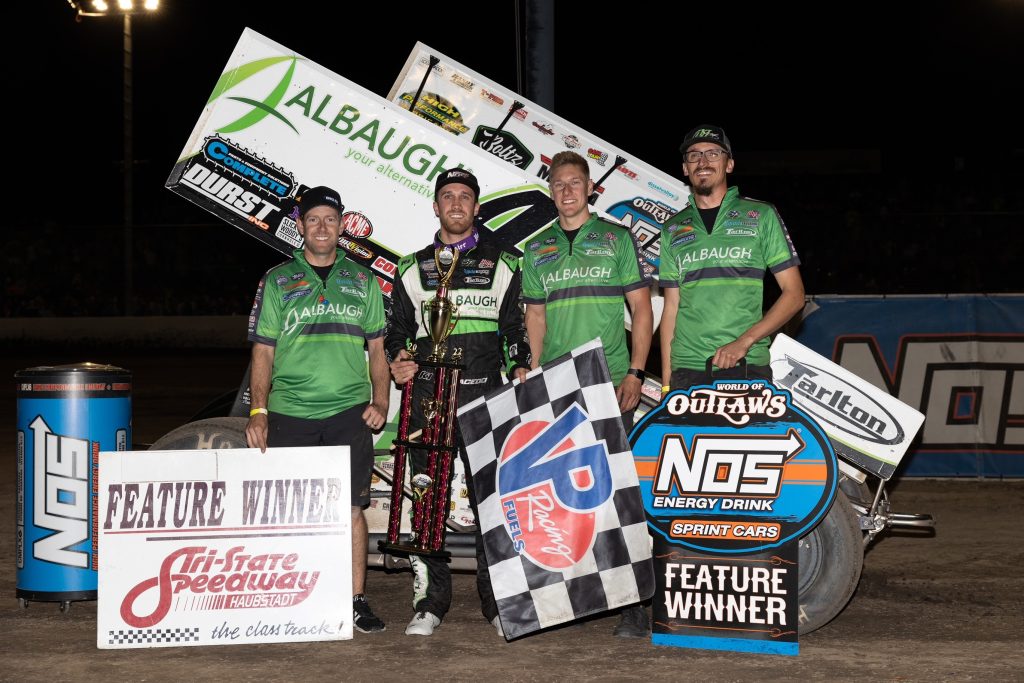 Carson Macedo Becomes First WoO Driver to Win Three-in-a-Row at Tri-State Speedway! Photo Credit: Trent Gower
Albaugh, LLC; Border International; Mesilla Valley Transportation (MVT); Saich Family; Tarlton and Son Inc.; Boltz Family; Complete Parts & Equipment Solutions; Durst Inc.; Liquid Trucking; Bandy & Associates Accountancy Corporation; Buckwalter Trucking, LLC; Dissolvalloy Downhole Revolution; Jansen Transportation; Larry Davis Farms; Meyers Constructors Inc.; Mr. Jim's Racing; RaceDiecast.com; Sam I Am; Team Jack Foundation; Mark Burch Motorsports; T-FAB Custom Metal Fabrication; Tiger Towing; All Pro Aluminum Cylinder Heads; AutoMeter; Bell Helmets; BMRS (Brown & Miller Racing Solutions); BR Motorsports; C&R Racing; Crow Enterprizes; Engler Machine & Tool, Inc.; Factory Kahne (FK Shocks); Fibreworks Composites; FK Rod Ends; Greber Racing Components; High Performance Lubricants, LLC; Hoosier Racing Tire; Indy Performance Composites (IPC); ISC Racers Tape;K1 Race Gear; Kistler Racing Engines; KSE Racing Products; Maxim Racing; Motor State Distributing; Pro Powder Coating (PPC); Saldana Racing Products; Schoenfeld Headers; Smith Titanium; Vortex Racing Products; Walker Performance Filtration; Weld Racing; Wilwood Racing; Winters Performance Products; and Xtreme Body and Paint.
To stay connected with Jason Johnson Racing (JJR), go to www.jasonjohnsonracing.com.
To stay up-to-date with Carson Macedo and his success journey on and off the track, as well as to purchase his gear and merchandise directly, visit www.carsonmacedoracing.com.