HONORING THOSE WHO SACRIFICED FOR OUR COUNTRY AT THE 'BURG: A DETERMINED RUN IN THE MEMORIAL DAY SPECTACULAR AT LAWRENCEBURG DELIVERS A 13TH PLACE FINISH FOR GRAVEL AND THE JJR #41 CREW
LAWRENCEBURG, INDIANA (May 27, 2019) – On a day where our country respectfully pauses to honor the men and women who served our country and paid the ultimate sacrifice, the World of Outlaws NOS Energy Drink Sprint Car Series brought people together at Lawrenceburg Speedway for the Memorial Day Spectacular. David Gravel and the JJR #41 crew were one of 31 teams registered and parked in the pit area ready to chase the winner's laurels and $10,000-to-win check with their Mesilla Valley Transportation (MVT)/Jonestown KOA #41 Maxim.
The native of Watertown, Connecticut was the 18th car out for his two time trial laps around the 3/8 mile track that has been Slingin' Dirt Since 1950! The covered grandstands were absolutely packed with fans on this beautiful day in late May. After Buddy Kufoid ended his two circuits, Gravel rolled onto the speedway out of the turn four entrance and used his Kistler Racing Engines power to build up speed as he took the green. The track had some holes through turns one and two as well as through turn three that were getting some drivers off the pace, but Gravel dug his Hoosier Racing Tires into the surface and completed his first lap in 12.387 seconds. His second lap was a little slower at 12.710 seconds, but his quicker lap held up for 10th quick overall on the night.
When the World of Outlaws officials posted the heat race lineups there were 11 cars in the first and fastest 8-lap heat race with Gravel in his Weikert's Livestock/Durst, Inc. #41 starting on the outside of row two beside Buddy Kufoid and behind the front row of Shane Stewart, who set quick time overall, and Donny Schatz. A talented field of speed chauffeurs filled the starting grid out with Ian Madsen, Rico Abreu, Hunter Schuerenberg, Shawn Dancer, Carson Macedo, Jacob Allen and Bradley Ashford sitting behind the first two rows. When the green flag waved over the field, Stewart drove into the top spot as Schatz and Kufoid started to wage a war for the runner-up position. David was up on the wheel driving the high side, which allowed Ian Madsen to slide into the fourth spot. Peering through the shield of his Simpson helmet, Gravel competed and stayed close but never got close enough to attempt to steal the position back by the time the checkers flew. Stewart would take the win over Schatz as Kufoid, Madsen and Gravel rounded out the top five with Schuerenberg locking down the final transfer position.
For the 35-lap Memorial Day Spectacular feature, Gravel would start on the inside of row seven aboard the J.R.C. Transportation/High Performance Lubricants, LLC #41 Maxim beside fellow Outlaw Brent Marks as the sun just cleared the trees in turns three and four creating an orange and purple glow in the skies. NASCAR stars Christopher Bell and Kyle Larson made up the front row with Aaron Reutzel and Shane Stewart close behind in row two as Giovanni Scelzi and Donny Schatz made up the third row. When the green flag appeared these talented sprint car drivers lit up their accelerators and brought the entire field of talent under the flag stand and into turn one at speed. David Gravel wheeled his Maxim Racing entry into 14th position after lap one. He was up on the wheel doing what he does best as he was looking for opportunities to advance in the running order. Christopher Bell was in command of the lead with Stewart, Reutzel and Larson giving chase. With 8 laps in the books, Spencer Bayston slowed to a stop in turn four with a broken rear end bringing out the yellow flag. Gravel would restart in the twelfth position as the leaders would get a clear track ahead of them when the green reappeared over the field. He would get shuffled back to 16th on the restart and then work hard to gain two positions when the caution was shown again with 15 laps in for a spinning Sheldon Haudenschild. Christopher Bel still was in command over a hard charging Shane Stewart and when they got back up to speed it was Bell and Kyle Larson now racing for the lead. With 13 laps to go another yellow appeared this time for a slowing Aaron Reutzel on the frontstretch. Gravel was battling for speed and traction when Larson and Bell were racing for the lead into turn one with Bell getting upside down as the red flag was displayed. Gravel would restart from the 15th position with Kyle Larson leading Donny Schatz and Giovanni Scelzi to the green flag again this time with 7 laps to go. David was working hard inside the cockpit of his Maxim Racing entry to drive forward but when Larson took the checkered flag to win, Gravel crossed the finish line with a 13th place finish. Larson took the win over Schatz, Gio Scelzi and Stewart in fourth with Brad Sweet rounding out the top five.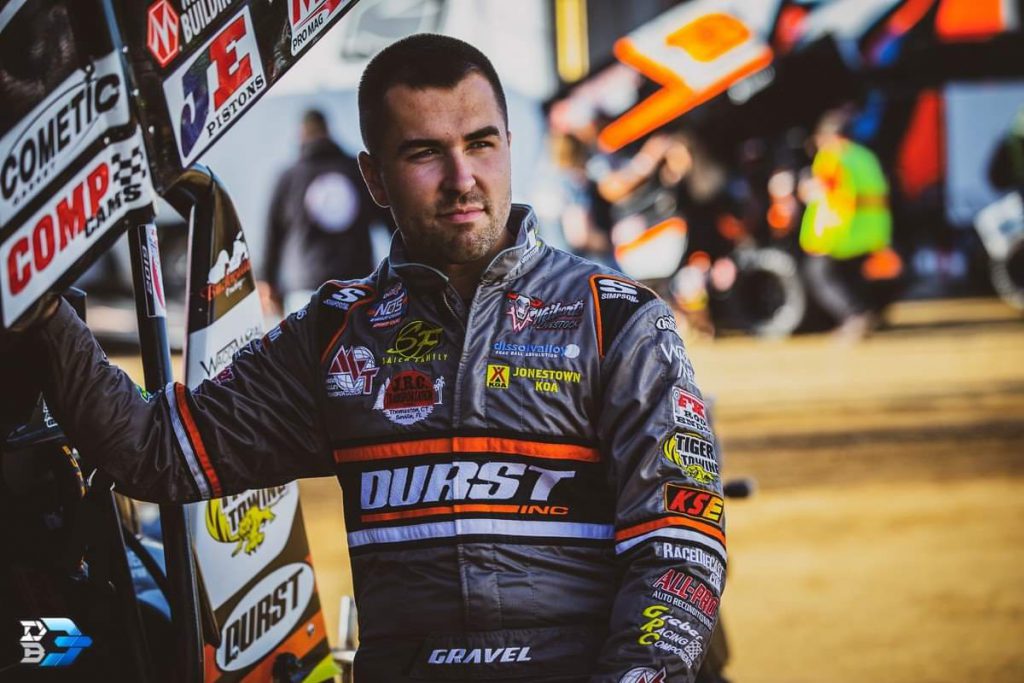 We are proud to represent all of our dedicated and loyal supporters:
Mesilla Valley Transportation (MVT); Saich Family; Jonestown KOA; Dissolvalloy Downhole Revolution; Weikert's Livestock; J.R.C. Transportation, Inc.; Durst Inc.; Maxim Racing; The Boyd Family; Pro Powder Coating (PPC); Waco Metal; High Performance Lubricants, LLC; Team Jack Foundation; Mark Burch Motorsports; Tiger Towing; All Pro Aluminum Cylinder Heads, Inc.; All Pro Auto Reconditioning; AutoMeter; Bell Racing USA; Blackbeard; Brown & Miller Racing Solutions (BMRS); Buckwalter Trucking, LLC; C&R Racing; Chalk Stix Torsion Bars; Cody Monoco Racing; Crow Enterprizes, Engler Machine & Tool, Inc.; Factory Kahne FK Shocks; Fibreworks Composites; FK Rod Ends; Fuel Safe Racing Cells; Greber Racing Components; Hoosier Racing Tire; ISC Racers Tape; Jansen Transportation; K&N Filters; Kaiden Kares; Kistler Racing Engines; KSE Racing Products; LogoDaddy Graphics; Max Papis Innovations (MPI); MSD Performance; Schoenfeld Headers; Shell Shock Paint; Simpson Race Products; T-FAB Custom Metal Fabrication; Vortex Racing Products; Weld Wheels; Wilwood Racing; Winters Performance Products; and, www.racediecast.com.
To stay connected with Jason Johnson Racing (JJR), go to www.jasonjohnsonracing.com.
To learn more about David Gravel, and stay up to date with his success and journey, go to www.DavidGravel89.com.