HONORING THE RAGIN' CAJUN – TAKE FOUR: CARSON AND THE ALBAUGH #41 TEAM BATTLE TO THE END AT LAKE OZARK SPEEDWAY AND FINISH JUST OUTSIDE THE TOP 15 ON A CHALLENGING NIGHT
ELDON, MISSOURI (April 9, 2022) – After cold temperatures and weather canceled the scheduled racing action at US 36 Raceway on Friday night, Carson and the team stayed at their home base near Lake of the Ozarks. They awoke early Saturday morning and went to work preparing their equipment for a special battle on their home track at Lake Ozark Speedway, located just a few miles from their shop, in the 4th Annual Jason Johnson Classic presented by FK Rod Ends. This race honors the dreamer and founder of Jason Johnson Racing (JJR) who was a fierce competitor and friend alike to so many in the sport. He simply loved sprint car racing from his first time seeing them with his father and family at Devil's Bowl through his last race on June 23, 2018. I can only imagine he was grinning from ear-to-ear from above as he watched over the race in his honor that his widow Bobbi puts her heart and soul into each year, along with their son Jaxx and so many family and friends. David Gravel won the inaugural event in 2019 aboard the JJR #41, James McFadden won the second edition in 2020 in the KKR #9, and Brad Sweet took the trophy home in the KKR #49 after last year's event. On Saturday night, there were 38 drivers and teams signed in at the pit gate vying for the beautiful, custom handcrafted trophy made by Tony Baustert from T-FAB Custom Metal Fabrication and the $15,000 check for the winner.
Lake Ozark Speedway is a demanding 1/3-mile semi-banked oval that enables the drivers and teams to show off their talent and speed all in less than 12 seconds a lap when you are on it. Jason Sides set the track record back at the inaugural Jason Johnson Classic on October 19, 2019, with a lightning fast lap of 11.111 seconds. When the qualifying lineup was posted, Carson Macedo and JJR's Albaugh – Your Alternative/Tarlton and Son/High Performance Lubricants #41 would be the fourth car out on the track in Flight A for his two laps against the clock. He pushed on to the track off turn four and build up his speed to start the second hand ticking as he raced by the waving green flag. Carson completed his first circuit in 11.645 seconds and was digging for more the next time around. When he stopped the clock the next time around it read 11.546 seconds. That time was good enough for sixth quick in Flight A. Jacob Allen set quick time in Flight A and overall on the night with a lap of 11.464 seconds.
The cars from Flight A would compete in the first two 10-lap heat races with the qualifiers from Flight B battling in the last two heat races. Brady Bacon and David Gravel were perched on the front row in Carson's heat race as the Lemoore, California native rolled the Complete Parts & Equipment Solutions/Pro Powder Coating (PPC)/Xtreme Body and Paint #41 onto the inside of row two beside Hunter Schuerenberg. Brian Bell and Tyler Courtney were in row three, Kraig Kinser and Joe B. Miller made up row four, with Gunner Ramey soloing in row five. Bacon seized the early lead over Gravel with Macedo and Schuerenberg embroiled in an all-out tussle for the show position. Macedo had the spot after lap one but surrendered it to the hard-charging Schuerenberg the next time around. Over the next few laps the excitement was building as Macedo, Courtney and Kinser were waging war for the fourth spot. Both Courtney and Kinser raced by the forty-one relegating him to sixth, one spot out of a transfer position, but the determined JJR chauffeur would not be deterred as he raced back to them. The laps were winding down and Macedo was running out of time. Meanwhile, with 3 laps to go, David Gravel raced into the lead over Bacon with Schuerenberg still cruising in the third spot. With one lap to go, Carson raced back into fourth before a yellow flag came out negating his effort. He would restart from the sixth position and when racing went green he moved by both Kinser and Courtney to finish fourth. David Gravel collected the win over Bacon and Schuerenberg with Tyler Courtney securing the fifth and final transfer position to the feature event.
The field for the 4th Annual Jason Johnson Classic presented by FK Rod Ends NOS Energy Drink feature was set. The race was originally slated for 41 laps, but due to track conditions officials collaborated and made the decision to shorten it to just 30 laps. The work to earn a spot into the race was in the rearview mirror for the teams and drivers, but there was still some finger clenching, wheel-to-wheel action waiting for the drivers, teams, and fans just ahead. The air horn sounded and summoned the 24 car field to the track to stage for the race. Carson sat patiently in the Albaugh #41 as he focused his race strategy peering out of the shield of his Shifty Illusions custom painted Bell Racing RS7 Helmet. When his Kistler Racing Engines power plant fired he paced and rolled into his 15th starting position to the inside of JJ Hickle in row eight. The fans in the packed grandstands were about ready to see The Greatest Show of Dirt do their thing at Lake Ozark Speedway. When the green flag waved it was Jacob Allen in the Shark Racing #1a in the lead over Spencer Bayston and Brady Bacon. Bacon though was up on the wheel and moved into second before immediately started to press Allen for the lead on lap two. Carson was battling back in the pack as the rubber quickly started to come in around the bottom. Over the first half of the race he would fall back as far as the 18th position in the RaceDiecast.com/FK Rod Ends/Saldana Racing Products #41. Brady Bacon though was still focused on Allen and took the lead from him on lap 12. Allen returned the favor and reclaimed the lead on lap 13 where he settled in for the next 7 laps before Bacon was back knocking on his door. Bacon open the door and drove into the top spot on lap 20. He was rolling there with just 3 laps to go when his bald right rear tire left him down. He stayed under power, but Allen reclaimed the top spot. Allen would not be denied and added his name to the Jason Johnson Classic winner's list as the 2022 champion. Carson battled all race and was scored with a 16 place finish. Macedo and the JJR #41 team will stay positive as they head to Federated Auto Parts Raceway at I-55 next weekend for a doubleheader on Friday and Saturday night.
Congratulations to Jacob Allen and the entire Shark Racing team on your win at the 2022 edition of the Jason Johnson Classic!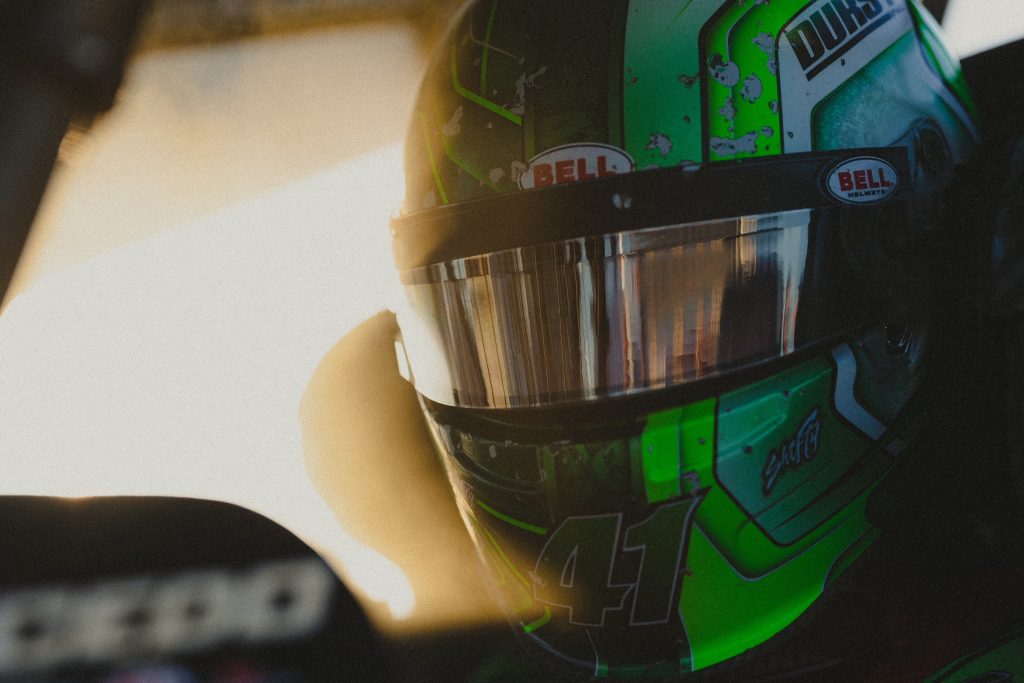 Carson Macedo Focused for Action at the 4th Annual Jason Johnson Classic at Lake Ozark Speedway! Photo Credit: Trent Gower
Albaugh, LLC; Border International; Mesilla Valley Transportation (MVT); Saich Family; Tarlton and Son Inc.; Boltz Family; Complete Parts & Equipment Solutions; Durst Inc.; Liquid Trucking; Bandy & Associates Accountancy Corporation; Buckwalter Trucking, LLC; Dissolvalloy Downhole Revolution; Jansen Transportation; Larry Davis Farms; Meyers Constructors Inc.; Mr. Jim's Racing; RaceDiecast.com; Sam I Am; Team Jack Foundation; Mark Burch Motorsports; T-FAB Custom Metal Fabrication; Tiger Towing; All Pro Aluminum Cylinder Heads; AutoMeter; Bell Helmets; BMRS (Brown & Miller Racing Solutions); BR Motorsports; C&R Racing; Crow Enterprizes; Engler Machine & Tool, Inc.; Factory Kahne (FK Shocks); Fibreworks Composites; FK Rod Ends; Greber Racing Components; High Performance Lubricants, LLC; Hoosier Racing Tire; Indy Performance Composites (IPC); ISC Racers Tape;K1 Race Gear; Kistler Racing Engines; KSE Racing Products; Maxim Racing; Motor State Distributing; Pro Powder Coating (PPC); Saldana Racing Products; Schoenfeld Headers; Smith Titanium; Vortex Racing Products; Walker Performance Filtration; Weld Racing; Wilwood Racing; Winters Performance Products; and Xtreme Body and Paint.
To stay connected with Jason Johnson Racing (JJR), go to www.jasonjohnsonracing.com.
To stay up-to-date with Carson Macedo and his success journey on and off the track, as well as to purchase his gear and merchandise directly, visit www.carsonmacedoracing.com.