HISTORIC RETURN TO EAST BAY RACEWAY PARK: AFTER A 38 YEAR LAYOFF, THE OUTLAWS RETURN TO THE 3/8-MILE GULF COAST OVAL WITH CARSON MACEDO WHEELING THE TARLTON AND SON #41 TO A PODIUM FINISH
GIBSONTON, FLORIDA (March 6, 2021) – The roads the World of Outlaws travel up and down each season brings the teams to normal destinations on the schedule, some new tracks, as well as every once in a while back to a place where their early roots dug in. That was the case on Saturday afternoon when the haulers were lined up at the pit gate at East Bay Raceway Park for the first time in 38 years. The last time the best sprint car series in the business invaded this place back in 1983, heck many of today's competitors were not even born. But that is what makes the World of Outlaws NOS Energy Drink Sprint Car Series and sprint car racing so great, they never forget their past and weave it into their story. With the early rain moving out, there were 25 teams waiting in line at the pit gate to entertain the fans at East Bay Raceway Park . . . World of Outlaws style!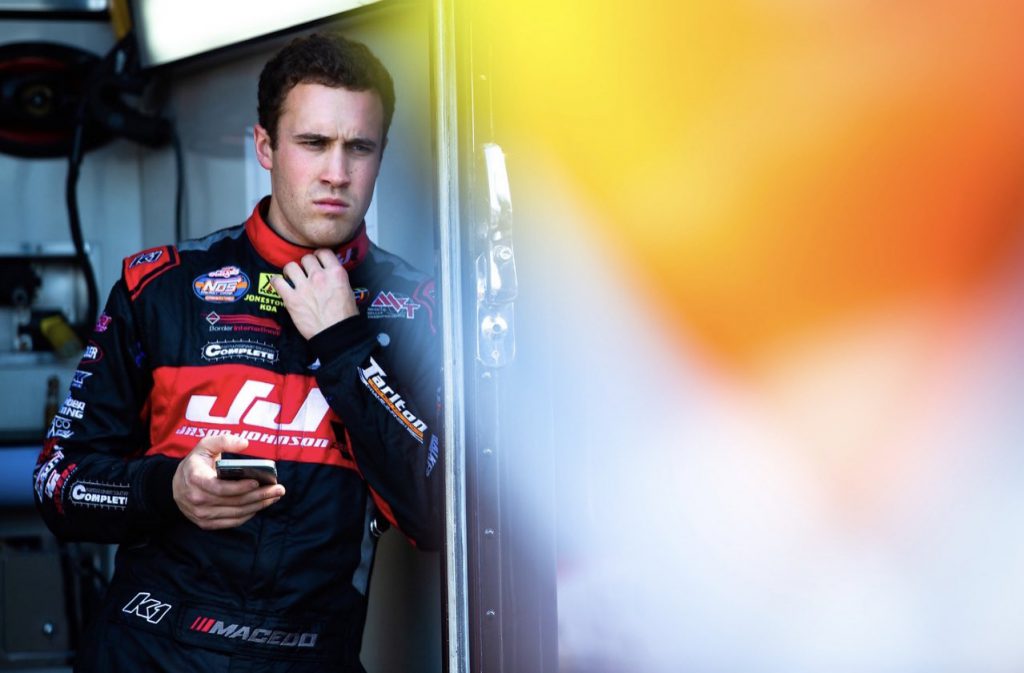 The time trial order is set by the pill draw from the lowest number to the highest number in sequential order. Carson Macedo would chose a number that positioned him around the middle part of the time trial order in the Meyers Constructors/Team Jack Foundation #41 Maxim. When Sam Hafertepe Jr. completed his two circuits on the clock, Macedo jumped on the accelerator and took the green flag to start his first lap against the clock at East Bay Raceway Park. He made quick work around the racy oval the first time around with a time of 12.945 seconds. Hammer down, he stayed focused and on the gas as he had his elbows up the second time around looking to find more speed to cut some time off the clock. His second circuit was slightly slower at 13.086 seconds. With the track getting faster with each car out, the Californian drivers fastest lap was 17th quick overall on the night.
With a small hole to start digging out of for Carson and the team, the crew stayed focused while they prepared the Liquid Trucking/High Performance Lubricants #41 Maxim for the second of three 10-lap Drydene Heat Races. Macedo would start from the sixth position alongside Brent Marks with Brad Sweet and Jason Sides sitting in the front row, with David Gravel and Kraig Kinser in row two. The racing surface was still narrow, but it was the same for everyone when the green flag dropped. Double Down Jason Sides, who has had great success at East Bay Raceway Park, jumped into the early lead over Sweet and was fast. He led the opening lap with Sweet giving chase. A few spots back, Macedo was battling with Marks and Sam Hafertepe Jr. for position. The racing action was tight, but these talented drivers raced cleanly and continued their high speed assault on the track. Sides would collect the win over Sweet and Gravel with Kinser, Marks and Macedo locking down the final transfer positions.
Looking to become the first World of Outlaws winner since Steve Kinser last owned the checkers at East Bay Raceway back on February 15, 1983, the feature field was set and Macedo donning his slick Tarlton and Son K1 Race Gear racing suit climbed into the cockpit of the Dissolvalloy Downhole Revolution/C&R Racing #41 Maxim. He would start from the 17th position, so he would need a good car so he could get his elbows up. Throw in a little racing luck and you just never know what will happen. As the push trucks got the 410 engines started, it was time to go racing at East Bay Raceway Park. Macedo was ready to go to battle and fight for track position over the next 35 laps. Outside front row starter, Aaron Reutzel, would jump into the early lead while Macedo got shuffled back in the normal opening lap chaos. The caution flag would fly with one lap in the books for Jason Sides and Sheldon Haudenschild who spun together while battling for the fourth spot. Macedo would restart from his original 17th starting position and this time would drive forward into the 15th spot as he started his march forward. Reutzel was leading and having fun at the front of the pack with four wheels above the cushion as he approached and navigated lap traffic with Donny Schatz and Brad Sweet looking to seize the lead. With 8 laps in another caution slowed the action for Sam Hafertepe Jr. who spun and came to a stop in turn two. Macedo was sitting in the 14th spot and used the time to plot out his next moves when they went green. Reutzel raced back into the top spot when they got up to speed and Macedo had his Hoosier Racing Tires rolling as he powered his way into the top ten on lap 12. When the next race stoppage occurred with 17 to go, a red flag for Jason Sides who flipped exiting turn two, Macedo was perched in ninth. Reutzel again led the field to the green flag and Macedo dropped his right foot and was truckin' Mesilla Valley Transportation (MVT) style as he was picking up positions and moved into the top five with 8 laps to go. HE was not done yet though as he was wheeling and dealing late in the race. He was able to move into the top three and was coming after Brad Sweet for the runner-up position. Reutzel went on to collect the victory over Sweet and Macedo who earned the KSE Hard Charger honors for the second night in a row after passing 14 cars. From the frontstretch, the third place finishers smiled and stated, "Again, my race car was just incredible in the feature. It just got better and better as the race went on." He continued, "I've got to figure out qualifying and heats so we can get up closer to the front come show time. I'm having so much fun driving this #41 right now. Carrying on Jason's legacy with this car and now Phil as involved as he is . . . it's a special deal." Another great run for the forty-one!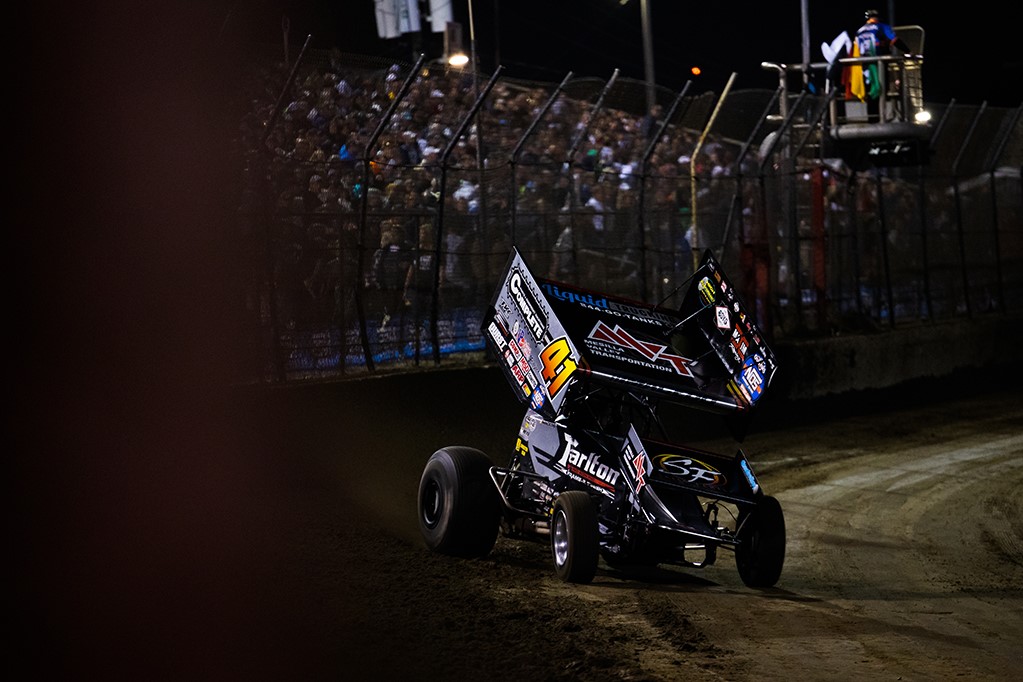 A Strong Run Forward Puts Carson Macedo on the Podium Earning the KSE Hard Charger Honors for Second Consecutive NIght!
Mesilla Valley Transportation (MVT); Tarlton and Son Inc.; Complete Parts & Equipment Solutions; Saich Family; Border International; Dissolvalloy Downhole Revolution; Jonestown KOA; Durst Inc.; Maxim Racing; The Boyd Family; Liquid Trucking; Meyers Constructors Inc.; Tiger Towing; Pro Powder Coating (PPC); Waco Metal; High Performance Lubricants, LLC; Kistler Engines; Team Jack Foundation; Mark Burch Motorsports; All Pro Auto Reconditioning; K1 Race Gear; AutoMeter; Bell Racing USA; Blackbeard LTD; Brown & Miller Racing Solutions (BMRS); Buckwalter Trucking, LLC; C&R Racing; Chalk Stix Torsion Bars; Crow Enterprizes; Engler Machine & Tool, Inc.; Factory Kahne (FK Shocks); Fibreworks Composites; FK Rod Ends; Fuel Safe Racing Cells; Greber Racing Components; Hoosier Racing Tire; ISC Racers Tape; Jansen Transportation; KSE Racing Products; Larry Davis Farms; Logo Daddy Graphics; Mr. Jim's Racing; MSD Performance; RaceDiecast.com; Sam I Am; Schoenfeld Headers; T-FAB Custom Metal Fabrication; Vortex Racing Products; Walker Performance Filtration; Weld Wheels; Wilwood Racing; and Winters Performance Products.
To stay connected with Jason Johnson Racing (JJR), go to www.jasonjohnsonracing.com.
To stay up-to-date with Carson Macedo and his success journey on and off the track, as well as to purchase his gear and merchandise directly, visit www.carsonmacedoracing.com.