HEAVY LIFTING COMPLETE: THE DRIVER OF THE JJR #41 SHOWS OFF HIS STRENGTH AND FITNESS IN THE IRONMAN 55 AS HE POWERS FORWARD TO COLLECT A RUNNER-UP FINISH AT FEDERATED AUTO PARTS RACEWAY AT I-55
PEVELY, MISSOURI (August 6, 2022) – After competing hard and making a miraculous last-lap, last-corner pass on Brad Sweet to earn the opening night victory in the Night Before the Ironman at Federated Auto Parts Raceway at I-55 on Friday night, Carson Macedo along with his Jason Johnson Racing (JJR) teammates Philip Dietz, Clyde Knipp and Nate Repetz, were all focused and back at the track to contend for the 14th Annual Ironman 55 trophy with their Albaugh – Your Alternative #41 entry. This event has continued to grow in popularity with each new edition and truly tests these competitor's strength, endurance and skills as they race around this racy and demanding 1/3-mile, high banked oval. It draws fans from all over as they make their way to the racing venue located just off Interstate 55 in Missouri as it always produces an entertaining show just like it did on Friday night. On Saturday night, after the heat index it a feel like temperature of over 100 degrees, there were 38 sprint car drivers and teams up for the challenge of racing for the win in the Ironman 55 as they lined the pit area located off turns three and four preparing for the night of action.
When the My Place Hotels Qualifying order was posted, Carson would be the 13th driver out in the first of two qualifying groups to get after it on the track for his two time trial laps in the Mesilla Valley Transportation (MVT)/Smith Titanium/Pro Powder Coating (PPC) #41 Maxim. When David Gravel completed his laps against the clock, the Kistler Engines power came to life underneath the Indy Performance Composites (IPC) carbon fiber hood of the forty-one. Carson was moving at speed before you knew it and doing what he loves – racing fast in a sprint car. He accelerated under the waving green flag and was up on the wheel with his elbows high. He was making tracks and not looking back hoping to lay down a quality lap time. When he stopped the clock the first time it read 10.749 seconds. Unrelenting, he pushed the limits the next time around looking to shave a few hundredths of a second off his time. When the official lap time was posted for lap two it was slightly worse on lap two at 10.782 seconds. The faster of his two attempts put him seventh quick overall on the speed charts in Group A. When time trials were completed, David Gravel from Group A was the speediest driver on this night with a lap of 10.512 seconds.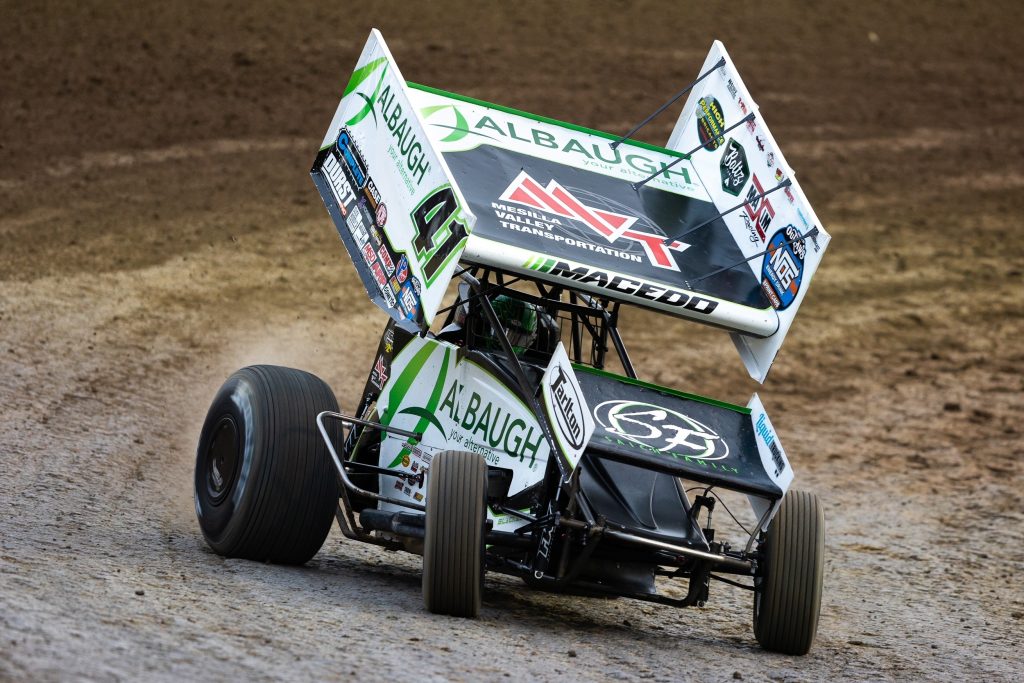 When the lineups were put together based on each driver's best time trial lap and posted for each of the four 8-lap races, Carson would find himself and the Albaugh #41 on the outside of row two in the first and fastest heat race with Rico Abreu to his inside and David Gravel and Kerry Madsen directly ahead in the front row. Lachlan McHugh and Derek Hagar were in row three, Brayton Lynch and Carson Short were paired together in row four, as Kevin Ingle and Josh Schneiderman were at the rear of the field in row five. When the yellow lights dimmed and the green flag waved it was David Gravel in the Big Game Motorsports #2 to the lead over Kerry Madsen and Carson Macedo in the Dissolvalloy Downhole Revolution/High Performance Lubricants/Bandy & Associates #41 Maxim. Carson was working the bottom side of the track and was in hot pursuit of Kerry Madsen's Roth Motorsports #83JR. Carson pulled closer and made the pass for position on lap three as he quickly started to track down the leader. David Gravel was catching up to the back of the field and Carson Macedo was closing in. With two laps to go, Gravel was leading and worked his way by lap traffic with Macedo still closing. Carson never got close enough to Gravel's #2 to make any type of attempt to take the lead as David Gravel drove to the win by 0.588 seconds over Carson with Madsen, Abreu and McHugh locking down the final three transfer positions from heat one.
Earning a shot to determine his starting spot in the feature through the 6-lap DIRTVision Fast Pass Dash, Carson headed to the front straightaway to pull his number that would ultimately determine his starting spot in the dash. He would be the fifth driver to test his luck and when he pulled the numbered pill from the NOS Energy Drink can it was a one pill, which put him on the pole aboard the Border International/Boltz Family/LogoDaddy Graphics/Buckwalter Trucking #41 with Brad Sweet on his outside. Hunter Schuerenberg and David Gravel paced behind Friday nights stars with James McFadden and Donny Schatz in row three and Brock Zearfoss and Logan Schuchart in row four. On the initial start Carson and Bard were immediately battling for the lead when the green flag weaved, but McFadden and Schuerenberg made contact racing for the same real estate entering turn three resulting in a broken front axle for Schuerenberg. It was a complete restart and this time Sweet swept into the lead over Macedo, McFadden, Schatz and Gravel. Carson was able to keep the Albaugh #41 close to the leader using the inside line through the turns, bit Sweet was relentless around the top to take the dash victory. Carson came home second followed by McFadden, Schatz, Gravel, Schuchart, Zearfoss and Schuerenberg in the finishing order.
The track surface at I-55 was one that would test your character as it was physically demanding on the rough racing surface. The superstars of the sports were getting ready to test themselves and their equipment for 55 laps in the 14th Annual Ironman 55 feature event. This is the longest race, lap wise, of the season and they were prepared to put on a show for this patient and packed house who stayed late into the evening. Brad Sweet and Carson Macedo brought the field up to speed on the opening lap with Sweet leading Macedo and McFadden in his NAPA Auto Parts #49. Carson was able to keep the Albaugh – Your Alternative/Jansen Transportation/Larry Davis Farms #41 close to the leader as Donny Schatz worked his way into third as he raced by James McFadden for position. The leaders were flying and by lap 5 they started to encounter lap traffic to put them a lap down. It was Sweet and Macedo in the first two positions, but McFadden had a fast Roth Motorsports #83 hotrod and got back around Schatz for third. With 10 laps down it was Sweet, Macedo, McFadden, Schatz and Gravel running in the top five. The leaders were setting a torrid pace and racing through lapped cars when on lap 18 Lachlan McHugh flipped in turn one right in front of the leaders. Carson got hard on his Wilwood Brakes and narrowly missed McHugh's car as it was tumbling down off the wall. While things were relatively consistent at the front of the field through this point of the race, 19th starting Sheldon Haudenschild was on the move and up to eighth with 37 laps remaining. Because of track conditions all restarts would be single file. Sweet led the field back to the flagstand with Macedo and McFadden giving chase. Fifth running David Gravel hit the rut in turn one and bounced hard on his left rear flattening it to bring out the yellow. His team changed the tire in the work area and he rejoined the field. When they got going again Sweet checked out as Macedo was embroiled in a battle for position with McFadden, Schatz and Logan Schuchart for the runner-up position. The Lemoore, California native was not about to surrender it as he moved to the top and carried his momentum forward to own the spot. With 10 laps to go, it was Sweet, Macedo, McFadden, Schatz and Haudenschild represented in the top five. Sweet had built a 5 second lead over Carson Macedo, but with 5 laps to go the yellow came out again for David Gravel who now had a flat right rear tire. His team did a terrific job changing it and getting him back out. Meanwhile, Logan Schuchart expired to the pit area as he had a lot of fluid leaking from underneath the Shark Racing #1s. Schuchart's evening was over. This yellow eliminated Sweet's dominant lead and gave Carson another shot. Would it be a Friday night repeat? When the green flag waved, Brad Sweet made sure his dominance was known as he catapulted from the top spot and into clean air. He was never challenged as he took the win over Carson Macedo and James McFadden with Donny Schatz and Sheldon Haudenschild rounding out the top five. The individuals on the podium were the same as Friday night with Sweet and Macedo exchanging steps and McFadden standing on the bronze level. On the frontstretch, Carson explained with a smile on his face, "I think we were competitive again and executed really well, but Brad was just so damn good in the feature." He continued, "He could move around and make it work wherever he needed. I feel like last year we weren't nearly this good at Pevely, so to come here and get two wins and a second is pretty awesome. I'm pumped for Knoxville." Another great run for Macedo and the forty-one!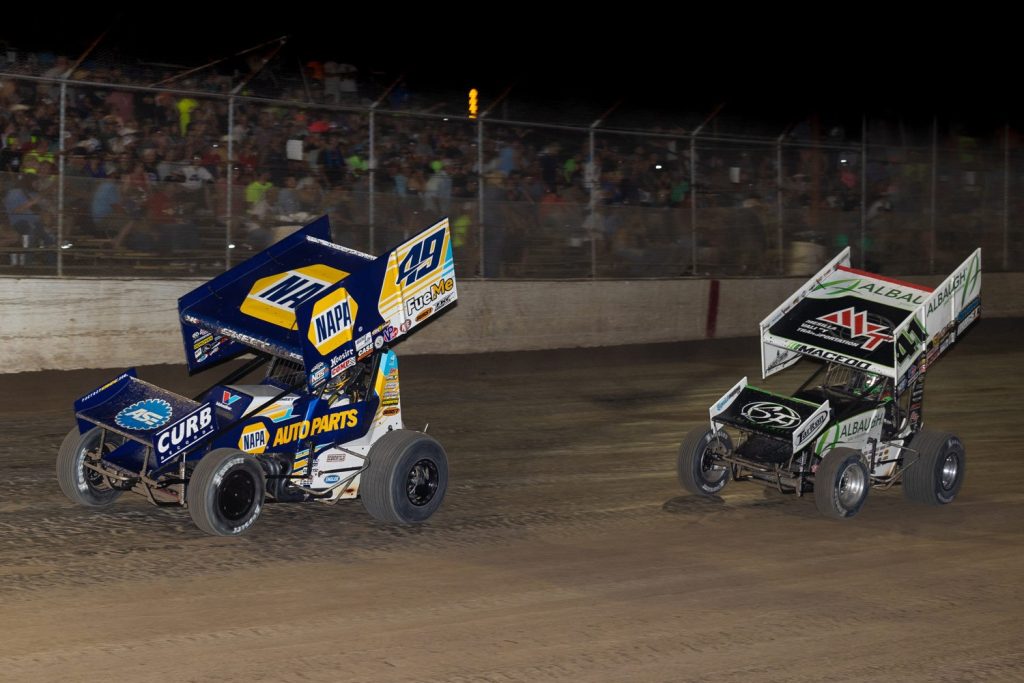 Carson Macedo Drives the Tarlton and Son #41 to a Runner-Up Finish at the Ironman 55! Photo Credit: Trent Gower
Albaugh, LLC; Border International; Mesilla Valley Transportation (MVT); Saich Family; Tarlton and Son Inc.; Boltz Family; Complete Parts & Equipment Solutions; Durst Inc.; Liquid Trucking; Bandy & Associates Accountancy Corporation; Buckwalter Trucking, LLC; Dissolvalloy Downhole Revolution; Jansen Transportation; Larry Davis Farms; Meyers Constructors Inc.; Mr. Jim's Racing; RaceDiecast.com; Sam I Am; Team Jack Foundation; Mark Burch Motorsports; T-FAB Custom Metal Fabrication; Tiger Towing; All Pro Aluminum Cylinder Heads; AutoMeter; Bell Helmets; BMRS (Brown & Miller Racing Solutions); BR Motorsports; C&R Racing; Crow Enterprizes; Engler Machine & Tool, Inc.; Factory Kahne (FK Shocks); Fibreworks Composites; FK Rod Ends; Greber Racing Components; High Performance Lubricants, LLC; Hoosier Racing Tire; Indy Performance Composites (IPC); ISC Racers Tape; K1 Race Gear; Kistler Racing Engines; KSE Racing Products; Maxim Racing; Motor State Distributing; Premium Coach Group; Pro Powder Coating (PPC); Saldana Racing Products; Schoenfeld Headers; Smith Titanium; Vortex Racing Products; Walker Performance Filtration; Weld Racing; Wilwood Racing; Winters Performance Products; and Xtreme Body and Paint.
To stay connected with Jason Johnson Racing (JJR), go to www.jasonjohnsonracing.com.
To stay up-to-date with Carson Macedo and his success journey on and off the track, as well as to purchase his gear and merchandise directly, visit www.carsonmacedoracing.com.