HAREFOOTED AT HUSET'S: THE HIGH BANK NATIONALS STARTED ON WEDNESDAY NIGHT WITH CARSON MACEDO SHOWING SPEED ABOARD THE ALBAUGH – YOUR ALTERNATIVE #41 RUNNING FAST TO A FOURTH PLACE FINISH
BRANDON, SOUTH DAKOTA (June 21, 2023) – Following his top five finish at Beaver Dam Raceway on Saturday night, Carson Macedo along with the traveling band of stars with the World of Outlaws NOS Energy Drink Sprint Car Series headed to Huset's Speedway to kick off four consecutive nights of racing at the Huset's High Bank Nationals presented by Menards that pays the feature winner $20,000-to-win each of the first three preliminary nights and a whopping $250,000 check for the first driver across the finish line on Saturday night in the championship finale. There was an unusual, but expected, electricity and buzz in the air around The Mount Rushmore State of South Dakota this week. Ironically, the state's nickname in the past was appropriately named "The Land of Plenty" – at least for this four day stretch with a lot of money on the line for the drivers and teams. Even with the end in mind, meaning Saturday night's potential big pay day, all of the drivers and teams had to stay laser focused on doing everything right during each one of the preliminary nights, starting with night one, in order to get off to a good start earning as many points as possible. Not surprisingly the pit area was loaded with an incredible field of cars and talent as 54 teams were registered to race on Wednesday night.
There were a lot of cars parked throughout the pit area, each of which had to time trial in Low-E Insulation Qualifying. The qualifying order was established by random draw, no split qualifying, so each driver was searching for a four-leaf clover to bring them a little good luck. Carson Macedo would go out late, 44th out of 54 cars, aboard the Albaugh – Your Alternative #41 for his two laps at speed trying to minimize the number of seconds and thousandths of a second that passed by during each time trial lap. When his Kistler Racing Engines power awoke under the hood, Carson pinned down the throttle and raced off building his speed. He was following the path of the oval and headed to the flagstand on the front straightaway where the flagman was displaying the green flag to start the clock on lap one. Carson had his elbows up and maneuvered around Huset's Speedway like a man on a mission. When he completed lap one, the stopwatch recorded his work in an impressive 10.848 seconds. A great lap for going out so late. Unbeknownst to him was the time he just laid down, so Carson just kept driving forward fast looking to find anything he may have left out on the track the first time around. When he finished his second lap, the lap came in slightly slower than his first go 'round with a time of 10.941 seconds. The quicker of his two attempts ended the night 4th quick overall generating 97 event points to start the evening. Fast qualifier for the night was David Gravel who tripped the timing light in 10.804 seconds to sit atop the final time trial order earning him 100 points following time trials.
There was no rest for the weary as the teams quickly went to work to convert their qualifying setups to their race packages for the six 10-lap heat races. The top six drivers in each heat race would be inverted putting the drivers who were most fleet of foot in time trials back in row three at the start. Each driver would have to use their talents and heavy right foot to drive their way forward on the tacky and relatively narrow surface to get the best finish and add to their cumulative event point totals. At the end of the heat races, only the top 20 drivers in the accumulated event point standings – time trial results and heat race results combined – would lock themselves into the opening night feature with the first eight in points redrawing for their starting position in lieu of the traditional Toyota Dash used in the normal World of Outlaws format.
Carson Macedo would get the Durst Inc./WELD Racing/Winters Performance Products #41 Maxim going from the sixth starting position in the fourth of six heat races. He would slowly pace wheel-to-wheel with Kerry Madsen in row three. Kasey Kahne and Brendan Mullen were rolling in the front row with Chase Randall and Rico Abreu in row two. Parker Price-Miller, Kaleb Johnson and Kevin Ingle filled in behind row three. The yellow lights went off so the green ones could be illuminated in sync with the waving of the flag. The field was now racing at full speed around Huset's Speedway with Kasey Kahne jumping out to the early lead over Abreu and Mullen with Macedo turning the wheel from the same position he started in early. Kasey Kahne was checking out in front of the field as Carson was busy trying to track down fifth place running Kerry Madsen. Meanwhile, Kerry Madsen was quickly closing in on fourth place running Chase Randall, who was also closing in fast on Brendan Mullen who was running in third place. With 3 laps to go, you had a four car race for the third position forming between Mullen, Randall, Madsen and Macedo. Kasey Kahne was never challenge for the top spot as he raced to a dominant win over Rico Abreu with Mullen holding on for a third place finish followed by Randall, Madsen and Macedo in sixth place.
With his sixth place finish in the heat race, Carson elevated his nightly event point total by another 79 points to raise his cumulative total to 176 event points. As the Schoenfeld Headers cooled on the Albaugh #41, Carson and the JJR #41 crew watch the remaining heat races to see where their accumulated points for the night would fit in overall. When the checkered flag flew over the final heat race, timing and scoring officials tabulated the point totals for everyone. Carson's 176 total event points ended up ninth highest overall locking him into the feature, but missing out on the top 8 redraw by one position off by just 2 event points.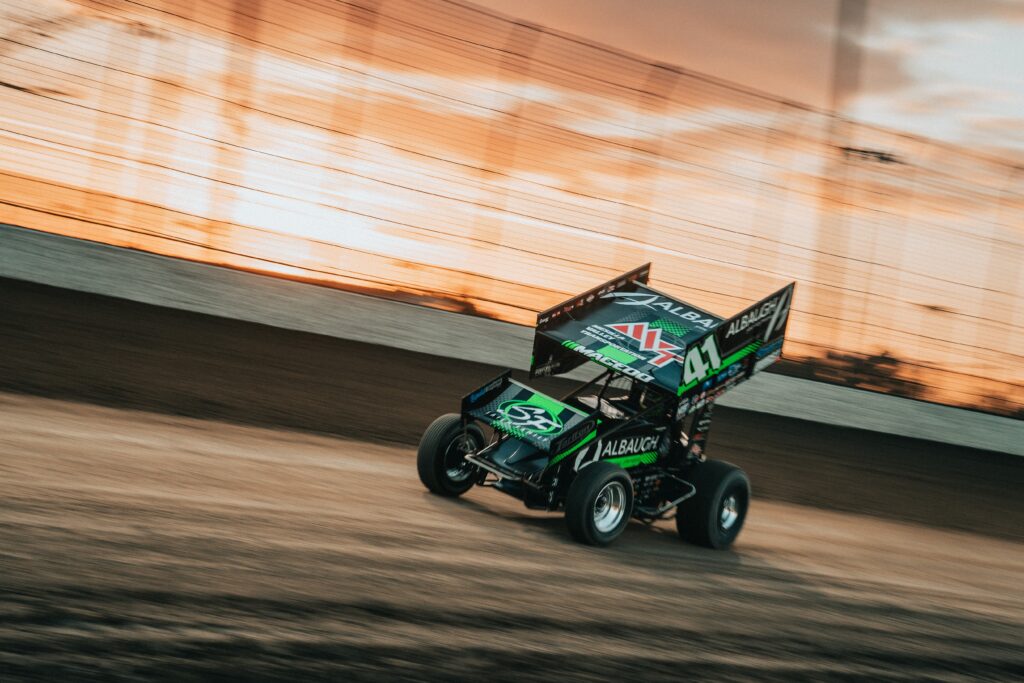 An impressive starting field of competitors was locked in and ready to go for the first preliminary night feature at the Huset's High Bank Nationals. There was a $20,000 payoff awaiting the winner after 35 laps of action to go along with the coveted finishing position event points for everyone in the 24-car starting field. Both were incentives, but it was now time to go World of Outlaws sprint car racing at Huset's Speedway!
Carson Macedo, who had put together a strong night performance wise through time trials and his heat race, had accumulated 176 points up to this point of the evening. He was set to get the Tarlton and Son/T-FAB Custom Metal Fabrication/Walker Performance Filtration #41 Maxim rolling from the 9th starting position situated in row five beside the Shark Racing #1s of Logan Schuchart.
Polesitter Rico Abreu along with fellow front row starter Cory Eliason would lead the field to the green flag when racing commenced. The initial green flag came out but was replaced quickly by the yellow flag for debris in turn three. The debris ended up being one of the front wing side panels from fourth starting Lachlan McHugh who stayed on the track and continued the race.
They tried again to go green, but again the yellow lights were lit around the facility this time for seventh starting Michael "Buddy" Kofoid who slowed in the Roth Motorsports #83JR with a broken left front shock create chaos as the drivers behind him tried to avoid running into him.
The third time was a charm to get the race started as Rico Abreu raced into the lead when the green flag waved with Cory Eliason and Spencer Bayston racing close behind. Carson was running in seventh place chasing the #18 of Giovanni Scelzi. Twelfth starting David Gravel was right behind both of them applying pressuring for track position.
By lap 8, Rico Abreu began closing in on slower traffic, but that did not last long as one lap later the yellow flag was back out for Ryan Timms who slowed on the frontstretch with a broken rear end. Rico Abreu was still at the point leading Eliason and Bayston with Lachlan McHugh and Kyle Larson rounding out the top five. Giovanni Scelzi was running in the sixth position. Carson was running seventh in the Albaugh #41 and would pull alongside eighth running David Gravel for the double file restart.
The green flag was back out with Rico Abreu reclaiming the top spot ahead of Cory Eliason. Lachlan McHugh raced by Spencer Bayston into the show position as Carson moved up to sixth in the running order. They were able to get a couple more laps in the books before the next yellow flag slowed the action again. This caution was for Ayrton Gennetten who had front wing damage from an earlier skirmish as he headed to the work area for repairs.
Racing resumed again but came to an abrupt halt under red flag conditions for a three car wreck on the backstretch. Sixth starting Matt Juhl was involved along with Tim Estenson and Mark Dobmeier with the #10 of Juhl and #14T of Estenson getting upside down. Officials used the race stoppage as an Open Red for the remaining teams to top off their fuel tanks and make some setup adjustments.
After the accident scene was cleared, the horn sounded and the crews cleared the track. It would be a single file restart due to an accident immediately following a double file restart with Abreu leading the way. The field was back up to speed with Carson moving the Albaugh #41 into the top five as he worked his way by the TrueTimber Riptide #5 of Spencer Bayston. Kyle Larson was also on the move as he drove his #57 by Lachlan McHugh to take over the third spot.
But, racing action was slowed again on lap 14 for Spencer Bayston who had a strong run going up to this point as he rolled to a stop in turn four with a flat right rear tire. He went to the work area and rejoined the field.
With 21 laps to go, Rico Abreu blasted back into the lead over Eliason and Larson when the green flag came back out. David Gravel got a tremendous start as he picked up two position by the flagstand on the restart and was now running in the fourth position with McHugh and Macedo right behind. The racers got five more laps in the books before yet another caution was displayed, this time for 12th place running Brad Sweet who sat sideways at the end of the backstretch as Brian Brown and Austin McCarl dipped down into the work area with flat rear tires. They all rejoined the field.
With only 16 laps to go, leader Rico Abreu knew he was going to have his hands full as the #57 of Kyle Larson was right below his number on the scoreboard with Gravel, Eliason and McHugh making up the top five and Carson Macedo running in the sixth position. The field of competitors went back to green and Abreu maintained position one over Larson and Gravel as Carson drove back into the top five as he made his way by Lachlan McHugh.
The laps were beginning to evaporate and with 6 laps to go Kyle Larson made his move in turns three and four after adjusting his entry as he overtook Abreu for the lead. David Gravel didn't pass up his opportunity and moved by Abreu the next lap down the backstretch to take over second. Carson was racing hard with Eliason for fourth. With 3 laps to go, Macedo slid up in front of Eliason in turn one to take over the fourth position.
Kyle Larson held off the hard-charging David Gravel to take the opening preliminary night victory with Rico Abreu rounding out the podium. Carson Macedo brought the Albaugh – Your Alternative #41 home fourth with a strong run forward with Cory Eliason rounding out the top five. Carson earned an additional 241 event points for his fourth place finish in the feature bringing his night one event point total to 417 points. Another good run for Macedo and the forty-one!
The top five in event points after night one of the Huset's High Bank Nationals are: (1) Kyle Larson (443 Points); (2) Rico Abreu (426 Points); (3) Cory Eliason (423 Points); (4) David Gravel (421 Points); and (5) Carson Macedo (417 Points).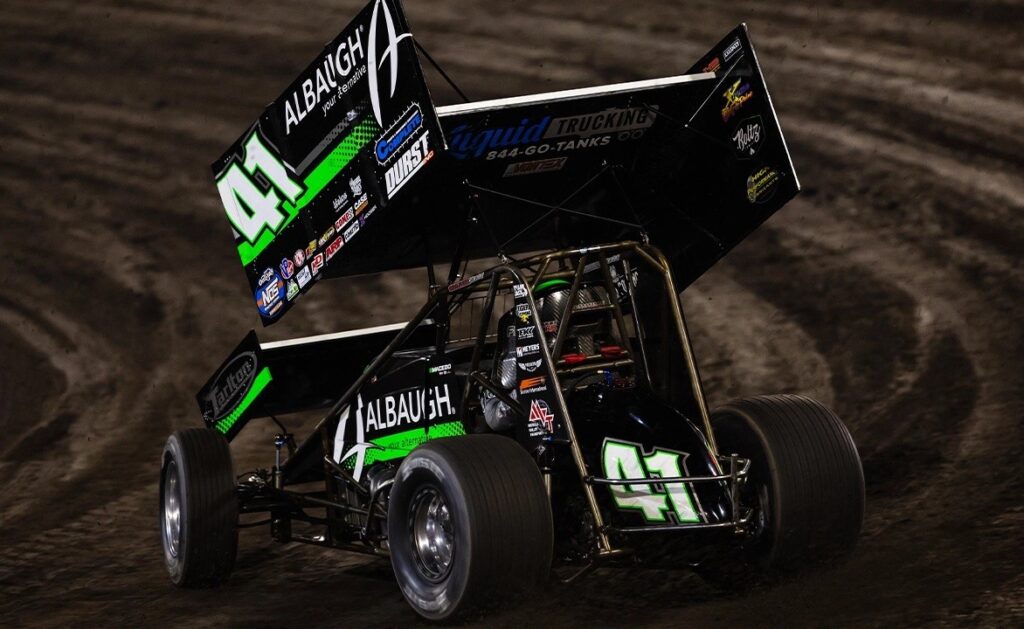 Hustling the High Banks at Huset's to Bring Home at Fourth Place Finish on Night One! Photo Credit: Trent Gower Photography
Albaugh, LLC; Border International; Mesilla Valley Transportation (MVT); Saich Family; Tarlton and Son Inc.; Boltz Family; Complete Parts & Equipment Solutions; Durst Inc.; Liquid Trucking; Bandy & Associates Accountancy Corporation; Buckwalter Trucking, LLC; Jansen Transportation; Larry Davis Farms; Meyers Constructors Inc.; Mr. Jim's Racing; RaceDiecast.com; Sam I Am; Team Jack Foundation; Mark Burch Motorsports; T-FAB Custom Metal Fabrication; Tiger Towing; All Pro Aluminum Cylinder Heads; AutoMeter; Bell Helmets; BMRS (Brown & Miller Racing Solutions); BR Motorsports; C&R Racing; Crow Enterprizes; Engler Machine & Tool, Inc.; Factory Kahne (FK Shocks); Fibreworks Composites; FK Rod Ends; Greber Racing Components; High Performance Lubricants, LLC; Hoosier Racing Tire; Indy Performance Composites (IPC); ISC Racers Tape; K1 Race Gear; Kistler Racing Engines; KSE Racing Products; Maxim Racing; Motor State Distributing; Premium Coach Group; Pro Powder Coating (PPC); Saldana Racing Products; Schoenfeld Headers; Smith Titanium; Vortex Racing Products; Walker Performance Filtration; Weld Racing; Wilwood Racing; Winters Performance Products; and, Xtreme Body and Paint.
To stay connected with Jason Johnson Racing (JJR), go to www.jasonjohnsonracing.com.
To stay up-to-date with Carson Macedo and his success journey on and off the track, as well as to purchase his gear and merchandise directly, visit www.carsonmacedoracing.com.