HARD WORK AND FOCUSED EFFORT PAYS OFF IN FLORIDA: A WORKMANLIKE PERFORMANCE PRODUCES ANOTHER SIXTH PLACE FINISH AS GRAVEL DRIVES FROM DEEP IN THE FIELD AT THE 48TH ANNUAL DIRTCAR NATIONALS
BARBERVILLE, FLORIDA (February 9, 2019) – Even when the sun is not shining in Florida, it is still a good day when the World of Outlaws NOS Energy Drink Sprint Car Series competitors are in town. The skies in the Sunshine State were overcast, but sprint car fans and team are always optimistic thinking "they will get the races in" as they prepared and were in town to attend the fourth night of the 48th Annual DIRTcar Nationals. The World of Outlaws officials did their job and delivered another exciting night of racing with 31 formidable sprint car teams lined up in the pit area including the J.R.C. Transportation/Jonestown KOA/Tiger Towing #41 team.
By the luck of the draw, if you want to call in luck, David and the JJR #41 team pulled the highest pill number in Eloy Gutierrez's bingo ball cage. That only meant they would be the last car out on the track for their two laps of qualifying in time trials. No big deal. You play the hand you are dealt. Philip Dietz led the team as they prepared their Maxim Racing entry for their driver. These big half miles are excellent to display the true speed these machines carry and when it was Gravel's turn to go, he was ready to get truckin' in the Mesilla Valley Transportation (MVT)/All Pro Auto Conditioning #41 Maxim. He would turn two very consistent laps with the first one coming in at 13.399 seconds and the second on a bit quicker at 13.319 seconds. The faster of his two laps was 21st quick overall on the night at Volusia Speedway Park.
When the heat race lineups posted, Gravel would start from the seventh position in the third heat race of the night that was loaded with talent. Brian Brown and Brad Sweet paced the field as Jason Sides and Ian Madsen rolled behind them. Sheldon Haudenschild and Kraig Kinser were in row three as Gravel shared row four with Shane Stewart with Danny Dietrich and Brent Marks rounding out the starting field. Eight laps was the distance with the top six finishers transferring on to the feature event. Brown led the field under the green flag as Gravel working his magic inside the cockpit of the J.R.C. Transportation/Team Jack Foundation #41. Brown would lead wire-to-wire as he crossed the stripe first over Sweet, Sides and Haudenschild with Gravel coming home fifth and Kinser locking down the final transfer position.
The only thing left on the schedule of the events for the night was the 30-lap NOS Energy Drink feature where the JJR #41 team would roll from the 15th starting position in the Dissolvalloy Downhole Revolution/Weld Wheels/Schoenfeld Headers #41. If the last two nights taught us anything, it is that this team and this driver can pass cars. After the four-wide salute to the fans, it was time to go racing at Volusia Speedway Park! Front row starter Christopher Bell seized the early lead as Gravel wheeled his Maxim methodically through the field patiently waiting to take advantage of opportunities to advance one position. By the halfway point of the race, he made his way into the top ten, but certainly was looking for more. As Bell was battling with the hard-charging Daryn Pittman for the lead, Gravel was doing his thing at high speeds almost certainly with a smile on his face underneath his Simpson helmet. Pittman would prevail to pick up his second consecutive win over Bell as Donny Schatz, Brad Sweet and Brian Brown rounded out the top five. David Gravel would roll his Hoosier Racing Tires across the finish line with his third 6th place finish in a row after starting deep in the field each of those nights. Another good run for the driver of the forty-one! After four of five nights of racing, Gravel and his JJR #41 boys sit tied for third with Donny Schatz in the DIRTcar Gator Nationals point standings with 958 points, as they both are close behind Brad Sweet (962 points) and leader Daryn Pittman (990 points).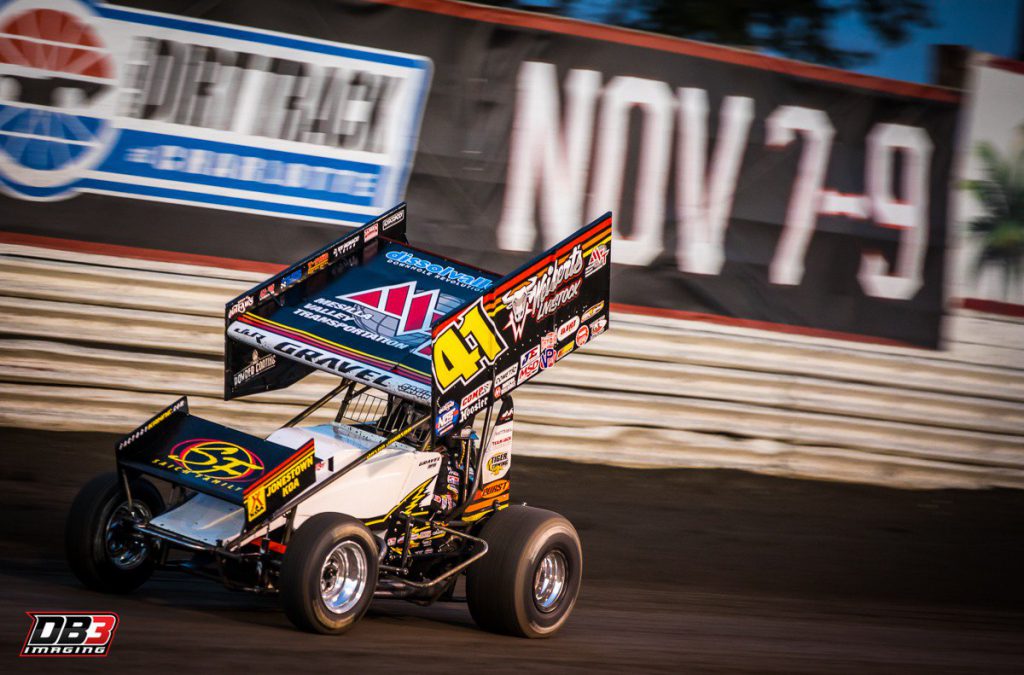 We are proud to represent all of our dedicated and loyal supporters:
Mesilla Valley Transportation (MVT); Saich Family; Jonestown KOA; Dissolvalloy Downhole Revolution; Weikert's Livestock; J.R.C. Transportation, Inc.; Durst Inc.; Maxim Racing; The Boyd Family; Pro Powder Coating (PPC); Waco Metal; High Performance Lubricants, LLC; Team Jack Foundation; Mark Burch Motorsports; Tiger Towing; All Pro Aluminum Cylinder Heads, Inc.; All Pro Auto Reconditioning; AutoMeter; Bell Racing USA; Blackbeard; Brown & Miller Racing Solutions (BMRS); Buckwalter Trucking, LLC; C&R Racing; Chalk Stix Torsion Bars; Cody Monoco Racing; Crow Enterprizes, Engler Machine & Tool, Inc.; Factory Kahne FK Shocks; Fibreworks Composites; FK Rod Ends; Fuel Safe Racing Cells; Greber Racing Components; Hoosier Racing Tire; ISC Racers Tape; Jansen Transportation; K&N Filters; Kaiden Kares; Kistler Racing Engines; KSE Racing Products; LogoDaddy Graphics; Max Papis Innovations (MPI); MSD Performance; Schoenfeld Headers; Shell Shock Paint; Simpson Race Products; T-FAB Custom Metal Fabrication; Vortex Racing Products; Weld Wheels; Wilwood Racing; Winters Performance Products; and, www.racediecast.com.
To stay connected with Jason Johnson Racing (JJR), go to www.jasonjohnsonracing.com
To learn more about David Gravel, and stay up to date with his success and journey, go to www.DavidGravel89.com