ROSSBURG, OHIO (May 8, 2021) – Following their fifth place finish on the opening half of the #LetsRaceTwo event at Eldora Speedway earlier in the day after Friday night's postponement, Carson along with Philip, Clyde, and Nate quickly went back to work in the pit area at the historic half-mile to get the Greber Racing Components #41 Maxim ready to get back at it on Saturday night. This is a fun track that is packed with action from the drop of the green to the waving of the checkers . . . but certainly not without risks. That kind of action drives interest and engagement for the drivers, teams, and fans alike and always brings them back looking for an encore. This time no one had to wait too long because this was now a doubleheader with the second performance looming in a few hours after the conclusion of the first feature. The beautiful haulers that carry these speed chariots were lining the pit area as the crews hustled preparing for the second battle on the high banks of Eldora. There were 37 teams entered to compete and move fast around Eldora Speedway in the finale of the #LetsRaceTwo event with the USAC National Sprint Cars.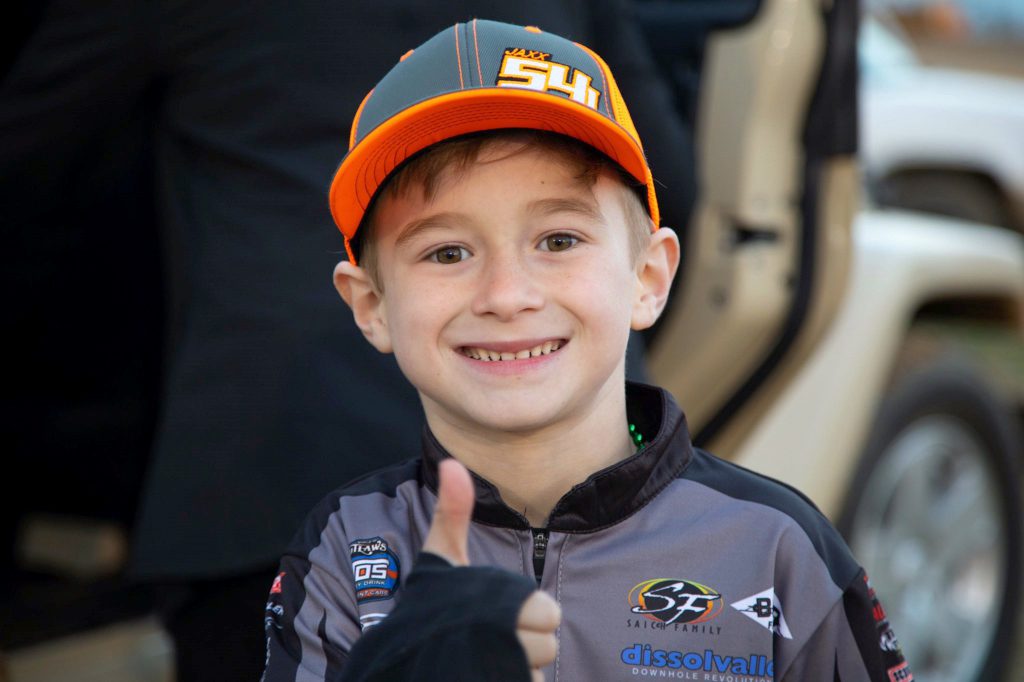 Happy Birthday to Jaxx Johnson Who Celebrated His Special Day (May 8) Racing Motorcross in Moberly, Missouri!
The California native that calls Lemoore home would be the sixteenth driver to attack the track in Slick Woody's Qualifying. He absolutely loves Eldora Speedway and enjoys competing here as he refers to it as "one of his favorite tracks." He climbed into his Fibreworks Composites/Sharp Advantage custom fitted seat and pulled his Crow Enterprizes safety belts tight for his two lap adventure at speed. The JJR team pushed him back from the trailer as he rolled into the staging area to await his turn against the clock. In a rare occurrence, World of Outlaws official made the decision to do 3-car group qualifying in an attempt to keep the program moving along as there was weather forecasted to move in later in the night so they had a tight window to get the race completed. Carson was determined not to leave anything, not even a hundredth of a second, out there in each half-mile segment of his sprint for time. He would qualify with Giovanni Scelzi and Jason Sides as the trio of talent took to the track. When it was their turn to go out, Macedo got the Dissolvalloy Downhole Revolution/Buckwalter Trucking/Logo Daddy Graphics #41 Maxim up to speed. The lights were green and his right foot was planted to the floorboard as he started his first lap. It did not take long, 13.122 seconds to be exact, to complete lap one. He stayed focused and the next time around turned in a slightly slower lap at 13.133 seconds. The better of his two circuits ended the night 18th quick overall as David Gravel again set quick time with a lap of 12.730 seconds.
The 8-lap Drydene Heat Race lineups for the night are set by matriculating each driver's finishing place in time trials into the heat races. His eighteenth quick lap positioned the Tarlton and Son/Complete Parts & Equipment Solutions #41 Maxim on the inside of row three in the second heat race. Prior to the start of the heat race though outside front row starter, Daryn Pittman in the Swindell SpeedLab #39, experienced some mechanical issues as he rolled to a stop and pushed back into his trailer. That reshuffled the starting grid moving the Lemoore, California driver to the outside of row two beside Cory Eliason. James McFadden and Giovanni Scelzi paced from the front row. Tyler Courtney and Cole Duncan were in row three, with Greg Wilson and Carson's brother Cole Macedo in the Ray Brooks Racing #18 completing the starting grid. Polesitter James McFadden brought the field to the green flag leading over Giovanni Scelzi. Carson was wheeling from the fourth position but picked up the show position on lap 3 as he worked his way by Cory Eliason. Scelzi wrestled the top spot away from McFadden as Macedo set his sights on the tail tank of the KKR #9. He was fast and getting a closer view with each lap. With three laps to go, Carson moved the JJR #41 into the runner-up position driving by on the low side. Giovanni Scelzi was checked out at the front, but began to experience some engine issues. With the white flag waving, Scelzi continued to lead and drove the KCP #18 to the heat race win by 1.504 seconds over Macedo with the two locking themselves into the DirtVision Fast Pass Dash. McFadden came home third as Tyler Courtney and Cory Eliason secured the final two transfer spots.
The redraw for the 6-lap DirtVision Fast Pass Dash was conducted in the infield. The redraw has not been kind to Carson this season, but you have to keep trying and hope for a little luck. Eventually it will all work out odds wise . . . right? Not on this night as he would pull a '6' to position him on the outside of row three in the Liquid Trucking/Bandy & Associates Accountancy Corporation/Weld Wheels #41. Ian Madsen and Giovanni Scelzi sat on the front row, with David Gravel and Sheldon Haudenschild right behind. Carson shared row three with Jacob Allen, as Donny Schatz and Brad Sweet made up row four. Madsen and Scelzi made it exciting right from the start as they were racing hard to win the top spot. Carson was digging from the sixth position. Madsen gained the lead and led wire-to-wire to take the dash win over Scelzi with Allen, Haudenschild, and Gravel rounding out the top five. Carson came home sixth just ahead of Schatz and Sweet. These drivers locked themselves into the front row starting positions for the feature.
When the USAC feature was completed where Robert Ballou beat Tyler Courtney in an absolutely phenomenal race, it was now time for the NOS Energy Drink 30-lap feature event. Carson Macedo buckled his Crow Enterprizes safety belts with his game face before pulling on his fire-resistant head sock and Shifty Illusions custom painted Bell Helmet and K1 Race Gear gloves. He would line up in the Jonestown KOA/Tiger Towing/All Pro Auto Reconditioning #41 Maxim on the outside of row three with David Gravel aboard the Big Game Motorsports #2 to his inside. With the pyrotechnic and fireworks lighting up the nighttime sky, the field of talented sprint car drivers went four-wide to salute the greatest fans in all of motorsports. They went back to their side-by-side formation to prepare for the green flag to start the race. Ian Madsen would charge into the early lead over Giovanni Scelzi and Donny Schatz. Carson drove the forty-one into fifth right behind Sheldon Haudenschild's #17. With two laps in the yellow flag came out for Jac Haudenschild as he made hard contact with the wall in turns one and two aboard the Pennzoil #22 ending his night. Carson would get restarted from the inside row with Brad Sweet flanking his right side when they went back to racing. Madsen took the lead but was mired in a 3-car battle with Schatz and Haudenschild. Sheldon won this battle and took the lead before another yellow was displayed this time for Parker Price-Miller who spun and slowed after making racing contact with Brent Marks. When they got back to racing it was an all-out battle for position. Macedo maintained the fifth spot, but David Gravel drove by on the outside into fourth to shuffle the running order. Carson would work his way back by Gravel and was running in fourth before being passed by Giovanni Scelzi on lap 13. The next lap, Macedo would get relegated back another spot to the sixth position when Logan Schuchart bolted by in the Shark Racing #1s. Scelzi, Schuchart, and Macedo were not done yet and continued to battle hard for position. Schuchart would race by Scelzi and take command of fourth as the two raced hard. But Scelzi was not going away and was trading slide jobs in attempt to get the position back. Just after the halfway point of the race, Scelzi drove hard entering one and tapped the wall in turn two. He was running the high side entering turn three and was right on the outside wall. As he made his way to turn four his right rear caught the wall as it so often does and turned the nose of his car into the wall. He bounced off the wall and went airborne and spinning. Carson was racing at speed just behind him and had absolutely nowhere to go as Scelzi's car clipped Macedo's right rear at speed as he attempted to turn down the track to try to avoid hitting the #18. Carson, while running in sixth, flipped hard ending his night and his strong run with a DNF that was officially scored as a 20th place finish. When racing resumed, Donny Schatz took the lead over Sheldon Haudenschild and Ian Madsen as they were trying their hardest to track him down. In the last few laps of the race, Sheldon was on the move and did indeed tracked down Schatz. Not only did he catch him, he also made the pass for the lead in his NOS Energy Drink #17 and raced to the victory to put a Haudenschild back in victory lane. Twenty first starting Logan Schuchart also caught and passed Schatz for the runner-up position as he earned the KSE Hard Charger award. Schatz's bid for win number 300 in his 1,901 start came up short, but a strong run enabled him to round out the podium. It certainly was a tough and hard ending to a strong showing for Carson Macedo and the JJR #41 team to close out the #LetsRaceTwo doubleheader at Eldora Speedway on Saturday. The forty-one team will be back stronger than ever . . . guaranteed!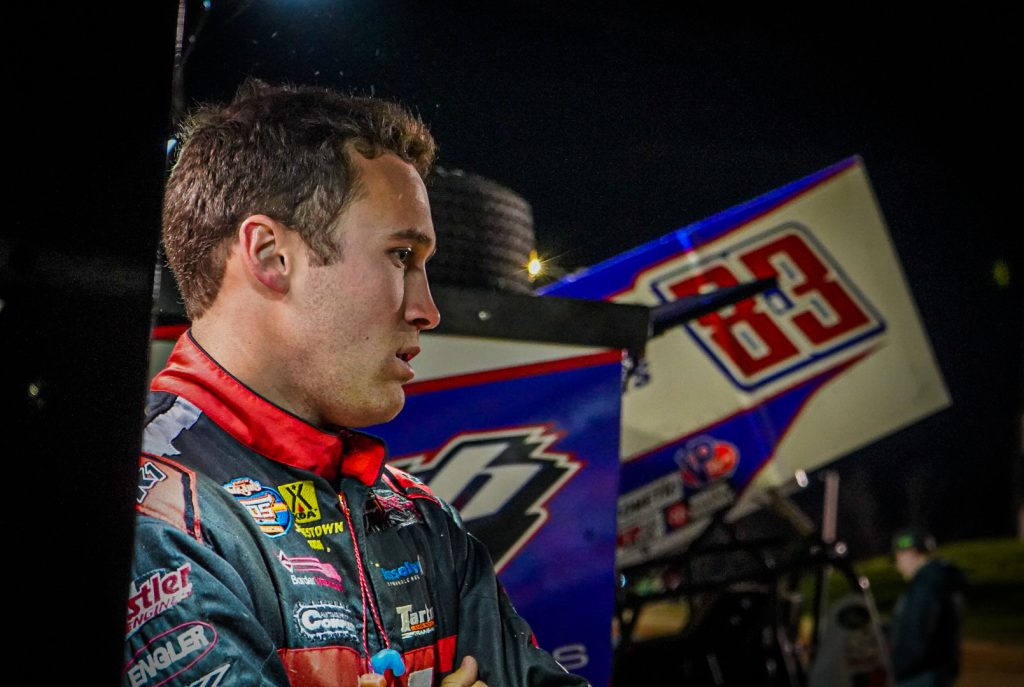 A Rough Ending in the #LetsRaceTwo Finale for Carson Macedo and the JJR #41 Team!
Mesilla Valley Transportation (MVT); Tarlton and Son Inc.; Complete Parts & Equipment Solutions; Saich Family; Border International; Dissolvalloy Downhole Revolution; Jonestown KOA; Durst Inc.; Maxim Racing; The Boyd Family; Liquid Trucking; Meyers Constructors Inc.; Tiger Towing; Pro Powder Coating (PPC); Waco Metal; High Performance Lubricants, LLC; Kistler Engines; Team Jack Foundation; Mark Burch Motorsports; All Pro Auto Reconditioning; K1 Race Gear; AutoMeter; Bandy & Associates Accountancy Corporation; Bell Racing USA; Blackbeard LTD; Brown & Miller Racing Solutions (BMRS); Buckwalter Trucking, LLC; C&R Racing; Chalk Stix Torsion Bars; Crow Enterprizes; Engler Machine & Tool, Inc.; Factory Kahne (FK Shocks); Fibreworks Composites; FK Rod Ends; Fuel Safe Racing Cells; Greber Racing Components; Hoosier Racing Tire; ISC Racers Tape; Jansen Transportation; KSE Racing Products; Larry Davis Farms; Logo Daddy Graphics; Mr. Jim's Racing; MSD Performance; RaceDiecast.com; Sam I Am; Schoenfeld Headers; T-FAB Custom Metal Fabrication; Vortex Racing Products; Walker Performance Filtration; Weld Wheels; Wilwood Racing; and Winters Performance Products.
To stay connected with Jason Johnson Racing (JJR), go to www.jasonjohnsonracing.com.
To stay up-to-date with Carson Macedo and his success journey on and off the track, as well as to purchase his gear and merchandise directly, visit www.carsonmacedoracing.com.