ROSSBURG, OHIO (July 19, 2019) – As the temperatures rose above 90 degrees all day at the track, the drivers and team were looking forward to getting back on the famous Eldora Speedway half mile for the Knight Before the Kings Royal. The JJR #41 Sprint Car Team hauler was pulled in a parking spot in the infield and were surrounded by a sea of top talent. There were 60 cars lining the pit area for the third consecutive night of racing at "The World's Greatest Dirt Track" . . . Eldora Speedway!
When the invocation and National Anthem were competed, the drivers in first flight for qualifying climbed into their cars to ready themselves for their two laps at speed. David pulled a low number so he would be the third driver out on to the track aboard the J.R.C. Transportation/C&R Racing #41 Maxim. After all the bolts were tightened and checked, he zipped up his Simpson Racing Products driver's suit emblazoned with the Team Jack Foundation logo and snapped on his IPC steering wheel. He rolled onto the speedway and got his Kistler Engines power moving. He took the green and ran a fast a clean lap in 13.005 seconds, which put him on top of the speed charts. His car was balanced and the second lap was the identical time as his consistency paid off as he was quick time in Flight A and overall.
The Watertown, Connecticut native was eager to go around 8 laps in his heat race in the Weikert's Livestock/Dissolvalloy Downhole Revolution #41. There were six heat races scheduled with the top three in each locking into a transfer position to the feature event. Gravel would start from the pole position in the first and fastest heat race with Ohio native Dale Blaney to his outside. Parker Price-Miller and Giovanni Scelzi would pace behind the leaders in row two as Tim Kaeding, Brent Marks, Sammy Swindell, Chad Kemenah, Paul May and Brian Paulus rounded out the starting field. The field made their way down the back chute and when they got to the white chalk stripe they were on the loud pedal. Gravel drove into the lead and entered turn one on the low side with Blaney charging around the top of the high-banked turns. Gravel moved up and rode the cushion as lap after lap he kept building up his speed and extending his lead over Blaney. When the flagman unfurled the checkered flag, Gravel was the first driver to drive under them in his Maxim Racing speed machine to take the victory over Blaney and Giovanni Scelzi.
The top two finishers in each of the heat races got some extra race time on the track in the DIRTVision Fast Pass Dashes. David Gravel's good evening continued when he reached into the over-sized NOS Energy Drink can and drew the '1' pill, which put him on the pole of the first of two dash events in the Durst, Inc./Fuel Safe Racing Cells #41 Maxim. Donny Schatz would start on the outside of the front row with Brock Zearfoss, Dale Blaney, Brad Sweet and Brian Brown competing the starting grid. When the green flag waved high in the air, Gravel and Schatz drag raced down the front straightaway with Schatz using the top side to ride the cushion into the lead. Gravel moved up and started to make some ground up, but ran out of laps as Schatz took the win by 2.311 seconds over Gravel with Dale Blaney coming in third followed by Sweet and Zearfoss with Brian Brown coming home sixth.
It was now time to go racing in the 30-lap Knight Before the Kings Royal feature. Daryn Pittman was to Schatz's outside on the front row to start the event with David Gravel and Cory Eliason side-by-side in row two. After the traditional four-wide salute to the fans and an incredible fireworks display and shooting flames it was time for some green flag racing. When the yellow lights dimmed and the green cloth waved over the field, Schatz drove into the lead over Pittman as Gravel and Eliason were in a dogfight for the third position. Gravel drove the High Performance Lubricants/ISC Racers Tape #41 Maxim into the show position and started reeling in second running Daryn Pittman. By lap 12 he was on Pittman's rear nerf bar and the next time around he drove low into turn three and when they exited turn four Gravel was now in the runner-up position. Schatz had built up a comfortable lead, but there was a determined driver in the forty-one. With the laps waning, he was battling and gaining ground. He was closing quickly as Schatz encountered Parker Price-Miller and scrubbed off some speed as he tried to put him a lap down. Gravel was right there too and just as he was making hay the yellow flag was displayed. There was 1.5 miles, or 3 laps, of racing left to go to see who would hoist up the $12,000 winner's check. With a clear race track and clean air in front of him, Schatz wanted to get a good restart. He did but Gravel was right on his tail entering turn one. Schatz would come out on top and take the victory over Gravel by 0.386 seconds, Logan Schuchart was third, Rico Abreu was fourth with Daryn Pittman rounding out the top five. Another podium finish for Gravel and the JJR #41 team. A great run for the forty-one!
The driver and team are now ready for Saturday night's $175,000-to-win 36th Annual King Royal at Eldora Speedway. Be sure to watch on DIRTVision if you are unable to attend.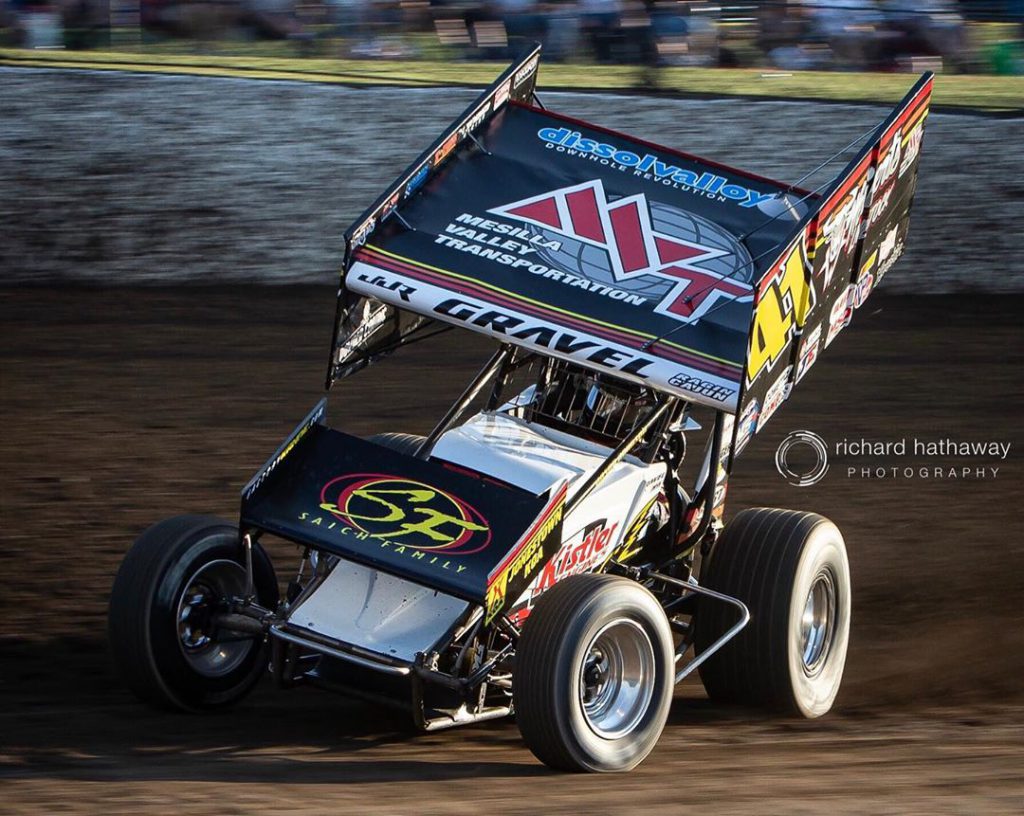 We are proud to represent all of our dedicated and loyal supporters:
Mesilla Valley Transportation (MVT); Saich Family; Jonestown KOA; Dissolvalloy Downhole Revolution; Weikert's Livestock; J.R.C. Transportation, Inc.; Durst Inc.; Maxim Racing; The Boyd Family; Pro Powder Coating (PPC); Waco Metal; High Performance Lubricants, LLC; Team Jack Foundation; Mark Burch Motorsports; Tiger Towing; All Pro Aluminum Cylinder Heads, Inc.; All Pro Auto Reconditioning; AutoMeter; Bell Racing USA; Blackbeard; Brown & Miller Racing Solutions (BMRS); Buckwalter Trucking, LLC; C&R Racing; Chalk Stix Torsion Bars; Cody Monoco Racing; Crow Enterprizes, Engler Machine & Tool, Inc.; Factory Kahne FK Shocks; Fibreworks Composites; FK Rod Ends; Fuel Safe Racing Cells; Greber Racing Components; Hoosier Racing Tire; ISC Racers Tape; Jansen Transportation; K&N Filters; Kaiden Kares; Kistler Racing Engines; KSE Racing Products; LogoDaddy Graphics; Max Papis Innovations (MPI); MSD Performance; RaceDiecast.com; Schoenfeld Headers; Shell Shock Paint; Simpson Race Products; T-FAB Custom Metal Fabrication; Vortex Racing Products; Weld Wheels; Wilwood Racing; and Winters Performance Products.
To stay connected with Jason Johnson Racing (JJR), go to www.jasonjohnsonracing.com.
To stay up-to-date with David Gravel and his success and journey on and off the track, as well as to purchase his gear and merchandise, go to www.DavidGravel89.com.