GRAVEL EARNS PODIUM FINISH ON NIGHT ONE: DAVID GRAVEL AND THE JJR #41 TEAM KICK OFF THE 48TH ANNUAL DIRTCAR NATIONALS AT VOLUSIA SPEEDWAY PARK WITH A SOLID THIRD PLACE FINISH
BARBERVILLE, FLORIDA (February 6, 2019) – The sun was shining bright throughout the warm day in Florida as the rays glistened off the JJR team's smiles as they anxiously awaited there opportunity to launch the #41 with proven wheelman David Gravel in the pilot seat. Philip Dietz, Tyler Elliott and Patrick Dudzinski worked extremely hard over the winter months, along with Bobbi, Jaxx and David, to come together as a new team to get the Mesilla Valley Transportation (MVT)/J.R.C. Transportation #41 Maxim ready to compete at a high level during the 2019 season. There was 30 high caliber teams lined up in the pit area at Volusia Speedway Park all with their eye on winning the first gator trophy on night one of the DIRTcar Nationals.
Under the All Star Circuit of Champions (ASCoC) format, David would time in in Group D. When he rolled into the staging area, he was ready to let all of the horses loose his Kistler Racing Engine would provide as his engine came to life. The talented driver dropped his right foot and filled the air with the sweet roar that only a sprint car motor can produce. When he completed the first lap, the stopwatch read 13.550 seconds. He stayed on the hammer and this time when the Weikert's Livestock/Team Jack Foundation #41 ripped under the checkered flag, he was quick time in Group D with a lap of 13.242 seconds. That time stood and was fourth quick overall on the night. A good start for the JJR #41 team.
With an inversion of four, Gravel would line up on the outside of row two with Tim Shaffer to his inside and they paced behind Daryn Pittman and Jacob Allen. When the green flag waved, Gravel got the Mesilla Valley Transportation (MVT)/Jonestown KOA Maxim trucking as drove into the third spot. Not content with his first go 'round, he hit his marks and kept moving forward making the pass for the runner-up position before the midpoint of the race as he passed Allen. Pittman would go on to take the win as Gravel came home second to lock into one of the two 4-lap Dash events. Tim Shaffer would come home third followed by Allen with Chad Kemenah rounding out the top five.
The Dash qualifiers were summoned to the frontstretch where they would draw for their starting spots in front of the packed grandstands. When the Watertown, Connecticut native pulled his pill, it was the "3" for Dash #1. Ian Madsen and Daryn Pittman would start in row one with Gravel and Brian Brown sharing row two as Shane Stewart started from the fifth position. Pittman jumped into the lead when the green flag waved with Madsen, Gravel and Stewart chasing as Brown slowed on the backstretch when he was struck with a debris. On the restart, Pittman again took command of the top spot as Gravel, Madsen and Stewart were racing wheel-to-wheel in a fierce battle for position. Pittman would take the Dash win over Madsen, Stewart and Gravel as Brown finished fifth.
With the High Performance Lubricants racing oil still hot, the driver and team went to work to prepare the Weikert's Livestock/Engler Machine & Tool #41 for the 30-lap feature event where they would start seventh. After the salute to the fans, it was time to go racing at Volusia Speedway Park. It was polesitter Daryn Pittman driving into the early lead and setting a torrid pace in the Roth #83. Gravel was not lollygagging though as after a few laps he found his lines and used his Kistler speed to start picking up positions one-one-one as he entered the top five. He continued his forward momentum and moved into fourth as Stewart took the lead from Pittman. Working both the top side and the bottom side of the turns Gravel moved close enough to see Pitman's newly painted tail tank as Stewart stretched out his lead. When the checkered flag waved, it was Shane Stewart collecting his first career gator trophy as Pittman and Gravel rounded out the podium positions and Donnie Schatz and Logan Schuchart completed the top five. A great run for the forty-one with David Gravel, Philip, Tyler and Patrick doing what they do best at the track. Success is a team thing!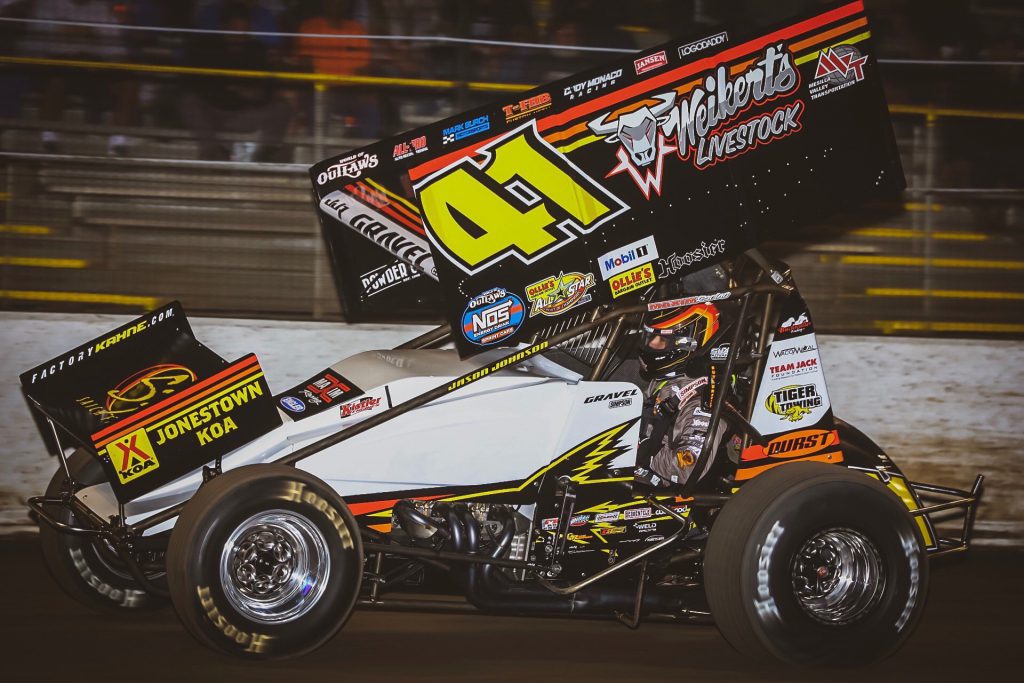 We are proud to represent all of our dedicated and loyal supporters:
Mesilla Valley Transportation (MVT); Saich Family; Jonestown KOA; Dissolvalloy Downhole Revolution; Weikert's Livestock; J.R.C. Transportation, Inc.; Durst Inc.; Maxim Racing; The Boyd Family; Pro Powder Coating (PPC); Waco Metal; High Performance Lubricants, LLC; Team Jack Foundation; Mark Burch Motorsports; Tiger Towing; All Pro Aluminum Cylinder Heads, Inc.; All Pro Auto Reconditioning; AutoMeter; Bell Racing USA; Blackbeard; Brown & Miller Racing Solutions (BMRS); Buckwalter Trucking, LLC; C&R Racing; Chalk Stix Torsion Bars; Cody Monoco Racing; Crow Enterprizes, Engler Machine & Tool, Inc.; Factory Kahne FK Shocks; Fibreworks Composites; FK Rod Ends; Fuel Safe Racing Cells; Greber Racing Components; Hoosier Racing Tire; ISC Racers Tape; Jansen Transportation; K&N Filters; Kaiden Kares; Kistler Racing Engines; KSE Racing Products; LogoDaddy Graphics; Max Papis Innovations (MPI); MSD Performance; Schoenfeld Headers; Shell Shock Paint; Simpson Race Products; T-FAB Custom Metal Fabrication; Vortex Racing Products; Weld Wheels; Wilwood Racing; Winters Performance Products; and, www.racediecast.com.
To stay connected with Jason Johnson Racing (JJR), go to www.jasonjohnsonracing.com
To learn more about David Gravel, and stay up to date with his success and journey, go to www.DavidGravel89.com