MECHANICSBURG, PENNSYLVANIA (July 23, 2021) – Following their top ten run at Lernerville Speedway on Tuesday night, Philip Dietz, Carson Macedo and the JJR crew headed to Central Pennsylvania to regroup for two nights of high speed action at the historic Williams Grove Speedway half-mile paperclip shaped oval. The mid-July temperatures were hovering around 90 degrees with blue clouds and no rain in the forecast. The parking lots around the track were filled with RVs, campers and cars ready to see the next edition of the World of Outlaws (WoO) versus the PA Posse at "The Grove" on Friday night. There were 36 teams lining the frontstretch and backstretch pit areas awaiting the night of action.
There were not enough cars entered for the event to require the field to be split into two separate groups for Slick Woody's Qualifying, so each driver from first to last would be judged against the other based on their time. They would try two-car qualifying, so each driver would go out with someone else for the first time at The Grove. The one lap track record at Williams Grove was established last season by Shane Stewart in the Indy Race Parts #71 with a lap of 16.111 seconds. Carson Macedo would be the eighth driver to fire his engine in the Jonestown KOA/Winters Performance Products/Buckwalter Trucking #41 Maxim for his two circuits at speed along with Jacob Allen in the Shark Racing #1a. The Lemoore, California rolled onto the track just before turn one and was up to speed heading down the backstretch. When he exited turn four, the green flag was waving and the clock started to tick when he crossed the starting line. It stopped at 17.580 seconds after lap one after scrubbing off some speed in turn four, but Carson stayed on the gas looking to pick up some speed and lower his lap time the second time around. He was successful as lap two was recorded in 17.569 seconds, which was only good enough to be 17th quick. The fast timer of the night was Sheldon Haudenschild who went out third with a lap of 17.104 seconds.
The lineups for the four 8-lap Drydene Heat Races were constructed using each driver's quickest lap and posted. Carson was in the stacked first heat race where he would start from the inside of row three in the High Performance Lubricants/KSE Racing Products/Weld Wheel #41. He would share the row with Lance Dewease. The talented duo would follow row one starters Sheldon Haudenschild and Donny Schatz and Brent Marks and Wayne Johnson in row two. Jason Sides, Tyler Ross, and Matt Campbell completed the starting grid with only five spots available for transfer. Donny Schatz did not let moss grow under his tires as he powered into the lead when the green flag waved. Carson used the inside lane to his advantage and moved by Wayne Johnson to claim the fourth position on the opening circuit. He was far from safe though as Lance Dewease was right behind him and pressuring him for that position on the racing surface. Macedo had it, Dewease wanted it. Meanwhile, Schatz was stretching his lead out front over Haudenschild and Brent Marks. That is how they would finish with Macedo locking down fourth and Dewease coming him in the fifth and final transfer position.
With his Schoenfeld Headers still cooling following the heat race, Carson climbed out of the cockpit and consulted with Philip Dietz and his JJR crew to begin preparing their strategy for the opening night 25-lap feature NOS Energy Drink Champion Racing Oil Summer Nationals feature. Following the fireworks display for the fans, the horns sounded and Johnny Gibson began reading the rundown of the starting field of 26 drivers as Kyle Moody and Dylan Norris elected to take provisional starting spots and tag the rear of the field. Carson would be getting started from the inside of row seven from the seventeenth starting position beside Freddie Rahmer. He rolled out onto the track in the Meyers Constructors/Engler Machine & Tool/Walker Performance Filtration #41 Maxim ready to battle the competition around the famous half-mile oval. Polesitter Sheldon Haudenschild brought the field to the green flag after winning the dash and led lap one. Carson quickly picked up two spots and was running in the eleventh spot after the first circuit. Before they could get another lap completed though a yellow flag slowed the field as Dylan Norris spun in turn two. They would go back to green with Haudenschild in command at the front as Macedo moved into the top ten. Right behind Carson was the #69k of Lance Dewease who started on the inside of row nine. On lap 6 though all action would come to a grinding halt when TJ Stutts flipped off of turn four after Aaron Reutzel caught the cushion and got sideways making contact with Anthony Macri with nowhere to go for Stutts. Those three drivers were running in positions six through eight, which meant when action resumed Macedo would get started from the seventh position in the Border International/Smith Titanium/ISC Racers Tape #41 with Lance Dewease to his outside. Haudenschild again go the field up to speed as he was fast and dominating at the front of the field. As they raced under the waving green flag, Carson moved into sixth and was meticulously maneuvering using his KSE Racing Products to steer his way around Williams Grove. With 12 laps to go, Lance Dewease made his way by to claim the sixth position and he was looking for more as he charged towards the frontrunners. Sheldon Haudenschild would go on to collect the win over a fast closing Lance Dewease as James McFadden raced home third in the KKR #9 with Donny Schatz and Brent Marks rounding out the top five. David Gravel came home sixth with Carson Macedo being scored seventh, Brad Sweet eighth with Logan Schuchart and Danny Dietrich completing the top ten on night one of the Champion Racing Oil Summer Nationals. Another good run for the forty-one!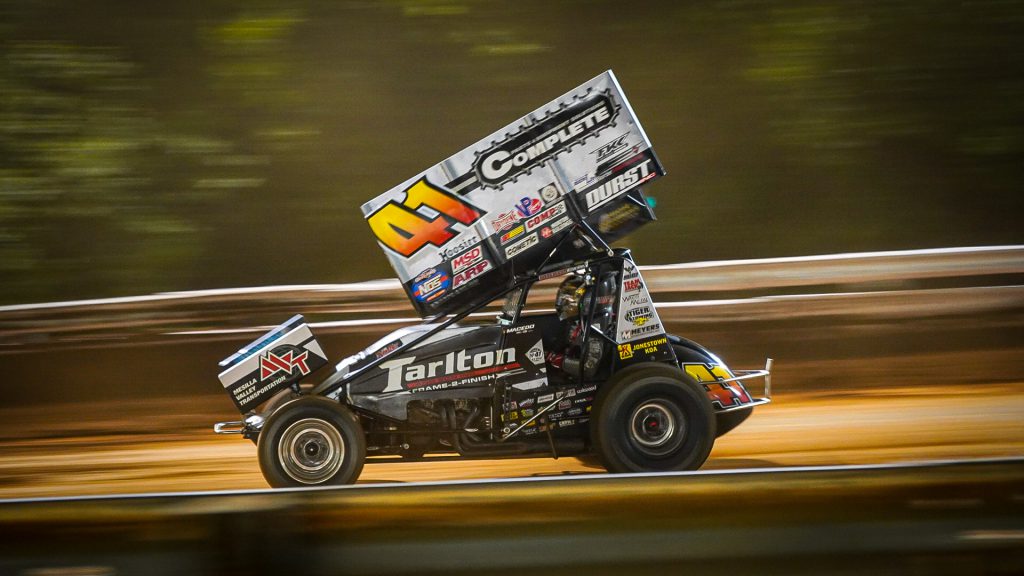 Another Top Ten Run for Carson Macedo and the Forty-One on the Opening Night of the Summer Nationals! Photo Credit: Cameron Saich
Mesilla Valley Transportation (MVT); Tarlton and Son Inc.; Complete Parts & Equipment Solutions; Saich Family; Border International; Dissolvalloy Downhole Revolution; Jonestown KOA; Durst Inc.; Maxim Racing; The Boyd Family; Liquid Trucking; Meyers Constructors Inc.; Tiger Towing; Pro Powder Coating (PPC); Waco Metal; High Performance Lubricants, LLC; Kistler Engines; Team Jack Foundation; Mark Burch Motorsports; All Pro Auto Reconditioning; K1 Race Gear; AutoMeter; Bandy & Associates Accountancy Corporation; Bell Racing USA; Blackbeard LTD; BR Motorsports; Brown & Miller Racing Solutions (BMRS); Buckwalter Trucking, LLC; C&R Racing; Chalk Stix Torsion Bars; Crow Enterprizes; Engler Machine & Tool, Inc.; Factory Kahne (FK Shocks); Fibreworks Composites; FK Rod Ends; Fuel Safe Racing Cells; Greber Racing Components; Hoosier Racing Tire; ISC Racers Tape; Jansen Transportation; KSE Racing Products; Larry Davis Farms; Logo Daddy Graphics; Mr. Jim's Racing; MSD Performance; RaceDiecast.com; Sam I Am; Schoenfeld Headers; Smith Titanium; T-FAB Custom Metal Fabrication; Vortex Racing Products; Walker Performance Filtration; Weld Wheels; Wilwood Racing; and Winters Performance Products.
To stay connected with Jason Johnson Racing (JJR), go to www.jasonjohnsonracing.com.
To stay up-to-date with Carson Macedo and his success journey on and off the track, as well as to purchase his gear and merchandise directly, visit www.carsonmacedoracing.com.