FULFILLING DREAMS AND ACCOMPLISHING GOALS AT THE LAKE: GRAVEL RACES TO THE WIN IN THE JASON JOHNSON CLASSIC AT LAKE OZARK SPEEDWAY AS HE HELPS CHECK OFF ONE OF THE BOXES IN JASON'S BLACK BOOK
ELDON, MISSOURI (October 19, 2019) – There are a lot of dreamers. There are a lot of diligent and hard workers. And, there are a few people who just focus and work extremely hard every day to make their dreams a reality. Jason Johnson was one of those few people. His sheer determination was one of his many defining traits. He was determined to live his dreams to the fullest – every single day – no matter what the road ahead looked like. Unfortunately, in a life that was cut short way too soon back in June 2018, one of those dreams or goals he envisioned and had written in his black book was not fulfilled. He always wanted to promote a race. Not just a race . . . a World of Outlaws sprint car race. That did not sit well with his devoted widow and dedicated partner in life and racing Bobbi Johnson. So she was just as determined as her husband to check another one of his goals off the list in his little black book. So was David Gravel who joined the Jason Johnson Racing (JJR) team for the 2019 season, and well he has just fit in perfect as part of the JJR family.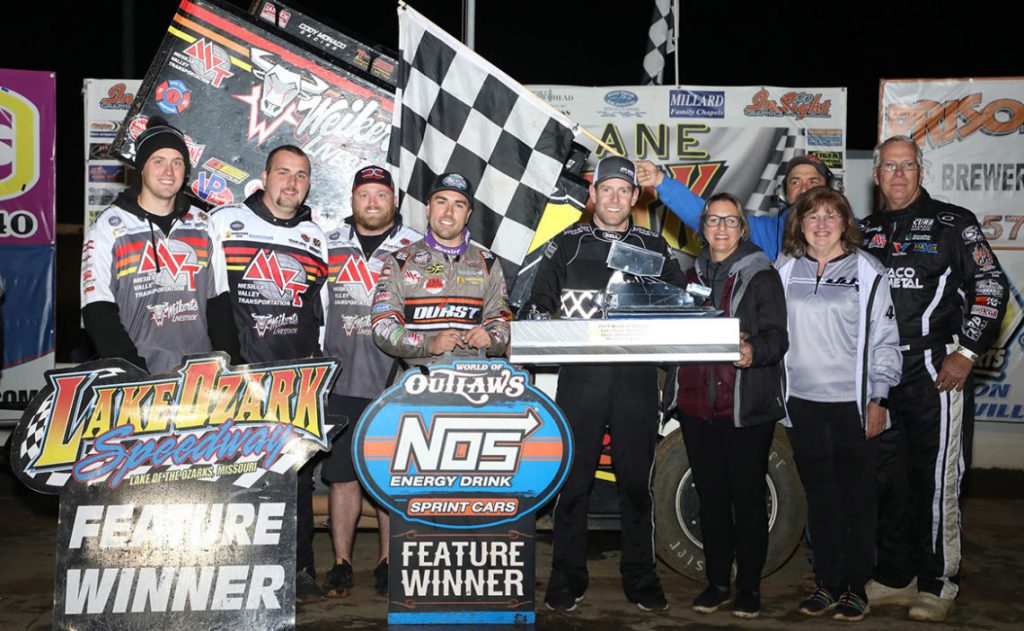 After rain moved into the area mid-day, the track officials at Lake Ozark Speedway worked extremely hard to keep the track recoverable all afternoon and early evening. It was not looking good, but patience and perseverance – as well as a little hard work – paid off. They too were determined to make sure the Jason Johnson Classic happened, no matter what, on this day as fans from Australia, New Zealand and all points around the country made their way to the Lake of the Ozarks area, or as the locals simply call it 'The Lake', to attend the race to honor their friend and hero. The teams started to file into the pits as 28 410 teams including the World of Outlaws NOS Energy Drink Sprint Car Series competitors joined the 305 entrants for a night of racing.
The track crew brought in the 1/3-mile oval surface and it was now time for each driver to perform on their own in time trials. David Gravel, aboard the Mesilla Valley Transportation (MVT)/Waco Metal #41 Maxim, would be the eleventh car to push onto the track for his qualifying laps on the lightning quick track. He powered up his Kistler Engines/Engler Machine & Tool #41 and built up speed before taking the green flag. The seconds were rolling on the stopwatch and when he crossed the timing line after the first lap the clock read 11.371 seconds. Not good enough on this quick surface, he stayed on the loud pedal and improved the second time around with a lap of 11.260 seconds. Jason Sides would set a new track record with a lap of 11.111 seconds, as Gravel's quickest lap was ninth quick overall.
When the Drydene heat race lineups were posted, Gravel's name would appear in the lineup for the third 10-lap heat race. It was a loaded field of talent with Sheldon Haudenschild and Ian Madsen on row one, Gravel and Brad Sweet in row two with Brent Marks, Kerry Madsen, Shane Stewart, Wayne Johnson and Cody Ledger completing the starting lineup. The initial start of the heat race was called back as officials determined Ian Madsen jumped at the start. That moved David Gravel to the front row with Sheldon Haudenschild manning the pole position. When racing went under green flag conditions the next time around, Gravel powered his way to the lead on lap one in the Weikert's Livestock/LogoDaddy Graphics #41 Maxim. He was driving hard on the high side and Haudenschild was relentlessly giving chase as he was driving the wheels off his Stenhouse Jr./Marshall Racing NOS Energy Drink #17. Gravel would collect the heat race victory over Haudenschild as the top two finishers advanced on to the dash. Ian Madsen came home third with Sweet, Marks and Kerry Madsen securing the final transfer positions.
World of Outlaws and track officials were keeping the show moving forward as they readied for the DIRTVision Fast Pass Dash. Six drivers. Eight laps. Finishing order sets the starting lineup for the first three rows for the Jason Johnson Classic. Jason Sides and Kraig Kinser were on row one with Brian Brown and Sheldon Haudenschild in row two as David Gravel and Skylar Gee rounded out the starting grid. Sides drove into the lead and kept his perfect night in tack, after drawing the '41' pill, as he led wire-to-wire to win the dash over Haudenschild and Brown. Gravel made a few passes for positions to finish fourth ahead of Kinser and Gee. The starting lineup for the first three rows was set.
It was now time for the 41-lap Jason Johnson Classic at Lake Ozark Speedway in Eldon, Missouri. The field was set to put on a tremendous show for the devoted fans who packed the grandstands. As the 24 cars got rolling on the track a little surprise awaited as Jason Johnson's father, Craig Johnson, and his cousin and crew chief of the JJR #41, Philip Dietz, paced the field in Johnson's 2016 Knoxville Nationals winning car and David Gravel's JJR 2019 Knoxville Nationals winning car respectively to start the emotions flowing. The two family members pacing the field left the track and the field aligned in their side-by-side starting order. When the green flag waved, Jason Sides climbed into the lead over Sheldon Haudenschild with Gravel wheeling and dealing from the third position. The top three were flying and by lap 7 they had caught the back of the field. The top three were right there and when they entered turn three David Gravel dove beneath both Sides and Haudenschild who both got slowed up in lapped traffic and came out with the lead. Gravel led the next 6 laps before Haudenschild tracked him down and made the pass the steal the lead from Gravel. Haudenschild was fast and driving a terrific race enduring a number of restarts after some race stoppages. With 24 laps in the books the field was set for a restart. Gravel in the Tiger Towing/Schoenfeld Headers #41 was on the outside of Haudenschild who electing to restart on the inside lane. This time the front two drivers race wheel to wheel down the front straightaway as no one had a clear advantage. When they came out of turn two Gravel had the lead with Haudenschild competing at the highest level. These two drivers were putting on a show worth twice the admission price. Gravel would lead the remaining laps to collect an emotional win in the Jason Johnson Classic. The crowd erupted as smiles, and some tears, filled the faces of happy team members, family from all over, and friends from parts all around the world. After celebrating with Jason's mother, Debra Johnson, on top of the wing, a celebratory Gravel shared, "It just couldn't have been a better night." He continued, "We've had two weeks this year that are storybook weeks. To get this done and win tonight is special. Sheldon made me work for that race." It was his 10th official World of Outlaws win in 2019 and 49th career WoO victory. He has two additional wins this season in non-sanctioned races to bring his win total to 12. The humble driver of the JJR #41 smiled and stated, "This is for Jason's family. Put a smile on their faces tonight and hopefully for the whole week coming up." Check that box off the goal list. Mission accomplished Bobbi Johnson, Craig Johnson, Debra Johnson, David Gravel, Philip Dietz, Tyler Elliott, and Patrick Dudzinski. Mission accomplished! A great race and win in the Jason Johnson Classic for Gravel and the forty-one team!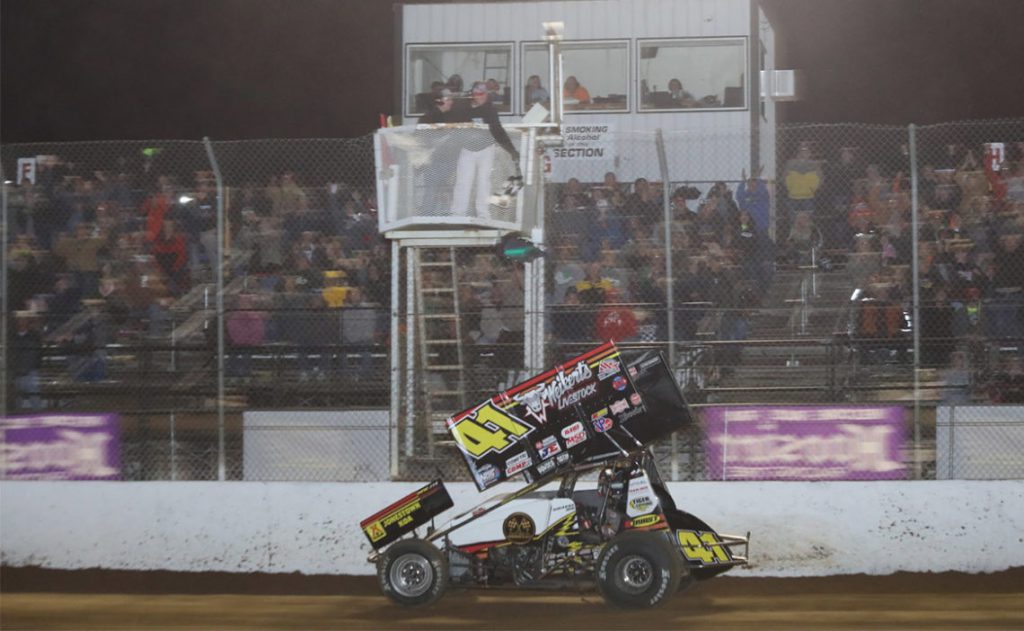 Mesilla Valley Transportation (MVT); Saich Family; Jonestown KOA; Dissolvalloy Downhole Revolution; Weikert's Livestock; J.R.C. Transportation, Inc.; Durst Inc.; Maxim Racing; The Boyd Family; Pro Powder Coating (PPC); Waco Metal; High Performance Lubricants, LLC; Team Jack Foundation; Mark Burch Motorsports; Tiger Towing; All Pro Aluminum Cylinder Heads, Inc.; All Pro Auto Reconditioning; AutoMeter; Bell Racing USA; Blackbeard; Brown & Miller Racing Solutions (BMRS); Buckwalter Trucking, LLC; C&R Racing; Chalk Stix Torsion Bars; Cody Monoco Racing; Crow Enterprizes, Engler Machine & Tool, Inc.; Factory Kahne FK Shocks; Fibreworks Composites; FK Rod Ends; Fuel Safe Racing Cells; Greber Racing Components; Hoosier Racing Tire; ISC Racers Tape; Jansen Transportation; K&N Filters; Kaiden Kares; Kistler Racing Engines; KSE Racing Products; LogoDaddy Graphics; Max Papis Innovations (MPI); MSD Performance; RaceDiecast.com; Schoenfeld Headers; Shell Shock Paint; Simpson Race Products; T-FAB Custom Metal Fabrication; Vortex Racing Products; Weld Wheels; Wilwood Racing; and Winters Performance Products.
To stay connected with Jason Johnson Racing (JJR), go to www.jasonjohnsonracing.com.
To stay up-to-date with David Gravel and his success and journey on and off the track, as well as to purchase his gear and merchandise, go to www.DavidGravel89.com.