FRIDAY NIGHT FRENZY: EVERYONE WAS BATTLING TO SCORE MORE POINTS ON THE FINAL PRELIMINARY NIGHT AT THE HUSET'S HIGH BANK NATIONALS WITH CARSON MACEDO SECURING A TOP TEN FINISH IN SOUTH DAKOTA
BRANDON, SOUTH DAKOTA (June 23, 2023) – With two preliminary nights of racing behind them, the teams and drivers were focused throughout the pit area on Friday night to do everything they could to position their driver to go fast and score the most points. It was going to be a frenzied Friday of competition at Huset's Speedway for sure. There were a few drivers sitting in pretty good shape because they already put together two solid nights of racing and scored quality points so Friday night was not as crucial for them, but no one was comfortable enough to rest on their laurels. There was still another $20,000 payoff to the winner up for grabs, so even they wanted to stay sharp to have a shot at the money. After his fourth place finish (417 Points) on Wednesday night that he followed up with an eleventh place run on Thursday night (415 Points) after spinning while running second, Carson Macedo and his Jason Johnson Racing (JJR) teammates were eager to get back out on the track. His two night accumulated point total of 832 Event Points had him sitting third overall in the rank ordered point standings behind David Gravel (855 Points) and Logan Schuchart (835 Points) after Thursday's action concluded. But, Carson's goal was to lock down one of those top four spots with a solid effort on Friday with the added incentive of ending the night dancing with the falling confetti. Tod Quiring and Doug Johnson have just done an amazing job turning Huset's Speedway into one of the premier venues in the country. There were 52 competitive race teams back on Friday as they lined the backstretch pit area ready to take on the 1/3-mile oval in Brandon, South Dakota. It was race day at Huset's Speedway for the third preliminary night at the Billion Auto Huset's High Bank Nationals presented by Menards!
The first opportunity for the teams to get their calculators, and engines, started was in Low-E Insulation Qualifying as each driver would get two laps around Huset's Speedway to see who could do it the quickest. Carson Macedo would be the 33rd car out on the track aboard the Complete Parts & Equipment Solutions/Durst Inc./Bandy and Associates Accountancy Corporation #41 Maxim. The Lemoore speedster was engaged and focused in the comfort of his Fibreworks Composites carbon fiber seat awaiting his turn. When Mark Dobmeier completed his two circuits, the Kistler Racing Engines power in the Albaugh #41 came to life and Carson mashed the loud pedal. He had his rocket up to speed and was trucking towards the waving green flag. His K1 Race Gear gloves wrapped his hands that were gripping the steering wheel as he used his KSE Racing Products to steer his way smoothly around the 1/3-mile speed venue. The track was a tick slower for everyone and he stopped the clock the first time around in 11.406 seconds and was digging for more. These two laps for most of the drivers are like controlled chaos. They are right on the fine edge of control and out-of-control and are masters at keeping the car under them. Carson zoomed out of turn four and down the front straightaway under the checkered flag with his second lap coming in at 11.451 seconds. The better of his two laps positioned him 15th quick overall earning him 86 Event Points for his time trial effort. The fastest driver of the night though was Sheldon Haudenschild who clocked in at 11.188 seconds as the fourth driver out for his two time trial laps.
Using each driver's best recorded lap they were placed accordingly in one of the six 10-lap heat race lineups. At event like these there is no "easy" heat race. Especially for the fastest drivers who are inverted and start back in row three. There are also no passing points in this race format, just finishing position points which encourages the racers to race. That is what this sport is all about and what makes it exciting and entertaining. Carson Macedo would get the Tarlton and Son/Boltz Family/www.RaceDiecast.com #41 Maxim moving from the fourth starting position in the third heat race. Fargo, North Dakota's Tim Estenson would start from the pole with Altoona, Iowa's Carson McCarl to his outside on the front row. Brooke Tatnell would start inside Carson on row two with Brian Brown and David Gravel in row three. Noah Gass and Mark Dobmeier were ready to roll in row four with Ryan Bickett being the lone inhabitant in row five. Estenson jumped on the gas when the green came out to take the lead with Carson moving the Albaugh #41 into the show position behind McCarl. The track was fast and the drivers were taking advantage of the speed it was giving them. Macedo was close to McCarl and with 3 laps to go he raced by into the runner-up position. Estenson had checked out up front and led the remaining distance to take the win with Carson coming home second followed by Carson McCarl, Brian Brown and David Gravel to round out the top five.
Carson's second place run in the heat race generated an additional 97 points to add to his time trial points, which brought his Friday night accumulated total to 183 event points. All of the team's hard work was paying off as that point total positioned Carson and the JJR #41 into the top 8 after the time trials and heat races were completed. There would again be no Toyota Dash as the top eight point scorers for the Friday portion of the show would redraw for their starting spots in the first four rows of the feature finale. The top eight at this point in the third and final preliminary night broke down like this: (1) Sheldon Haudenschild – 194 points; (2) Logan Schuchart – 188 points; (3) Spencer Bayston – 187 points; (4) Brad Sweet – 186 points; (5) Kaleb Johnson – 184 points; (6) Michael "Buddy" Kofoid – 183 points; (7) Carson Macedo – 183 points; and (8) David Gravel – 182 points.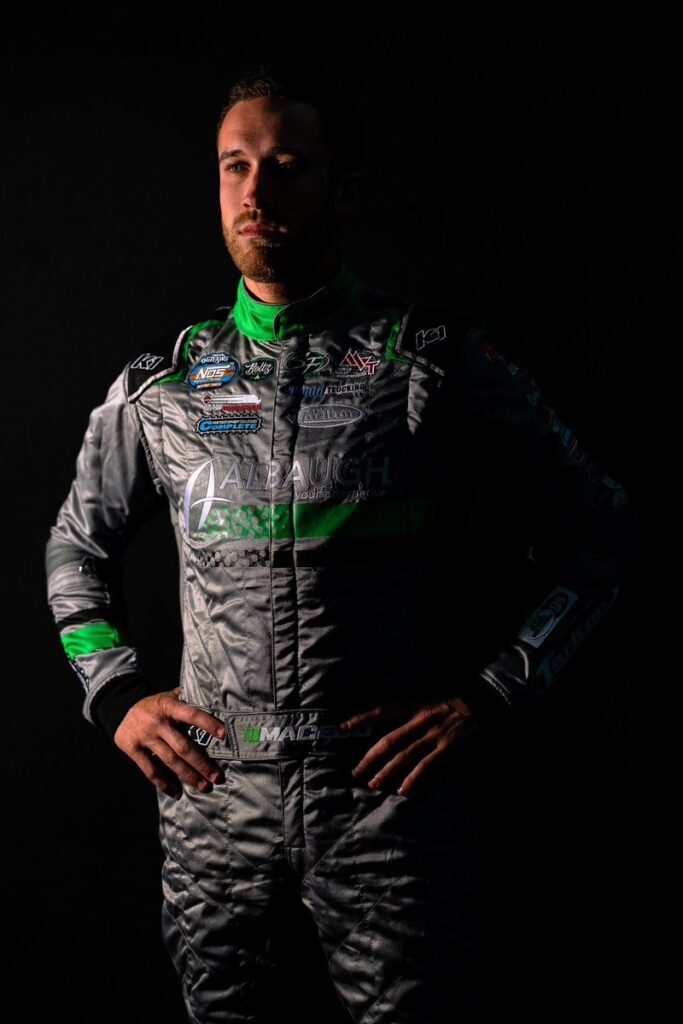 When the redraw was done, Logan Schuchart and Spencer Bayston would start on the front row followed by Michael "Buddy" Kofoid and Carson Macedo in row two. Sheldon Haudenschild and Kaleb Johnson paced from row three with David Gravel and Brad Sweet right behind them. The 24-car starting field was now set for the third and final preliminary night 35-lap Huset's High Bank Nationals feature. Finishing position and points mattered. The $20,000 check for the winner mattered. And, entertaining these fans mattered. It was time for some of the best in the sprint car business to do their thing at Huset's Speedway!
After Philip Dietz, Clyde Knipp and Nathan Repetz completed their work, it was now time for Carson Macedo to climb into the Albaugh – Your Alternative/FK Rod Ends/Engler Machine & Tool #41 Maxim to do his thing. He buckled into his Crow Enterprizes safety belts and pulled the chin strap tight on his Bell Racing helmet to prepare to wage war against his competitors and the track. It was 'go-time' at Huset's Speedway!
When the black Huset's Speedway pace truck pulled off the track, Spencer Bayston sped to the lead over Logan Schuchart down the frontstretch to start the race. The driver of the CJB #5 would lead lap one followed by Schuchart, Macedo and Haudenschild. The field was fast, but that speed slowed for the first caution of the night on lap 4 for Brock Zearfoss who spun in turn one.
Spencer Bayston would elect to get restarted from the inside row when they came back to the green flag. Logan Schuchart seized the opportunity afforded to him and used the high line to drive around Bayston into the lead with 30 laps to go. Carson racing in the third position fending off challenges for the position with each completed lap until the yellow flag reappeared on lap six for Rico Abreu who slowed and headed to the work area.
Logan Schuchart would lead Bayston, Macedo, Kofoid and Haudenschild back up to speed sprint car style. He would maintain the top spot, but Kofoid was moving as he worked his way by both Macedo and Bayston on the restart and was now running in the second position. Carson was up on the wheel in fourth before Sheldon Haudenschild blasted by to move the driver of the forty-one back to fifth. That was short-lived too as David Gravel drove the Big Game Motorsports #2 by him to relegate him back to the sixth position.
It was all-out chaos as Bayston, Gravel, Haudenschild, Macedo and Sweet were all fighting for the same position as they raced in close quarters at speed. It took a yellow flag on lap 17 to calm the calamity as Sye Lynch headed to the work area when Kaleb Johnson slowed on the track. They would attempt to restart the race to no avail because the yellow came back out quickly, this time for the #7s of Robbie Price who was sitting sideway on the backstretch after clipping the inside berm trying to race underneath Donny Schatz.
When the field did go back racing it was Logan Schuchart, after getting a great restart, to the lead with Kofoid chasing. The Shark Racing #1s was fast and carrying his speed forward. With 10 laps to go, it was Schuchart owning the top spot followed by Kofoid, Bayston, Gravel and Sweet. Carson was running in seventh place behind Sheldon Haudenschild.
With under 10 laps to go time was running out. On lap 27, the yellow flag was again back out over the field as Bill Balog looped his entry with Schuchart still showing the way at the front of the pack. With 8 laps to go, they were green again with Carson now racing wheel-to-wheel with Chase Randall trying to maintain the seventh position. Carson was able to use his speed to hold him off, but Randall was not going away.
The final pause in action occurred on lap 32 when Donny Schatz and Brian Brown made racing contact leaving Kasey Kahne nowhere to go sending him in lightly flipping to bring the red flag out. Logan Schuchart, who had his right rear wheel packed with mud, was still on the point with Kofoid and Bayston trying to figure out a way to get by.
With only 3 laps left to go the field raced back up to speed. Logan Schuchart would not be denied as he took the race win over Michael "Buddy" Kofoid and Spencer Bayston with Brad Sweet and David Gravel rounding out the top five. Sheldon Haudenschild drove the NOS Energy Drink #17 to a sixth place finish with Brian Brown charging forward late to finish seventh ahead of Tyler Courtney, Carson Macedo and Chase Randall. Carson raced hard all night aboard the Albaugh #41 but faded late to collect another top ten finish.
The top five in event points for night three of the Huset's High Bank Nationals were: (1) Logan Schuchart (438 Points); (2) Spencer Bayston (431 Points); (3) Michael "Buddy" Kofoid (430 Points); (4) Sheldon Haudenschild (429 Points); and (5) Brad Sweet (427 Points).
After all the math wizardry was completed and the worst scoring point night for each driver was eliminated, the top five in the event point standings were: (1) Logan Schuchart (863 Points); (2) Michael "Buddy" Kofoid (862 Points); (3) David Gravel (855 Points); and, (4) Spencer Bayston (844 Points); and, (5) Brad Sweet (839 Points).
Carson Macedo was sitting in sixth overall as his best two nights scoring points was Wednesday (417 Points) and Thursday (415 Points) bring his best two night point total to 832 Event Points. He would be in a qualifier race on Saturday night trying to race his way into Saturday night's King of the Hill race and ultimately the $250,000-to-win Huset's High Bank Nationals feature finale.
If you cannot be in Brandon, South Dakota at Huset's Speedway on Saturday night, make sure to block your schedule so you can tune in and watch the best in the business chase the $250,000 treasure chest that goes to the winner all on DIRTVision!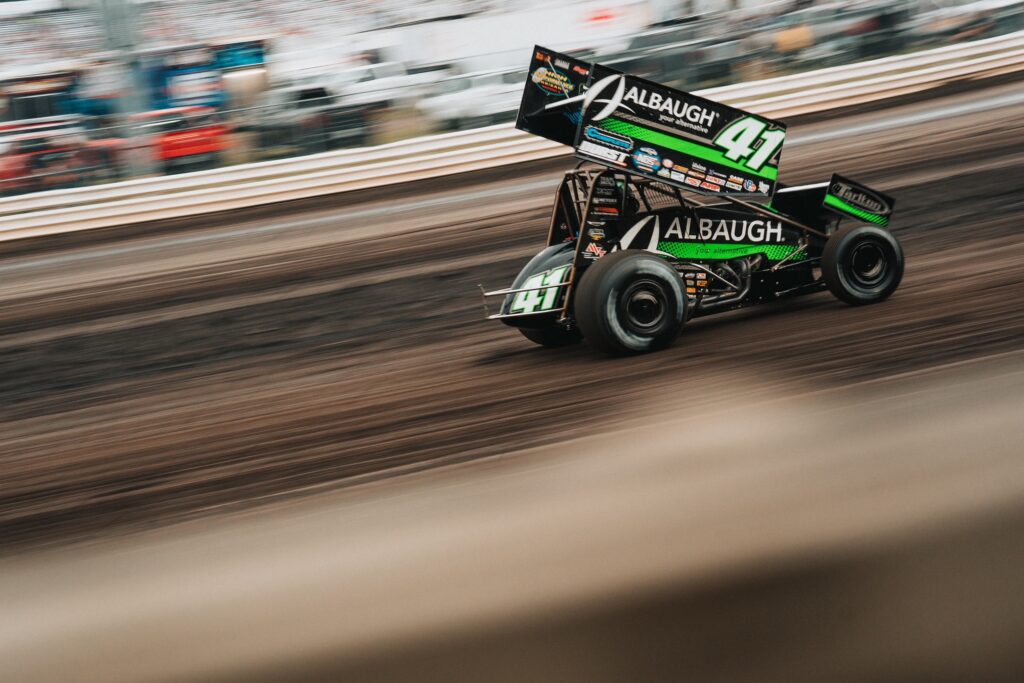 A Hard Fought Night of Racing at Huset's Speedway Results in a Ninth Place Finish on Night #3! Photo Credit: Ascent Media
Albaugh, LLC; Border International; Mesilla Valley Transportation (MVT); Saich Family; Tarlton and Son Inc.; Boltz Family; Complete Parts & Equipment Solutions; Durst Inc.; Liquid Trucking; Bandy & Associates Accountancy Corporation; Buckwalter Trucking, LLC; Jansen Transportation; Larry Davis Farms; Meyers Constructors Inc.; Mr. Jim's Racing; RaceDiecast.com; Sam I Am; Team Jack Foundation; Mark Burch Motorsports; T-FAB Custom Metal Fabrication; Tiger Towing; All Pro Aluminum Cylinder Heads; AutoMeter; Bell Helmets; BMRS (Brown & Miller Racing Solutions); BR Motorsports; C&R Racing; Crow Enterprizes; Engler Machine & Tool, Inc.; Factory Kahne (FK Shocks); Fibreworks Composites; FK Rod Ends; Greber Racing Components; High Performance Lubricants, LLC; Hoosier Racing Tire; Indy Performance Composites (IPC); ISC Racers Tape; K1 Race Gear; Kistler Racing Engines; KSE Racing Products; Maxim Racing; Motor State Distributing; Premium Coach Group; Pro Powder Coating (PPC); Saldana Racing Products; Schoenfeld Headers; Smith Titanium; Vortex Racing Products; Walker Performance Filtration; Weld Racing; Wilwood Racing; Winters Performance Products; and, Xtreme Body and Paint.
To stay connected with Jason Johnson Racing (JJR), go to www.jasonjohnsonracing.com.
To stay up-to-date with Carson Macedo and his success journey on and off the track, as well as to purchase his gear and merchandise directly, visit www.carsonmacedoracing.com.