FORWARD MOTION AT LAKESIDE: EARNING EVERYTHING THEY GOT THROUGHOUT THE NIGHT, MACEDO AND HIS JJR #41 TEAMMATES WORK TOGETHER TO CHARGE FORWARD TO A 7TH PLACE FINISH AT LAKESIDE SPEEDWAY
KANSAS CITY, KANSAS (October 15, 2022) – After the race ended at I-80 Speedway on Friday evening where the team finished third, Carson Macedo and the JJR #41 team set the GPS in their Border International truck and programmed it directionally to take them to Lakeside Speedway which is located on 5615 Wolcott Drive in Kansas City, Kansas. An approximately 3 hour journey in the Central Time zone, they were excited to make the trip to the 4/10-mile semi-banked oval for their 70th race of the season. Last season, Carson drove the Jason Johnson Racing (JJR) forty-one to an eighth place finish after starting tenth, so as the team inched closer to the track their anticipation and excitement started to rise. There were 37 teams registered at the pit gate to compete for the winner's share of the purse on Saturday night.
The Complete Parts & Equipment Solutions/Liquid Trucking/Smith Titanium #41 Maxim, with Macedo behind the wheel, would be the 17th car out in My Place Hotels Qualifying. He would climb into his office sitting safely in his Fibreworks Composites carbon fiber seat before pulling on his K1 Race Gear gloves as he prepared for his two laps at speed. With a tap on his rear nerf bar in the push off lane, his Kistler Racing Engines power awoke and he stomped on the loud pedal to get the Albaugh – Your Alternative #41 entry up to speed. He had his elbows up and turned his first lap at speed in 14.125 seconds. With his eyes focused through the shield of his Shifty Illusions custom painted Bell Racing RS7 Helmet, the California was making tracks and looking for the black and white checkered flag ahead. When he raced underneath the waving flag this time the clock read 13.972 seconds. The better of his two circuits was 13th quick overall. Giovanni Scelzi was the fastest driver of the night at 13.633 seconds.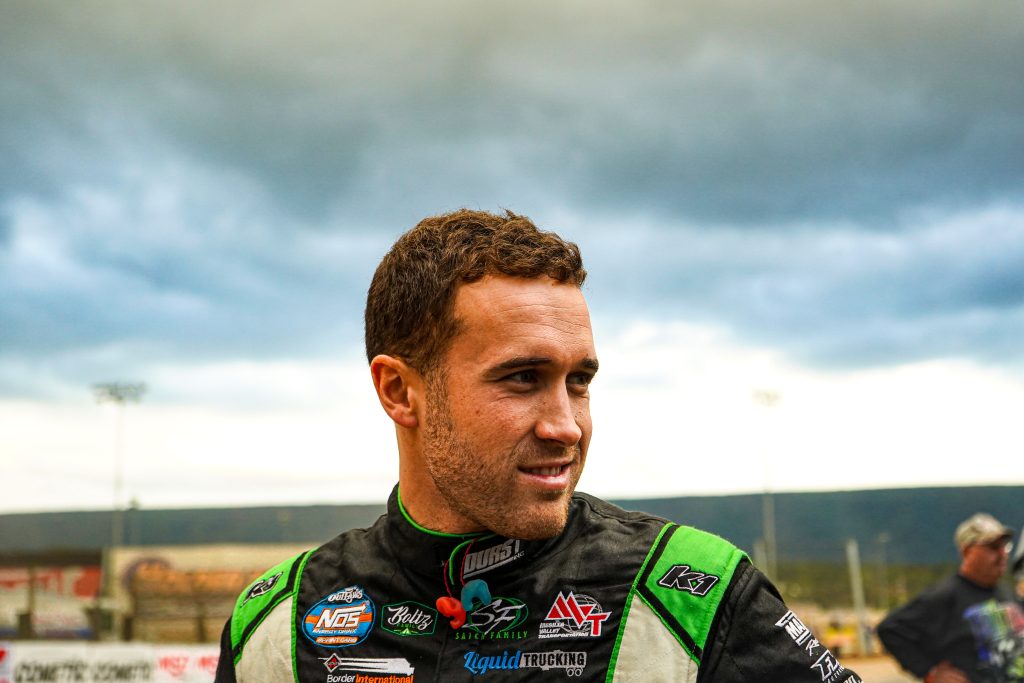 With four 8-lap heat races on tap the World of Outlaws timing and scoring officials tabulated the lineups for each of the qualifying races. Carson would get started from the outside of the second row in the fast and star-studded first heat race. Quick timer Giovanni Scelzi would start on the pole with Friday night's winner at I-80 Speedway, David Gravel, to his outside. Macedo would share row two with Missouri native and hometown hero Brian Brown. Row three was occupied by Spencer Bayston and Jacob Allen with Tim Estenson, Riley Kreisel, Kevin Ingle and Xavier Doney rounding out the starting grid. The top two finishers would advance to the dash with the next three locking down transfer positions. The aligned in the traditional two-by-two formation as they rolled towards the chalk strip in turn four. When they arrive they quickly got up to speed with Scelzi driving into the lead over Gravel and Brown with Carson working from the fourth position. Scelzi had a fast ride as he was building his lead. Carson was battling like the competitor he is to find anything that would enable him to move up a spot. Giovanni Scelzi went uncontested from start to finish to take the win by 1.974 seconds over David Gravel with Brian Brown 3.521 seconds behind in third. Carson Macedo brought the Motor State Distributing/T-FAB Custom Metal Fabrication/AutoMeter #41 Maxim home fourth 3.938 seconds behind the winner with Jacob Allen locking down the final transfer position in the fifth spot.
Not having an opportunity to compete in the DIRTVision Fast Pass Dash, Carson watched the track conditions evolve as Philip Dietz, Clyde Knipp and Nate Repetz continued to work hard to prepare the Albaugh – Your Alternative #41 for the 30-lap NOS Energy Drink feature event. When the checkered flag flew over the Micro-Lite Last Chance Showdown, the 24-car field was set for the Throwdown at Lakeside. Californian Giovanni Scelzi would start on the pole and was flanked by Pennsylvanian Logan Schuchart on the front row. Row two was made up of Australian James McFadden and the Connecticut native that now calls Florida home David Gravel. Brad Sweet and Aaron Reutzel sat in row four. Carson Macedo would get started back in row seven from the 13th starting position on the inside in the Tarlton and Son/FK Rod Ends/WELD Racing #41 sharing the row with Missouri native Hunter Schuerenberg. It was time to go at Lakeside Speedway! The green flag dropped and the race for the lead between Scelzi and Schuchart immediately heated up the cool, crisp autumn air. Scelzi led with Schuchart right their pressing him for the top position with each completed lap. Meanwhile, Carson Macedo wasted no time getting up on the wheel of the forty-one as he drove into the tenth position after the first lap and picked up another two spots the next time around to move into the eighth position. He had a fast race car and was doing what he loves to do – race fast and go forward. Back at the front, Schuchart made the pass on Scelzi for the lead on lap 9, but could only hold it for a few laps before Scelzi took it back They would exchange the lead a few more times before James McFadden entered the three car battle for the lead with 11 laps to go as he moved the Roth Motorsports #83 by both into the lead. Carson was continuing to battle for position with the likes of Logan Schuchart, Donny Schatz and Brock Zearfoss. James McFadden has been so close all year and this time sealed the deal capturing the victory as he raced under the checkered flag ahead of Giovanni Scelzi, David Gravel, Sheldon Haudenschild and Brad Sweet. Logan Schuchart came home sixth as Carson Macedo raced the Albaugh – Your Alternative #41 home in seventh with Donny Schatz, Brock Zearfoss and Jacob Allen rounding out the top ten. A good run for the forty-one!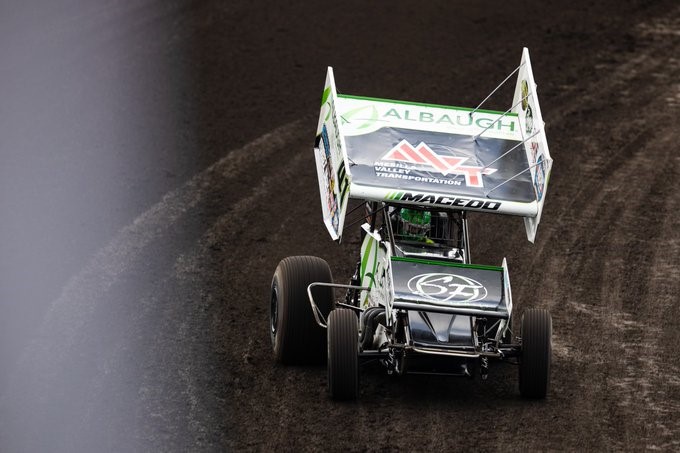 A Strong Run Forward at the Throwdown at Lakeside Results in a Seventh Place Finish! Photo Credit: Trent Gower
Albaugh, LLC; Border International; Mesilla Valley Transportation (MVT); Saich Family; Tarlton and Son Inc.; Boltz Family; Complete Parts & Equipment Solutions; Durst Inc.; Liquid Trucking; Bandy & Associates Accountancy Corporation; Buckwalter Trucking, LLC; Dissolvalloy Downhole Revolution; Jansen Transportation; Larry Davis Farms; Meyers Constructors Inc.; Mr. Jim's Racing; RaceDiecast.com; Sam I Am; Team Jack Foundation; Mark Burch Motorsports; T-FAB Custom Metal Fabrication; Tiger Towing; All Pro Aluminum Cylinder Heads; AutoMeter; Bell Helmets; BMRS (Brown & Miller Racing Solutions); BR Motorsports; C&R Racing; Crow Enterprizes; Engler Machine & Tool, Inc.; Factory Kahne (FK Shocks); Fibreworks Composites; FK Rod Ends; Greber Racing Components; High Performance Lubricants, LLC; Hoosier Racing Tire; Indy Performance Composites (IPC); ISC Racers Tape; K1 Race Gear; Kistler Racing Engines; KSE Racing Products; Maxim Racing; Motor State Distributing; Premium Coach Group; Pro Powder Coating (PPC); Saldana Racing Products; Schoenfeld Headers; Smith Titanium; Vortex Racing Products; Walker Performance Filtration; Weld Racing; Wilwood Racing; Winters Performance Products; and Xtreme Body and Paint.
To stay connected with Jason Johnson Racing (JJR), go to www.jasonjohnsonracing.com.
To stay up-to-date with Carson Macedo and his success journey on and off the track, as well as to purchase his gear and merchandise directly, visit www.carsonmacedoracing.com.