EXPLORING FOR SUN AND REAL ESTATE IN IOWA: SEARCHING FOR DRY WEATHER TO FULFILL NEED FOR SPEED, CARSON MACEDO AND THE JJR #41 TEAM RACE TO A RUNNER-UP FINISH BEHIND BRAD SWEET AT KNOXVILLE RACEWAY
KNOXVILLE, IOWA (May 29, 2021) – After Mother Nature postponed World of Outlaws NOS Energy Drink competition on Friday night at the Terre Haute Action Track, the Jason Johnson Racing (JJR) team made the decision to keep their wheels turning as they traveled to Knoxville, Iowa to race at The Sprint Car Capital of the World on Saturday evening. This piece of real estate surrounded by the small farming town is coveted by many in the sprint car world. The history is so rich and on race nights is picturesque with some of the most magnificent sunsets in the country. Carson Macedo and the JJR #41 team were parked on the infield ready to do battle against a stellar field of 31 410 sprint cars.
The Lemoore, California driver was ready to get trucking in the Mesilla Valley Transportation (MVT)/Border International #41 Maxim in time trials. He waited patiently as he would be the 26th driver out on the half-mile racing surface for his two laps at speed. His Kistler Engines power catapulted him down the back straightaway and through turns three and four as he came to take the green flag. He was hustling and methodically keeping his car as straight as possible to squeeze the most speed out of the forty-one. He completed his first lap in 15.480 seconds. Steady as she goes, he calmly kept his right foot planted and turned in a similar but quicker lap the next time around at 15.463 seconds, which resulted in a mark that was ninth quick overall. Spencer Bayston, in the Indy Race Parts #71, set quick time at 15.202 seconds.
To accommodate the field of competitors there were three 8-lap heat races tabbed for the night. Carson and the Meyers Constructors/Schoenfeld Headers/Weld Wheels #41 Maxim would get started from the outside of row two beside Rico Abreu in the third and final heat race. Presley Truedson and Aaron Reutzel paced the field from the front row with Lynton Jeffrey and Brian Brown in row three, as Bobby Mincer, Tasker Phillips, Joe Simbro, and Bobby Weuve rounded out the starting grid. When they got the green light to go, Aaron Reutzel drove off the outside of row one and into the lead over Truedson. Carson drove into the show position with Brian Brown tracking him from the fourth spot. They were moving and the laps clicked by quickly. Reutzel went on to take the win over Abreu and Macedo with Brown coming home fourth and Tasker Phillips completing the top five.
As is normal and customary at Knoxville Raceway for regular shows everything is based on points earned similar to the Knoxville Nationals format. That positioned Carson and the Liquid Trucking/Durst Inc./All Pro Auto Reconditioning #41 Maxim in the seventh spot for the start of the 25-lap feature event. He nestled into his Fibreworks Composites/Sharp Advantage custom fitted seat and pulled his Crow Enterprizes safety belts. Young gun Giovanni Scelzi was on the pole with Brian Brown to his outside as the talented duo was followed by Spencer Bayston, Brad Sweet, James McFadden, and Carson Macedo. With $5,000 awaiting the winner, it was 'go-time' at Knoxville Raceway! When the green flag waved it was Scelzi jumping into the lead over Bayston, Brown and Sweet, as Macedo darted from his seventh starting position into the top five on the opening lap. The driver of the forty-one had speed and was working the low side of the famous oval early. Sweet got by Brian Brown and now it was Macedo's turn to challenge Brown for the fourth position in the running order. Carson would get it, but Brown quickly took it back. Meanwhile, Scelzi and Bayston were in a side-by-side battle for the lead. Scelzi took command of the top spot as Sweet tracked down and raced by Bayston for second. Carson was keeping them in his sights as he could move around and carry his speed. On lap 7, leader Gio Scelzi spun coming off turn two to bring out the yellow flag with Brad Sweet inheriting the lead followed by Bayston, Brown, Macedo, and McFadden. When racing got restarted, Sweet led, but Brown and Macedo maneuvered by Bayston for track position and new spots in the running order. Just before the midway point, Justin Henderson and Rico Abreu made contact while racing leaving Henderson with a flat tire to bring out another yellow. Sweet led Brown and Macedo. The running order stayed the same when they went back to green, but James McFadden drove into fourth and now was carrying his speed and challenging Macedo for third. Macedo had it, but McFadden wanted it. Carson was able to maintain it and it provided a boost as he started carrying his speed forward in the Dissolvalloy Downhole Revolution/Mark Burch Motorsports/Logo Daddy Graphics #41 and started to close in on Brown to challenge for the runner-up spot. With 5 laps to go, Tasker Phillips spun with a flat left front tire to bring out a final caution. With 2.5 miles to go, the next five laps were going to tell the final chapter of the story. Sweet brought the field back to the green and maintained the lead. Macedo drove by Brown and was now in the second spot. McFadden would relegate Brown to fourth when he also made the pass for position. Carson was not allowing Sweet to get away and with two laps to go was closing the gap. The white flag was waving with about ten car lengths between the top two. Sweet would not be denied and took the win over Macedo and McFadden who rounded out the podium spots with Brian Brown and Rico Abreu completing the top five. Another great run for Macedo and the forty-one!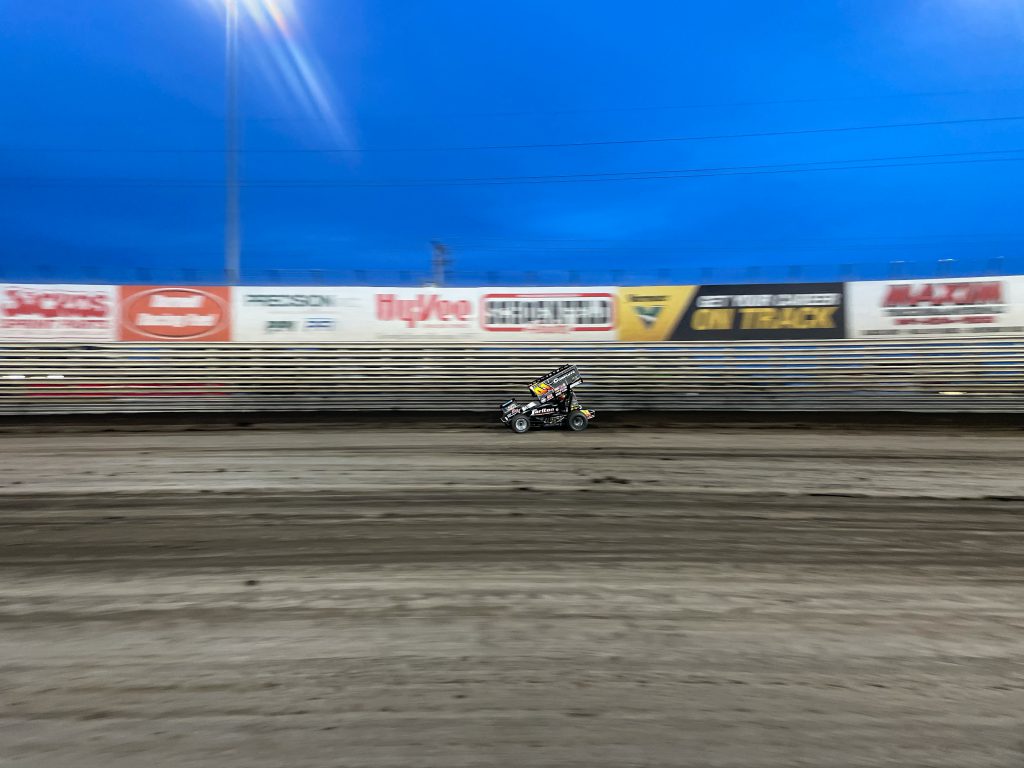 A Podium Run for the Forty-One as Macedo Finishes in the Runner-Up Spot at Knoxville Raceway!
Mesilla Valley Transportation (MVT); Tarlton and Sons Inc.; Complete Parts & Equipment Solutions; Saich Family; Border International; Dissolvalloy Downhole Revolution; Jonestown KOA; Durst Inc.; Maxim Racing; The Boyd Family; Liquid Trucking; Meyers Constructors Inc.; Tiger Towing; Pro Powder Coating (PPC); Waco Metal; High Performance Lubricants, LLC; Kistler Engines; Team Jack Foundation; Mark Burch Motorsports; All Pro Auto Reconditioning; K1 Race Gear; AutoMeter; Bell Racing USA; Blackbeard LTD; Brown & Miller Racing Solutions (BMRS); Buckwalter Trucking, LLC; C&R Racing; Chalk Stix Torsion Bars; Crow Enterprizes; Engler Machine & Tool, Inc.; Factory Kahne (FK Shocks); Fibreworks Composites; FK Rod Ends; Fuel Safe Racing Cells; Greber Racing Components; Hoosier Racing Tire; ISC Racers Tape; Jansen Transportation; KSE Racing Products; Larry Davis Farms; Logo Daddy Graphics; Mr. Jim's Racing; MSD Performance; RaceDiecast.com; Sam I Am; Schoenfeld Headers; T-FAB Custom Metal Fabrication; Vortex Racing Products; Walker Performance Filtration; Weld Wheels; Wilwood Racing; and Winters Performance Products.
To stay connected with Jason Johnson Racing (JJR), go to www.jasonjohnsonracing.com.
To stay up-to-date with Carson Macedo and his success journey on and off the track, as well as to purchase his gear and merchandise directly, visit www.carsonmacedoracing.com.