KNOXVILLE, IOWA (August 11, 2022) – Each year in the middle of August, the sprint car community and faithful followers from around the world converge in Knoxville, Iowa either in person or virtually as the best athletes and teams in the sport of sprint car racing come together to pursue honor of winning "The Granddaddy of Them All" – The Knoxville Nationals – on Saturday night at the Marion County Fairgrounds. Following an interesting and unique Wednesday preliminary night of qualifying that saw Logan Schuchart start from the pole position and lead all 25 laps to take the victory after qualifying 29th overall. Donny Schatz and David Gravel were tied atop the point charts after night one with 469 points followed by Brent Marks with 462 points and Parker Price-Miller who holds 457 points. As storms past to the East, not dropping one rain drop at Knoxville, it was time for the last half of the entries to test their luck, skills, courage and bravery on Thursday night in their preliminary night of action at the 61st Annual Knoxville Nationals. With all eyes focused on The Sprint Car Capital of the World, Knoxville Raceway, it was also time for Carson Macedo and the JJR #41 team to unveil their custom event car design on the track for the Albaugh – Your Alternative/Mesilla Valley Transportation (MVT)/Tarlton and Son/Complete Parts & Equipment Solutions sponsored Maxim Racing machine. The yellow and green faded machine looked fast. And, now it was time to put it to the test. There were 50 teams assigned to the pit stalls based on their pill draw to set the qualifying order, all busily working to get ready to go racing on the half mile track nestled into the Marion County Fairgrounds.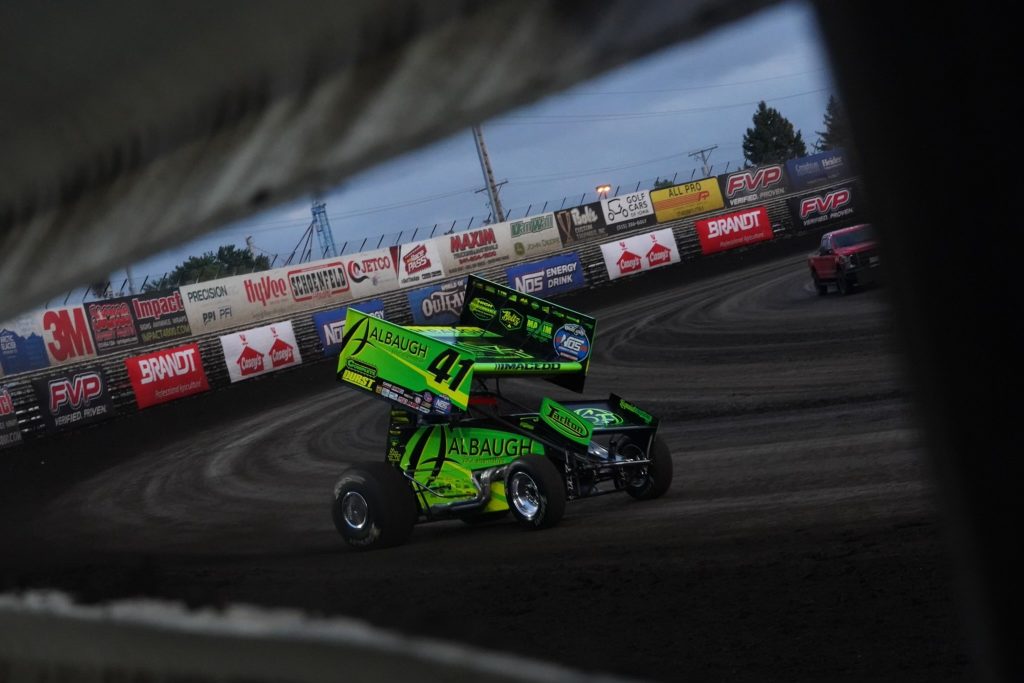 For this special event, the field of cars are not split into separate groups as the driver's and team's time trial against the full field of entries. Each driver would share the track with another competitor as they raced against the clock. That alone is challenging, but that is just one of the unique format changes that separates this event from others. It is also where the luck enters into the race format as the lower number that is pulled puts the drivers out on the racing surface earlier to take their laps in time trials, which usually (not always) improves their chances of laying down a good lap time. That's really important because the better you qualify the more points you earn as you begin to build your cumulative point total for the week. The fastest timer of the night is awarded 200 points with each qualifying position behind them on the speed chart earning two less points (i.e. the tenth fastest driver only gets 182 points). As only luck would have it, Carson would be the 19th driver out onto the black racing surface for his two laps against the clock aboard the Albaugh – Your Alternative/Durst Inc./Liquid Trucking #41. He would take to the track with Zeb Wise in the Rudeen Racing #26. Carson stomped on the loud pedal after being pushed off and had his Kistler Engines/All Pro Aluminum Cylinder Heads/Engler Machine and Tools power plant at full production when he took the green flag. The second hand was moving on the stopwatch as Carson used his KSE Racing Products to help steer him around Knoxville Raceway. He completed his first lap against the clock in 15.724 seconds. He kept digging inside the cockpit of his Maxim Racing speed machine and the next time around timed in at 15.623 seconds. His best result in time trials positioned him 11th overall in the time trial order earning him 180 points to start the night. Tasker Phillips was the quick timer of the night with a lap of 15.407 seconds.
The next unique event format deviation is that for each heat race the inversion is set at eight with only the top four finishers earning transfer positions from each of the five heat race. That means the fastest drivers from time trials start way back on the outside of row four from the eighth position and are forced to pass cars in order to earn one of the qualifying transfer positions to the feature directly from their heat race. Plus, they only have 10-laps to do it against a stout field of competitors. Additionally, there are also points awarded for each driver every time they hit the track top compete. The heat race winners earn 100 points with each finishing position behind them earning three less points down the line that are cumulatively added to each driver's point totals for the night (time trials finish plus heat race finish). The Mesilla Valley Transportation (MVT)/Meyers Constructors/Larry Davis Farms #41 with Carson Macedo behind the wheel would be in the first and fastest heat race and start from the outside of row three from the sixth starting position beside Carson McCarl. Tanner Carrick and Dylan Cisney would lead the field to the green flag with Cale Thomas and Jacob Allen following them from row two. The fastest drivers from time trials in this heat race were Spencer Bayston and quick timer of the night Tasker Phillips with Skylar Gee and Tyler Drueke making up row five. When the green lights illuminated it was Cisney to the lead over Carrick and Allen with Macedo chasing from the fifth spot. Cisney was showing the way, but behind him things were getting shuffled with each passing lap. Allen worked by Carrick as Macedo was battling for position with Cale Thomas. Thomas and Macedo would both move by Carrick a few laps later to lock down the last two transfer spots with 6 laps to go. The heat race went uninterrupted with Cisney taking the win. He was followed across the finish line by Allen, Thomas and Macedo who all would transfer to the feature event. Carson earned an additional 91 points to bring his cumulative point total for the night to 271 points.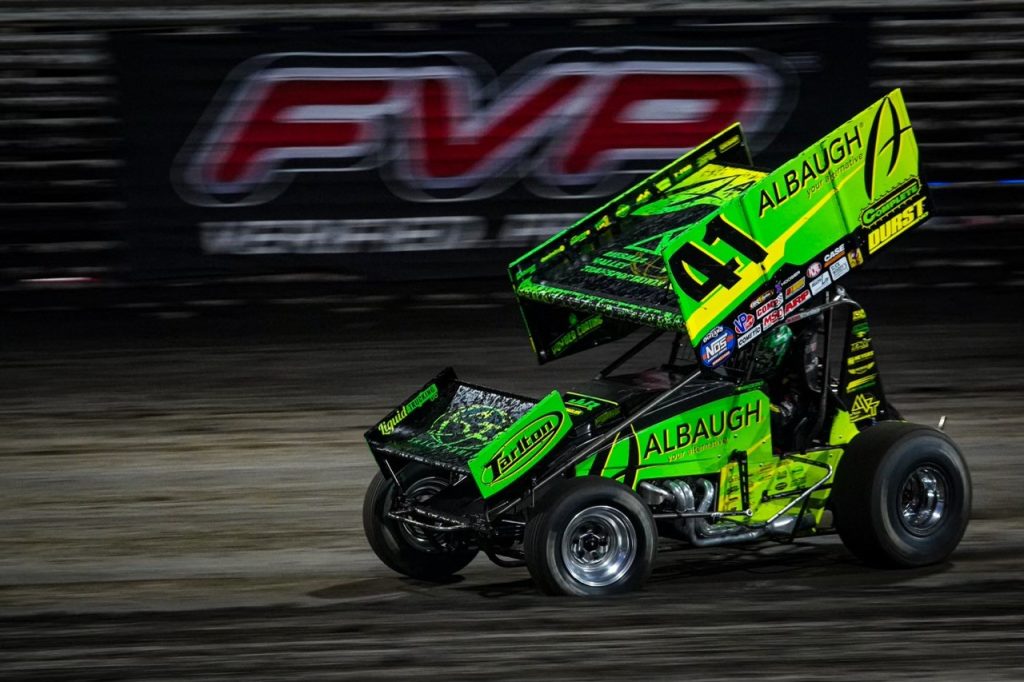 Following the completion of the B-Main, with the full moon hanging over the Knoxville Raceway, it was time for the drivers to get after it on Thursday night in the 25-lap preliminary feature event. Carson Macedo would get started from the outside of row three aboard the Liquid Trucking/T-FAB Custom Metal Fabrication/Team Jack Foundation #41 Maxim with JJ Hickle to his inside. Zeb Wise was on the pole sharing the front row with Jacob Allen. Brad Sweet and Lynton Jeffrey were in row two. Austin McCarl and Tyler Courtney paced from row four as Chris Windom and Tim Kaeding occupied row five. It was time to go racing in Iowa! When the green flag waved it was Allen to the lead over Wise with Carson falling back one spot to seventh place. The Lemoore, California driver settled in and on lap four moved into sixth as the horses carrying him were starting to hit stride. By lap 8, Carson motored into the fifth position and was working with his Hoosier Racing Tires to find grip in the surface. Jacob Allen was leading a fast closing Brad Sweet. But all eyes were focused on Kyle Larson, who started in 22nd place, who was on the move as he was already up to sixth place at the halfway point of the race. Carson was moving to as he moved into fourth on lap 14 and then up another position into third with 10 laps to go. His sights were now set on tracking down Allen and Sweet as they were racing through slower traffic allowing Carson to drive the Albaugh #41 closer to them. Jacob Allen and Brad Sweet were dueling for position with Macedo closing the gap with 5 laps to go. It was getting close and soon turned into a three car race for the lead. Jacob Allen came out on top to earn the win in the Shark Racing #1a followed across the line by Brad Sweet in his NAPA Auto Parts #49, with Carson Macedo wheeling the Albaugh – Your Alternative #41 to a podium finish. His third place finish earned him another 196 points, pushing his cumulative point total to 467 points. That point total positioned him fifth highest overall for the two nights, which meant he was locked-in to the 61stAnnual Knoxville Nationals where he would be slated to start on the inside of row three with the defending Knoxville Nationals champion and NASCAR champion, Kyle Larson, to his outside. Austin McCarl earned the pole position with 477 points with Tyler Courtney sitting to his outside on the front row with 473 points. Donny Schatz and David Gravel shared row two as both drivers had 469 points. The other 10 drivers locking in to the big show after the preliminary nights were: Brent Marks (462 points); Daryn Pittman (459 points); Brad Sweet (458 points); JJ Hickle (458 points); Jacob Allen (457 points); Parker Price-Miller (457 points); Justin Sanders (456 points); Buddy Kofoid (453 points); Tasker Phillips (451 points); and, Aaron Reutzel (447 points). Another great run for Carson Macedo and the forty-one team!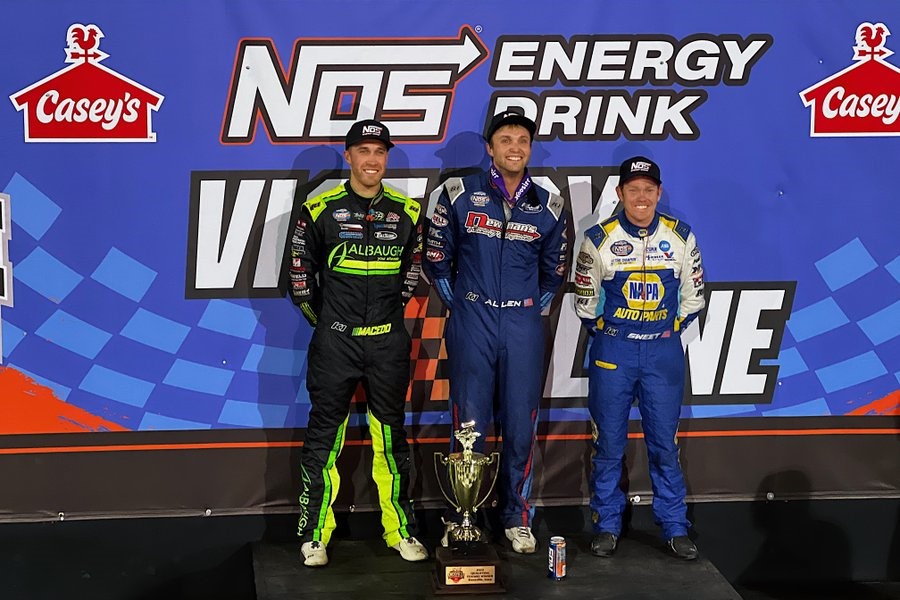 Carson Macedo Wheels the Liquid Trucking #41 to a Podium Finish at Knoxville Raceway on His Preliminary Night!
Albaugh, LLC; Border International; Mesilla Valley Transportation (MVT); Saich Family; Tarlton and Son Inc.; Boltz Family; Complete Parts & Equipment Solutions; Durst Inc.; Liquid Trucking; Bandy & Associates Accountancy Corporation; Buckwalter Trucking, LLC; Dissolvalloy Downhole Revolution; Jansen Transportation; Larry Davis Farms; Meyers Constructors Inc.; Mr. Jim's Racing; RaceDiecast.com; Sam I Am; Team Jack Foundation; Mark Burch Motorsports; T-FAB Custom Metal Fabrication; Tiger Towing; All Pro Aluminum Cylinder Heads; AutoMeter; Bell Helmets; BMRS (Brown & Miller Racing Solutions); BR Motorsports; C&R Racing; Crow Enterprizes; Engler Machine & Tool, Inc.; Factory Kahne (FK Shocks); Fibreworks Composites; FK Rod Ends; Greber Racing Components; High Performance Lubricants, LLC; Hoosier Racing Tire; Indy Performance Composites (IPC); ISC Racers Tape; K1 Race Gear; Kistler Racing Engines; KSE Racing Products; Maxim Racing; Motor State Distributing; Premium Coach Group; Pro Powder Coating (PPC); Saldana Racing Products; Schoenfeld Headers; Smith Titanium; Vortex Racing Products; Walker Performance Filtration; Weld Racing; Wilwood Racing; Winters Performance Products; and Xtreme Body and Paint.
To stay connected with Jason Johnson Racing (JJR), go to www.jasonjohnsonracing.com.
To stay up-to-date with Carson Macedo and his success journey on and off the track, as well as to purchase his gear and merchandise directly, visit www.carsonmacedoracing.com.