EXCITING SHOW IN ELMA: TRAVELING TOUR OF WoO STARS SHINE AT GRAYS HARBOR RACEWAY WITH CARSON MACEDO WORKING HARD TO EARN A RUNNER-UP FINISH IN THE JJR #41 TO CELEBRATE LABOR DAY
ELMA, WASHINGTON (September 6, 2021) – Following their big win in the Sage Fruit Skagit Nationals championship finale at Skagit Speedway on Sunday night, Carson Macedo and the JJR #41 team jumped on Interstate 5 and headed south in their Border International through Everett, Seattle, and Tacoma in route to Grays Harbor Raceway for some Labor Day World of Outlaws NOS Energy Drink Series action presented by Lucky Eagle Casino & Hotel. This beautiful 3/10-mile high banked racetrack, which is located in close proximity to the coast of the North Pacific Ocean, has produced some terrific racing action in the past as the racers compete for the $10,000 winner's check after a two year hiatus due to the COVID pandemic. There were 21 race teams registered and ready to go in the pit area at Grays Harbor Raceway.
The first order of business following hot laps was two laps against the clock for each of the drivers in Slick Woody's Qualifying. The West Coast born driver of the Jonestown KOA/Brown & Miller Racing Solutions (BMRS)/Bell Racing #41 Maxim would be the twelfth driver to test his talent and skills with the ticking of the clock measuring his performance. The one-lap track record here was set by Logan Schuchart the last time they were here in 2019 with a lap of 11.699 seconds. Carson would follow Jason Sides in the time trial order as they patiently awaited their turn in the staging area. Macedo pulled his Crow Enterprizes belts tight one last time as the push truck assisted him to get his Kistler Engines power fired, which is a normal part of sprint car racing. He was off and tripped the timing light with his transponder as he hit his marks around Grays Harbor Raceway. The result of his first lap when reported was a good one at 11.846 seconds. He stayed focused and on the gas pedal the next time around and completed that lap in 12.004 seconds. The better of Carson's two attempts as measured by the clock was good enough for third quick overall to get his night started in Elma, Washington. David Gravel, who is a terrific time trailer and the first driver out on the track, set quick time with a new one-lap track record at Grays Harbor Raceway with an impressive time of 11.561 seconds.
The World of Outlaws Timing and Scoring officials quickly went to work building the starting lineups for the three 8-lap Drydene Heat Races. When the lineups were released and posted, the Albaugh – Your Alternative/Bandy & Associates/C&R Racing #41 Maxim driven by Carson Macedo would get rolling from the pole position in a pretty stout third heat race. He shared the front row with Washingtonian Austen Wheatley with Sheldon Haudenschild and Brad Sweet in row two, Kasey Kahne and Brian Boswell in row three, as Trey Starks tagged the rear of the field. After a slight delay before heat race action began to allow the sun to go down a bit to increase driver visibility, it was time to go racing for position. When they rolled out on the track and got up to speed on the opening lap, it was Macedo to the lead in front of Wheatley with Sweet pressuring for the runner-up spot. Carson was carrying his speed through the turns using the low side of the racing surface at the front of the pack. He had built his lead over Sweet who shuffled by Wheatley on the low side. Carson would lead from start-to-finish and took the checkers 1.667 seconds ahead of Sweet who raced home second. Sheldon Haudenschild secured the show position over Wheatley with Kasey Kahne rounding out the top five after an engine change prior to time trials.
Earning his way into the 6-lap DirtVision Fast Pass Dash for the 42nd time this season, Carson Macedo headed to the front straightaway in his Team Jack Foundation/K1 Race Gear fire suit to see what his luck would garner this night as he drew for his starting position in the dash. He was the third driver to take a chance and when he pulled his hand out of the oversized NOS Energy Drink can he was holding the '5' pill. Logan Schuchart would start from the pole with 10-time WoO champion Donny Schatz to his outside. It was an all-KKR row two with Brad Sweet and James McFadden. Carson shared row three with new track record holder David Gravel. The track surface was coming in nicely and when they went green it was Schuchart darting into the lead over Schatz. Carson was racing from the sixth position as David Gravel charged from the outside of row three up to third in the opening lap. Schuchart was in control of the top position in the running order as Carson was working on the low side to get by McFadden. Schuchart went on to take the dash victory by 1.217 seconds over Schatz who was followed by Gravel, Sweet, Macedo, and McFadden in the finishing order that set the starting lineup for the first three rows of the feature.
The teams were hustling in the pit area as they made their final adjustments for their drivers in preparation for the 30-lap NOS Energy Drink feature event. This is what the fans came out to see and the only event that pays for the drivers and teams. It was 'go-time' in Washington! Carson climbed into the cockpit of the Mesilla Valley Transportation (MVT)/Larry Davis Farms/Walker Performance Filtration #41 Maxim Racing machine and headed out on the track to stage. He would get started from the inside of row three at Grays Harbor Raceway. After the drivers saluted the fans in their traditional four-wide formation, they raced back into their two-by-two starting order. The green flag dropped and it was Logan Schuchart into the lead over Donny Schatz. Carson was running in the fifth position as he built up his momentum and found his stride. He was just behind David Gravel and Brad Sweet who were entrenched in a terrific battle for the show position that Sweet would eventually take control of. With 10 laps in the books, Carson had also worked by David Gravel and was now running in the fourth spot behind Schuchart, Sweet and Schatz. Brad Sweet had found something and was closing in on Schuchart for the lead as they maneuvered through lap traffic when the yellow flag came out on lap 13 for Jacob Allen who slowed with mechanical issues and stopped in the infield. The restart order was Schuchart, Sweet, Schatz, Macedo and Gravel. Before they could get a lap in though after restarting another caution was thrown for Sheldon Haudenschild who stopped on the backstretch with front end damage following contact ended his night. The remaining field went back to green flag racing with Schuchart holding onto the lead over Sweet. Carson Macedo was fast and used the high line to race by Donny Schatz into the third position on lap 14. Two laps later his used the same line to drive the forty-one into the runner-up position as he passed Brad Sweet. Schuchart was fast, only slowed up a bit at times in lap traffic, with Macedo a little over a second behind. Carson was able to close the gap on the leader at times, but really never got close enough for an opportunity to race with the talented Hanover, Pennsylvania driver for the lead. Schuchart went on to collect the victory at Grays Harbor Raceway by 1.831 seconds over Carson Macedo, with Brad Sweet rounding out the podium as Donny Schatz and David Gravel completed the top ten. On the frontstretch, Carson shared, "Man, Philip Dietz gave me another great car tonight. This place is tricky." He continued, "Clyde Knipp and Nate Repetz are working hard and this JJR #41 car is fast. I can't thank them enough for all of their efforts and appreciate the support of our sponsors." Another great run for Macedo and the forty-one!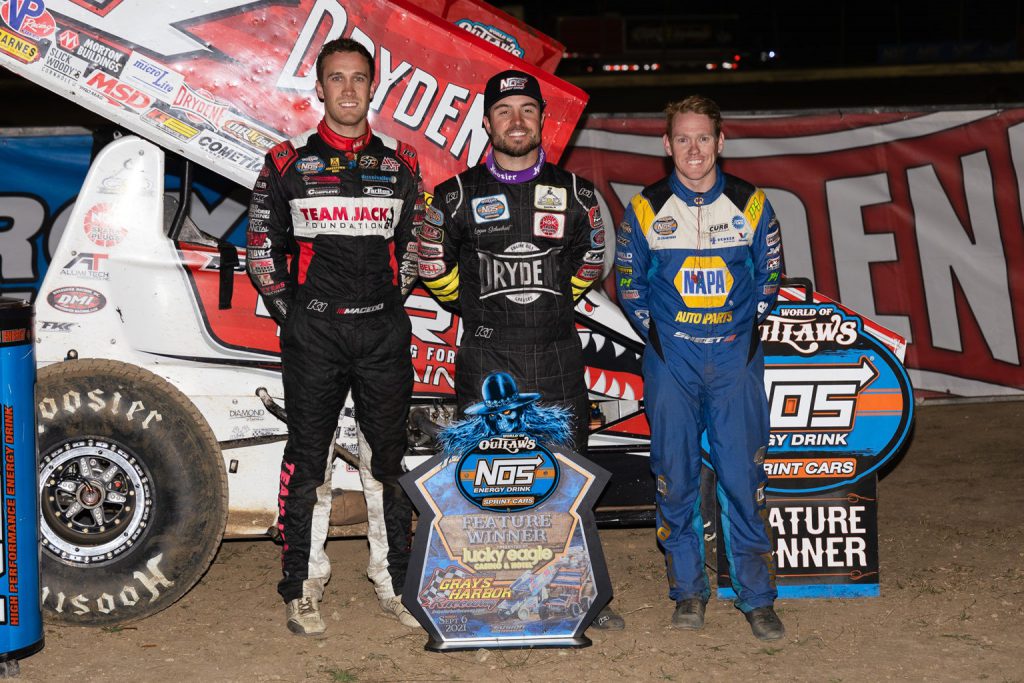 A Podium Finish at Grays Harbor Raceway for Carson Macedo and the JJR #41 Team! Photo Credit: Trent Gower
Mesilla Valley Transportation (MVT); Tarlton and Son Inc.; Complete Parts & Equipment Solutions; Albaugh – Your Alternative, Saich Family; Border International; Dissolvalloy Downhole Revolution; Jonestown KOA; Durst Inc.; Maxim Racing; The Boyd Family; Liquid Trucking; Meyers Constructors Inc.; Tiger Towing; Pro Powder Coating (PPC); Waco Metal; High Performance Lubricants, LLC; Kistler Engines; Team Jack Foundation; Mark Burch Motorsports; All Pro Auto Reconditioning; K1 Race Gear; AutoMeter; Bandy & Associates Accountancy Corporation; Bell Racing USA; Blackbeard LTD; BR Motorsports; Brown & Miller Racing Solutions (BMRS); Buckwalter Trucking, LLC; C&R Racing; Chalk Stix Torsion Bars; Crow Enterprizes; Engler Machine & Tool, Inc.; Factory Kahne (FK Shocks); Fibreworks Composites; FK Rod Ends; Fuel Safe Racing Cells; Greber Racing Components; Hoosier Racing Tire; ISC Racers Tape; Jansen Transportation; KSE Racing Products; Larry Davis Farms; Logo Daddy Graphics; Mr. Jim's Racing; MSD Performance; RaceDiecast.com; Sam I Am; Schoenfeld Headers; Smith Titanium; T-FAB Custom Metal Fabrication; Vortex Racing Products; Walker Performance Filtration; Weld Wheels; Wilwood Racing; and Winters Performance Products.
To stay connected with Jason Johnson Racing (JJR), go to www.jasonjohnsonracing.com.
To stay up-to-date with Carson Macedo and his success journey on and off the track, as well as to purchase his gear and merchandise directly, visit www.carsonmacedoracing.com.