ENTERTAINING AT THE SOCAL SHOWDOWN: AFTER SETTING QUICK TIME AND WINNING THE DASH, MACEDO EXCHANGES THE LEAD WITH GRAVEL AND ENDS UP ON THE PODIUM AT PERRIS AUTO SPEEDWAY
PERRIS, CALIFORNIA (March 26, 2022) – After collecting a fourth place finish at Bakersfield Speedway on Friday night, Carson and the JJR #41 team loaded up and headed to Riverside County, which is a little over 70 miles to the southeast of Los Angeles, for Saturday night's SoCal Showdown at Perris Auto Speedway. This area is known for aerial activities such as skydiving and hot-air ballooning. There were 26 sprint cars with wings ready to compete with the World of Outlaws NOS Energy Drink Spring Car Series. In addition, they were joined by a number of non-wing sprint cars ready to put on a show for the fans in the last race of the spring swing through California.
After being the quickest driver in hot laps, Carson had to wait patiently for his chance to turn two official time trial laps aboard the Complete Parts & Equipment Solutions/FK Rod Ends/C&R Racing #41 Maxim in Slick Woody's Qualifying as he would be the 23rd car out. When Logan Schuchart finished his two laps it was the Lemoore, California native's time to shine. Familiar foe, David Gravel, sat atop the speed charts at the time with a lap of 14.287 seconds around the half mile oval. Carson got his Kistler Racing Engines/All Pro Aluminum Cylinder Heads power fired up and took the green flag. He turned his first lap in 14.842 seconds. He was cruising though and was eager to make his second lap a better one. Mission accomplished. His second laps catapulted him to the top of the speed charts as he lowered his time to 14.125 seconds. His time stood the remaining qualifiers and he recorded his second quick time award of the 2022 season.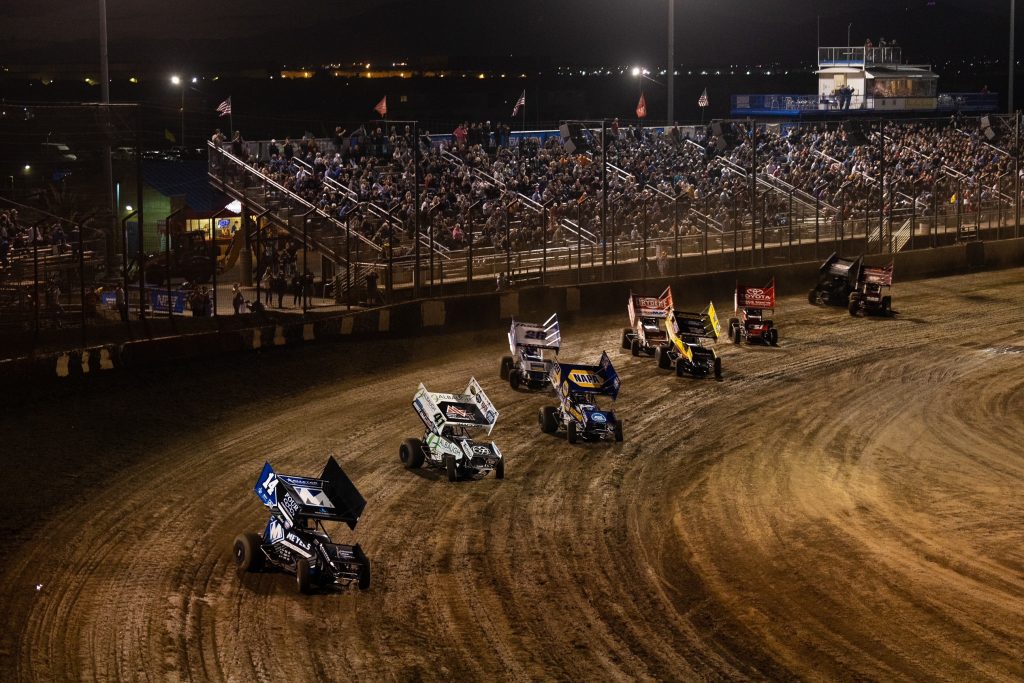 His qualifying effort positioned him on the pole of the first heat race in the Albaugh – Your Alternative/Tiger Towing/Crow Enterprizes #41 with fellow Californian Corey Day to his outside. It was another all-Californian row two with Cory Eliason and Brad Sweet with Donny Schatz and Logan Schuchart in row three. Austin McCarl, Chase Johnson and Brody Roa completing the starting lineup. When they rolled to the green flag in the 8-lap heat race it was Corey Day using his outside front row starting position to drive into the lead over Macedo. He would not look back or be denied as Day and Macedo finished first and second to lock into the feature and DIRTVision Fast Pass Dash. Brad Sweet came home third followed by Donny Schatz, Cory Eliason and Chase Johnson who secured their way onto the feature.
By the luck of the draw, Carson would start on the pole position in the Border International/Larry Davis Farms/Mr. Jim's Racing #41 of the 6-lap DIRTVision Fast Pass Dash with Corey Day again to his outside. D.J. Netto and James McFadden would line up in row two. David Gravel and Dominic Scelzi made up row three. When the front row starters came to the starting chalk stripe in turn four and accelerated they made contact sending Day into a slow roll collecting McFadden to bring out the red. Day was unable to continue, but McFadden made repairs in the work area and returned. On the ensuing restart, Macedo blasted into the lead with Gravel moving into the chase position. The race went non-stop with Macedo taking the win over Gravel, with McFadden charging back to secure third, Dominic Scelzi brought home fourth, and Netto crossed the finish line fifth. Corey Day was scored with a sixth place finish.
Now all of the teams and fans turned their attention to the running of the 30-lap NOS Energy Drink SoCal Showdown feature event. Carson would get started on the pole for the race aboard the Engler Machine & Tool/Factory Kahne Shocks #41 Maxim with David Gravel's Big Game Motorsports #2 to his outside. There was 15 miles of racing between the competitors and their pay day. When they got rolling at speed it was Macedo driving the Albaugh #41 into the lead over Gravel with McFadden holding down the third position in the running order. By lap 5, Macedo had caught the back of the pack and was beginning to navigate lap traffic. This gave the hard-charging David Gravel and opportunity to close the gap and on lap 8 he made the pass and led the lap. But Macedo was not going anywhere and the next circuit he took the lead back. He led the next three laps before Gravel again seized the lead as the Connecticut born driver and Australian James McFadden hustled by Macedo. Gravel was now battling with McFadden as Macedo had his hands full with Dominic Scelzi who worked his way by for the show position on lap 18. Carson soon regained the third position with Corey Day gaining steam close behind both Macedo and Scelzi in the fifth spot. The race resumed and Gravel maintained the top spot over McFadden and Macedo. A yellow flag was displayed for the spinning car of Austin McCarl at the exit of turn four in front of the leaders that also saw McFadden make contact with the outside retaining wall ending his night. Macedo would now get going from the second position behind Gravel with Day close behind. The three talented speed chauffeurs brought the field back up to speed and on lap 28, which saw Macedo wrestle the lead away from Gravel. But only temporarily as Gravel took it right back. Coming down the frontstretch Day snuck underneath the forty-one to take over the runner-up spot with Macedo recollecting himself in third. Fourth running Dominic Scelzi entered turn one hard and looped his #41s to bring out the last caution. When they restarted, Gravel would lead the remaining distance to the SoCal Showdown win at Perris Auto Speedway with Day and Macedo rounding out the podium positions.  During his interview, Carson reflected on the race stating, "To win these races you can't make any mistakes, and I made too many tonight." He continued, "I felt strong early on, but definitely stalled out when I hit traffic. It's so tough to be the leader in these situations because you just don't know where to go. I threw a couple of things at David, but could not land them right in front of him. I just need to be a little sharper." The best push themselves and are constantly learning . . . even after another successful run for the forty-one!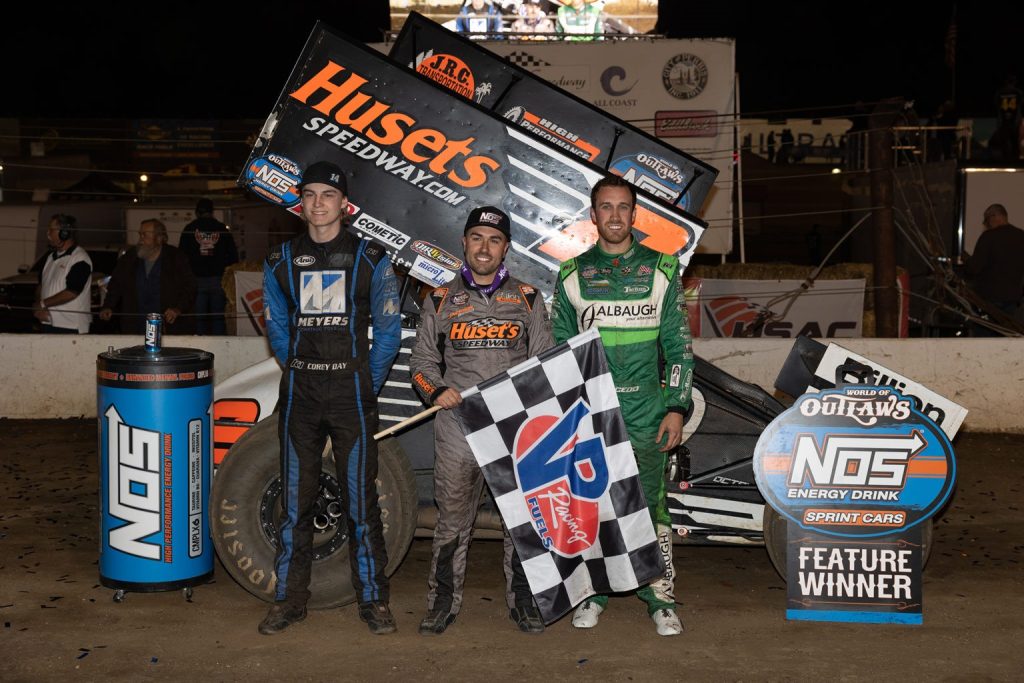 A Podium Run for the Forty-One Team at the SoCal Showdown at Perris Auto Speedway! Photo Credit: Trent Gower
Albaugh, LLC; Border International; Mesilla Valley Transportation (MVT); Saich Family; Tarlton and Son Inc.; Boltz Family; Complete Parts & Equipment Solutions; Durst Inc.; Liquid Trucking; Bandy & Associates Accountancy Corporation; Buckwalter Trucking, LLC; Dissolvalloy Downhole Revolution; Jansen Transportation; Larry Davis Farms; Meyers Constructors Inc.; Mr. Jim's Racing; RaceDiecast.com; Sam I Am; Team Jack Foundation; Mark Burch Motorsports; T-FAB Custom Metal Fabrication; Tiger Towing; All Pro Aluminum Cylinder Heads; AutoMeter; Bell Helmets; BMRS (Brown & Miller Racing Solutions); BR Motorsports; C&R Racing; Crow Enterprizes; Engler Machine & Tool, Inc.; Factory Kahne (FK Shocks); Fibreworks Composites; FK Rod Ends; Greber Racing Components; High Performance Lubricants, LLC; Hoosier Racing Tire; Indy Performance Composites (IPC); ISC Racers Tape;K1 Race Gear; Kistler Racing Engines; KSE Racing Products; Maxim Racing; Motor State Distributing; Pro Powder Coating (PPC); Saldana Racing Products; Schoenfeld Headers; Smith Titanium; Vortex Racing Products; Walker Performance Filtration; Weld Racing; Wilwood Racing; Winters Performance Products; and Xtreme Body and Paint.
To stay connected with Jason Johnson Racing (JJR), go to www.jasonjohnsonracing.com.
To stay up-to-date with Carson Macedo and his success journey on and off the track, as well as to purchase his gear and merchandise directly, visit www.carsonmacedoracing.com.