ELBOWS UP IN FLORIDA: AFTER A GOOD START TO THE NIGHT, CARSON MACEDO RACES THE ALBAUGH #41 MAXIM TO A TOP 15 FINISH TO START THE 51ST ANNUAL DIRTCAR NATIONALS AT VOLUSIA SPEEDWAY PARK
BARBERVILLE, FLORIDA (February 10, 2022) – With the wet weather that canceled action on Tuesday and Wednesday night's action in the rear, Carson Macedo and the JJR #41 team were ready to get up to speed in the 51st Annual DIRTcar Nationals at Volusia Speedway Park with the World of Outlaws NOS Energy Drink Sprint Car Series. It had been 96 days since their last race in Charlotte. The teams unveiled their fresh paint schemes and the driver's right feet were twitching and ready to go. There were 36 cars scattered throughout the pit area at the Florida speed facility.
Carson Macedo would be the eight driver out in Slick Woody's qualifying aboard the Albaugh, LLC/Mesilla Valley Transportation/Weld Wheels #41 Maxim. The Lemoore, California native wasted little time unleashing the horses from his Kistler Racing Engines power plant. He was hammer down as he made tracks and wasn't looking back. He circled the big and fast half-mile oval and turned his first lap in 13.929 seconds. He stayed after it the next time around and recorded a consistent but slight slower lap at 13.982 seconds. The quicker of his two laps stood the test of time and ended up third quick overall.
Carson's favorable result in time trials put the Border International/Tarlton and Son Inc./Boltz Family #41 on the pole position in a talent filled third heat race. Ten time World of Outlaws champion Donny Schatz paced on the front row with Macedo with Brent Marks and James McFadden in row two. Wayne Johnson and Spencer Bayston were in the third row with Kraig Kinser, Paulie Colagiovanni, and Alan Gilbertson rounding out the starting grid. The track surface was evolving and challenging for all the drivers but it was time to go racing at Volusia Speedway Park. When the green flag waved, Macedo drove into the lead over Schatz and focused on navigating the ruts at speed. He led the opening lap of the 8-lap race and did not look back. He captured his first heat race victory of the season by 1.547 seconds over runner-up Donny Schatz with James McFadden, Brent Marks and Spencer Bayston rounding out the top five.
The top two finishers in each of the heat races made their way to the frontstretch to select their starting position for the 6-lap DIRTVision Fast Pass Dash. Carson would be the third driver to pull one of the remaining six pills and pulled the largest number – an eight. Anthony Macri would start on the pole with Aaron Reutzel to his outside. Donny Schatz and David Gravel made up row two. Tyler Courtney and Jacob Allen paced from row three with Kyle Larson and Carson Macedo in row four. Reutzel jumped into the early lead when they got up to speed as Carson wheeled the Complete Parts and Equipment Solutions/Greber Racing Components/AutoMeter #41 Maxim into seventh. The race would go non-stop with Reutzel collecting the win over Schatz, Macri, and Gravel with Courtney, Larson, Macedo and Allen completing the finishing order.
Originally scheduled for 30 laps, officials decided to reduce the NOS Energy Drink Feature by five laps to make it as 25-lap run for the money. The JJR #41 team lead by Philip Dietz were hard at work to give Carson the best car they could with these challenging track conditions. As the track crew finished preparing the surface, the horns sounded and the cars rolled out of the staging area and onto the surface at Volusia Speedway Park. With his Crow Enterprizes safety belts secured, Carson Macedo was ready to do his best starting from the inside of row four in the Albaugh, LLC/Team Jack Foundation/K1 Race Gear #41. After completing their first four-wide salute to the fans the field was set and ready to take the green. Donny Schatz drove into the lead over polesitter Aaron Reutzel in the early going with Anthony Macri and David Gravel right in the mix and fighting for position. Carson was racing in the seventh spot over the course of the first three laps before losing a few positions. He was able to stay in the top ten for most of the race, but in the waning laps ran out of tearoffs and was relegated back to a 13th place finish. Donny Schatz collected the first win of the season over Kyle Larson, Aaron Reutzel, David Gravel and Anthony Macri.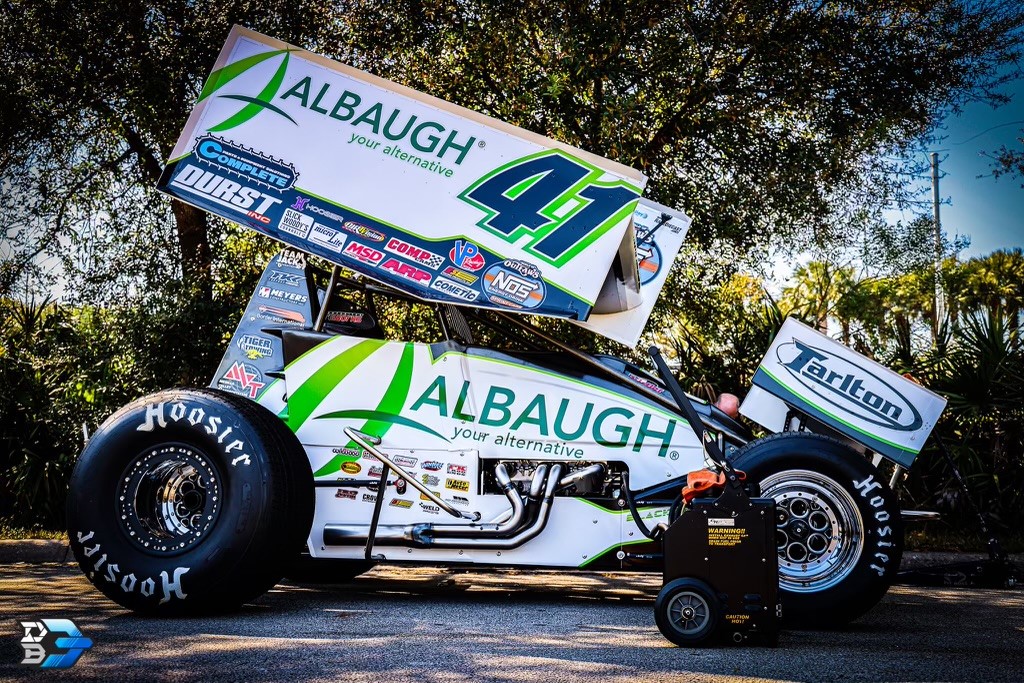 Albaugh, LLC; Border International; Mesilla Valley Transportation (MVT);Saich Family; Tarlton and Son Inc.; Boltz Family; Complete Parts & Equipment Solutions; Durst Inc.; Liquid Trucking; Bandy & Associates Accountancy Corporation; Buckwalter Trucking, LLC; Dissolvalloy Downhole Revolution; Jansen Transportation; Larry Davis Farms; Meyers Constructors Inc.; Mr. Jim's Racing; RaceDiecast.com; Sam I Am; Team Jack Foundation; Mark Burch Motorsports; T-FAB Custom Metal Fabrication; Tiger Towing; All Pro Aluminum Cylinder Heads; AutoMeter; Bell Helmets; Brown & Miller Racing Solutions (BMRS); BR Motorsports; C&R Racing; Crow Enterprizes; Engler Machine & Tool, Inc.; Factory Kahne (FK Shocks); Fibreworks Composites; FK Rod Ends; Greber Racing Components; High Performance Lubricants, LLC; Hoosier Racing Tire; Indy Performance Composites (IPC); ISC Racers Tape;K1 Race Gear; Kistler Racing Engines; KSE Racing Products; Maxim Racing; Motor State Distributing; Pro Powder Coating (PPC); Saldana Racing Products; Schoenfeld Headers; Smith Titanium; Vortex Racing Products; Walker Performance Filtration; Weld Racing; Wilwood Racing; Winters Performance Products; and Xtreme Body and Paint.
To stay connected with Jason Johnson Racing (JJR), go to www.jasonjohnsonracing.com.
To stay up-to-date with Carson Macedo and his success journey on and off the track, as well as to purchase his gear and merchandise directly, visit www.carsonmacedoracing.com.