DUSTING OFF HIS BOOTS IN TEXAS: THE JJR TEAM HEADED TO THE LONE STAR STATE AS THE CALIFORNIA SPEEDSTER BRINGS THE DURST #41 HOME WITH HIS 11TH CONSECUTIVE TOP TEN FINISH AT THE TEXAS OUTLAW NATIONALS
MESQUITE, TEXAS (March 31, 2023) – Each year the World of Outlaws NOS Energy Drink Series makes their way back to the place where it all started under Ted Johnson – Devil's Bowl Speedway. The famous half-mile Texas oval hosted Ted Johnson's band of traveling stars as they arrived in Mesquite four and a half decades ago. On March 18, 1978, Johnson watched as his vision was on display at speed. That inaugural World of Outlaws event would see Jimmy Boyd, in a non-wing sprint car with Kenny Woodruff turning the wrenches, capture the checkered flag. Fast forward to March 2023 and the series still continues with a potent field of talented sprint car drivers led by names like Schatz, Sweet, Gravel, Macedo, Haudenschild, Bayston, McFadden and even a Kinser to name a few. Carson Macedo was primed and ready to show some speed aboard the Albaugh – Your Alternative #41 Maxim as 31 teams were checked in at the pit gates and ready to kick off two nights of racing at the historic and famous Devil's Bowl Speedway in the Texas Outlaw Nationals.
After rain saturated the grounds overnight, the track crew was hard a work to prepare the racing surface for the evening's festivities starting with hot laps and Low-E Insulation Qualifying. The pit area was bustling with activity with storms still brewing all around but the sun was shining through, as the teams and drivers prepared for the night of racing action. By the luck of the draw, Carson Macedo would be the 15th driver to pull out onto the Devil's Bowl Speedway surface in the Team Jack Foundation/Premier Coach Group/High Performance Lubricants #41 Maxim for his two time trial laps. This place is always bad fast, so when these drivers jump on the loud pedal in these beasts they know they are about to experience a high speed adventure. The Lemoore, California native did just that and blasted under the green flag to start the clock on lap one. It only took him 14.194 seconds to complete his first lap. His right K1 Race Gear boot was still planted in the accelerator as the seconds ticked by on the stopwatch for his second go 'round. When he exited turn four and raced under the checkered flag, his second lap came in slightly better at 14.188 seconds. The quicker of his two circuits positioned him 10th quick overall for the night. Michael "Buddy" Kofoid set quick time with a lap of 13.943 seconds. He was one of two drivers, Logan Schuchart accomplished it too, to time in under the 14 second bracket.
When the lineups were posted for the three 8-lap heat races, Carson Macedo would line the Jansen Transportation/Bandy & Associates/Larry Davis Farms #41 Maxim on the outside of row two with fellow Californian Rico Abreu to his inside. Michael Kofoid, another Californian, was pacing from the pole position with Spencer Bayston flanked to his right on the front row. In row three found Giovanni Scelzi and Sam Hafertepe Jr. with Brock Zearfoss, Danny Jennings, Bill Balog, Austin Mundie and Brett Becker filling in the remaining rows for the heat race. They rolled slowly around Devil's Bowl as they patiently waited to let them loose under green flag conditions. Kofoid raced into the lead at the start over Bayston as Macedo wheeled the Albaugh – Your Alternative #41 entry on the outside through turns one and two to secure the third spot as they sped down the backstretch. He kept his momentum up and was tracking down the Bayston's TrueTimber Riptide designed CJB #5 to challenge him for the second position and a spot in the Toyota Dash. Michael Kofoid would not be denied as he breezed to the win by 3.8 seconds over Bayston with Carson Macedo coming home in the show position. Rico Abreu finished fourth with Giovanni Scelzi and Sam Hafertepe Jr. securing the last three transfer positions to the feature later in the evening.
After missing the Toyota Dash by one position, Carson and the Jason Johnson Racing (JJR) team methodically prepared the Albaugh – Your Alternative #41 for the 25-lap NOS Energy Drink Texas Outlaw Nationals preliminary night feature. After some minor track preparations, the new horn was revved up letting the teams know they had 8-minutes to get their cars out onto the racing surface to wait to be pushed off. Brent Marks and Logan Schuchart would lead the field from the front row with Brad Sweet and Jacob Allen in row two. Michael Kofoid and Spencer Bayston were in row three with Carson Macedo and Blake Hahn right behind in row four. It was time to go racing at Devil's Bowl Speedway!
The green flag waved and Brent Marks darted into the top spot as Brad Sweet quickly maneuvered by Logan Schuchart to take over the second position. Carson had the Tarlton and Son/Meyers Constructors/Smith Titanium #41 rolling in the seventh position as he was stalking Spencer Bayston on the track. On lap 6, Carson made his move and was able to get around Bayston to move into the sixth spot while Marks and Sweet were in an all-out battle for the lead.
David Gravel smoothly moved into the mix with Bayston and Macedo as he moved by both drivers on the scoreboard on lap 9. Up front Brad Sweet was all over Brent Marks and on lap 10 he moved into the lead in the NAPA Auto Parts #49. Sweet would check out and never look back as he dominated the remainder of the race to take the win over Marks, Jacob Allen and David Gravel with Kofoid rounding out the top five.
Carson continued his top ten consistency this season in the Mesilla Valley Transportation (MVT) #41 with a seventh place run as he crossed the line right behind Logan Schuchart. He is 11 for 11 this year with top ten finishes with the highlight being two wins. Another good run for Macedo and the forty-one!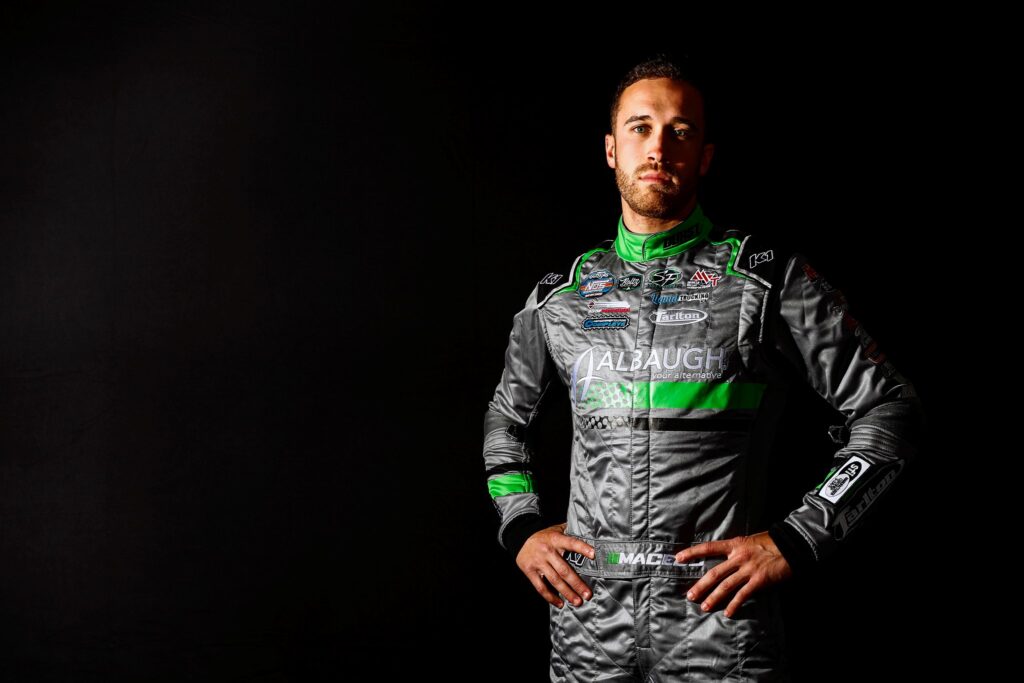 A Top Ten Run to Open the Texas Outlaw Nationals at Devil's Bowl Speedway! Photo Credit: Trent Gower Photography
Albaugh, LLC; Border International; Mesilla Valley Transportation (MVT); Saich Family; Tarlton and Son Inc.; Boltz Family; Complete Parts & Equipment Solutions; Durst Inc.; Liquid Trucking; Bandy & Associates Accountancy Corporation; Buckwalter Trucking, LLC; Jansen Transportation; Larry Davis Farms; Meyers Constructors Inc.; Mr. Jim's Racing; RaceDiecast.com; Sam I Am; Team Jack Foundation; Mark Burch Motorsports; T-FAB Custom Metal Fabrication; Tiger Towing; All Pro Aluminum Cylinder Heads; AutoMeter; Bell Helmets; BMRS (Brown & Miller Racing Solutions); BR Motorsports; C&R Racing; Crow Enterprizes; Engler Machine & Tool, Inc.; Factory Kahne (FK Shocks); Fibreworks Composites; FK Rod Ends; Greber Racing Components; High Performance Lubricants, LLC; Hoosier Racing Tire; Indy Performance Composites (IPC); ISC Racers Tape; K1 Race Gear; Kistler Racing Engines; KSE Racing Products; Maxim Racing; Motor State Distributing; Premium Coach Group; Pro Powder Coating (PPC); Saldana Racing Products; Schoenfeld Headers; Smith Titanium; Vortex Racing Products; Walker Performance Filtration; Weld Racing; Wilwood Racing; Winters Performance Products; and, Xtreme Body and Paint.
To stay connected with Jason Johnson Racing (JJR), go to www.jasonjohnsonracing.com.
To stay up-to-date with Carson Macedo and his success journey on and off the track, as well as to purchase his gear and merchandise directly, visit www.carsonmacedoracing.com.