CONCLUDING IN CONCORD: A TOP FIVE FINISH ON NIGHT TWO AT THE WORLD FINALS CAPS OFF AN INCREDIBLE FIRST YEAR TOGETHER FOR MACEDO AND JJR #41 TEAM AS THEY SECURE THIRD OVERALL IN THE CHAMPIONSHIP POINT STANDINGS
CONCORD, NORTH CAROLINA (November 6, 2021) – Following his fourth place finish on Friday night to start the 2021 edition of the NGK/NTK World Finals, Carson and his JJR #41 team were back at The Dirt Track at Charlotte eager to get started on a cool and crisp Saturday afternoon with an early start time. It was the final race in a long season that spanned eight months for this first year combination, but a year that delivered much more than was anticipated or expected . . . all in a good way. The journey was filled with so many highs, very few lows (known internally at JJR as learning opportunities), which is usual and customary. But there were a lot more successes than challenges and a lot of laughter along the way for the forty-one team. Under the leadership of car owners Philip and Brooke Dietz, the Jason Johnson Racing (JJR) team of Carson Macedo (driver), Clyde Knipp (car chief), and Nate Repetz (tire specialist) proved that team work matters and having fun is just as important. They were all looking to close out their impressive season successfully on Saturday night and earn the podium position in the season long championship point standings as 43 teams were back and registered to race.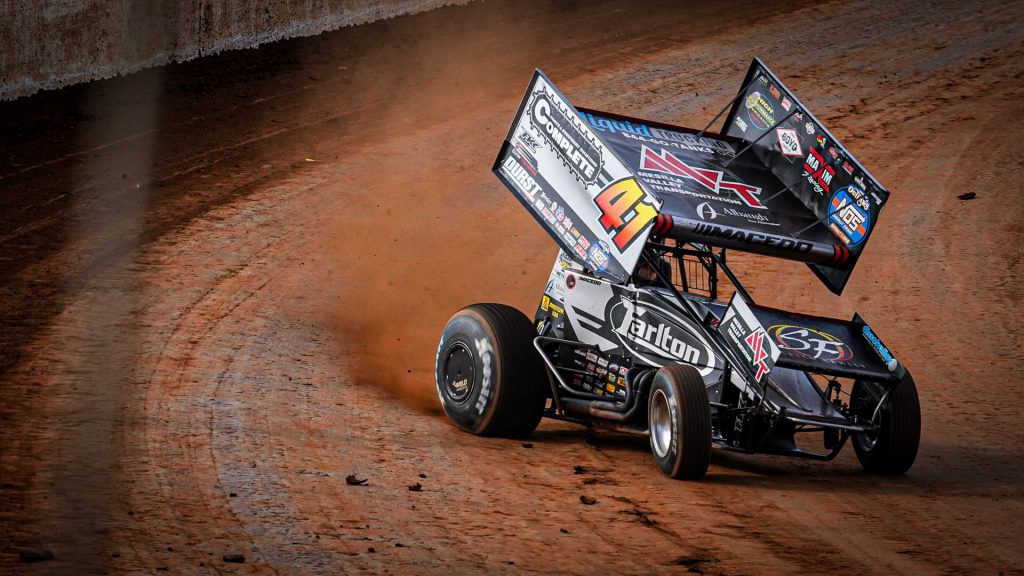 Time trials for the NGK/NTK World Finals were up next on the agenda in Slick Woody's Qualifying. Carson Macedo would be the 16th driver out onto the track in Flight B for his two laps at speed. The Lemoore, California native patiently sat in the staging area waiting for his turn to stomp and steer his Maxim Racing speed beast around The Dirt Track at Charlotte. When it was his turn, he rolled onto the track in the Mesilla Valley Transportation (MVT)/Factory Kahne Shocks/Border International #41 and headed towards the green flag with his right foot planted on the speed button. He was wheeling and dealing inside his office from the comfort of his Fibreworks Composites/Sharp Advantage custom fitted seat as he completed the first lap in 13.590 seconds. He was hard at work the next time around looking to pick up any time he may have left out there on his first circuit. When he crossed the finish line on the second lap he found some with his recorded time reflected a time of 13.499 seconds. The faster of his two laps ended up being 4th quick overall on the speed charts in Flight B with Brad Sweet setting quick time out of Flight A with a time of 12.855 seconds.
When the final lineups for the four Drydene Heat Races were posted using each driver's best time from Slick Woody's qualifying, Carson Macedo would find himself on the outside of the front row in the fourth 8-lap qualifying heat races with James McFadden sitting in the pole position. Sam Hafertepe and Jason Sides lined up in row two, Parker Price-Miller and Kraig Kinser in row three, with Shane Stewart, Adam Kekich, Wayne Johnson, and Kyle Reinhardt filling the remaining starting positions. Peering through the shield of his circus themed helmet painted by Shifty Illusions, Carson was ready to put on his own show and get up to speed in the Complete Parts & Equipment Solutions/Tiger Towing/Meyers Constructors #41 Maxim. The yellow lights were shut off and the drivers were ready to go as the green lights illuminated with the signal from the flagstand. Carson drove the forty-one into the lead over McFadden as the forty-one was out front on lap one. He was digging and putting some distance between himself and McFadden with each completed lap. Carson raced under the checkered 1.919 seconds ahead of second place finishers James McFadden with Parker Price-Miller coming home third, Kyle Reinhardt fourth, and Kraig Kinser fifth.
Earning his way into his 50th World of Outlaws (WoO) DirtVision Fast Pass Dash, Carson Macedo would start eighth and have to work for his starting position. He shared row four with Brad Sweet. Logan Schuchart and Giovanni Scelzi led the field from row one. Brock Zearfoss and David Gravel paced behind from row two. And, James McFadden and Brent Marks settled in row three for the start. The slick surface presented some challenges for all of the drivers, but these professionals were going to give it a go to earn their starting spots in the feature finale. When the green flag waved it was Schuchart driving the Drydene/Shark Racing #1s into the top spot. David Gravel moved into the runner-up position while Carson Macedo was battling with the Kasey Kahne Racing (KKR) teammates, James McFadden and Brad Sweet, for position. Schuchart made it look easy as he motored to the win by 3.849 seconds over David Gravel who was followed by Giovanni Scelzi and Brent Marks across the finish line. Brock Zearfoss drive the Moose's LZ #3z home fifth, followed by McFadden, Macedo, and Sweet.
The horns sounded for the 25-lap World of Outlaws NOS Energy Drink NGK/NTK World Finals feature which was reduced by 5 laps due to track conditions. Carson climbed into the Albaugh – Your Alternative/Jonestown KOA/Tarlton and Son #41 Maxim ready to get to work. While he always looking to position himself for the win, Carson also had his eyes focused on getting a good finish to protect and earn the third position in the season long championship point standings behind 3-time champion Brad Sweet and runner-up David Gravel. Carson had a six point lead for third entering the feature over Donny Schatz, who took a provisional and was starting 25th. Carson knew the 10-time champion was not going to just allow his to walk away with the third place prize. Polesitter Logan Schuchart was looking to redeem his bad luck from the previous night. David Gravel was looking to sweep the World Finals. It was time to go racing at The Dirt Track at Charlotte! When the final four-wide salute to the crowd was done, Logan Schuchart led the field as they came up to speed. He was your early leader as Carson drove off the bottom into the top five where he would stay throughout the first 13 laps. On lap 13, a yellow flag was displayed for Tyler Courtney who was sideways in turn two. Schuchart was leading Brent Marks, David Gravel, Brock Zearfoss, and Carson Macedo. When they restarted in the two-by-two starting formation Logan Schuchart maintained the lead as Giovanni Scelzi slipped by Macedo on the outside to position him in fifth. With 10 laps to go, the speeds came to an abrupt halt when Jac Haudenschild and Paulie Colagiovanni flipped. Sheldon Haudenschild, Buddy Kofoid, and James McFadden were also involved and headed to the work area. Separately, Brad Sweet shredded a right rear tire and also headed to the work area to get some new Hoosier rubber on the right side. When they would restart Logan Schuchart would lead the single file restart back to the waving green flag with Marks, Gravel, Zearfoss, Scelzi and Macedo right behind. But, Donny Schatz had raced his way all the way up to seventh and the race for third place in the championship point standings for him and Macedo got a lot more interesting. They were hammer down with Schuchart just dominating at the front. Schatz made his way by Macedo for position. With 4 laps remaining, lightning struck twice as Logan Schuchart rolled to a stop in turn two with a flat right rear tire for the second night in the row. Brent Marks inherited the lead with Zearfoss, Gravel, Schatz and Macedo looking to finish it out. Schatz had to beat Macedo by three positions to tie him in the point standings and four positions to take sole possession of that spot. They went back to green and Marks raced his way to the win over Zearfoss and Schatz with Gravel and Macedo rounding out the top five. Carson Macedo did what he needed to do to earn third in the season-ending championship points standings by a mere two points over Schatz. A good run for the forty-one . . . and a great first season together for Macedo and the JJR #41 team!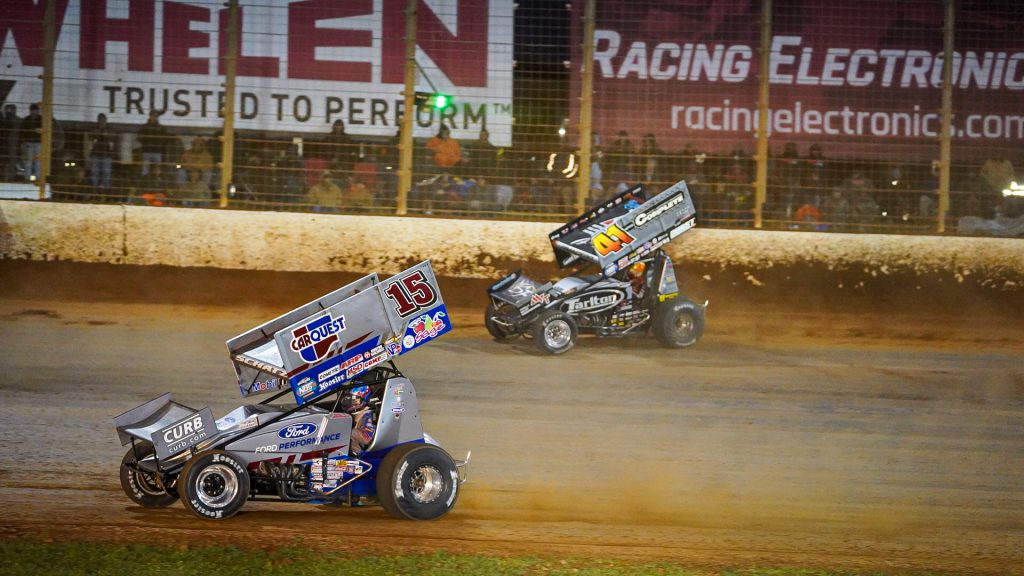 A Top Five Finish Earns Macedo and the JJR #41 Team Third Place in the WoO Championship Point Standings! Photo Credit: Cameron Saich
Mesilla Valley Transportation (MVT); Tarlton and Son Inc.; Complete Parts & Equipment Solutions; Albaugh – Your Alternative, Saich Family; Border International; Dissolvalloy Downhole Revolution; Jonestown KOA; Durst Inc.; Maxim Racing; The Boyd Family; Liquid Trucking; Meyers Constructors Inc.; Tiger Towing; Pro Powder Coating (PPC); Waco Metal; High Performance Lubricants, LLC; Kistler Engines; Team Jack Foundation; Mark Burch Motorsports; All Pro Auto Reconditioning; K1 Race Gear; AutoMeter; Bandy & Associates Accountancy Corporation; Bell Racing USA; Blackbeard LTD; BR Motorsports; Brown & Miller Racing Solutions (BMRS); Buckwalter Trucking, LLC; C&R Racing; Chalk Stix Torsion Bars; Crow Enterprizes; Engler Machine & Tool, Inc.; Factory Kahne (FK Shocks); Fibreworks Composites; FK Rod Ends; Fuel Safe Racing Cells; Greber Racing Components; Hoosier Racing Tire; ISC Racers Tape; Jansen Transportation; KSE Racing Products; Larry Davis Farms; Logo Daddy Graphics; Mr. Jim's Racing; MSD Performance; RaceDiecast.com; Sam I Am; Schoenfeld Headers; Smith Titanium; T-FAB Custom Metal Fabrication; Vortex Racing Products; Walker Performance Filtration; Weld Wheels; Wilwood Racing; and Winters Performance Products.
To stay connected with Jason Johnson Racing (JJR), go to www.jasonjohnsonracing.com.
To stay up-to-date with Carson Macedo and his success journey on and off the track, as well as to purchase his gear and merchandise directly, visit www.carsonmacedoracing.com.