COMPETING AT THE CAPPY: TAKING ADVANTAGE OF SOME TRACK TIME AT KNOXVILLE RACEWAY, CARSON CHARGES HARD TO AN 11TH PLACE FINISH IN THE 11TH ANNUAL CAPITANI CLASSIC HEADING INTO NATIONALS
KNOXVILLE, IOWA (August 7, 2022) – As if the Ironman 55 at Federated Auto Parts Raceway at I-55 isn't demanding enough, Carson Macedo and the JJR #41 team loaded up after the checkered flag flew late in the evening over the field Saturday night in Pevely (or to be more accurate early in the morning on Sunday), where Carson earned a runner-up finish to Brad Sweet, and trucked Mesilla Valley Transportation (MVT) style the 5 plus hours overnight as the sun came up to Knoxville Raceway to prepare and compete in the non-sanctioned 11th Annual Capitani Classic on Sunday evening. This event honors a true ambassador and legend of the sport of sprint car racing and long-time Knoxville Raceway promoter, Ralph Capitani – known by many as just simply as "Cappy", who passed away back in February of 2017. Mr. Capitani was inducted into the National Sprint Car Hall of Fame in 1994 after making Knoxville Raceway, as well as the Knoxville Nationals, bigger and grander each year with larger purses and fuller grandstands. This event that honors him has grown quite a bit too since the inaugural event. This year was no exception as a whopping 69 teams were registered to race and parked throughout the infield in their numbered pit stalls awaiting their opportunity to put their driver's name on the prestigious trophy at the end of the night.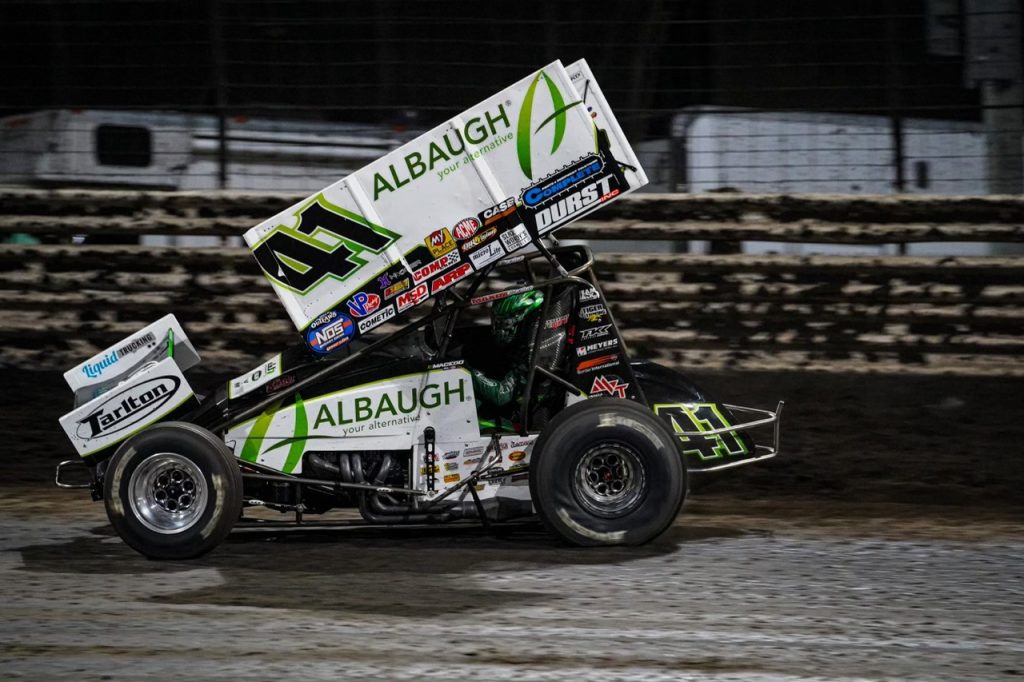 Following hot laps, the first thing on the race agenda was time trial qualifying for all of the drivers and teams. Because of the size of the field, the field was split into separate groups for time trials. Two cars would be on the track at the same time when they pushed off to race against the clock. Carson Macedo would be the sixth driver to hit the track in the Albaugh – Your Alternative/Boltz Family/Tiger Towing #41 Maxim. He secured his Crow Enterprizes safety belts. When his Kistler Engines power came to life he roared around the big half-mile building speed up as he headed towards the waving green flag. Fellow Californian, Giovanni Scelzi, was on the track at the same time as Carson. The stopwatch was ticking one second at a time as the talented driver from Lemoore, California kept his foot planted in the accelerator focused on hitting his marks. He was using the high side to carry his speed and when Carson raced under the waving white flag to complete his first lap, he did so in 16.342 seconds. He kept his momentum headed in the right direction and was hustling to carve some more time off his first lap effort. Carson exited turn four with the air flowing over his Vortex Racing Products wing and he whipped by Justin Clark's waving checkered flags, this time consistent but slightly slower at 16.387 seconds. The better of his two laps ended up being 13th quick overall out of Group B. Lynton Jeffrey was the fastest driver in Group B with a lap of 16.081 seconds, but it was James McFadden setting quick time overall out of Group A on this night at the Capitani Classic with his fastest lap coming in at 15.737 seconds.
There would be six 8-lap heat races with an inversion of the fastest four in each of the races. That meant Carson would line the Complete Parts & Equipment Solutions/Dissolvalloy Downhole Revolution/Meyers Constructors #41 up on the inside of row three from the fifth starting spot in the fourth heat race. Only three cars would transfer out of each heat race to the feature, so it was time to take on the challenge. Philip Dietz, Clyde Knipp and Nate Repetz were busy doing their thing to insure their driver had the best chance to advance his position throughout the race to earn a transfer spot into the feature race at end the evening. Carson zipped up his K1 Race Gear custom Albaugh – Your Alternative suit and climbed into his office as he locked his steering wheel in place. Justin Peck and Sye Lynch sat on the front row and were followed by Sam Hafertepe, Jr. and Lynton Jeffrey. Carson shared row three with Cody Copeland with Marcus Dumesny and Tim Kaeding right behind as Lindsey, Oklahoma's Harli White, Burlington. Iowa's Bobby Mincer and Sioux Falls, South Dakota's Clint Garner competed the starting grid. The initial start came to an abrupt halt as Lynton Jeffrey got up over Sam Hafertepe, Jr.'s left rear tire and flipped in the first set of turns collecting Cody Copeland and Clint Garner in the wreckage. That erased a great start for Carson who drove the Albaugh #41 around the bottom and was advancing forward. Since no laps were completed, the starting lineup was shuffled moving Carson to the outside of row two beside Hafertepe's #15H. When they came off turn four it was Justin Peck driving into the top spot with Sye Lynch hustling to keep pace. Carson moved the JJR #41 into third with Hafertepe right behind. The talented driver from Lemoore, California has his right foot buried and was closing in on second place running Sye Lynch. He caught him and passed him for that position on the second lap. Justin Peck was at the front legging out his lead in clean air. Carson was chasing hard and closing slightly, but Peck took the heat race win as Carson came home second to secure a transfer position to the feature with Sye Lynch coming home third. Tim Kaeding and Sam Hafertepe, Jr. rounded out the top five but would have to race in the second B-Main race if they wanted to earn a spot in the feature.
After some rain moved through the area, the track crew and push truck drivers worked in the surface and got it ready for the remaining events of the evening. Following the two B-Main races the feature lineup was set. For those drivers who transferred through their heat races their starting spots were determined off of points for the 25-lap, $9,000-to-win 11th Annual Capitani Classic feature event at Knoxville Raceway. That format found Carson Macedo and the Team Jack Foundation/Tiger Towing/FK Rod Ends #41 Maxim back on the outside of row nine in the 18th starting spot. Sye Lynch and Logan Schuchart were in row one. Aaron Reutzel and Tyler Courtney paced from row two. Giovanni Scelzi and Parker Price-Miller sat in row three with Brad Sweet and Donny Schatz in row four. It was time to go racing at Knoxville Raceway! The green lights lit up the infield poles in sync with the waving green flag as Logan Schuchart took command of the first position ahead of Sye Lynch. Carson wheeled the forty-one up to 16th place by lap 3, when the first caution flag flew for Tasker Phillips #7TAZ who slowed in turn three. At the front of the pack it was Schuchart, Lynch, Courtney, Reutzel and Scelzi in the top five. Schuchart maintained the top spot when they went back to green, but Carson muscled his way up to 13th place in the Albaugh – Your Alternative #41 using the outside line as everyone else was hugging the inside berm. He was wheeling and dealing' in Central Iowa. By lap 10, Carson had moved up another spot to 12th place before advancing another position into 11th place on lap 14. Meanwhile, at the front of the field, Logan Schuchart had some unwanted company in Donny Schatz. The two exchanged the lead and were racing hard against each other with their eyes focused on earning the winner's trophy. With 5 laps remaining though Schuchart got caught up behind a slowing Brady Bacon and got into the wall. They kept racing, but the yellow flag eventually flew as Bacon rolled to a stop. Schuchart inherited the lead back and Carson was running in the 11th spot. The laps made the low line the preferred line for the field, so passing had to be strategic and well-timed. When they went back to green it was Schuchart leading the remaining 2.5 miles taking the win over Donny Schatz, Aaron Reutzel, Brad Sweet and Tyler Courtney. Carson Macedo was the hard charger as he came home with an eleventh place finish passing the most cars (+7) throughout the race and will take the lessons learned and apply them when he is back on the track for his preliminary night on Thursday for the 61st Annual Knoxville Nationals. Another good run for the forty-one!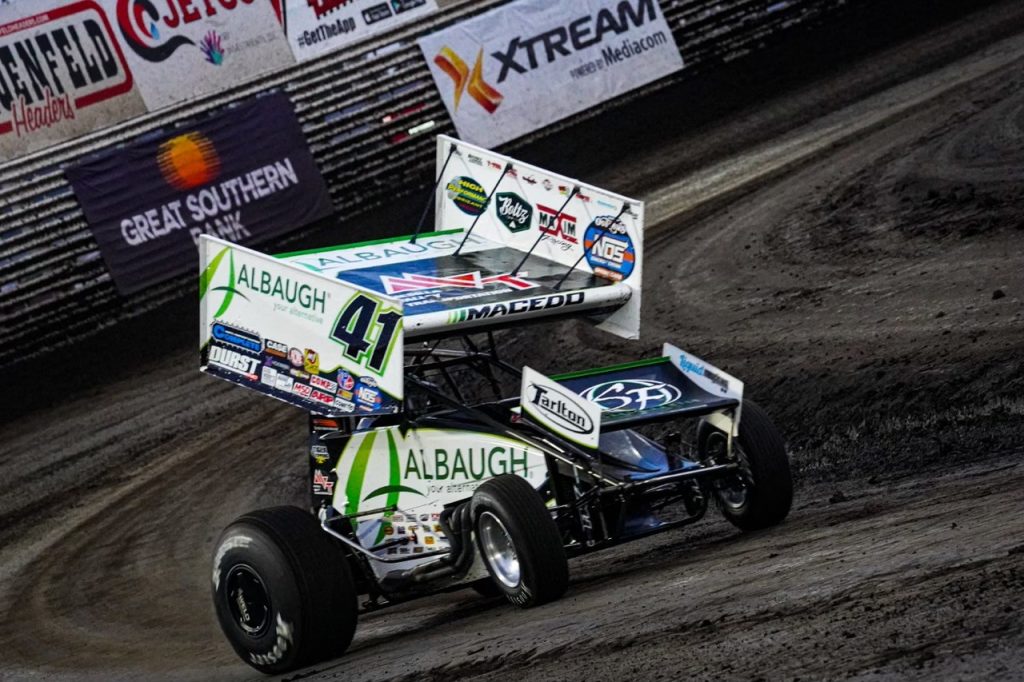 Taking Advantage of Track Time to Try Some Things, Carson Charges Forward in the Capitani Classic! Photo Credit: Cameron Saich
Albaugh, LLC; Border International; Mesilla Valley Transportation (MVT); Saich Family; Tarlton and Son Inc.; Boltz Family; Complete Parts & Equipment Solutions; Durst Inc.; Liquid Trucking; Bandy & Associates Accountancy Corporation; Buckwalter Trucking, LLC; Dissolvalloy Downhole Revolution; Jansen Transportation; Larry Davis Farms; Meyers Constructors Inc.; Mr. Jim's Racing; RaceDiecast.com; Sam I Am; Team Jack Foundation; Mark Burch Motorsports; T-FAB Custom Metal Fabrication; Tiger Towing; All Pro Aluminum Cylinder Heads; AutoMeter; Bell Helmets; BMRS (Brown & Miller Racing Solutions); BR Motorsports; C&R Racing; Crow Enterprizes; Engler Machine & Tool, Inc.; Factory Kahne (FK Shocks); Fibreworks Composites; FK Rod Ends; Greber Racing Components; High Performance Lubricants, LLC; Hoosier Racing Tire; Indy Performance Composites (IPC); ISC Racers Tape; K1 Race Gear; Kistler Racing Engines; KSE Racing Products; Maxim Racing; Motor State Distributing; Premium Coach Group; Pro Powder Coating (PPC); Saldana Racing Products; Schoenfeld Headers; Smith Titanium; Vortex Racing Products; Walker Performance Filtration; Weld Racing; Wilwood Racing; Winters Performance Products; and Xtreme Body and Paint.
To stay connected with Jason Johnson Racing (JJR), go to www.jasonjohnsonracing.com.
To stay up-to-date with Carson Macedo and his success journey on and off the track, as well as to purchase his gear and merchandise directly, visit www.carsonmacedoracing.com.