CHASING SUNSHINE AND CHECKERS: WEATHER CANCELED THE WORLD OF OUTLAWS WEEKEND AT ELDORA, SO THE TEAM HEADS TO KNOXVILLE WHERE MACEDO COLLECTS THE VICTORY TO CELEBRATE PHIL DIETZ'S BIRTHDAY
KNOXVILLE, IOWA (May 7, 2022) – After Mother Nature wrecked the entire World of Outlaws NOS Energy Drink Sprint Car Series weekend at Eldora Speedway, Carson Macedo and the JJR #41 team trucked Mesilla Valley Transportation (MVT) style up the road to Knoxville Raceway to compete in a non-sanctioned regular show on Saturday night. The sun was shining overhead as they rolled the Albaugh – Your Alternative #41 Maxim out of the trailer to prepare for battle at The Sprint Car Capital of the World. There were 43 410 winged sprint cars entered on this night, so it was elbows up time for the Lemoore, California speedster.
The large field of competitors was split into two separate groups, Group A and Group B, for time trail qualifying. Two cars would be out on the track at the same time with the goal of beating the clock. The Liquid Trucking/Saldana Racing Products/WELD Racing #41 Maxim would be the seventh car out in Group B. After Emerson Axsom and Tyler Drueke finished their laps, it was Macedo's turn to generate speed along with Riley Goodno. His Kistler Engines power came to life and he built up speed as he headed towards the flagstand where Justin Clark was waving the green flag. The second hand on the clock was ticking and Macedo was on point. He was hammer down and laid down a great lap at 15.921 seconds. The driver tried something different the next time around and turned in a much slower lap at 16.579 seconds. His first lap was a good one though and ended up third quick overall in Group B.
The six fastest drivers in each of the four 8-lap heat races were inverted based on the time trial qualifying efforts. That put Carson Macedo aboard the Tarlton and Son/Meyers Constructors/Boltz Family #41 on the inside of row three beside quick timer in Group B Brian Brown. The two talented drivers paced behind polesitter Matt Juhl and Carson McCarl with Austin McCarl and Cory Eliason in row two. When the field went green Macedo wasted no time going to work. He drive the forty-one from his fifth starting position into third on the opening lap and then wheeled it into the runner-up spot as he rolled by Matt Juhl the next time around. Carson then focused his attention on seeing if he could track down Carson McCarl who was leading the field. He was able to close the gap a little, but the laps ran out as Carson McCarl took the win followed by Carson Macedo, Cory Eliason, Matt Juhl, Austin McCarl and Brian Brown.
The starting grid for the 20-lap Busch Light Night feature at Knoxville Raceway was established off of cumulative points from time trials and heat race results with the top six point earners being inverted to start the race. Tyler Courtney was high point driver with Carson Macedo coming in second. That positioned the duo in row three to start the race with Sam Hafertepe Jr. and Tasker Phillips on the front row and Justin Henderson and Aaron Reutzel in row two. Carson climbed aboard the Complete Parts & Equipment Solutions/Dissolvalloy Downhole Revolution/C&R Racing #41 Maxim and headed to the staging area. Giovanni Scelzi and Cory Eliason were pacing from row four with Sawyer Phillips and Brian Brown in row five. Before the green flag flew Tyler Courtney headed to the pit area on the backstretch with mechanical issues. The outside row slid up and the green flag flew. It was Hafertepe to the early lead as Macedo maintained his starting position on lap one. The track was very technical with a thin bottom, tricky cushion and slick surface through the middle. Carson settled in and on lap four passed Tasker Phillips to take over the fourth position in the running order. Coming off turn four he got the left front tire up over the inside berm and wheelied providing some excitement for the fans. Justin Henderson stole the lead from Hafertepe on lap six with Macedo starting to get into a groove. On lap 8, Macedo charged into the runner-up spot passing both Hafertepe and Reutzel. Carson then started to reduce the gap between himself and Henderson as the leaders navigated through lap traffic at speed. On lap 14, Carson had closed within a few cars lengths exiting turn four and was right there as they completed the lap and passed by the flagstand. Entering turn one he drove under Justin Henderson and seized the lead. Once there he was relentless aboard the Albaugh – Your Alternative #41 as he extended his lead during each of the remaining laps. He had almost a straightaway lead and took the checkers and the win to celebrate car owner and crew chief Philip Dietz's birthday by 3.352 seconds over Sam Hafertepe Jr. Justin Henderson came home third with Aaron Reutzel and Kerry Madsen completing the top five.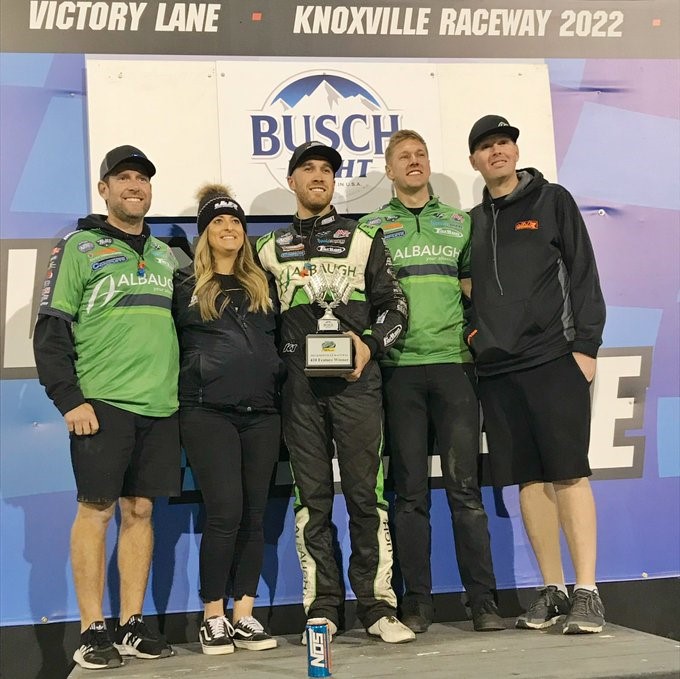 The happy winner unbuckled his Crow Enterprizes safety belts and climbed out with a big smile on his face. After celebrating with the fans up top he climbed down for the victory lane interview. With a smile on his face he explained, "It was just really technical out there. You had to be really patient when you when you were on the bottom, and really aggressive on the top." He continued, "Hats off to my team. It was a last minute decision to come here. I'm really happy that we did. Any time you can get laps here at Knoxville is a plus. I got a decent start. I jumped into fourth and I ended up in the middle one time. I remember Jason Meyers telling me never to be in the middle – be on the top or the bottom. Knoxville is just a really tricky racetrack. It's all about track position, being in the right spots and connecting that grip at all times." Another great run for the forty-one team as they collect their fifth win of the 2022 season.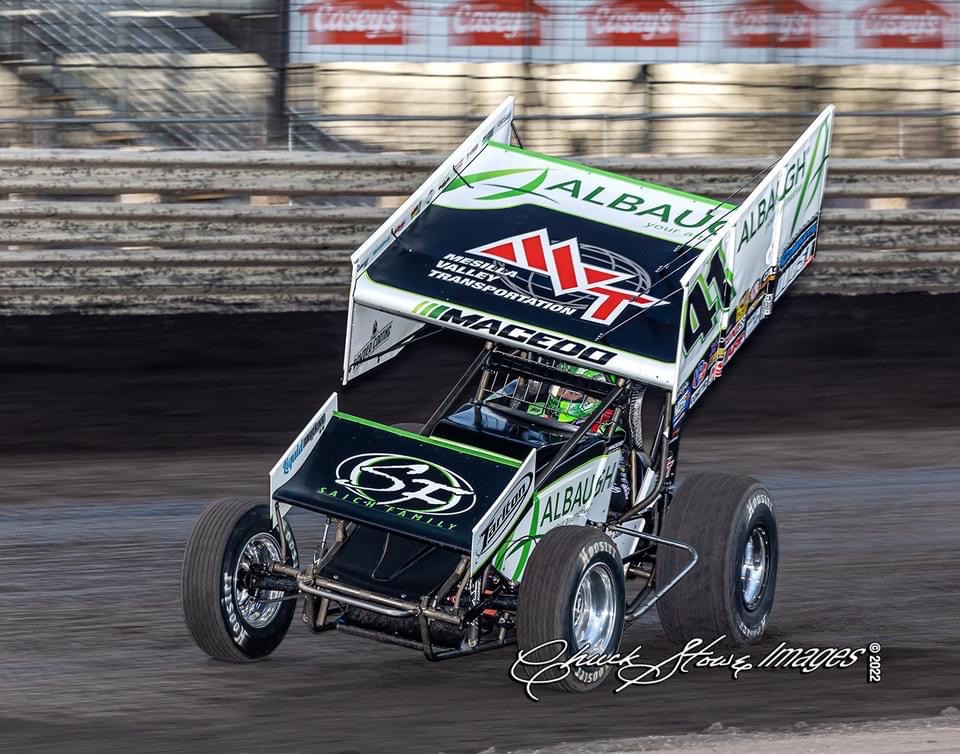 Driving to Victory Lane at The Sprint Car Capital of the World on Saturday Night! Photo Credit: Chuck Stowe Images
Albaugh, LLC; Border International; Mesilla Valley Transportation (MVT); Saich Family; Tarlton and Son Inc.; Boltz Family; Complete Parts & Equipment Solutions; Durst Inc.; Liquid Trucking; Bandy & Associates Accountancy Corporation; Buckwalter Trucking, LLC; Dissolvalloy Downhole Revolution; Jansen Transportation; Larry Davis Farms; Meyers Constructors Inc.; Mr. Jim's Racing; RaceDiecast.com; Sam I Am; Team Jack Foundation; Mark Burch Motorsports; T-FAB Custom Metal Fabrication; Tiger Towing; All Pro Aluminum Cylinder Heads; AutoMeter; Bell Helmets; BMRS (Brown & Miller Racing Solutions); BR Motorsports; C&R Racing; Crow Enterprizes; Engler Machine & Tool, Inc.; Factory Kahne (FK Shocks); Fibreworks Composites; FK Rod Ends; Greber Racing Components; High Performance Lubricants, LLC; Hoosier Racing Tire; Indy Performance Composites (IPC); ISC Racers Tape;K1 Race Gear; Kistler Racing Engines; KSE Racing Products; Maxim Racing; Motor State Distributing; Pro Powder Coating (PPC); Saldana Racing Products; Schoenfeld Headers; Smith Titanium; Vortex Racing Products; Walker Performance Filtration; Weld Racing; Wilwood Racing; Winters Performance Products; and Xtreme Body and Paint.
To stay connected with Jason Johnson Racing (JJR), go to www.jasonjohnsonracing.com.
To stay up-to-date with Carson Macedo and his success journey on and off the track, as well as to purchase his gear and merchandise directly, visit www.carsonmacedoracing.com.