CELEBRATION OF SUCCESS AT THE GROVE: GRAVEL AND THE JJR #41 TEAM TAKE NIGHT ONE OF THE MORGAN CUP AT WILLIAMS GROVE SPEEDWAY WITH A STELLAR SHOWING OF SPEED AND PERSISTENCE TO EARN THE WIN!
MECHANICSBURG, PENNSYLVANIA (May 17, 2019) – On a beautiful Spring day in Central Pennsylvania . . . finally, David Gravel and the JJR #41 team along with family, sponsorship partners, friends and lots of fans, arrived at the historic Williams Grove Speedway ready for the first of two nights of high speed action in the H&N Landscaping Morgan Cup. There were 40 cars entered and parked in the infield and backstretch pit areas ready to conquer the hairpin half-mile oval. The JJR forty-one team had their Mesilla Valley Transportation (MVT)/Engler Machine & Tool #41 Maxim Racing machine prepped for speed on this night.
There were two sets of time trial qualifying groups, Flight A and Flight B, with birthday boy Braden Saich pulling the '27' pill, which when all the numbers were pulled put the J.R.C. Transportation/High Performance Lubricants #41 as the twentieth and last car out in the first group of qualifiers. The driver from The Constitution State of Connecticut climbed into the cockpit in his Durst, Inc. emblazoned Simpson Race Products driver's suit and pulled his safety belts tight. He waited patiently in line for his turn to circle Williams Grove Speedway during the individual performance part of the show. He did not disappoint as he went out and showed off his Kistler Racing Engines speed turning a lap of 16.991 seconds tying the top mark in Flight A to that point. Not content, he stayed on the loud pedal and generated a little more speed resulting in a quicker lap the second time around at 16.854 seconds, which was quick time in Flight A and second overall on the night to Lance Dewease's 16.761 second lap in the Kreitz #69k.
Earning the pole position in the first and fastest heat race of the night, David Gravel and the JJR crew got their Maxim Racing #41 ready for an eight lap assault at Williams Grove. The heat races with the World of Outlaws NOS Energy Drink Sprint Car Series are routinely loaded with talent and speed and this race was no different. Daryn Pittman shared the front row with Gravel as Brad Sweet, Kerry Madsen, Carson Macedo, Jacob Allen Dave Blaney, Adrian Shaffer, Kody Lehman and Brock Zearfoss held spots in the starting grid. On the initial start, Gravel and Pittman drag raced down the front straightaway with Pittman dropping down hard in turn one and seizing the lead. Before a lap was completed though the yellow flag was displayed for Macedo who rolled to a stop coming off turn two. Macedo would rejoin the field and on the restart Gravel pedaled down and this time drove the Weikert's Livestock/Team Jack Foundation/Dissolvalloy Downhole Revolution Maxim into the lead over Pittman. He had his Weld Racing Wheels rolling as the lights came on with the sun setting to the West as the farmer tended to his field just over the fence in turn four. Gravel was moving and would take the win over Pittman as Brad Sweet came home third followed by Jacob Allen as Kerry Madsen secured the fifth and final transfer position in the heat race.
The great night continue for Gravel and the JJR #41 team as he pulled the one pill, which put him on the pole for the six lap DIRTVision Fast Pass Dash. These sprint races, where the finishing order sets the starting grid for the feature, are always pretty exciting. David and Shane Stewart made up row one as some high speed and talented chasers like Danny Dietrich, Daryn Pittman, Chad Trout, Gio Scelzi, Tim Shaffer and Parker Price-Miller were ready to charge from their starting positions. When Gravel's nose of The Boyd Family/Cody Monoco Racing/Pro Powder Coating (PPC) #41 hit the chalk line in turn four, he was off taking the lead over Shane Stewart. He took a commanding lead by the end taking the Dash victory over Pittman, Stewart and Dietrich as Scelzi, Trout, Shaffer and Price-Miller rounded out the finishing order.
There were 25 laps sitting between the field and the $8,000 winner's prize on the first of two nights of Morgan Cup action. Philip, Tyler and Patrick made some final adjustments to their high speed machine as they rolled the Buckwalter Trucking, LLC/Brown & Miller Racing Solutions Maxim back from the hauler. The field formed in their traditional four-wide salute to the fans as they made their way down the backstretch under the famous blue bridge that crosses over the track. When they returned to their two-by-two starting formation it was time to go racing at Williams Grove Speedway! Outside front row starter, Daryn Pittman, took the top spot when the green lights illuminated with Gravel connecting his Hoosier Racing Tires to the track's surface to keep pace. Pittman was setting a pretty good pace up front and led the first 14 laps before Gravel made his move for the lead. He made his lines work and was carrying his speed forward as the race leaders approached lap traffic. Gravel used his KSE Racing Products to steer his way meticulously through the field before a late yellow flag flew with 7 laps to go. With less than 10 laps to go, per World of Outlaws rules, the field restarts single file with any lap cars sent to the back. Gravel had horsepower and speed with clean air in front of him, but when the green flag waved to restart the field he also now had Danny Dietrich to contend with as the driver of the #48 was fast and had the desire to gain the top spot. The Watertown, Connecticut stayed focused and did was he does best, drive fast and clean, as he collected his 42nd career World of Outlaw victory over the hard charging Dietrich as Pittman came home third followed by Shane Stewart and Tim Shaffer.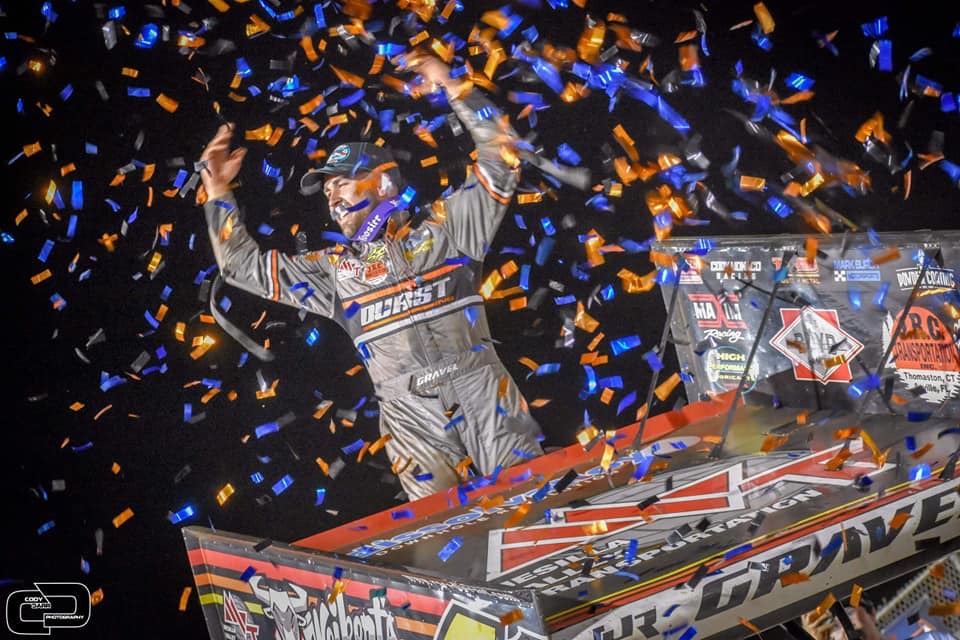 A jubilant driver celebrated with his team, sponsorship partners, family and friends on the front straightaway as confetti settled down onto the car and his Vortex Racing Products wings. He explained, "Man, we're trying all sorts of stuff." He continued, "Every night I don't think we run the same bar combination. Philip is always working, trying to make the car better." He concluded by saying, "The past couple of races we have been really good. We're qualifying well consistently now, which is a huge part of this. If we keep that up good things will happen. I just want to keep winning races and try to be as consistent as possible." He will get another shot on Saturday night on the final night of the Morgan Cup with a nice trophy and purse on the line! A great run for the forty-one!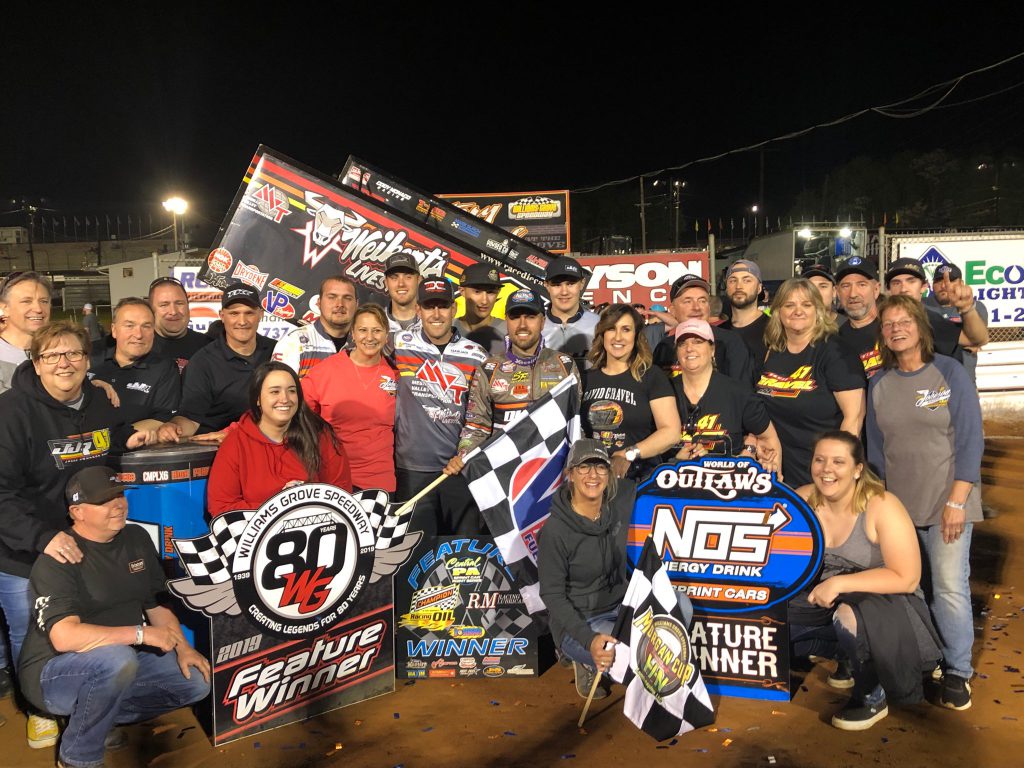 We are proud to represent all of our dedicated and loyal supporters:
Mesilla Valley Transportation (MVT); Saich Family; Jonestown KOA; Dissolvalloy Downhole Revolution; Weikert's Livestock; J.R.C. Transportation, Inc.; Durst Inc.; Maxim Racing; The Boyd Family; Pro Powder Coating (PPC); Waco Metal; High Performance Lubricants, LLC; Team Jack Foundation; Mark Burch Motorsports; Tiger Towing; All Pro Aluminum Cylinder Heads, Inc.; All Pro Auto Reconditioning; AutoMeter; Bell Racing USA; Blackbeard; Brown & Miller Racing Solutions (BMRS); Buckwalter Trucking, LLC; C&R Racing; Chalk Stix Torsion Bars; Cody Monoco Racing; Crow Enterprizes, Engler Machine & Tool, Inc.; Factory Kahne FK Shocks; Fibreworks Composites; FK Rod Ends; Fuel Safe Racing Cells; Greber Racing Components; Hoosier Racing Tire; ISC Racers Tape; Jansen Transportation; K&N Filters; Kaiden Kares; Kistler Racing Engines; KSE Racing Products; LogoDaddy Graphics; Max Papis Innovations (MPI); MSD Performance; Schoenfeld Headers; Shell Shock Paint; Simpson Race Products; T-FAB Custom Metal Fabrication; Vortex Racing Products; Weld Wheels; Wilwood Racing; Winters Performance Products; and, www.racediecast.com.
To stay connected with Jason Johnson Racing (JJR), go to www.jasonjohnsonracing.com.
To learn more about David Gravel, and stay up to date with his success and journey, go to www.DavidGravel89.com.