CARSON MACEDO MAKING IT HAPPEN: CALIFORNIA HOTSHOE WHEELS THE JASON JOHNSON RACING (JJR) DISSOLVALLOY #41 MAXIM TO VICTORY IN THE PRELIMINARY FEATURE AT THE 28TH ANNUAL 360 NATIONALS
KNOXVILLE, IOWA (August 3, 2018) – Bobbi Johnson, along with Philip Dietz, Tyler Elliott and Patrick Dudzinski, have worked through a very difficult period but never wavered in the efforts to make sure "The Dream", referring to Jason's dream of building the Jason Johnson Racing (JJR) team into a world-class operation, never stopped. After a lot of long days and many consecutive late nights, the JJR #41 team was back at the track to complete with a talented wheelman who hails from Lemoore, California named Carson Macedo for their preliminary night at the 360 Nationals presented by the Great Southern Bank.
They had their blue Dissolvalloy/Durst/Million Heir Cosmetics #41 Maxim Racing machine ready for their driver as 48 cars packed the pit area for the second night of racing action. Macedo is no stranger to sprint cars and running these high-speed hotrods as he competes regularly in the Arctic Cat All Star Circuit of Champions and is currently the runner-up in the season long point standings. After hot laps, Phil and the JJR crew readied the car for their driver's two laps of qualifying. Macedo pushed out in the latter part of the time trial order, but pushed the loud pedal and got Marvin and Peggy Pearson's powerplant humming under the hood as he took the green on his first timed lap. His first lap was a good one at 17.011 seconds. He ran a consistent lap the second time around but it was slightly slower at 17.528 seconds. The faster of his two laps was good enough for 12th quick overall on the night.
Carson would line up third in the second 8-lap heat race, which was loaded with proven sprint car racing talent including the driver nestled into his seat of the JJR forty-one. Chris Martin sat on the pole with Chad Kemenah to his outside as Macedo shared row two with Brooke Tatnell. Seth Bergman and Joey Saldana made up row three as Dylan Westbrook, Geoff Ensign. Dalton Steed and Michael Bookout rounded out the starting field. Chris Martin jumped into the early lead with Macedo stalking aboard the Dissolvalloy Downhole Revolution #41. Martin was in clean air running in the top spot, but Macedo was digging and making tracks with Tatnell and Saldana chasing his tail. Martin would go on to take the win with Macedo coming home second as Tatnell and Saldana secured the final two transfer positions to the feature finale.
When the lineup for the 20-lap feature was posted, Macedo and the Dissolvalloy/Mesilla Valley Transportation (MVT) #41 Maxim would start on the outside front row beside Cole Duncan with a strong field just behind with names like Wayne Johnson, Tim Kaeding, Terry McCarl, Gio Scelzi, Joey Saldana and Nate VanHaaften just to name a few. Duncan would jump into the early lead with Macedo turning his Hoosier Racing Tires to get traction to keep it close. Duncan would lead the first three laps before a yellow slowed the field. On the restart, it was Joey Saldana driving into the lead as a four car – Duncan, Macedo, Saldana and McCarl – battle for the clean air position. Macedo temporarily was shuffled back, but he drove back into the runner-up spot and methodically raced towards the leader. Saldana was fast and closing in on the back of the field. As he approached lapped traffic, Macedo closed the gap. The gap shrunk and Macedo made the move for the lead entering turn three as the announcer exclaimed over the public address system "You have a neeeew leader!" That leader was the cool kid from California, Carson Macedo. He led lap ten and drove the Dissolvalloy/Million Heir Cosmetics #41 to victory lane taking the win over runner-up Saldana by 2.546 seconds with McCarl taking third, as Keading and Scelzi rounded out the top five.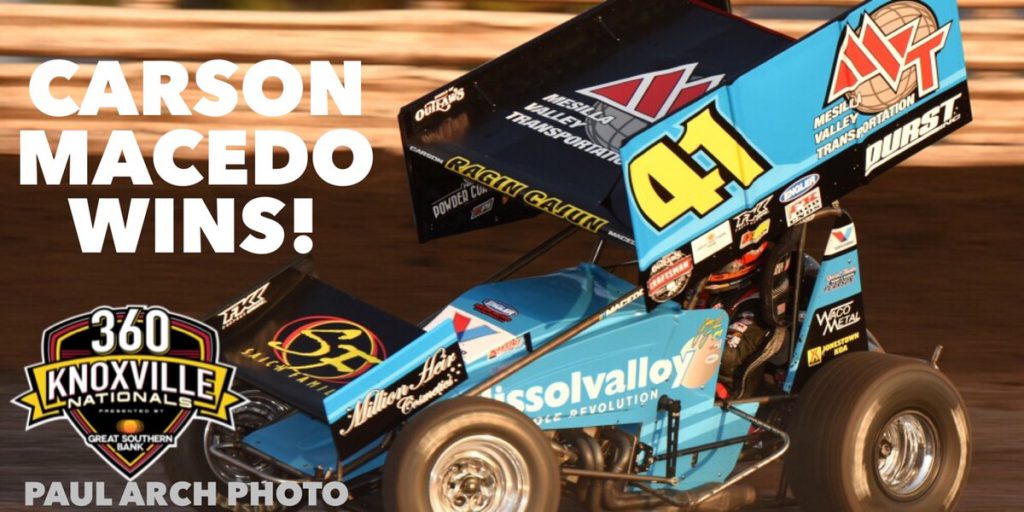 The crowd erupted with cheers so loud it gave you goosebumps. It was Macedo's first win at the famed half-mile oval known as the "Sprint Car Capital of the World" – Knoxville Raceway. The jubilant JJR driver and team celebrated the win as he exited the car and waved the flag perched atop the tail tank high over the top wing. Macedo explained, "My car was so stable. I could just run right over the cushion, turn off, and still be fast." He continued, "I don't know how they do that, but they made my car really good, so I just had to do the job I was hired to do." He concluded by saying, "There at the end, I was just counting down the laps. I am just so happy for this team. For Bobbi and Jaxx and for Philip and all these guys." A well-deserved victory for a quality driver and hardworking team, who all had smiles on their face as they soaked in the special moment with flash bulbs flashing everywhere . . . I am sure even Jason was smiling with his grin and just beaming with pride from above!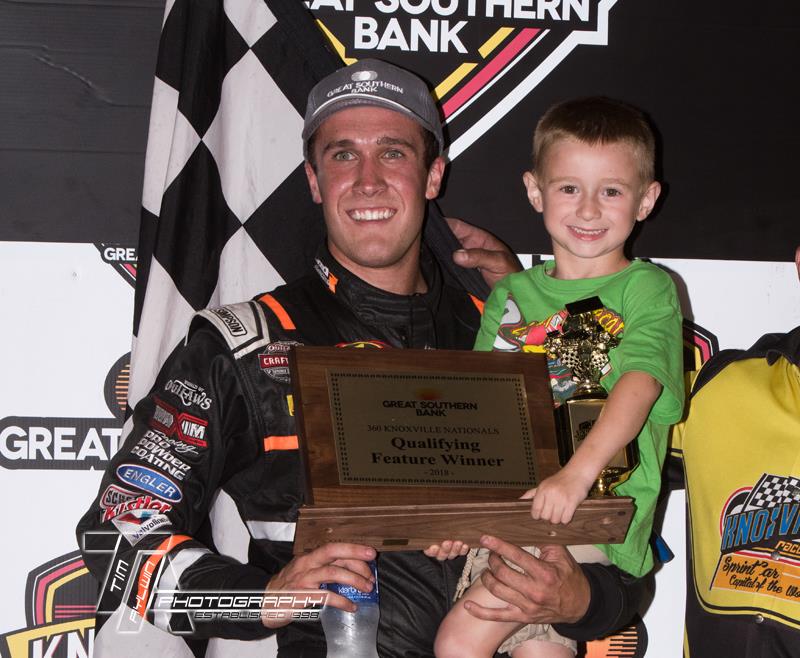 Thank you Carson! Thank you JJR #41 team! In addition, a huge thank you to all of the special and incredible people and sponsorship partners who continue to believe in the forty-one and helped make this part of the dream come true. There is still work to do – the future is in front of us!
Macedo and the JJR #41 Team Drive to an Emotional Victory on the First Night Back at the 360 Nationals!
We are proud to represent all of our dedicated and loyal supporters:
Mesilla Valley Transportation (MVT); Saich Family; Jonestown KOA; Dissolvalloy Downhole Revolution; Durst Inc.; Waco Metal; Maxim Racing; Pro Powder Coating (PPC); Valvoline; P1 Performance Racewear; All Pro Aluminum Cylinder Heads, Inc.; AutoMeter; Bell Racing USA; Blackbeard; Bledsoe Motorsports; Brown & Miller Racing Solutions (BMRS); Caldwell Racing; Chalk Stix Torsion Bars; Crow Enterprizes, Engler Machine & Tool, Inc.; Fibreworks Composites; FK Rod Ends; Factory Kahne Shocks; Fuel Safe Systems; Greber Racing Components; Hoosier Racing Tire; ISC Racers Tape; K&N Filters; Kistler Racing Engines; KSE Racing Products; Lincoln Auto Auction; LogoDaddy Graphics; Max Papis Innovations (MPI); Meyers Constructors Inc.; Million Heir Cosmetics; MSD Performance; Peggy and Marvin Pearson; Ray Evernham Enterprises LLC; Schoenfeld Headers; Shell Shock Paint; Smiley's Racing Products; Tarlton and Son Inc.; T-FAB; Vortex Racing Products; Weld Racing; Wilwood Engineering; Winters Performance Products; and, www.racediecast.com.
To stay connected with Jason Johnson Racing (JJR), go to www.jasonjohnsonracing.com
To learn more about Carson Macedo, and stay up to date with his success, go to www.carsonmacedoracing.com