BECOMING PART OF HISTORY: A DETERMINED EFFORT RESULTS IN CARSON MACEDO WINNING THE FINAL CROWN JEWEL OF THE SEASON BY CAPTURING THE 59TH ANNUAL CHAMPION RACING OIL NATIONAL OPEN FINALE
MECHANICSBURG, PENNSYLVANIA (October 2, 2021) – After a top ten finish on Friday night to start the 59th Annual National Champion Racing Oil National Open weekend, Carson Macedo and the Jason Johnson Racing (JJR) #41 sprint car team were back at Williams Grove Speedway focused with their sights set on the $75,000-to-win crown jewel event. More importantly, Philip Dietz and the JJR team were excited to give their driver an opportunity to add his name to the prestigious list of winner that includes names like Donny Schatz, Lance Dewease, Steve Kinser, Stevie Smith, Doug Wolfgang, Kenny Weld, Sammy Swindell, Jason Meyers, Larry Dickson, and Gordon Johncock just to name a few. The National Open is the final race in the "triple crown" that also includes the Kings Royal and the Knoxville Nationals. There were 48 race teams registered and parked in both pit areas preparing for the exciting night of action as the venue was absolutely packed with passionate sprint car fans.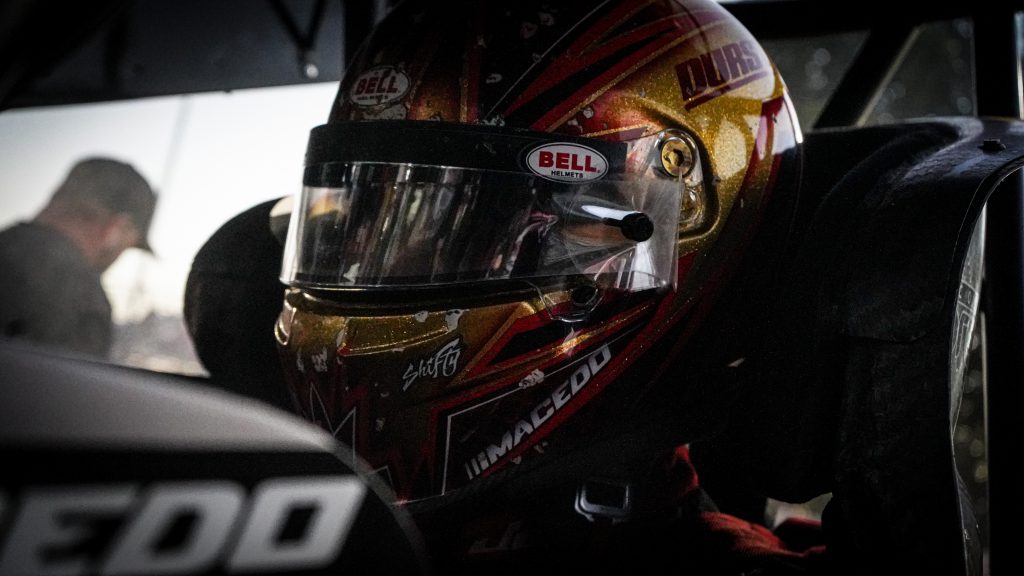 The field was again split into two qualifying groups, called flights in World of Outlaws NOS Energy Drink Series competition, with the number of entries this event draws. After pulling the '10' pill, the Lemoore, California chauffeur of the Complete Parts & Equipment Solutions/Durst/Winters Performance Products #41 Maxim would be the fifth driver out on the paper-clip shaped track for his two laps against the clock in Flight A. He flipped the shield down on his Shifty Illusions custom painted Bell Racing helmet and quickly went to work as he built up his speed. He took the green flag and raced through the first set of turns and down the backstretch under the famous blue walking bridge that looms over the track's surface. He completed his first lap in 16.863 seconds. Carson's was fast and his Kistler Engines power was pulling him forward during his second circuit around the hallowed grounds. His second lap was a bit slower at 17.019 seconds, but the better of his two laps was good enough for second quick overall in Flight A. Lance Dewease once again established quick time overall on the night, this time out of Flight B with a lap of 16.774 seconds.
His time trial effort would position Carson on the front row right alongside Logan Schuchart in the second of four 8-lap Drydene Heat Races. He drove the Albaugh – Your Alternative/Jonestown KOA/RaceDiecast.com #41 Maxim into the pole position as James McFadden and Spencer Bayston paced behind the front row starters. Brad Sweet and Justin Henderson occupied row three, Sam Hafertepe and Chad Trout manned row four, Brock Zearfoss and Freddie Rahmer were in row five, as Chase Dietz and Troy Fraker held down row six. When his front tires touched the chalk stripe in turn four Macedo was off as he drag raced Schuchart into turn one. When they exited turn two it was Macedo in the lead with the Shark Racing #1s right behind. Carson was running smooth and clean lines around the famous half mile oval and was building his lead over Schuchart with each completed lap. When the flagman unfurled the black and white checkered cloth it was Carson Macedo racing to the win by 1.163 seconds over Logan Schuchart who was followed by James McFadden, Spencer Bayston, and Brad Sweet to lock themselves into the National Open feature finale.
Carson also earned a spot in the 6-lap DirtVision Fast Pass Dash, where after selecting the '8' pill would start on the outside of row four with six-time National Open champion Donny Schatz to his inside. The front row consisted of two young guns, Brent Marks and Sheldon Haudenschild, with two-time National Open winner David Gravel and Logan Schuchart in row two, and Justin Peck and Anthony Macri in row three. When the green flag waved it was Marks to the lead. Carson used the high side of the track to drive ahead of Schatz and Peck into the sixth position. Brent Marks was at the front of the pack ahead of Schuchart and Haudenschild. Carson kept working hard inside the cockpit as he was trying to get by Anthony Macri for the fifth spot. Brent Marks would speed to the win by 1.205 seconds ahead of Schuchart to earn the pole for the National Open finale. Sheldon Haudenschild came home third with Gravel, Macri, Macedo, Schatz, and Peck completing the finishing order. Carson's efforts during the dash put him ahead one row to start the feature.  
A lot of work was put into qualifying the car for the big show at the 59th Annual National Champion Racing Oil National Open, but there still was a lot of work to be done in the 40-lap World of Outlaws NOS Energy Drink championship night feature. Williams Grove was overflowing with fans with various chants coming from the "Beer Hill Gang" outside of turn four making the environment terrific. Carson Macedo would get started in row three with Anthony Macri to his inside. Three provisional starters added to the field made it 27 starters for the final Crown Jewel race of the season. After driver introductions concluded on the frontstretch the drivers walked back to their pit areas to climb into their speed chariots. It was time to go racing at the 59th Annual Champion Racing Oil National Open at Williams Grove Speedway!
The quiet surroundings in Central Pennsylvania were quickly filled with the sweet sound of 410 sprint car engines when the green flag waved. It was Brent Marks into the lead over Logan Schuchart at the drop of the green flag. Carson wheeled the Mesilla Valley Transportation (MVT)/Tarlton and Son/Meyers Constructors #41 Maxim into the fourth position on the opening lap. The high speed action came to an abrupt stop though with two laps in the books when Brian Brown spun in turn three and collected Daryn Pittman who flipped with no where to go for Freddie Rahmer. All of the drivers were ok and when the accident scene was cleared the remaining drivers re-fired their engines. Carson would pull to the outside lane for the restart beside David Gravel. Brent Marks would again lead the field back to the green over Schuchart as Macedo drove into the show position ahead of Gravel. The leaders were fast and it did not take too long to catch the back of the field. On lap 12, Marks while leading spun in turn two after almost making contact with Dylan Cisney. Marks misfortune moved Logan Schuchart into the lead with Carson Macedo in the runner-up position, Sheldon Haudenschild in third, David Gravel in fourth, and Anthony Macri in fifth. They were lined up in their two-by-two starting order when they came back to the green flag. Carson did not get a great restart and lost 3 positions. But, the lap was not recorded because a red flag flew for TJ Stutts and Robbie Kendall who flipped in turn two. The field realigned, this time in single file order, as Logan drove the Drydene/Shark Racing #1s into the lead with Macedo and Haudenschild right behind. Macedo and Haudenschild would begin an all-out battle for the right to chase Schuchart over the next two dozen laps. The two talented speed chauffeurs were putting on a terrific show with razor thin margins at times between themselves as they raced for position. Carson was able to hold Sheldon off and started to track down Logan Schuchart as they entered the last 10 laps of the money paying race. Logan Schuchart continued to chart his course through lap traffic as Macedo kept eating away at the gap between himself and the leader. With 5 laps to go, Macedo and Haudenschild were still trading positions as they were both closing in on Schuchart.  They had caught him down the backstretch and Carson Macedo saw an opportunity to attempt a clean slide job entering turn three. Carson drifted up to the cushion in turn four ahead of Schuchart to take the lead and maintain it down the front chute. Schuchart was not going anywhere though as he was still digging. Neither was Haudenschild as he was up on the wheel ready to deal. Carson was now responsible for being the first car to pick his way through lap traffic. He passed Giovanni Scelzi to put a lap car between himself and Schuchart, but Logan disposed of the lap traffic too. With one lap to go it was Macedo and Schuchart racing for the win. Logan was right on his bumper entering turn one. Macedo maintained the lead on the high side as they exited turn two and headed down the backstretch one final time. Under the bridge and into turn three Macedo entered low. Schuchart was trying to go lower, but drifted up and when they exited turn four it was Macedo just ahead of Schuchart at the finish line. Carson Macedo raced under the waving checkered flag to capture the biggest win of his career along with the $75,000 winner's share of the purse. A terrific race between Macedo, Schuchart, and Haudenschild securing the podium positions with Macri and David Gravel rounding out the top five.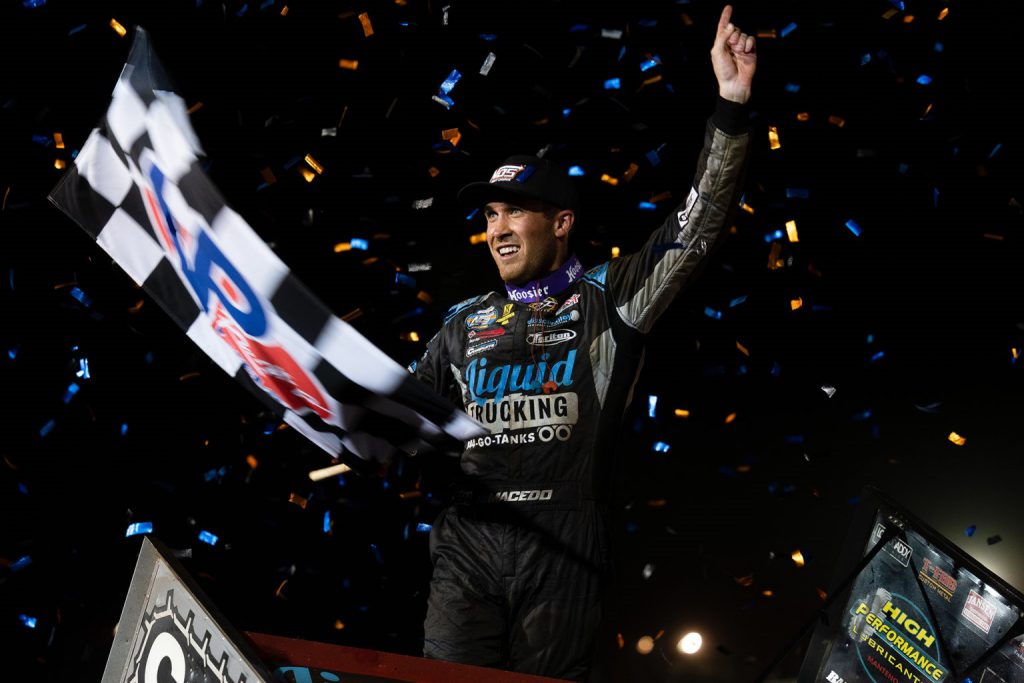 Carson was celebrating as he slowly rolled into victory lane after clearing the scales. He climbed out and quickly sought out Philip Dietz to embrace him and his team with celebratory hugs. Donning his Liquid Trucking K1 Race Gear uniform he climbed up on the tail tank waving the checkered flag as the confetti fell. Smiling from ear-to-ear the winner exclaimed, "Wow! This is the highest paying win of my career!" He continued, "You know I left so frustrated the first few times I came to Williams Grove because I couldn't figure it out. I was wondering how the heck other guys are so much better. Then I got in this #41 car and Philip Dietz is just amazing at giving me what I need. That's ten wins with the World of Outlaws this year . . . I can't believe it! This team is incredible and I'm lucky to drive this thing." Another great run and memorable victory for the forty-one!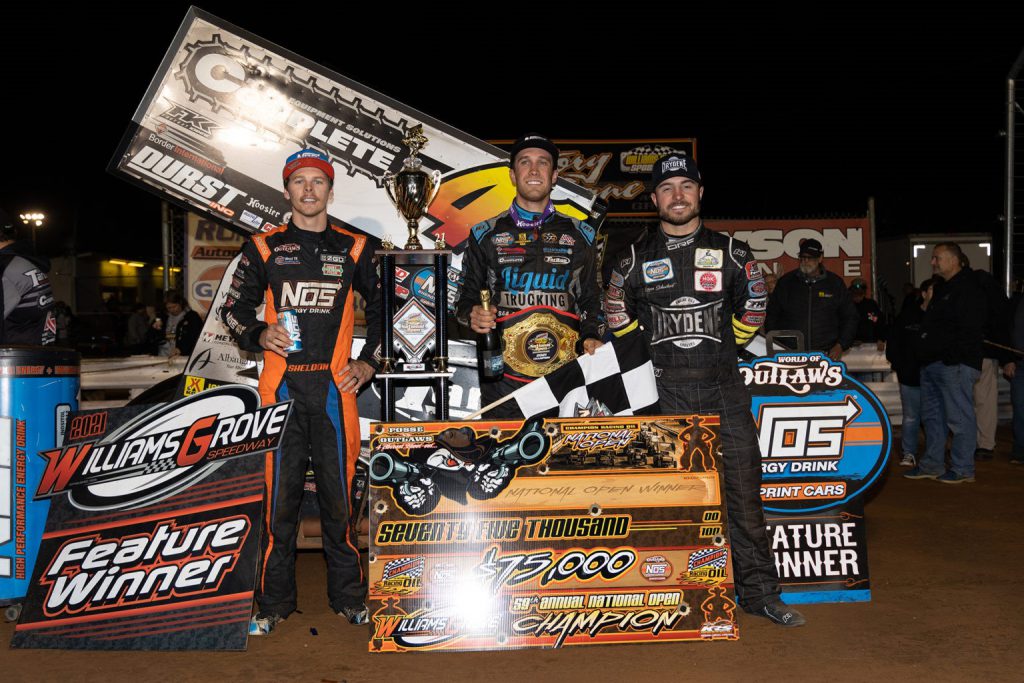 Carson Macedo is your 59th Annual Champion Racing Oil National Open Champion! Photo Credit: Trent Gower
Mesilla Valley Transportation (MVT); Tarlton and Son Inc.; Complete Parts & Equipment Solutions; Albaugh – Your Alternative, Saich Family; Border International; Dissolvalloy Downhole Revolution; Jonestown KOA; Durst Inc.; Maxim Racing; The Boyd Family; Liquid Trucking; Meyers Constructors Inc.; Tiger Towing; Pro Powder Coating (PPC); Waco Metal; High Performance Lubricants, LLC; Kistler Engines; Team Jack Foundation; Mark Burch Motorsports; All Pro Auto Reconditioning; K1 Race Gear; AutoMeter; Bandy & Associates Accountancy Corporation; Bell Racing USA; Blackbeard LTD; BR Motorsports; Brown & Miller Racing Solutions (BMRS); Buckwalter Trucking, LLC; C&R Racing; Chalk Stix Torsion Bars; Crow Enterprizes; Engler Machine & Tool, Inc.; Factory Kahne (FK Shocks); Fibreworks Composites; FK Rod Ends; Fuel Safe Racing Cells; Greber Racing Components; Hoosier Racing Tire; ISC Racers Tape; Jansen Transportation; KSE Racing Products; Larry Davis Farms; Logo Daddy Graphics; Mr. Jim's Racing; MSD Performance; RaceDiecast.com; Sam I Am; Schoenfeld Headers; Smith Titanium; T-FAB Custom Metal Fabrication; Vortex Racing Products; Walker Performance Filtration; Weld Wheels; Wilwood Racing; and Winters Performance Products.
To stay connected with Jason Johnson Racing (JJR), go to www.jasonjohnsonracing.com.
To stay up-to-date with Carson Macedo and his success journey on and off the track, as well as to purchase his gear and merchandise directly, visit www.carsonmacedoracing.com.